With sustainable fashion on the rise, we see more brands using materials to be used in recycled and recyclable ways and through more eco-conscious production processes.
Footwear brand VEJA is one of the pioneers of reducing carbon footprints through sustainable methods. No doubt you've seen their stylish silhouettes with their signature "V" emblazoned on the side. They've become a staple in the wardrobes of many.
First coming into the spotlight on the feet of eco-minded celebs, and gradually making its way into the mainstream, VEJA has achieved impressive success while never losing sight of its for-the-planet ethos.
In recent years, the brand has expanded its fleet of footwear beyond casual into performance shoes in the likes of the Condor running shoe and its reiteration of Condor 2.
Now, VEJA has raised the bar with its latest addition: the Marlin. Named after one of the most athletic fish in the ocean, the Marlin is designed with performance in mind.
Surfacing just 18 months after the Condor hit the market, the Marlin is all about perpetual improvement. So how is the Marlin for running and exercise? I put it through its paces to find out.
VEJA MARLIN FIRST IMPRESSIONS
The first thing I noticed about the VEJA Marlins was its shape. While it's born from a lifestyle brand, this looks like a running shoe. The heel drop, the mesh knit upper, cinched waist for arch support, the roomy toe box, this is a clean shoe that is made to move. And they didn't disappoint when I slipped them on.
Despite VEJA marketing this as a "neutral" shoe, it has all the hallmarks a runner would seek in a stability shoe. The heel counter offers really comfortable support, as it features an external support of Pebax, keeping the foot nicely in place.
The Marlins have an ever so slightly flared outsole that discourages any overpronation or underpronation as the foot lands – a plus if you're looking to correct or stabilise your footfall.
The panel on the upper and around the laces and midsole is also a nice security measure – I have very high arches and this feature offered nice support without choking circulation or being restrictive.

Perhaps two of my favourite elements of the shoe were its weight and heel drop. The Marlin comes in at a comfortable 288g, relative to the Condor's 315g.
For more context still, Adidas Ultraboost 21's weigh a whopping 312g in women's and 340g for men, while the loved-by-many Nike Pegasus 37 weighs 255g in women's sizes and 298g for men. In this way, the Marlin keeps up with its namesake; it's fit and fast.
One thing I have found true about VEJA's running range is they have got the heel drop just right for me. The heel is elevated enough to constantly rock the foot forward whilst in stride, keeping the runner on the balls of their feet, where you can blast off with more energy.
It's a design not to be overstated as the right shape can help a runner just as much as any responsive midsole.
VEJA Marlin specifications:
Surface: Road/Park
Ride: Neutral
Drop: 6 mm (24 mm-18 mm)
Weight: 288g/10.2 oz
Bio-based / Recycled: 62%
ARE VEJA SHOES GOOD FOR RUNNING?
Competing in a hyper competitive category such as running shoes, where the user is equally as particular and subjective is an ambitious move from any lifestyle footwear brand.
Let alone one that makes its shoes out of unconventional materials such as sugarcane and rice waste. So, are the VEJA Marlins any good for running? Oh, yes.
If it wasn't clear from my review on the first impression, the Marlin moved from strength to strength. The weight and shape are the goldilocks 'just right' balance you'd look for in a running shoe: a weight that won't hold you down, and a design that literally drives you forward.
What I discovered as I ran is a comfortably responsive foam in the midsole that worked with me as I ran. I'm generally not one for minimalist running footwear, and the foam here gave enough in return without feeling overly cushioned.
The spacious toe box is also an important feature as your feet will swell slightly as you exercise – even more so in the warm weather of Summer months.
The Marlin really shines on road running anywhere up to 15km. This makes it an incredibly versatile shoe that is great for neutral runners and those seeking stability shoes alike.
And it's a great fit for most urban running whether you're just beginning, or looking to rack up some distance.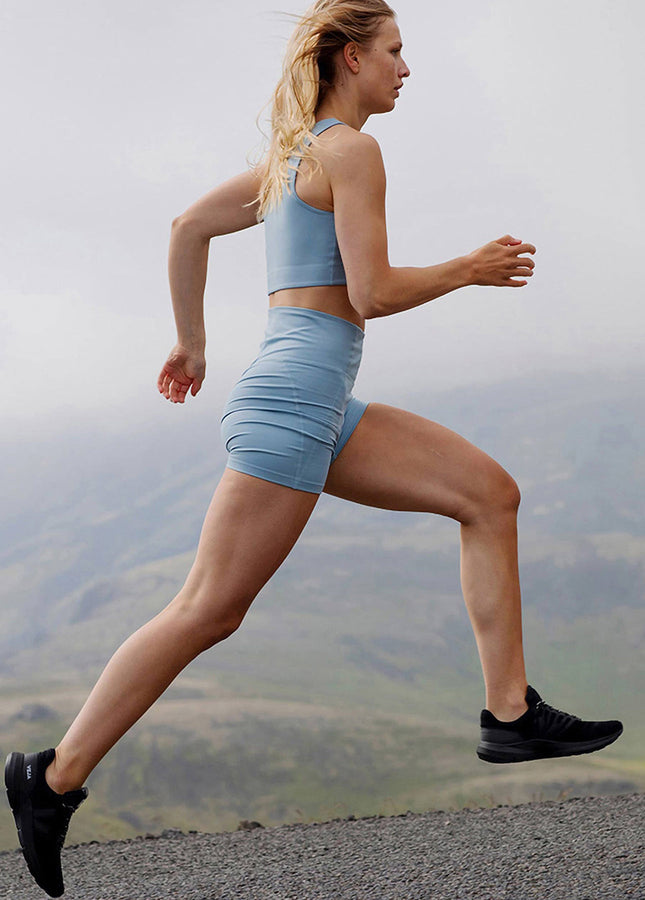 WHAT ARE VEJA MARLINS MADE OF?
Heel support insert made out of Pebax RNew 100% ricinus oil
Logo V made of Pebax RNew 100% ricinus oil
Lining Tech 100% recycled plastic bottles
Insole 51% sugar cane - 21% recycled plastic bottles
Midsole 60% sugar cane
L-Foam cushioned technology 30% natural latex from Brazil - 70% synthetic latex
Outsole 32% Amazonian rubber - 33% rice waste - 7% soy - 3% palm oil
Veja Marlin V-Knit: Veja, Marlin V-Knit - Chalk Pierre
ARE VEJA MARLINS TRUE TO SIZE?
In my experience the VEJA Marlins were true to size. I chose my usual size and felt as if it was the correct fit for me. I have wide-ish feet with very high arches, and was comfortable in the Marlin even after sweaty long runs.
While I experienced nothing out of the ordinary with the sizing of my Marlins, VEJA do say that they run slightly differently to the rest of their footwear range and recommend you refer to their brand size chart.
Though unfortunately the Marlin is yet to be included in said chart. If their other running shoe ventures are anything to go by – the VEJA Condor and Condor 2 – The Sports Edit recommend you size up as these styles tend to run small.
Veja Marlin V-Knit: Veja, Marlin V-Knit - Full Black
VEJA MARLIN FINAL VERDICT
VEJA have levelled up their product in every iteration of their running shoes. With the Marlin in particular, I feel they really struck gold with this mixture of recycled bottles, sustainable rubber and brilliant performance design.
The Marlins are a great choice for most city-based runners who are looking for an everyday running shoe they can rely on again and again to perform. The Marlin is fast, tough, and will see you through any exercise.