Since its debut in 2015, Nike's Metcon has been a game-changer in the gym and CrossFit scenes, setting the standard for durability and stability in training footwear. The Metcon is particularly well-suited for weightlifting and high-intensity workouts. The only thing they aren't so good for, is running. However, Nike has developed other iterations of the shoe, including the updated Free Metcon 5, with a little more cushioning and flexibility, to handle the sprints and explosive jumps. But now with a Metcon 9, Metcon 9 Amp, and Free Metcon 5 to choose from, what is the difference, and which should you choose?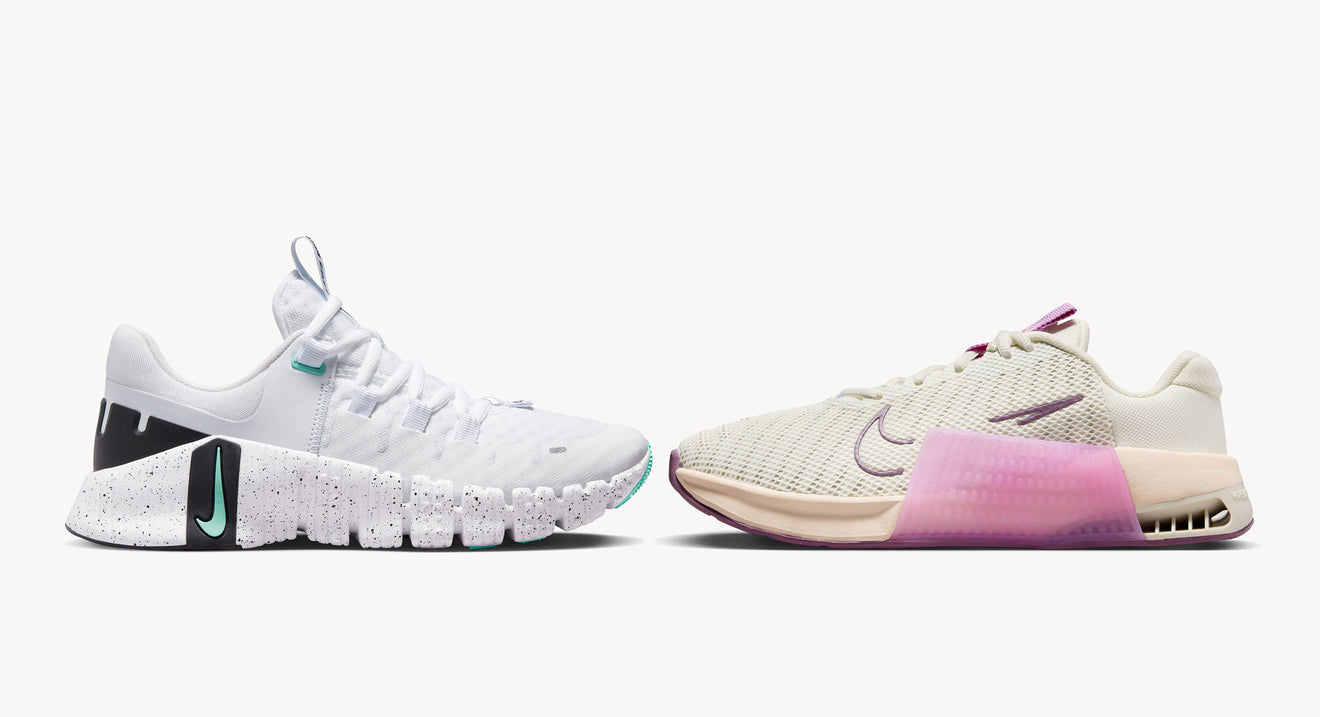 Nike Metcon 9: Features and Benefits
Nike is now on its 9th edition of the Metcon shoe, which launched in August 2023. Compared to the Nike Metcon 8, the 9 has had quite a few updates and has been fine-tuned to meet the ever-evolving needs of CrossFit and functional fitness enthusiasts. In the Nike Metcon 9, the toe box has been widened and there is now a Hyperlift plate in the heel, which gives better stability for squatting and the durability to accommodate heavier lifts. It's lightweight yet supportive, and really does live up to the hype of being a brilliant weightlifting shoe.
The only area where the Nike Metcon 9 falls a little short, is on the flexibility side. If you like to include a lot of shuttle runs or longer 1km runs, then you may like a slightly plusher training shoe - like the Metcon Free.
Nike Metcon 9 AMP: Beyond the Standard
All of Nike's Metcons have been designed to be aesthetically pleasing, in an array of different colours. But there's something about the Nike Metcon 9 AMP, which just hits differently - white shoes tend to do that. They're sleek and stylish.
Other than the fresh white, premium look, the Nike Metcon 9 AMP is pretty much the same as the Nike Metcon 9. It's a durable and stable weightlifting and CrossFit shoe, with a Hyperlift plate, secure lace-lock system, breathable upper mesh, dual-density foam midsole, and a full-rubber outsole, providing enhanced grip on everything from lunges to rope climbs.
Overall, the Metcon 9 AMP features exclusive colorways, patterns, and design elements not found in the standard Metcon 9. For those who want a more distinctive look, and also a shoe that is released in limited quantities, the AMP version might be more appealing. The AMP comes at a £10 premium to the standard Metcon.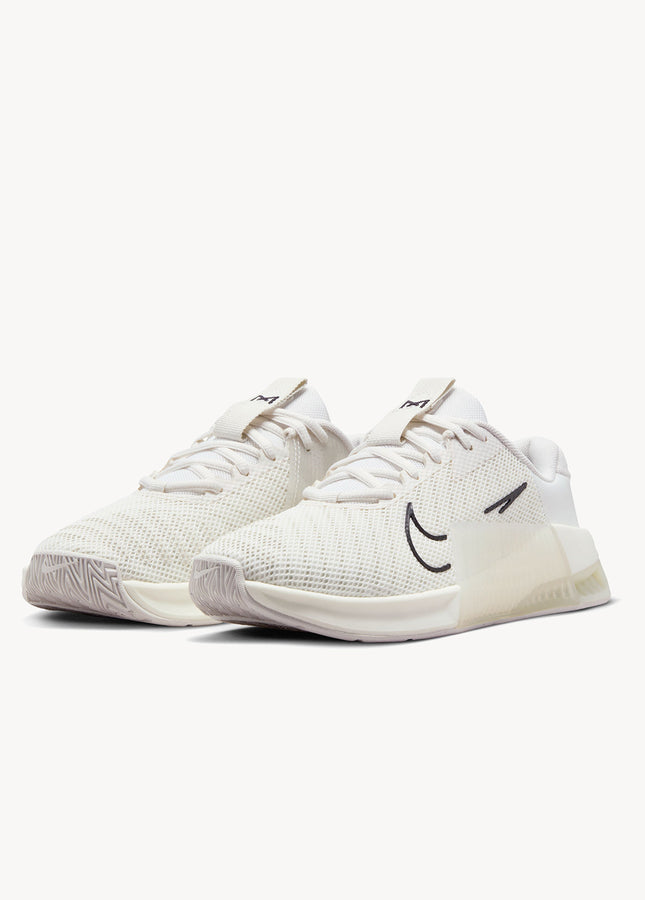 Nike Metcon Free: The Hybrid Contender
The Nike Metcon Free 5 is a hybrid shoe, providing the perfect balance between lightweight flexibility and great stability and durability. It's the most versatile shoe in the Metcon range, excelling across a wide range of workouts, from CrossFit to HIIT (high intensity interval training) and even functional training - think sprints, jumps and quick lateral movements.
Given you'll likely be working up quite the sweat, breathability is key. And the Nike Metcon Free 5 has been designed with a breathable mesh, which allows for optimal airflow. You'll quickly notice the sole of the shoe is a lot bigger than the classic Metcon, somewhere between a running shoe and a weightlifting shoe. The responsive midsole has an advanced cushioning system, absorbing shock and ensuring soft landings. It's also very durable, crafted from robust rubber and with high grip on various surfaces.
The Nike Metcon Free 5 is particularly good for athletes who want flexibility in their training and who engage in long training sessions, where explosive movements and running plays a big part.
I own a pair of Metcons and as someone who likes to add in a quick HIIT session between a weight lifting session, I find the shoe a little too rigid and hard. Even when I'm walking it feels like I'm slapping the ground a bit. For me, the Nike Free 5 is perfect, as it means I can run to and from the gym and enjoy cushioning and support throughout my entire workout.
For a more detailed look at this style read of Nike Metcon Free 5 Review
Nike Metcon 9

Nike Metcon 9 AMP

Nike Metcon Free 5

Price

£129

£139

£120

Material

Breathable textile mesh

Rubber outsole

Breathable textile mesh

Rubber outsole

Breathable upper

Rubber outsole

Design features

Hyperlift plate

Lace-lock system

Extended rubber wrap

Dual-density foam midsole

Moulded heel clip

Hyperlift plate

Lace-lock system

Extended rubber wrap

Dual-density foam midsole

Moulded heel clip

Sock-like feel upper

Nike Free technology in forefoot for flexibility

Moulded heel clip

Advanced cushioning

Best suited exercises

CrossFit, Weightlifting, HIIT

HIIT, CrossFit, Weightlifting

HIIT, Gym, Short runs, Functional training

Pros

Excellent stability due to the flat sole and Hyperlift plate

Superb, clean looks, and more exclusive

Excellent stability due to the Hyperlift plate

Stable yet versatile, responsive to explosive movements, running (<3 miles) and lateral movements

Cons

Not great for running, explosive and lateral movements

£10 more expensive

Not great for running, explosive and lateral movements

Not great for heavy lifting
FAQs
Which shoe is best for pure weightlifting?
In the Metcon range the classic Nike Metcon shoes are best for weightlifting. The newest model, the Nike Metcon 9, even has a bigger toe box for enhanced stability.
Can any of these shoes be used for running?
The best Metcon shoe for running is the Nike Metcon Free 5, but we wouldn't recommend doing more than 3 miles / 5 km.
How do sizing and fit compare across the models?
The sizing is pretty standard across all models. However, the latest model Metcon 9 is a little wider.
How flexible are the Nike Metcons?
The most flexible Nike Metcon is the Metcon Free. The least flexible is the Metcon. However, it is flexible enough for lunging, squating and heavy weight lifting.