Since spotted on Meghan Markle back in 2018, we have lost count of the number of people spotted wearing Veja trainers. The trainers have quickly become a street style staple and is regularly seen on fashionistas and celebs alike.
But how do you style the various Veja trainers? We asked the TSE Buying team for advice and here are their expert Veja styling tips.
But first, let's find out who is behind the successful sneakers brand and how Veja has nailed the perfect formula for making sustainable footwear aspirational.
The Veja story
The story of the brand begins in 2004 when two friends with no fashion background decided to challenge the wasteful nature of the industry with an ambition to "reinvent a sneaker from A to Z," says one of the founders, Sébastien Kopp.
But why sneakers do you ask? Despite sneakers being the most symbolic object of our generation, they leave behind a massive environmental footprint. Sneakers, in general, are nearly impossible to recycle as they are made of inseparable plastic parts.
In response, Veja has set the tone for best practices of sustainable footwear manufacturing with raw materials, fair trade and complete supply chain transparency in mind.
The main focus for the brand is innovation and technology. Veja reinvented ordinary sneakers by using a variety of sustainable material: Amazonian wild rubber for the sole and agro-ecological cotton for the upper.
They have even developed their own leather alternatives, such as a B-mesh made from recycled plastic bottles and an upcycled fish leather material. Due to their sustainable business model, Veja trainers cost up to seven-times more to produce compared to shoes made in a conventional way.
Generally, when buying sneakers from big brands, only 30% of its costs go to production and 70% to advertising spend. Veja has decided to invest in sustainable materials and build a transparent supply chain, instead of engaging in expensive advertising campaigns.
The brand also minimizes materials waste by producing what has actually been ordered!
Why are Veja trainers so popular?
No one can resist Veja's sustainable credentials and their aesthetic appeal. These minimalistic, yet stylish trainers complement any outfit combination, all while making us feel great about the purchase of a product with ethics at heart. According to Kopp and Morillion, Veja is more than just a shoe brand.
They wanted to show everyone that if two friends with no fashion background can do it, everybody can do it. And if that doesn't sound impressive enough, then you might change your mind after scrolling through the edit of our favourite Veja trainers.
How to style Veja V10?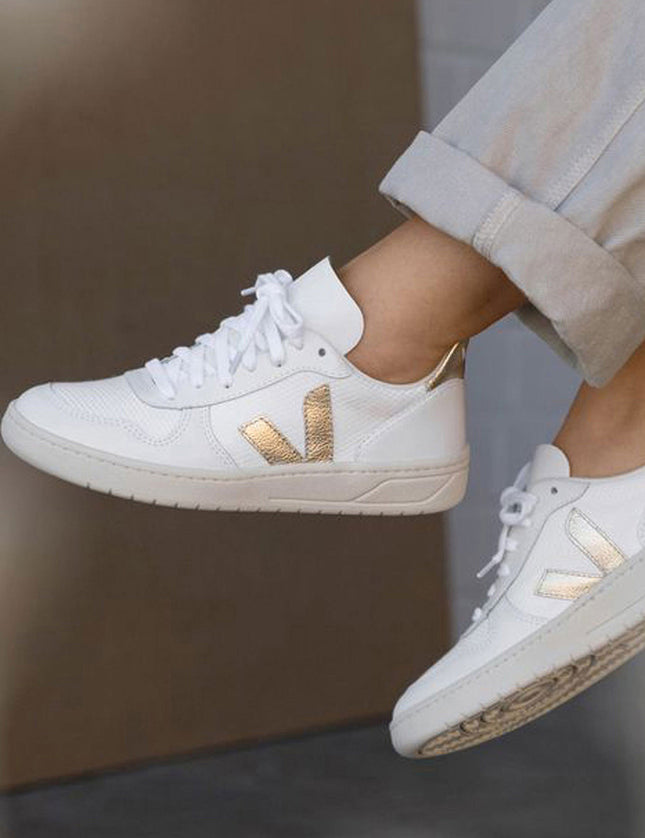 Veja V-10: Veja, V-10 Leather - White Platine
The Veja V10 is a signature style for the brand, featuring a little chunkier, sporty silhouette with the signature "V" featured on both sides. As a sellout style, you've most likely seen this iconic Veja silhouette regularly treading the pavements in San Fran, London, Berlin and beyond.
This option is perfect for someone who is looking for a distinctive pair of white trainers. The Veja V10 is a chunkier, more durable iteration of a classic tennis plimsol. It is straightforward to style and adds a luxurious, yet casual touch to any outfit.
Our preference is a FP Movement leggings and a cute crop top, but this on-trend style works just as well for with wide-legged trousers or maxi dresses in summer.
How to style Veja Campo?
Veja Campo:
The Veja Campo trainers are perfect for someone who is looking for a more low-key option. This style features a flattering shape with the signature suede "V" and a discreet, golden logo print on the back end of the shoe.
The sleek silhouette of the Campo is a good alternative to adidas' 'Stan Smith' sneaker or Common Projects' 'Achilles Low' shoe.
With its ultra-minimalistic design, the Veja Campo is a versatile choice that compliments a variety of outfits and season. From denim to dresses, this understated shoe works.
If you want the perfect outfit for juggling a fast paced life, our suggestion is to pair the Veja Campo trainers with P.E. Nation leggings or comfy yet stylish sweatpants.
Check out our full range of Veja Men's Shoes and Veja Trainers Womens >
How to style Veja Condor?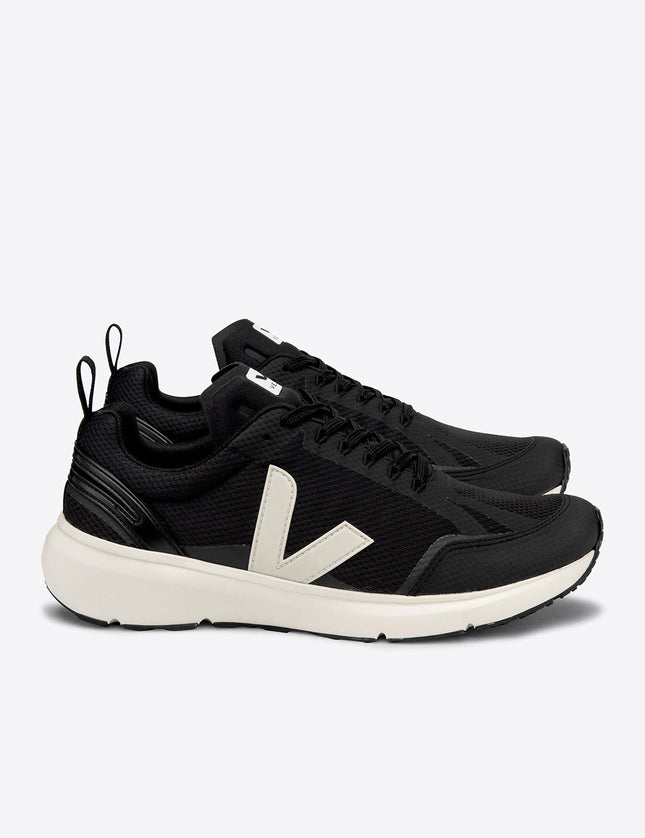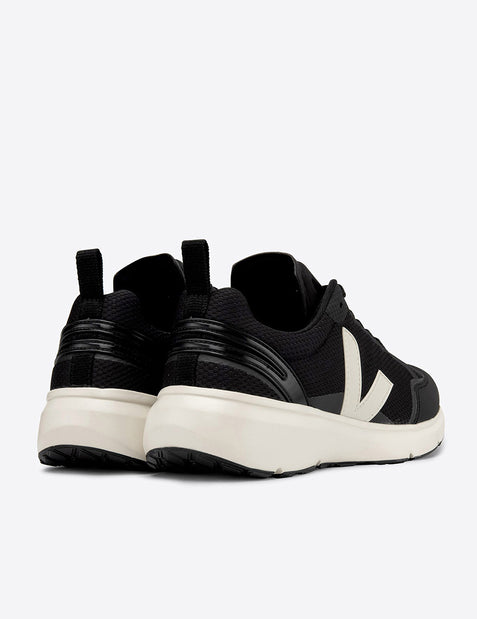 Veja Condor 2: Veja, Condor 2 - Alveomesh Black Pierre
Earlier this year Veja debuted their first pair of runners, the Condor, which is the world's first post-petroleum running shoe. The Veja Condor ticks all the right boxes, delivering on style, performance and sustainability.
The Condor is a must-have shoe for an active life. Wear these performance trainers out running or in the studio with your favourite workout leggings. They also work well with any athleisure style, from luxe tights to stylish tracksuit bottoms, for a more off-duty look. Champion your activewear wardrobe and style with Under Armour's Rush leggings and Rush long sleeve top.
How to style Veja Rio Branco?
Veja Rio Branco Hexamesh:
Veja's sustainable vision is reinforced by the Rio Branco trainers, made with their distinctive Hexamesh fabric. The Rio Branco silhouette offers a cool and retro aesthetic; especially with the styles that have a striking pop of colour. The Rio Branco is also a great sustainable alternative to Nike's Cortez trainer.
This casual shoe offers unparalleled comfort, making it ideal for long days travelling or out and about. Pair with denim for a retro look, or active athleisure styles for a fresh take on the trend. The Veja Rio Branco is styled here with Terez Foil Star Leggings and Alo Yoga Sunny Strappy Bra.
How to style Veja 3 Locks Leather?
Veja Esplar 3-Lock
These easy-on, easy-off sneakers will definitely help you to step out the door in style. The Veja 3-lock trainers feature three velcro strap fasteners, which offer everyday comfort while making a retro fashion statement. While the words 'velcro straps' might send you back to your school days, we can guarantee this Veja iteration is a chic, elevated interpretation of the 90s trend. Plus, with the flexible fasteners you can easily fit thicker socks for winter!
For a luxe look, opt for the metallic shoes and style with Koral Lustrous Leggings and a white Varley crop top. Prefer a more laid-back style? Try pairing the 3-lock with some luxe sweatpants for a retro street style look.
Celebrities who wear Veja
Source: www.cosmopolitan.com
Although the brand may intentionally not associate its sneakers with influencers and celebrities, it is no secret that plenty have joined the Veja army. A range of high profile celebs have been spotted wearing a pair, including Emma Watson, Emily Ratajkowski and Katie Holmes. And of course Megan Markle gave her royal stamp of approval to the V-10 sneakers, wearing them on a boat trip during the Invictus Games.
How you do you style your Veja trainers? Share your Veja sneakers style with us by using #mysportsedit. We would love to see!