Sustainable, transparent and committed to Fair Trade practices, VEJA launched onto the sneaker scene in 2004, proving trainer manufacturing doesn't have to be a dirty business.
Created by friends Sébastien Kopp and François-Ghislain Morillion, these French trainers certainly have that 'je ne sais quois' - and it's not just because they cost 5 times more to produce than other major trainer brands and harness fairtrade, organic raw materials.
Worn by a hoard of celebs (more on that later) and featuring a minimalist aesthetic, VEJA has become wildly popular. But which style is right for you? Here, we'll be reviewing VEJA's V-10 and Veja Campo.
Discover more about the V-10 and Veja Campo's distinctive style, fit and fabrication, so you can pick the perfect pair for you.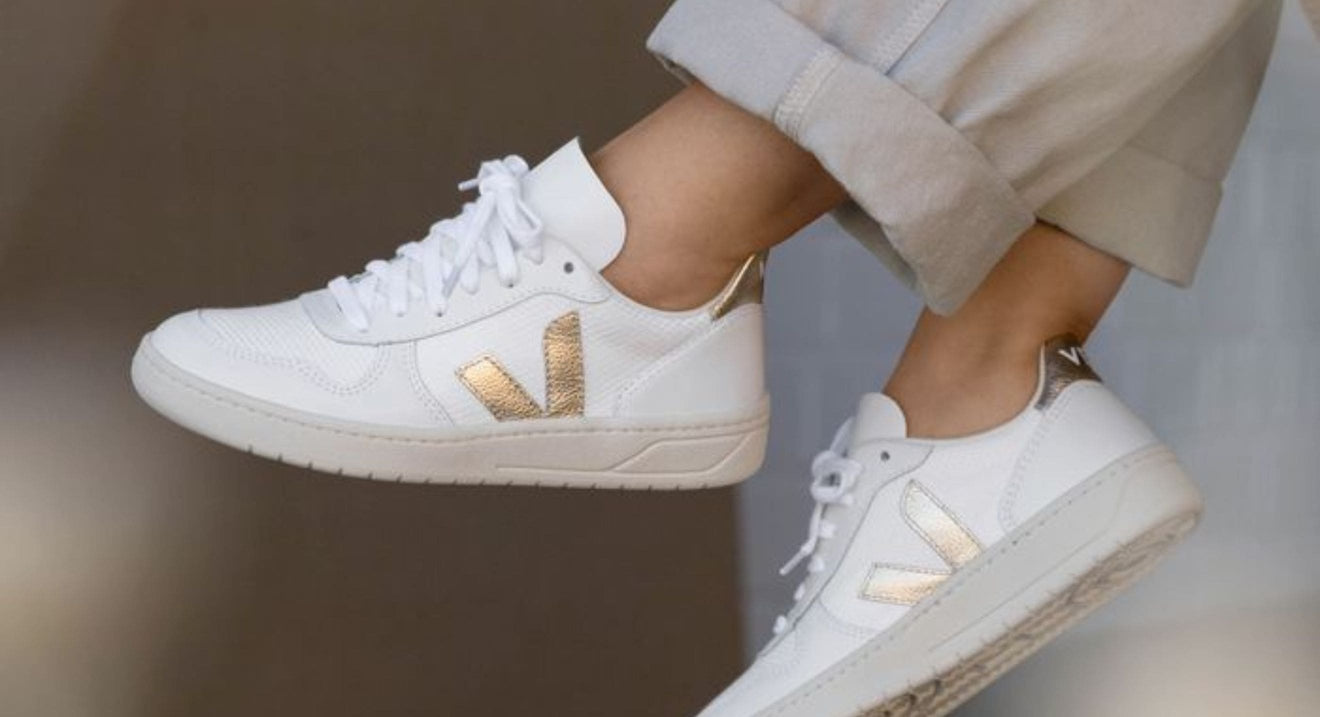 WHY ARE VEJA SHOES SO POPULAR?
Having been spotted on the likes of Emma Watson, Katie Holmes, Emily Ratajkowski and notoriously, Megan Markle, VEJA have amassed a loyal celebrity following.
Most recently, the Duchess of Cambridge, Kate Middleton, was spotted in the white and metallic Esplar trainers, further cementing VEJA as the cult-favourite brand of the moment.
Celebrity-approval aside, VEJA's contemporary styles have enduring appeal. Modern, clean and with pops of colour in the form of an iconic 'V' logo, these distinctive trainers spend longer in the design process than other big brand trainers – so they won't be pushed to the back of the closet after one season.
Perhaps the biggest appeal of slipping on a pair of VEJA trainers, however, is their eco-credentials. From sourcing through to production and distribution, VEJA pays close attention to its factories' working conditions, the chemicals used in production and its impact on the environment.
Meanwhile, rubber and cotton are sourced directly from the producers for a fair price, while plastic bottles and cotton are upcycled into innovative materials and given a second life.
https://cdn.shopify.com/s/files/1/0851/4276/files/Veja-V-12---Extra-White-Guimauve-Marsala.jpg?v=1672309473https://cdn.shopify.com/s/files/1/0851/4276/files/Veja-V-12---Extra-White-Guimauve-Marsala.jpg?v=1672309473https://cdn.shopify.com/s/files/1/0851/4276/files/Veja-V-12---Extra-White-Guimauve-Marsala.jpg?v=1672309473https://cdn.shopify.com/s/files/1/0851/4276/files/Veja-V-12---Extra-White-Guimauve-Marsala.jpg?v=1672309473https://cdn.shopify.com/s/files/1/0851/4276/files/Veja-V-12---Extra-White-Guimauve-Marsala.jpg?v=1672309473https://cdn.shopify.com/s/files/1/0851/4276/files/Veja-V-12---Extra-White-Guimauve-Marsala.jpg?v=1672309473https://cdn.shopify.com/s/files/1/0851/4276/files/Veja-V-12---Extra-White-Guimauve-Marsala.jpg?v=1672309473https://cdn.shopify.com/s/files/1/0851/4276/files/Veja-V-12---Extra-White-Guimauve-Marsala.jpg?v=1672309473
WHAT IS THE DIFFERENCE BETWEEN VEJA V-10 AND THE VEJA CAMPOS?
So what is the difference between the VEJA V10 and the Veja Campos?
Both models focus on ecological and sustainable materials. That's a non-negotiable for the Veja brand.
There are other parallels, too. Both feature an organic cotton-blend lining to promote breathability as well as a wild Amazonian rubber sole. However, the Campo includes other innovative ingredients such as chrome free leather which makes these shoes even more durable.
Now, while similar in design, you'll be able to spot the difference between the two. While the V-10s have a much more athletic sole, the Campos have opted for a completely flat approach.
Both styles have various colour combinations. However, the Veja Campos do feature two monochromatic designs that stand out amongst their usual two colour designs.
It's also no secret that Veja has received feedback about their shoes needing to be 'broken in.' However, the Campos are praised for not needing this treatment, probably due to the more cushioned ankle support. There have been a few reviews stating that the tongue of the shoe is quite stiff, however, this tends to loosen after one to two wears.
Finally, both shoes have a wide fit which aids in comfortability. Nobody enjoys a tight trainer, after all.
ABOUT VEJA V-10
Created as a celebration of the brand's 10th anniversary, VEJA's V-10 trainers have a chunky, low-profile shape, sporty aesthetic and signature V-logo.
Crafted from sustainable materials, the V-10s feature a leather upper and panels which are sourced from farms in Rio Grande do Sul. The leather is then tanned in factories that have been certified L.W.G.
Gold by the Leather Working Group (which encourages sustainable practices). If you prefer to forgo leather, some V-10 styles are also available in the brand's breathable B-Mesh upper - made from 100% recycled plastic bottles and recycled polyester.
With great arch support provided by a wild Amazonian rubber sole and a soft organic cotton and recycled polyester lining, the VEJA V-10s are comfortable right out of the box. They're also available in a range of colours, decorated with classic rubber or suede V logos.
Durable, distinctive and luxurious, these trainers are ideal for a long day exploring, with a chunky, elevated sole providing increased support for your natural stride and a classic lace-up closure.
How to style the VEJA V-10
Seen on the feet of fashion's most influential, the V-10s are some of the most versatile trainers around. Whether you're heading to the studio or for a picnic in the park, the clean and contemporary V-10 style works with a wide range of outfits.
For an active day out, we suggest teaming your V-10s with your favourite leggings and a longline crop bra. Alternatively, they also look great with floaty sun dresses or a classic jeans and tee ensemble, with the elevated heel creating the illusion of longer legs.
Don't miss our complete guide on how to style VEJA trainers here.
Are VEJA V-10 shoes true to size?
Generally true to size, we'd recommend buying the V-10s in your normal size. If you're between sizes, it's best to size down. Due to their wider width, they're great for those who prefer a more roomy fit.
You'll also find the VEJA V-10 has a slightly longer tongue than other styles. If this hits the front of your ankle, you can tuck this to one side until it's softened up to avoid any rubbing. Check out more sizing tips here.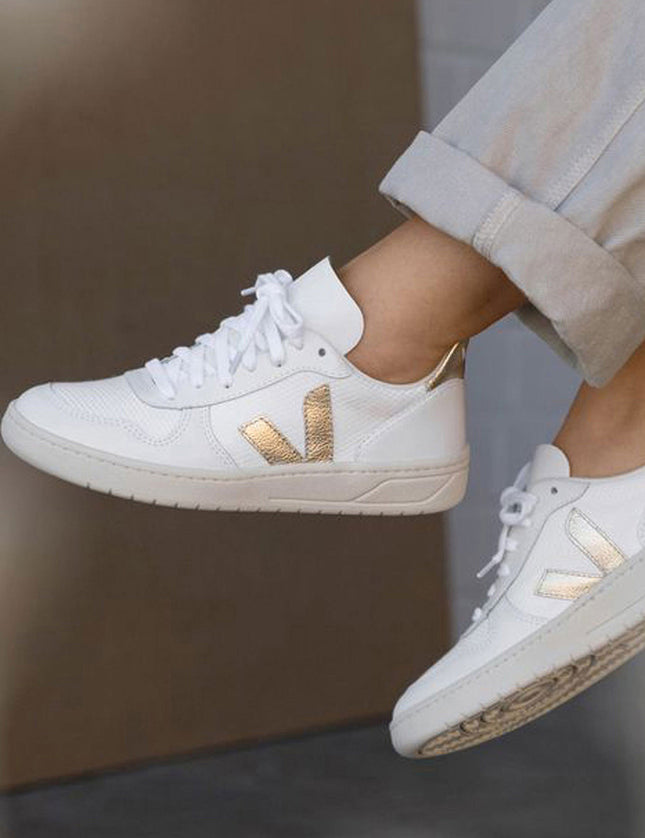 Veja V-10: Veja, V-10 Leather - White Platine
ABOUT VEJA CAMPO
After launching in 2019, the Veja Campo shoes quickly became one of Veja's best selling styles. The seamless blend of the unisex option, minimalistic design, and sleek look, was something Veja lovers just couldn't resist.
The Veja Campo encompasses the classic tennis shoe style with the stereotypical flat sole.
This style is far less athletic looking than others within their brand. Which, you will either love or hate.
The textured leather is also an added addition that masks imperfections and makes the shoes feel far more chic.
Of course, the shoes are environmentally friendly. They have used the same Amazonian rubber and recycled rubber as the V-10's for the outsole and the laces are made of 100% organic cotton.
However, the aspect that sets these shoes apart is the chrome free leather upper and panels. This leather is a material that has not been tanned using chromium which makes the material far more resistant to cracking and fading. Plus, it's better for the environment.
With that in mind, don't let the leather and flat sole put you off. The shoes are still supportive with additional padding around the ankle.
How to style VEJA Campos
Just like all VEJA trainers, the Veja Campos are another style that is easy to throw on with whatever you're wearing. Slip them on with leggings and an oversized jumper for the school run or pair them with your favourite floaty maxi dress for easy summer vibes.
Read up on our full VEJA style guide for how-to-wear tips.
Are the VEJA Campo shoes true to size?
The Veja Campo shoes run true to size. However, just like the V-10's these shoes do have a slightly wider fit than your regular tennis shoe.
Unfortunately, Veja doesn't currently do half sizes. Therefore, if you're stuck between two sizes we would suggest sizing up.
Although other styles within this brand require a little bit of breaking for maximum comfortability, the Veja Campos do not need the same treatment. While the flat sole may take a little getting used to, you'll find that the padding around the ankle does more than enough to support your foot.
Take a look at our VEJA Trainers Size Guide & FAQ for more insights on these and other styles.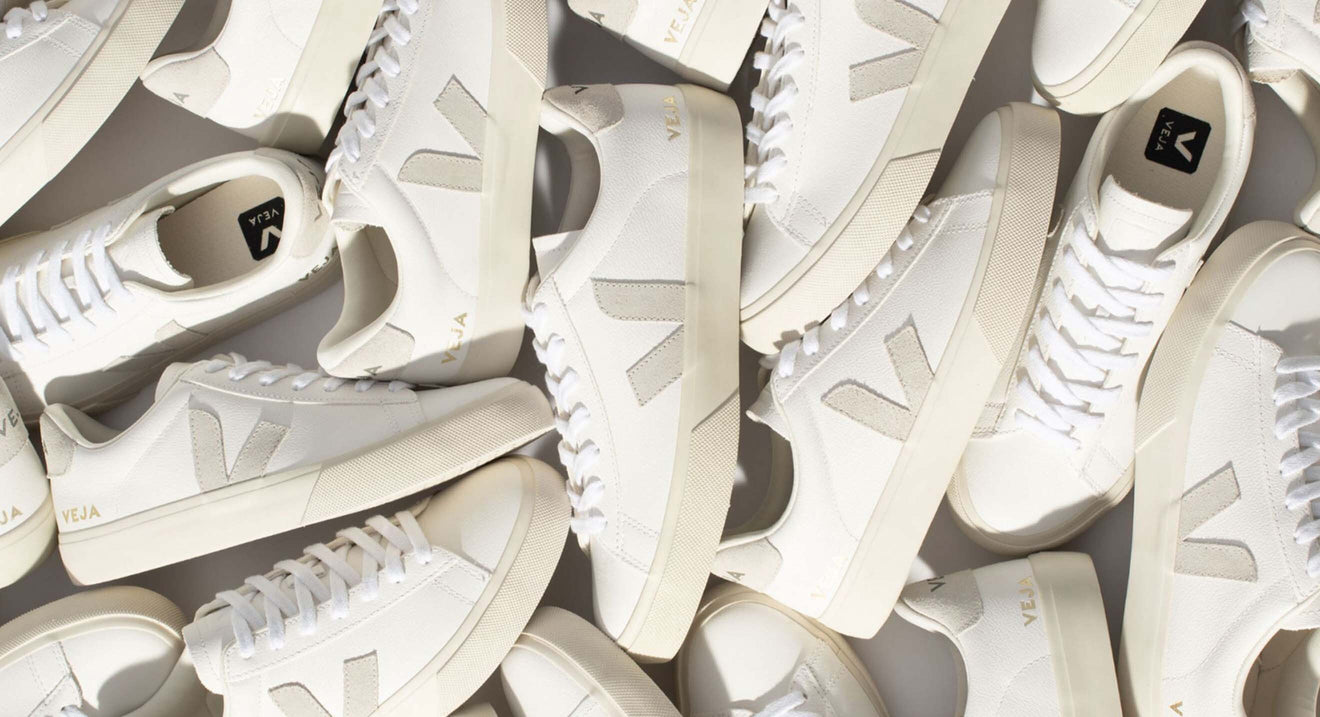 WHICH VEJA TRAINERS SHOULD YOU BUY?
So, should I buy a pair of VEJA V10 or Veja Campo? Well, if you love the style of classic tennis shoes like adidas' iconic Stan Smiths and Reebok's Club C 85, VEJA's V-10 and Veja Campo models will be in continuous rotation in your closet.
Our final advice on VEJA sneakers V10 vs the Veja Campo. The V-10s have much more of an athletic fit but the Campos have that typical tennis vibe that we all know and love.
It all just depends on which vibe you're going for and what you value the most when it comes to comfort. The V-10's have a cushioned sole whereas the Campo's support lies mostly in the ankle.
THE VERDICT
To conclude, VEJA Campo vs V10. Anytime you purchase a pair of VEJA trainers you're making a choice to back sustainability, fair trade practices and safe working standards.
You're also making an investment that will outlast a single season (or year). Although similar, the V-10 and the Veja Campo trainers have subtle differences that make them covetable in their own right.