Shiny leggings, disco pants, whatever you like to call them. We've been obsessed ever since that unforgettable moment at the Rydell High Summer Fair where Olivia Newton-John shaped up as the newly-styled Sandy.
The good news is the shiny trend is back, and we're not just talking lustrous leggings to wear to your local Saturday night dance spot, for that all important 'Call on Me' routine.
The retro trend has been translated into a premium activewear choice that is striking, stylish and more technical than ever before. With a range of colours and styles from your favourite sports luxe brands, you'll be sure to find your perfect pair here.
See our full collection of shiny gym leggings >
How to style shiny leggings
Thought leggings were just for working out? Not so. Shiny leggings will take you from brunch, to barre to bar effortlessly. For a casual daytime look, pair these head-turners with a crisp white tee and off-duty sneakers.
From coffee with the girls to hitting your favourite gym studio, this combo will look effortlessly cool.
If you are going for that LA glam workout vibe, try a matching sports bra, with a slicked back ponytail and some seriously cool sneakers for the ultimate power woman look.
Take on the shiny legging look and you'll be up there with the most stylish of Hollywood stars. JLo is a huge fan of Koral and is frequently seen wearing hers to and from her booty-building workouts, whilst Kendall Jenner nails that effortless active look in Alo Yoga.
So get scrolling and find the perfect pair that will give you that iconic sports-glam look that Danny Zuko would be tripping over.
The Top 10 Shiny Leggings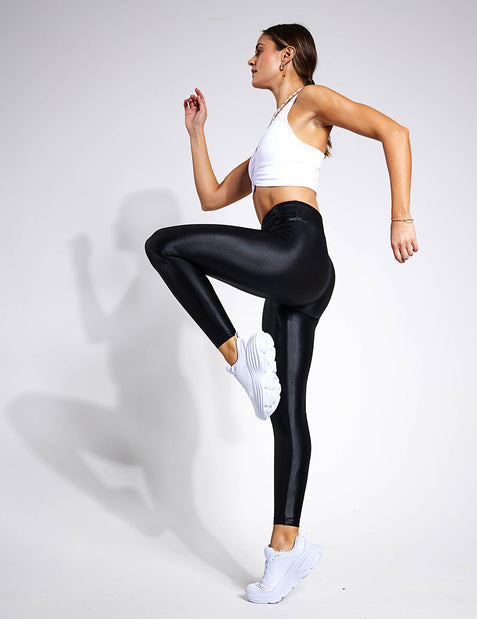 Leggings:
Treat yourself to the number 1 pair of shiny leggings, the famous Koral High Rise Lustrous Legging. These liquid-like leggings are suitable for all occasions, from running errands to a high intensity HIIT class. There is a reason that these are a TSE bestseller.

Koral's signature infinity fabric is not only figure hugging, but extremely supportive too. With ultimate flexibility and an internal elastic keeping your leggings in place, you simply can't go wrong with a pair of Lustrous leggings.
Complement your wardrobe with Lilybod's Zephyr leggings. This high-shine pick offers a supportive feel thanks to sculpting fabric, ensuring your squats and lunges are comfortable and powerful — a win for any gym lover. These tarmac black leggings offer a 4-way stretch, perfect for anyone getting active.

But these leggings aren't just for getting a sweat on! The full-length style offers a stylish alternative to sweatpants for chilling and running casual errands. Pair with a cute crop or sweatshirt for an off-duty look.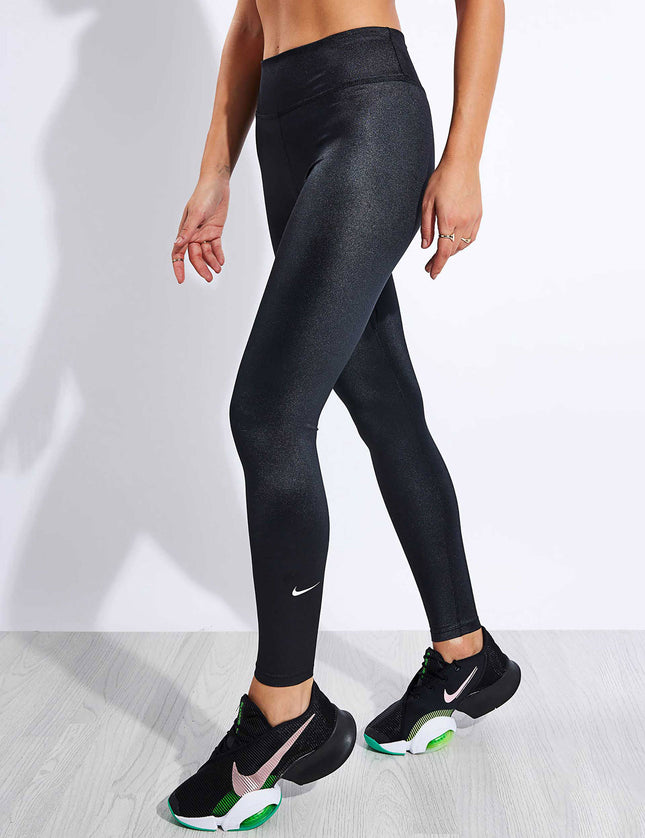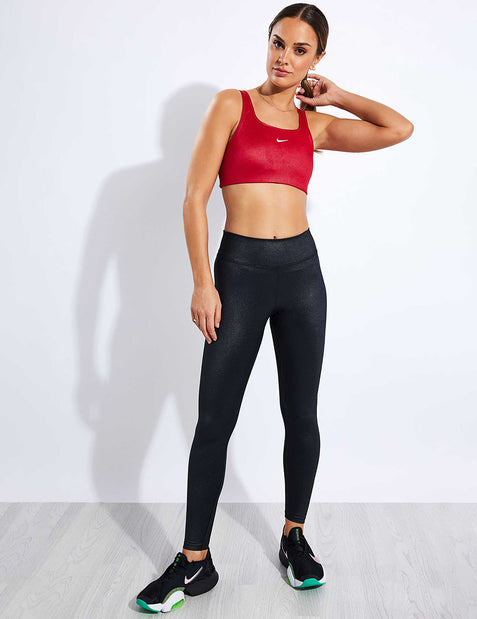 Leggings: Nike, Dri-FIT One Leggings - Black/White
Great news for any die-hard Nike fans! The world-famous brand is on hand with its own shiny legging alternatives. Designed for focused activity, these leggings are constructed with Nike's iconic Dri-FIT technology to keep you cool no matter how hard you train.

In addition to sweat-wicking technology, The One leggings offer two waistband pockets and a high-waisted finish. Never worry about where your belongings are again.

While these leggings are 100% gym-approved, they're also excellent for embracing the shiny retro trend when off-duty. Add a denim jacket or some platform sneakers for a complete throwback look.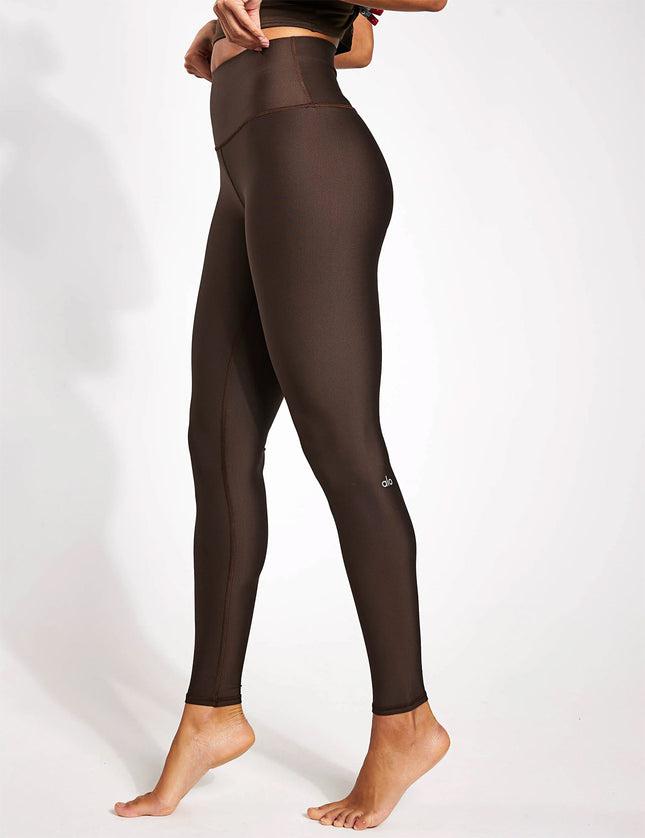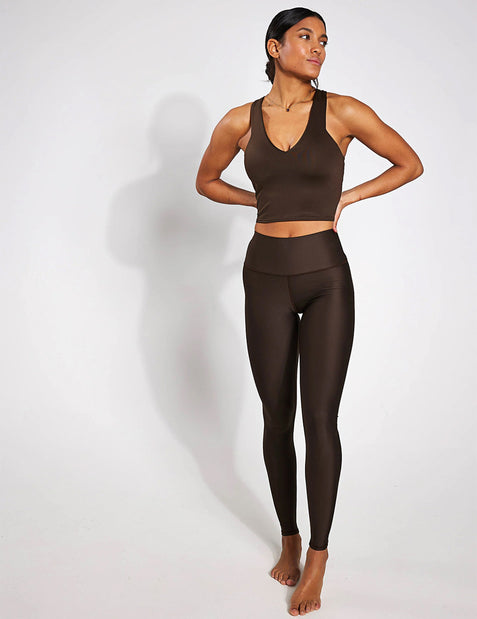 Leggings:
Alo Yoga is known for 10/10 sportswear, so there's no surprise these designers have embraced the shiny legging trend.

However, Alo Yoga's leggings are engineered with the brand's Airlift fabric — a micro-performance double-knit material that offers moisture-wicking, a 4-way stretch, and a sculpted fit. Whether you want to tackle a high-impact workout or embark on a serene stroll, you can trust these luxury leggings to take you to your goals in style.

If you've been secretly lusting over the disco pants look, this pair will be a delight for your senses. The Koral Max Infinity High Waisted Leggings nail the retro dance look with a liquid-shine, compressive LYCRA Sport fibres, and a structured high-waist fit. There are five unique colours to explore — including a vibrant Lapis Blue for any disco queen.

Don't leave these leggings as disco pants only, they're also super-soft and supportive for active workouts. Gentle compression and an eternally fashionable appearance? Yes, please.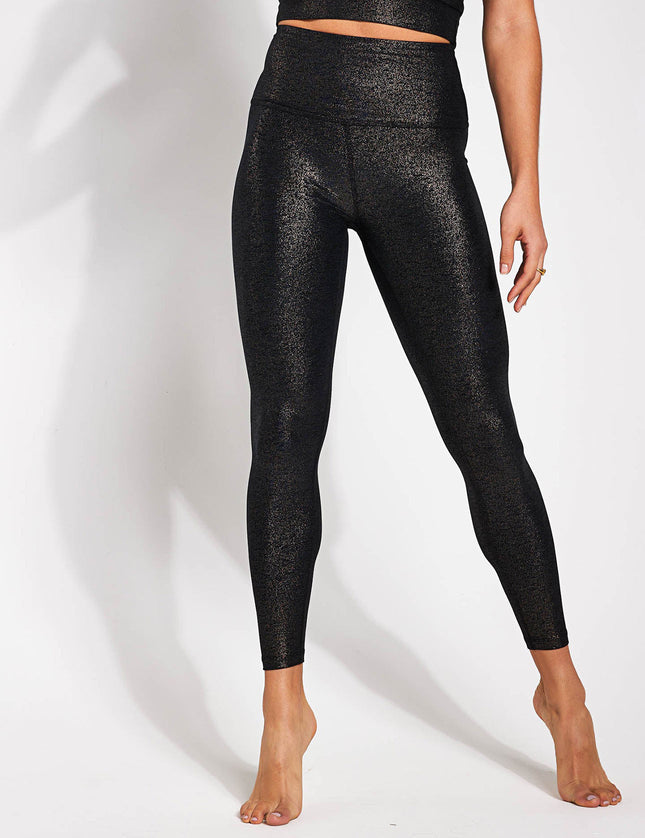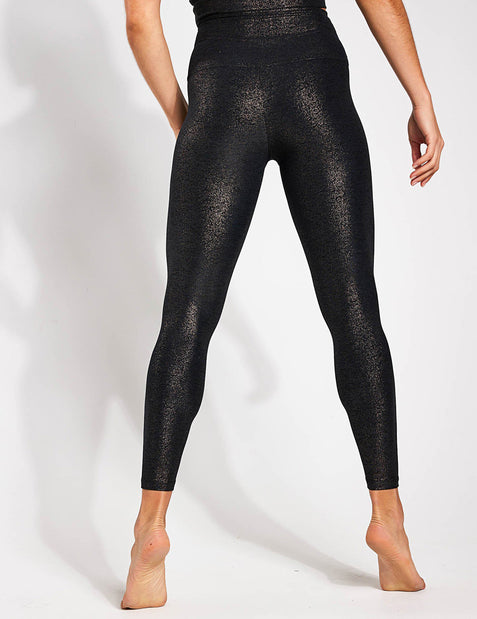 Leggings:
Opt for a sparkly take on the shiny legging trend with Beyond Yoga's Softshine Leggings. This sought-after silhouette features 'Spacedye' fabric, a 4-way stretch material with a glistening finish. Subtle glitter in gym wear? We can't get enough of it.

Alongside an unmistakable look, the Softshine Leggings have a 5" waistband, moisture-wicking properties, and a cosy midi length. From the gym to the bar, Beyond Yoga provides a unique flair whilst being the softest leggings you'll ever wear.
Alo Yoga is a brand you can trust with your sports kit, and the 7/8 Airlift Leggings are no different. This sleek pair aims to contour and smooth your figure, leaving you ready to stretch in the gym or take on the latest dance moves.

Smart fabrics come first with this garment, and wearers can take advantage of antimicrobial, moisture-wicking, and lightweight properties. All of this, and the pair has 4-way stretch! No feeling stiff with the Alo Yoga Airlift leggings.
Leggings:
Who says leggings have to be a close fit? The Koral Illuminate Infinity Flare Leggings prove shiny fabrics look great as flares, too. They're trending for a reason.

With a contouring compression fit top-half fit and a loose flared hem, these trousers leave you feeling comfortable, confident, and ready to go. The leggings are also water-safe and quick-drying, ensuring you don't get weighed down by a heavy workout or a busy day. Will you be embracing the flared life?
Leggings:
Ultra high-rise leggings remain unbeaten, especially when they're available with on-trend shiny wet look panels. Introducing the Lilybod Marina 2X Leggings, a sculpting sensation that contours your bod' without scrimping on support.

These leggings prioritise comfort, allowing you to easily bust a move, run an errand, or hit the gym. They even feature ergonomic seams, which are revolutionary for anyone who wants a light second-skin feel.


This is a popular option for anyone not ready to go full-on with wet-look pants, as the shiny fabrics are limited to sophisticated panels.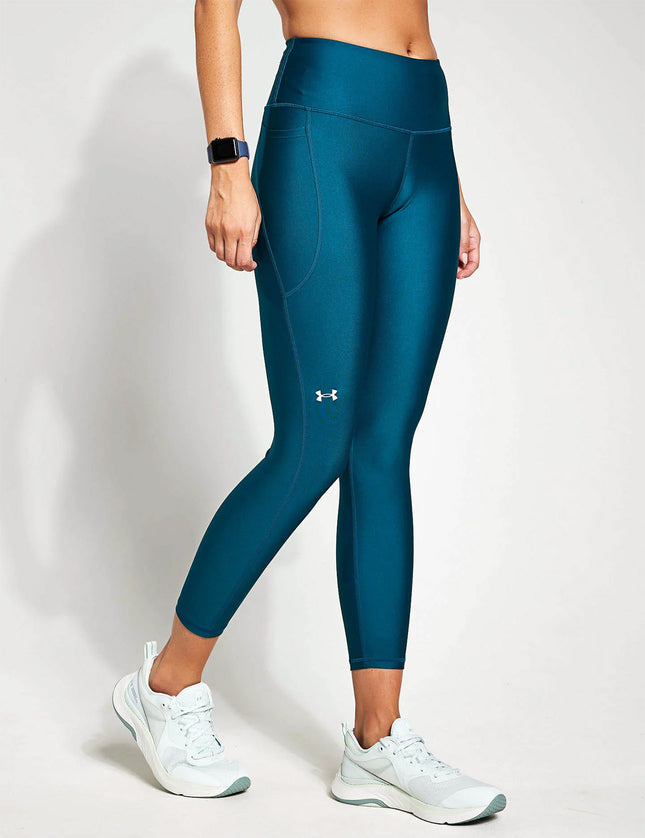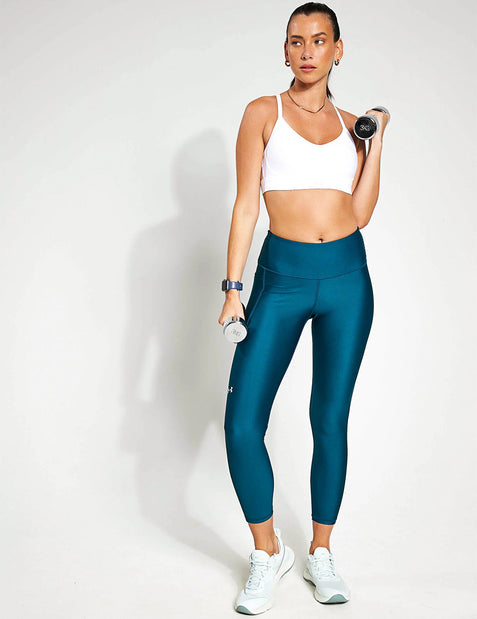 Leggings:
Not sold on the typical black disco pants style? Under Armour has a solution for you. Meet the HeatGear Armour leggings. These high-performance leggings are built for intense workout sessions, but they're totally dancefloor and streetwear approved, too.

With a delicate tech-focused construction, these leggings are anti-odour, sweat-wicking, quick-drying, and ultra-stretchy. Whether you pair them with platforms and dance the night away or hit the gym with your favourite trainers, you won't have to worry about being hot and bothered in these gym-bag essentials.