In the fast-paced world of running shoes, finding the perfect pair can be a difficult task. The Saucony Ride 16, the latest addition to their esteemed Ride series, has been generating considerable buzz among runners who have loved the brand for years and those who are slipping into their very first pair of Saucony running shoes.
If you're in pursuit of a versatile and comfortable running shoe, your search may just end here. In this comprehensive review, we'll explore the Saucony Ride 16, providing a detailed overview, delving into its key features, dissecting the upper, midsole, and outsole, and finally, comparing it to its predecessor, the Ride 15.
Overview of the Saucony Ride 16
Let's begin by introducing the star of the show: the Saucony Ride 16. This running shoe is engineered to harmoniously blend style and performance, a true reflection of Saucony's commitment to excellence.
Key Features:
Enhanced Comfort and Cushioning: The Ride 16 takes comfort to the next level with its upgraded PWRRUN™ foam technology. This innovation offers a more responsive and plush ride, effectively minimising the impact on your joints during your runs.
Improved Breathability: Saucony has revamped the shoe's upper with a new mesh design, ensuring improved breathability. Your feet will remain cool and dry, even during the hottest runs, reducing the risk of discomfort and blisters.
Sleek Design: Beyond performance, the Ride 16 boasts a modern and stylish design that adds an extra layer of confidence to your stride.
Enhanced Traction: The upgraded outsole provides superior grip on a variety of surfaces, guaranteeing stability and control on any terrain.
Durability: The Ride 16 is built to last, with key areas reinforced to withstand the wear and tear of consistent training.
A Closer Look at the Saucony Ride 16
Saucony Ride 16: The Upper
The upper of the Saucony Ride 16 has been meticulously designed to ensure both comfort and breathability. The redesigned mesh upper facilitates improved airflow, effectively keeping your feet cool throughout your run. Bid farewell to overheated feet, and say hello to a more comfortable running experience.
Saucony Ride 16: The Midsole
When it comes to cushioning and responsiveness, the Ride 16 shines. Thanks to the enhanced PWRRUN™ foam technology, every step feels like a luxurious experience. It's akin to swapping your basic mattress for a plush memory foam one – your feet will revel in the comfort.
Saucony Ride 16: TheOutsole
Traction is a make-or-break factor in running shoes, and the Ride 16 excels in this regard. The improved outsole delivers better grip on various surfaces, be it wet pavement or uneven trails. You'll stride with confidence, knowing that the Ride 16 provides unwavering stability.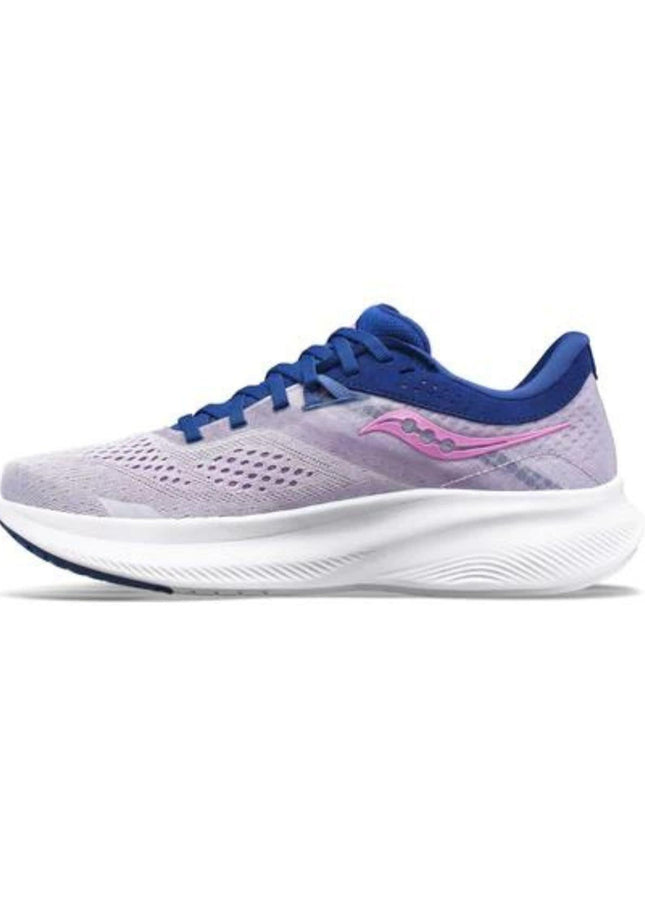 Saucony Ride 16 vs. Saucony Ride 15
Now, let's engage in a head-to-head comparison between the Saucony Ride 16 and its predecessor, the Ride 15, to determine how they stack up.
Upper Redesign
The Ride 16 takes the upper hand with its enhanced breathability and airflow. Although the Ride 15 offered commendable ventilation, the Ride 16 takes it a step further, ensuring your feet stay cooler and drier.
Cushioning and Responsiveness
The Ride 15 was already lauded for its cushioning, but the Ride 16 elevates the experience. With the upgraded PWRRUN™ foam, you'll relish a plusher and more responsive ride, effectively reducing the strain on your joints during your runs.
Updated Design
In terms of aesthetics, both the Ride 15 and Ride 16 possess their unique charm. The Ride 15 adhered to a more traditional look, while the Ride 16 embraces a sleeker, more modern design. Personal preferences play a role, but the Ride 16's updated style has garnered much attention.
Exceptional Traction
While the Ride 15 offered reliable traction, the Ride 16 surpasses it with its enhanced outsole. You can confidently conquer various terrains, from slippery streets to challenging trails, knowing that the Ride 16 provides superior grip.
Durability Reinforced
Both shoes are constructed for longevity, but the Ride 16 takes durability up a notch. Key areas are reinforced, ensuring that it can endure the rigors of rigorous training.
Final Thoughts
The Saucony Ride 16 has proven itself in a busy category great running trainers. In the Ride 16, Saucony strikes a balance that blends style and performance. With its enhanced cushioning, breathability, and durability, it serves as a worthy successor to the Ride 15. Whether you're on a quest to conquer a marathon or simply savoring your daily jog, the Ride 16 promises unwavering comfort and support for every mile.
So, slip into your Saucony Ride 16, hit the pavement, and stride forward with unwavering confidence. Your feet will thank you, and your running journey will be a memorable one. Happy running!
Looking for a trail shoe? Check out our review of the Saucony Aura TR.