Words by Isobel Coughlan

If you're into working out or often attend gym classes, no doubt Sweaty Betty is a brand you will recognise. It is everywhere and worn by pretty much everyone.
This British-born workout brand had humble beginnings in Notting Hill in the 1990s and has swiftly grown into a worldwide name with a cult following. Everyone enjoys getting active in Sweaty Betty, from A-listers to sports influencers and at The Sports Edit, we're no exception. We know and love this brand, and today we're sharing why.
Read on for the inside scoop for about the bestselling ranges, how the product really fits, and if Sweaty Betty is really worth your money.
The Sweaty Betty Range
With 20 years of experience behind its back, Sweaty Betty consistently produces fashion-forward, high-quality, practical women's workout wear. The brand was founded by Tamara Hill-Norton, who is still at the head of the business today.

Sweaty Betty aims to help customers feel comfortable and confident when working out. They also strive to source fabrics from recycled materials and responsible production methods, making a few of their pieces eco-friendly.

The Sweaty Betty range is pretty vast as they have activewear to support every kind of movement, which whilst great, can be overwhelming when trying to decide what to buy! To make this easier for you, we've reviewed the bestselling ranges so you can find the one that is right for you.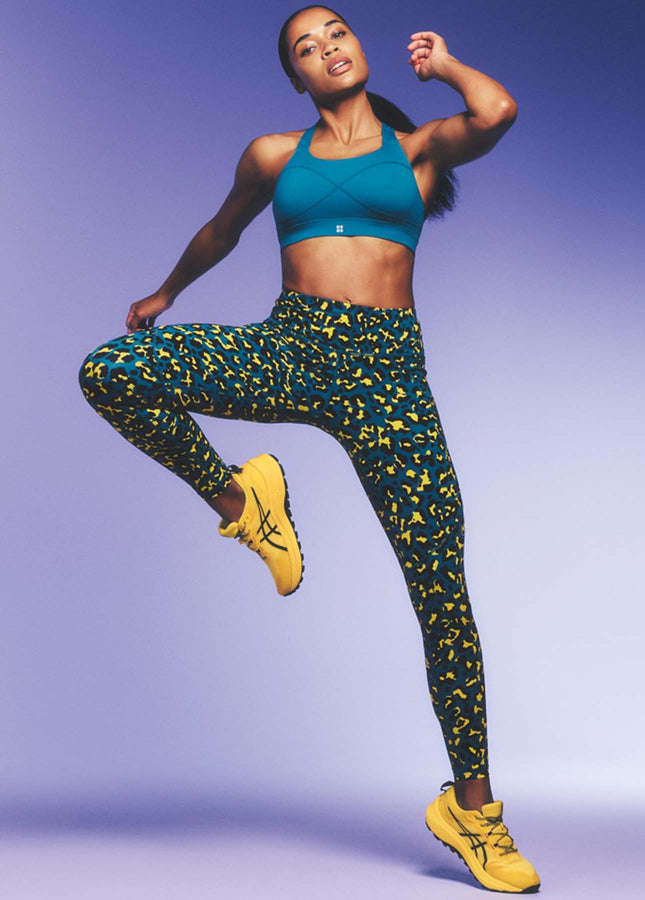 The Sweaty Betty POWER Range
The power range is a Sweaty Betty bestseller. It's the most versatile range, designed for all sports from yoga to running.
Best for: Everything - running, relaxing, cycling, weightlifting, yoga, and more. This all rounder is a must-try for all activity types. It's activewear you will keep reaching for time and time again.
Power Leggings
Sweaty Betty Power Leggings are one of their most famous products. The power leggings are available in a variety of colours and patterns, coming in full length and 7/8 crops.
They feature both a side pocket and back zip pocket, an internal adjustable drawcord, and are made from a super supportive, stretchy soft fabric with flattering seams that sculpt the bum.
The best part of these leggings? They're designed for every type of workout.

Fun Fact: Sweaty Betty stated a pair of these power leggings are purchased every 60 seconds.
> Shop the Power range here.
Power Cycling Shorts
Looking for a warm weather alternative to the Sweaty Betty Power Legging? Then the 6" Power Cycling Shorts are for you.
Just like the power leggings, these bike shorts are made for every workout. They are crafted with the same sweat-wicking, quick-drying fabric to keep you comfortable while getting active AND they use the same bum-sculpting technology as the power leggings, perfect for street style and looking great at the gym.
These Sweaty Betty biker shorts keep you handsfree with a side pocket for your phone and a zip pocket at the back to secure your small valuables.
Power Sports Bras
The Sweaty Betty Power Sports Bra is another bestseller, for a reason!

This medium support sports bra features a flattering scoop neck design, with a looped back and adjustable T-bar strap, allowing you to adjust the fit to make it perfect for you. It comes with removable pads, and the contour seams match the detail on the Power leggings and shorts, to complete your matching set.
This is a medium support bra from Sweaty Betty and is great for most workouts. However, if you're doing lots of jumping, running, high-intensity stuff, then we'd recommend a high-impact sports bra instead, like the Sweaty Betty Zero Gravity Bra.
> Shop Sweaty Betty sports bras here.
The Sweaty Betty ZERO GRAVITY Range
Introducing Sweaty Betty's unique running range: Zero Gravity. Designed for jogging, running, sprinting. This is an extra technical range that uses ultra-lightweight Italian fabric that is quick-drying for your sweatiest runs. Oh, and did we mention? The Zero Gravity Leggings are bum-sculpting superheroes.

Best for: Running
Zero Gravity Leggings
The Zero Gravity Leggings should be in all runner's wardrobes. They're designed specifically for running, ensuring you feel supported every step of the way. They're high-waisted with an adjustable waistband and available in 7/8 or full length.
Key features:
Ultra-lightweight Italian fabric is quick-drying for your sweatiest sprints
Warp-knitted fabric offers compression technology
UV40+ protection
Adjustable drawcord waist
Two side pockets and one back zip pocket
What makes these leggings particularly impressive is their luminous reflective strips. Not only do they elevate the design, but they ensure you're seen while running in the dark. A must if you're looking for Sweaty Betty running leggings.
Zero Gravity Running Bra
You can't go running without a suitable sports bra, and Sweaty Betty has designed the ultimate counterpart to their running leggings. The Zero Gravity Running Bra offers high-impact support, ensuring your chest is stabilised and pain-free while you're on the move.
This sports bra is available in traditional bra sizes. Meaning you can match your sports bra to your cup and back size to ensure a perfect fit. Cup sizes range from A to F
The bra itself has a feminine look. It's constructed from an ultra-lightweight, sweat-wicking fabric in an anti-bounce design — ideal for anyone with a larger bust. The cup's weightless hold even distributes pressure evenly, reducing any back pain, red marks, and chafing and it has adjustable straps that won't shift as you run.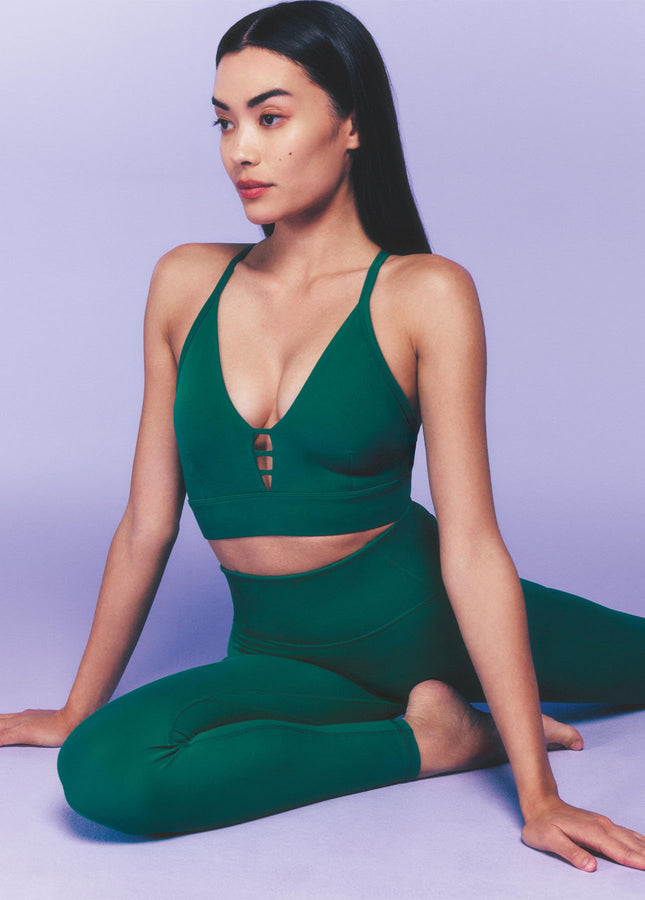 The Sweaty Betty SUPER SOFT Range
Whether you're a yoga fanatic or looking for activewear with a buttery-soft feel, the Super Soft range could be for you. This Sweaty Betty collection focuses on creating a smooth texture with snug compression to help you feel confident on the yoga mat or while relaxing.
Best for: Yoga, Pilates and relaxation
Super Soft Yoga Leggings
The Super Soft Yoga Leggings are great if you're looking for buttery-soft, bum-sculpting, leg lengthening leggings. They're crafted from the brand's softest fabric ever, which is still compressive, sweat-wicking, and 90% squat-proof. Though they're called yoga leggings, these leggings can and should still be worn for multi-use.
Alongside their functional fabric properties, the Super Soft Yoga Leggings also sculpt your bum and elongate the look of your legs with extra-flattering seam lines. The cut is high-waisted and has an internal drawcord for an adjustable fit. The Super Soft Yoga Leggings are available in full-length and 7/8 length. We recommend customers under 5'4" try 7/8 styles.
Super Soft Yoga Bra
Alongside leggings, the Super Soft range also includes a low-impact sports bra.
The bra itself offers light support via a non-padded cut. It also has a semi-deep underband to keep your chest stable. This is great for low-impact sports, but it's not ideal if you're running or doing a high-intensity workout. The soft fabric is a treat to wear. It's breathable and sweat-wicking, so you can stay cool while practising your moves.

The Sweaty Betty BREATHE EASY Range
The Sweaty Betty Breathe Easy range is here to keep you refreshed on the go. These performance running tops are specially designed for modern runners with smart fabrics that optimise your performance. They're the perfect running tops to throw over the Zero Gravity sports bra.
Each of the tops is made with sweat-wicking, stretchy, lightweight fabrics to ensure ventilation throughout the workout. Also, the fabric includes recycled polyester — perfect for any eco runners!
Best for: Running, cycling, tennis, and any other high-cardio sports.
Breathe Easy Short Sleeve T-Shirt
The Breathe Easy Running T-Shirt has a loose short-sleeved design. Unlike tight tanks, this body-skimming fit allows air to escape from your body, keeping you cooler and sweat-free. It also has a crew neck and breathable mesh panels for extra ventilation. All tees have a small reflective logo at the back for running in the dark.
Breathe Easy Tank Top/Vest
If you prefer sleeveless designs, the Breathe Easy Run Vest could complement your workouts. This sleek style uses the signature Breathe East fabrics and is cut in a racerback style. It's not tight fitting, however it has a body-skimming fit for coolness and ease of movement.
Like the tee, the Run Vest features ventilating mesh panels and a reflective logo on its back.
The Sweaty Betty ULTRA Range
The Sweaty Betty Ultra Range is all about high impact encapsulation sports bras.
Best for: Running and high-intensity workouts.
Ultra High Impact Running Bra
What shocks people the most when they discover this high impact bra, is how thin and breathable the material is. Gone are the days of extra padding and super compression to keep you supported. The Ultra bra is a non-padded soft high support sports bra with mesh panels for superior ventilation. The Ultra High Impact Running Bra is all about keeping you comfortable and seriously supported with it's encapsulation and compression technology.
Alongside cup-based sizing and innovative technologies, the sports bra also has padded and adjustable shoulder straps, which can be set in a crossback or U-back design, depending on your preferences.
The Sweaty Betty ATHLETE SEAMLESS Range
Designed for all sports, Athlete Seamless is Sweaty Betty's take on versatile workout tops made for every activity. You can wear this range of seamless workout tops for running, yoga, weight lifting, cycling, Pilates and more. With technical materials and supportive fits, all you need to do is add a sports bra and get going. Our seamless favourites are the crop gym t-shirt, the gym long sleeve top and the gym vest.
Best for: Training
How Does Sweaty Betty Fit?
So, how does Sweaty Betty measure up when it comes to sizing and fit?
This is quite an inclusive brand; you can buy most leggings and sportswear in seven sizes. The sizes range from XXS (UK size 6) to XXL (UK size 18 - 20). A standard size S fits a UK size 10.

When it comes to Sweaty Betty leggings, you can also select leg lengths depending on your desired fit. Sweaty Betty leggings are mostly available in 7/8 length and full-length styles.
Sweaty Betty bras are a bit of a mixture with styles like super soft yoga bra available in sizes XXS to XXL. The more technical bras like the zero gravity or ultra running bra follow the traditional UK bra sizing available 30A - 38F to allow for a perfect fit.
We believe Sweaty Betty does run true to size, meaning you shouldn't have to size up or down from your usual dress size. Please note that the workout wear is meant to be snug fitting or tight, but if you're unsure between two sizes, you should size down. We have in depth size guides on all of our Sweaty Betty product pages, so if you're not sure, we recommend checking them out.
Is Sweaty Betty Good Quality?
Since being established in the 1990s, this British brand has shot to fame worldwide. But does it live up to the hype?
It's safe to say that, yes, Sweaty Betty does offer high-quality products. Whether you're shopping for sculpting leggings or a breathable workout tee, you can trust this brand to deliver durable and long-lasting clothing. There is a reason they sell one Power Legging every 60 seconds!
Top Tips For Caring For Sweaty Betty Products
Sweaty Betty clothes are designed to withstand lots of activity without losing their high-performance properties. However, you should note these tips to keep your Sweaty Betty garments in good condition.
Only wash when needed — overwashing can decrease quality
Wash clothing inside out
Avoid using fabric softener
Don't wash at high temperatures
Dry clothing flat when possible
Air dry, rather than tumble dry
Top 5 Best-Selling Sweaty Betty Styles
Want to try the best of the best? We've got your back. Here are the most in-demand Sweaty Betty London styles you need to know.
Power Leggings — The best multi-sports leggings around, complete with bum-sculpting, sweat-wicking, and quick-drying properties.
Gary Sweatpants — Sometimes we just want to wear comfies. These loose sweatpants are super soft, lightweight, and squat-proof, made for yoga to lounge.
Ultra Running Bra — This bra takes running seriously. With encapsulation and compression technology, you'll always feel supported.
After Class Longline Sweatshirt — Forget wearing your old hoodies. Sweaty Betty's sports sweatshirt is breathable and made from organic cotton.
Power 6" Biker Shorts — The iconic Power Leggings with a mid-thigh finish.
So, if you're interested in shopping for the most loved pieces, give these options a whirl.
Our Verdict
Sweaty Betty is loved everywhere and for good reason. This humble British brand found a gap in the market and made its name in the premium women's sportswear industry. From their iconic Power Leggings to the versatile Athlete Seamless range, there's a Sweaty Betty pick for all occasions.

Of course, Sweaty Betty can be more expensive than rival brands. But, if you're seriously into working out and want activewear that lives up to its hype, and that will stand the test of time, then Sweaty Betty is worth the price tag, in our opinion.

Whether you need some soft leggings for next yoga sessions or a high support sports bra for your next 10K, consider Sweaty Betty has you covered.
Discover the Sweaty Betty range here.