Words by Talia Hopkinson

From high heels to ballet pumps, womenswear was in need of a shoe that wasn't all about its femininity. Luckily, the 1980s spawned the white trainer. Taking inspiration from the platform shoes in the 1970s, trainers quickly became the shoe of choice.

We have seen these trainers change with the seasons. However, whether you prefer white chunky trainers or white canvas trainers, one thing remains for sure, these shoes are here to stay.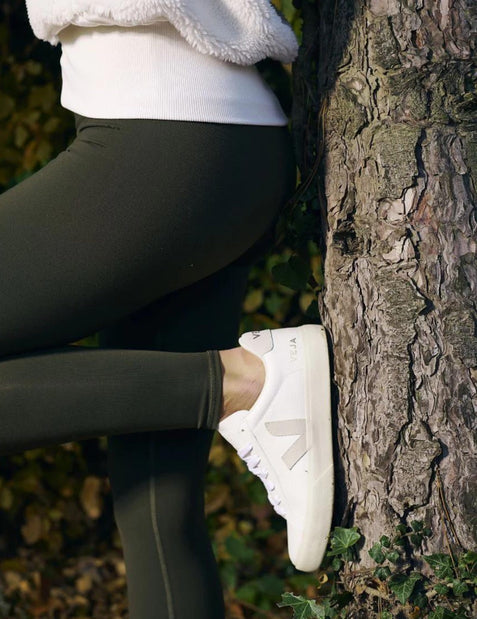 Shoe 1: HOKA, Bondi 8 - White/WhiteShoe 2: Veja, Campo Leather - White Natural
In the modern day, these shoes are versatile. Whether you're just heading out for a picnic at the park or you're hitting the gym hard, having a pair of supportive white trainers is a must.
It is also a fact that no matter how many pairs you already have, you can never have enough (we don't make the rules).
So, without further ado, here are the best white trainers for women.
Gym Trainers

Okay, so we are kicking off this list with the best white gym trainers. Having a supportive pair of trainers whilst lifting weights in the gym is vital to ensure your safety.
Not only that but women's white trainers pair perfectly with your favourite fitness outfits. Just try not to get too distracted by how good you look in the mirrors. Here are the best white trainers for women who workout at the gym.
Levelling up from version eight, these Nike white gym trainers are a top contender for the best white trainers you could buy.

They feature a hyper lift plate and rubber rope wrap for ultimate support no matter the intensity of your workout. Even some of the greatest athletes in the world swear by these. So with that gold stamp of approval, you know that you're in for a long lasting pair of trainers.
"Style with substance" is how these white Nike trainers are best described.
They provide flexibility at the front of your foot and stability at the back so you can transition seamlessly from cardio to weightlifting. They even have a supportive ankle design which offers easy entry and incredible support. These shoes are breathable, lightweight and versatile. Does it get any better than that?
Casual trainers
Everybody loves a good old pair of white canvas trainers. They're comfortable, stylish and look great no matter what you have planned for the day.
If you don't already have a pair of white casual trainers, then you need to try them. You'll be impressed at how easily they elevate any outfit. Here are the best white casual trainers for women.
These white Veja trainers are classy, timeless and eco-friendly.

Made from the finest organic cotton sourced from Brazil, this is a perfect combination of sustainability and style. They also feature a supportive sole so you can wear these all day long.
The Veja Esplar Leather in white trainers are both comfortable and contemporary.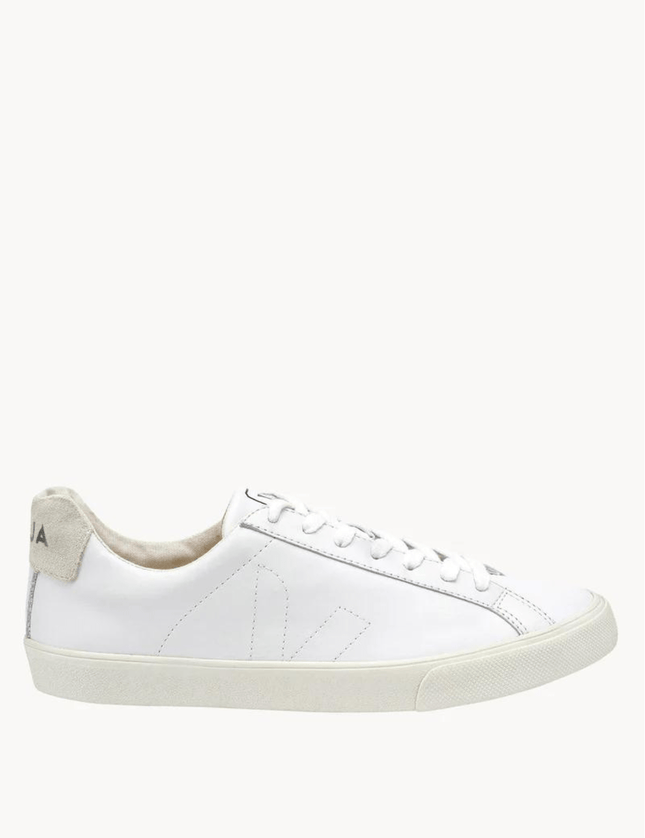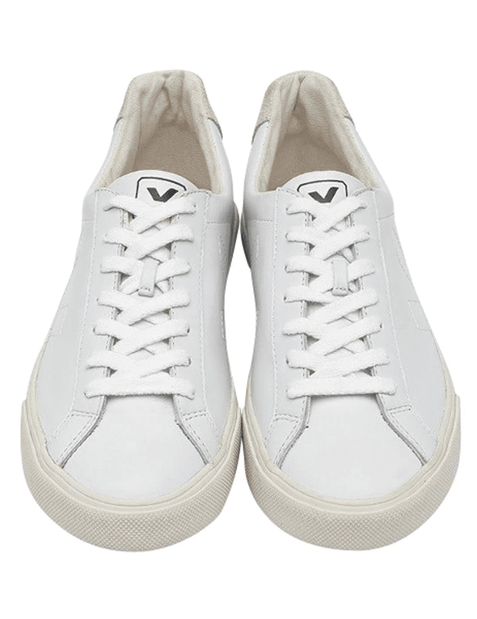 Shoes: Veja, Esplar Leather - White
Again, this brand has excelled with their commitment to sustainability and designed a pair of trainers that you will adore. The wide rubber sole maximises comfort and the effortless design will help you to look great no matter what you wear.
The Hoff white trainers are an everyday essential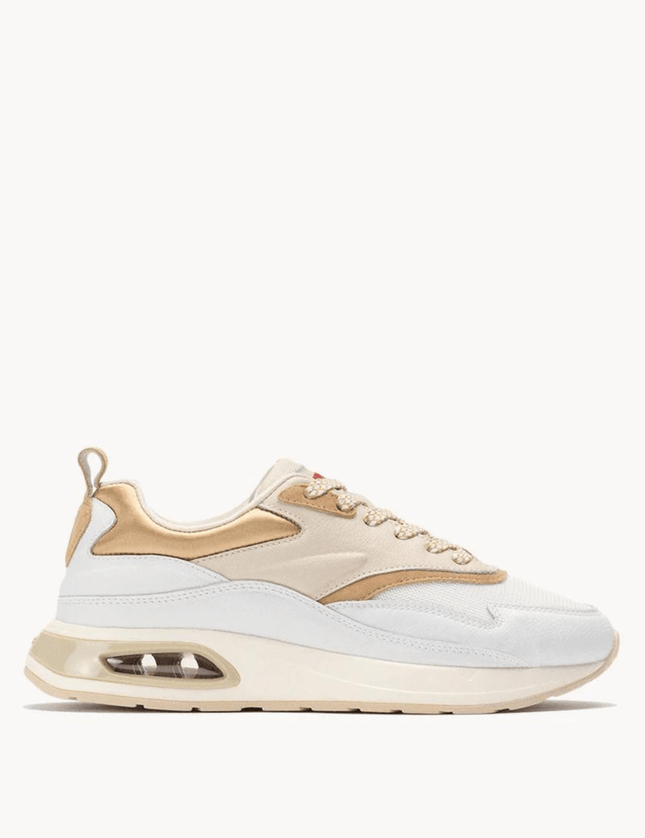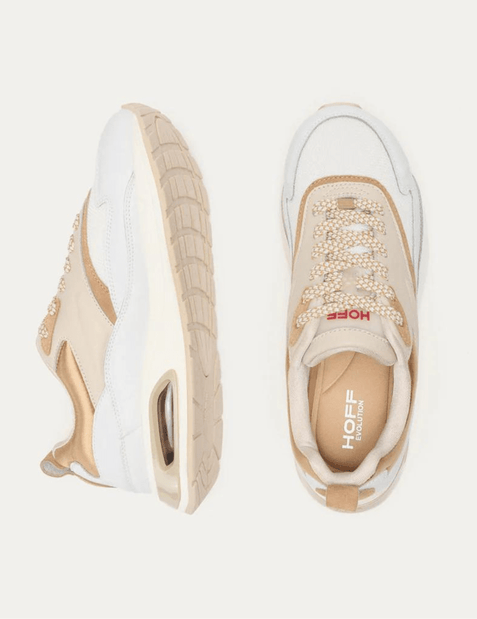 Shoes: HOFF, Skyline - Evolution
Suede leather and textile detailing offer a minimalist effect that always stays in style. Most importantly, these trainers will function for any event. From dog walking, Sunday strolls or heading to a café with friends, these are the kind of trainers that never fail you.
If you're looking for a pair of white trainers you can always rely on, these shoes are it.
These shoes are Swiss-engineered to provide a high level of comfort and support. Feel confident that you're doing something good for the planet too by purchasing these shoes made from vegan leather.
Tennis Trainers
You may have already guessed it but white tennis trainers are designed with the tennis court in mind.

However, whether you're an avid tennis player or not, these shoes can be worn daily too. So if you're looking for a lasting pair of ladies' white tennis trainers, the below may be your best bet.
When looking for women's white Adidas trainers, the Avacourt shoes always come to mind.
These white tennis trainers are specifically engineered to fit women's preferences and female athlete sizes. They are structured in a way to provide a lightweight bounce and they feature cushioning in all of the right places. They also have specific technology to offer optimal balance, stability and flexibility. Impressive, right?
The subtle design of these trainers has made them a popular option when it comes to white tennis shoes.
Speed and support are top priorities of the NikeCourt trainers. With the addition of a comfortable underfoot feeling, these shoes are as durable as they are versatile.
Running Trainers
Running is the number one sport where you need to make sure that you select the correct pair of trainers.By doing so, you ensure that you experience no injuries and you can push yourself on different terrains.
Plus everybody knows that when you're wearing your favourite pair of running trainers, you run quicker. It's a fact. Here are the best white trainers for women who love to run.
The Adidas X Stella McCartney collaboration is loved by many and with good reason.
Transition from the track to your errands with these white running trainers. The boosted cushioning technology matches your energy and allows you to push further with reassured comfortability. They are even made from a textile that adapts to the shape of your foot as you move.
If all of that wasn't already enough, these shoes are ultra stylish and a must buy pair of Adidas white trainers.
On running white trainers are designed with performance in mind.
On Running combines everything that they already know about the sport and has effortlessly created a shoe to help propel you on the track. These are the types of shoes you can wear long after your workout ends.
Key Takeaways
If you take one thing from this article it should be that having a pair of white trainers is essential.
There is a pair of white trainers out there for everybody. From white workout trainers to everyday wear, you can never go wrong with these shoes.

You will also never second guess your workout fit again. Pair with a trendy workout top and workout leggings and feel confident in every setting.