Whether you're looking to try Reformer Pilates for the first time or take your skills to the next level, we've got you covered.
Our top 8 studios in London have all been tried and tested by our team to give you honest feedback for each, so you can choose your location based on your needs.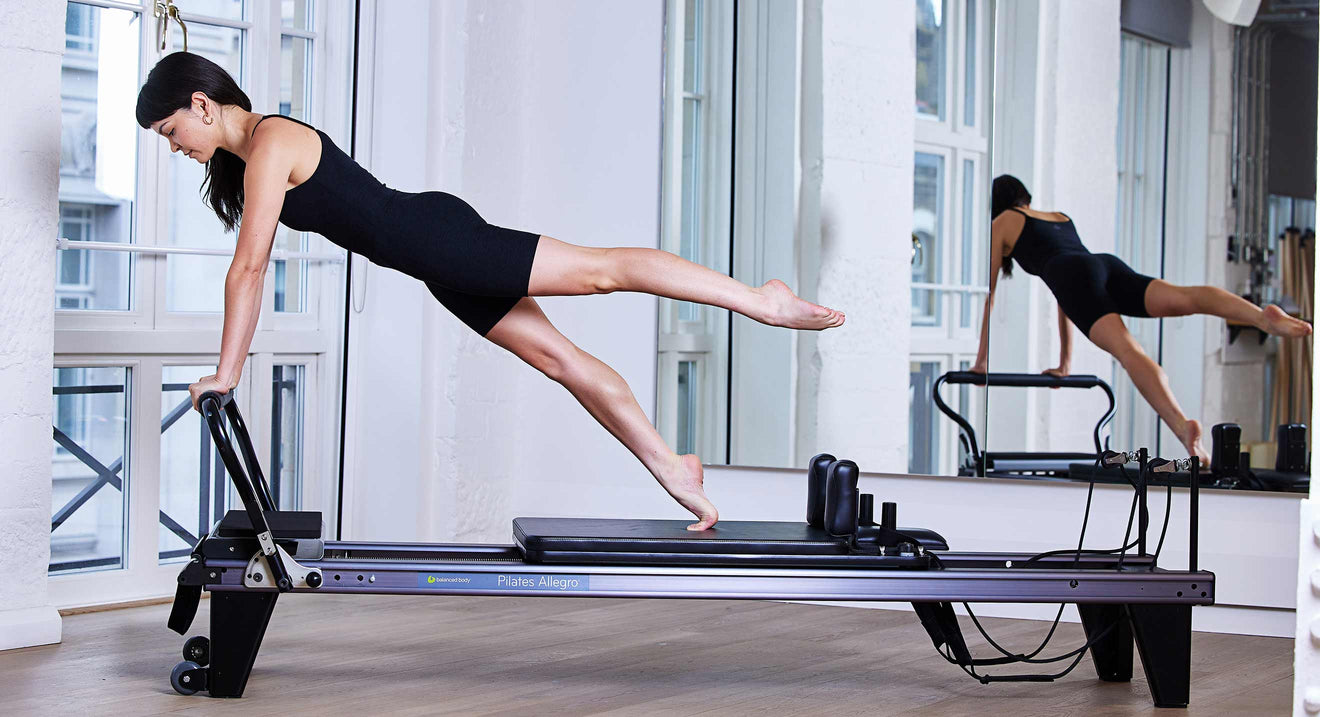 New to Reformer Pilates? Recovering from injury? Or already a seasoned pro? Wherever you're at, find your fix with our Top 8 Reformer Pilates Studios in London.
NOTE: Don't forget your grippy socks! Grippy socks are mandatory at many of London's Reformer studios, so make sure you have a pair packed and ready to go.
Do you have the right gear? Check out our Pilates Clothing collection >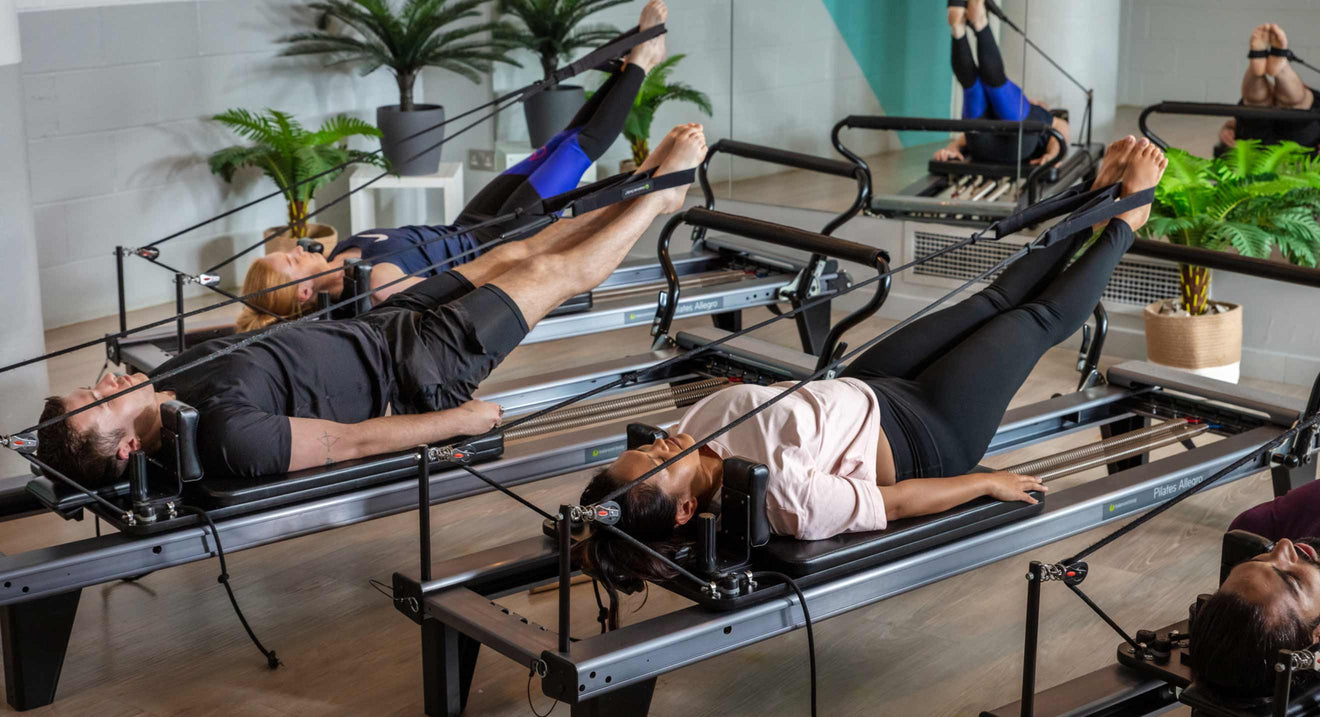 Frame
I'll forever be grateful to Frame for kickstarting my Reformer obsession back in 2014. As a cardio junkie I always assumed 'Pilates' would be too boring for me, but after a series of injuries it was recommended I try Frame's beginner class. And I never looked back.
Frame's beginner classes are a great way to introduce yourself to the Reformer equipment, Pilates breathing and technical positions. Once you're ready to move on, try one of the standard classes at any of Frame's 4 London locations.
If you're more experienced and looking to really take it up a notch, they also offer Dynamic and Advanced classes for a real core burner. The instructors will push you here, but still modifications throughout the more challenging classes.
Each instructor has their own playlist and method of teaching, so find the one you click with most and you'll be a seasoned Pilates pro before you know it.
BEST FOR: First timers and those looking for a feel-good workout
ON CLASSPASS? Yes
DROP IN PRICE: £22
AMENITIES: Towels, showers, lockers, hair dryers, straighteners, cafe
LOCATIONS: Shoreditch, Kings Cross, Hammersmith, Victoria
Top:
Psycle
You might know Psycle for classes such as spin, HIIT, barre and yoga. Indeed Psycle's reputation for the best classes and instructors precedes it.
So when I heard Psycle was adding 'Reform X' (dubbed 'reformer, but not as you know it') to its repertoire, I had to try it.
Psycle's Reform X class is a high intensity, full-body workout that combines elements of Pilates, yoga and functional training. The dynamic movements and powerful bodyweight exercises will challenge your muscles and elevate your heart rate within minutes of starting.
Fortunately when the going gets tough, the great playlist and instructors will help get you through. Psycle's Reform X instructors are incredibly motivating and conscientious, with a real focus on form and alignment (lovers of Karve studio, Frame and the Lagree method may recognise some familiar faces here).
With the Reform X method, you'll quickly see improvements in your strength, flexibility and balance, as well as your overall fitness level. So whether you're an athlete or a beginner, this class is an incredible way to push yourself and see the results.
Each of Psycle's 4 studio locations (including Oxford Circus, where you'll find Reform X) is also home to The Sports Edit's pop up shops, so you can see and buy our kit drops first. What better way to reward your hard efforts after class!
BEST FOR: Those wanting to be challenged by expert instructors
ON CLASSPASS? Yes
DROP IN PRICE: £25 (3 for £45 intro offer)
AMENITIES: Showers, towels, smoothie bar
LOCATIONS: Oxford Circus
Tempo
With a name like that, it may come as no surprise that music is at the heart of a Tempo class. This Reformer class is a rhythmic workout that is followed to the beat with absolute precision.
This focus on timing really does have its benefits too; I found it really helped to breakdown the technical aspects of each move, alerted me to my use of breath and helped increase concentration during the more challenging moves.
Tempo's classes are suitable for a range of levels, as many of the moves have beginner, intermediate and advanced options. I particularly like the attention given to lengthening and activating the key muscles before each move was carried out.
The instructors do really push you and the core routine is a particular burner, but one that is likely to get results fast.
What I particularly like is the importance that each instructor puts on developing a relationship with every client, by taking the time to check in on you personally both before and after class to see how you're doing. Kudos to that.
BEST FOR: Students (any level) who enjoy being pushed with technical corrections
ON CLASSPASS? Yes
DROP IN PRICE: £30 (£15 for your first class)
AMENITIES: Showers, hairdryers, towels (£1 charge)
LOCATIONS: Shoreditch, London Fields, Elephant and Castle
Karve
Karve's method helped revolutionise my approach to fitness. As someone who avoids anything high impact (to minimise old injury flare ups) but is simultaneously desperate for a fitness challenge, I was told Karve would be right up my street.
So with a little excitement and a fair dose of fear (Karve is somewhat 'Pilates on steroids'), I took to their signature 'transformer' machine.
The Karve transformer machine is a souped up version of a Reformer machine, with more cutouts and handles on and around the bed, to allow for quick transitions and an ability to contort your body into a greater amount of positions.
There's no getting away from it, the Karve method is HARD. Elements of my first session felt near impossible. Each move is executed very slowly, which requires real strength, discipline and control.
The other point of challenge is the lack of rest - there is none. Each muscle group is pushed to absolute fatigue through a series of targeted exercises, before moving to the next.
This makes Karve as much a HIIT workout as it is a strength one (my average heart rate was significantly higher than in other classes) - so perfect if you're after a low impact endorphin hit. You will feel the shake and burn, every time.
The intensity and progression offered at this class also means that you never plateau - one year on and I still find the class incredibly hard, but my execution of the moves and confidence has certainly improved.
This class is addictive, thanks to its quick progression and visible results. It's no wonder that this premium studio attracts so many repeat clients.
BEST FOR: Those looking for a real strength and endurance challenge
ON CLASSPASS? Yes
DROP IN PRICE: £25 (first class price, plus includes a smoothie)
AMENITIES: Towels, showers, hair dryers, straighteners, smoothie bar
LOCATIONS: High St Kensington
Pilates in the clouds

You may have seen this exclusive Reformer Pilates studio on the 'gram; if so you'll already know that this beautiful studio speaks for itself.
Situated in Notting Hill, Pilates in the Clouds was launched several years ago by the lovely Lauren Masaoka. It now boasts a 2 month waitlist, with clients including principal dancers of the Royal Ballet, actresses, aristocracy and most of the Made in Chelsea cast.
With no website or street front, this unique studio is word-of-mouth only. But does its exclusive reputation translate into a good workout? Unanimously, yes.
Lauren's background in both classical Pilates and evolved Pilates (which focused particularly on training athletes and dancers) makes for a challenging and dynamic session that doesn't compromise on technique.
The smart equipment is top of the line and eco-friendly, which adds to the luxe experience. Plus the maximum class size is three, so I always feel that I have the teacher's full attention.
Pilates in the Clouds is a rewarding and uplifting workout that evidently values its client's privacy. Without a doubt, it's a 'bucket list' kind of class.
Book a class with Lauren via DM @pilatesintheclouds or email pilatesintheclouds@gmail.com. Quote THE SPORTS EDIT for a discounted rate on your intro session.
BEST FOR: Attentive instruction and fine-tuning alignment
ON CLASSPASS? No
DROP IN PRICE: Trio £45 pp, duo £55 pp, private £110
AMENITIES: Smart Water, towels and vegan treats provided
LOCATIONS: Notting Hill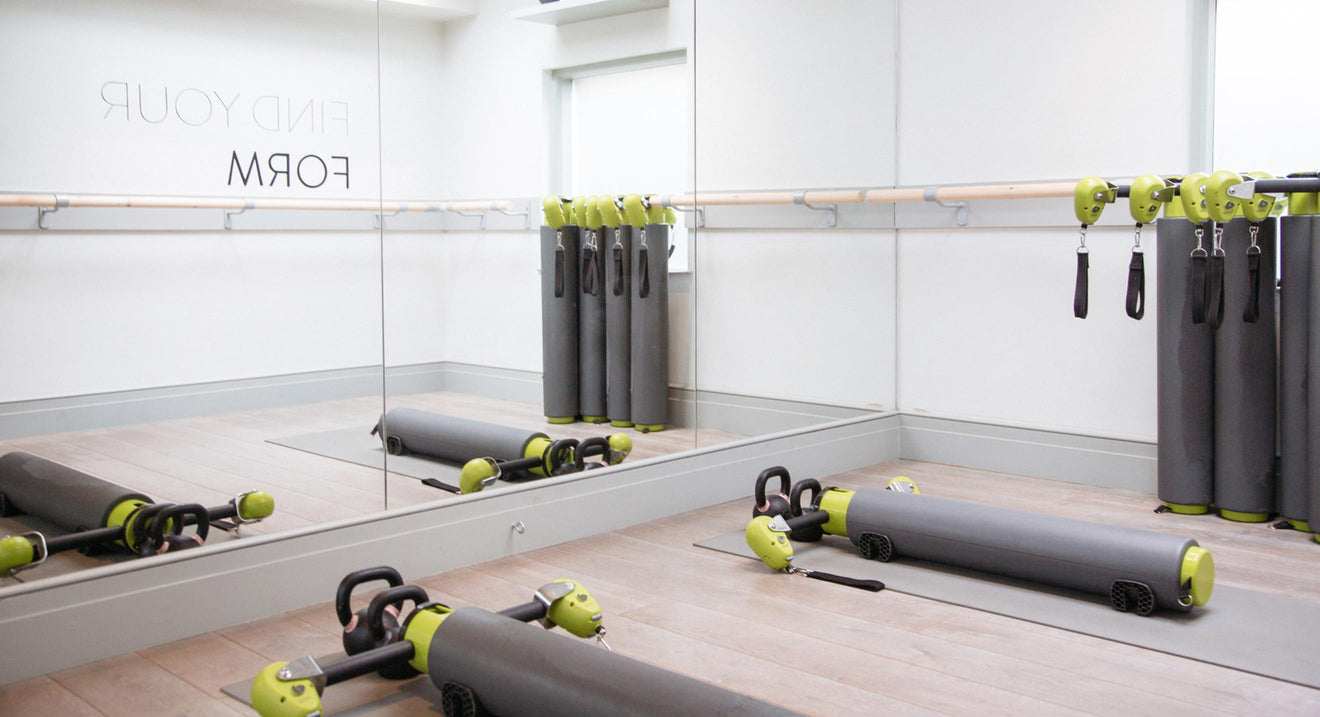 Form
Craving a Pilates-inspired challenge with a twist? Then Form's 'Purecore' class is for you.
Instead of a Reformer bed, Form uses a unique 'MOTR' machine, which looks like a sturdy foam roller with arms and pulleys extending out of it. Through using this innovative equipment, the classes can best be described as Pilates-meets-TRX-meets-barre.
Taking a class with co-founder Ellisa is a must. She is warm and positive but simultaneously ready to ready push you, while keeping a close eye on technique and execution.
'Sitting is the new smoking!' she reminds us, as we work on our posterior chain. I tried the 'Purecore' class which is a 'high intensity reformer style class' and found the balancing particularly challenging and the glute exercises intense.
The mental focus required on the MOTR was particularly rewarding and I can see how this method of training could become very addictive. I have no doubt that their claims to 'strengthen, tone, lengthen and sculpt' would soon ring true following regular attendance.
*NOTE: Grippy socks are essential*
BEST FOR: Avoiding a fitness plateau
ON CLASSPASS? Yes
DROP IN PRICE: £30 (or intro offer 4 for £40)
AMENITIES: Towels, showers
LOCATION: Notting Hill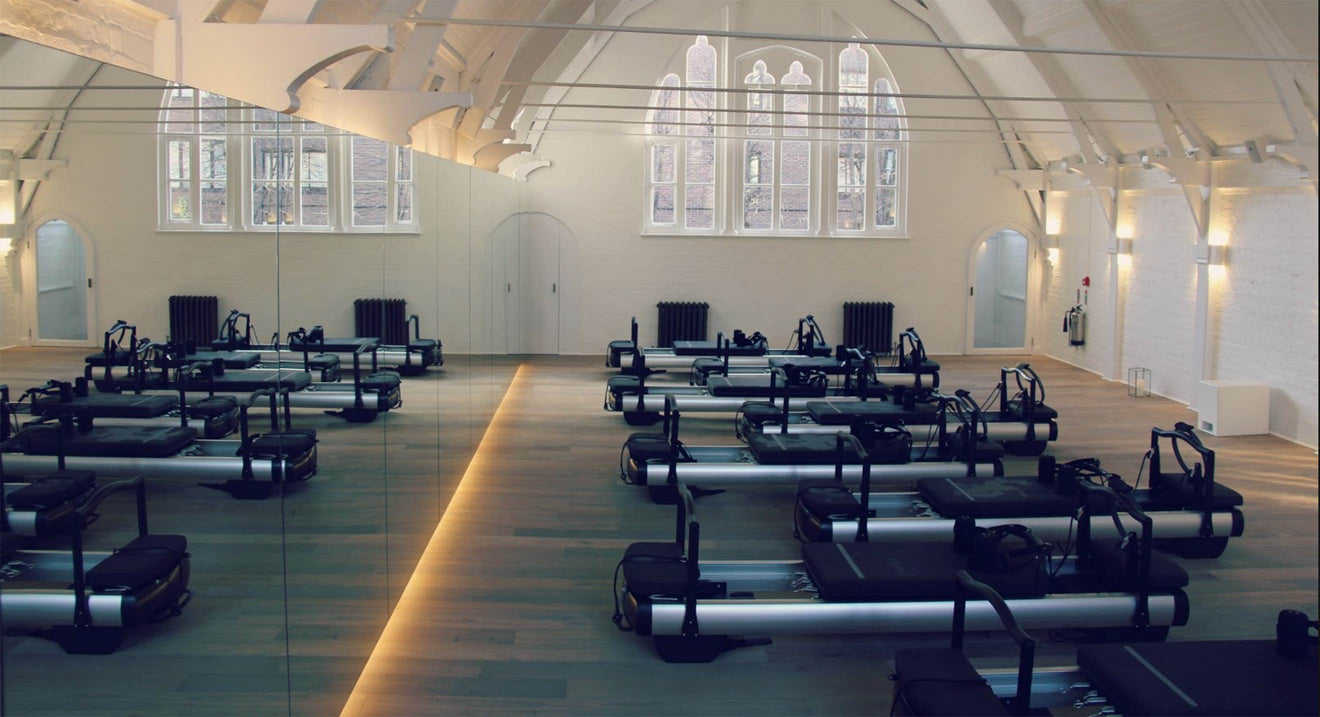 Heartcore
Heartcore's reputation precedes it, but is it worth the hype?
It is certainly at the premium end of Reformer Studios; from the beautiful fragrance walking in to the comfortable beach-luxe decor, Heartcore immediately leaves you uplifted and at ease.
More importantly, when it comes to the Reformer Studio itself, the equipment is second-to-none. Heartcore's Reformer bed is undoubtedly the plushest I have used to date.
The class was very challenging, with many moves such as 'mermaid', 'catfish' and 'skater' focusing on performance through to complete fatigue, in a similar way to Karve.
Moves were also encouraged to be slow and controlled with swift transitions, which soon instigated the body shake and burn that I've learned to love.
The friendly instructor had a real eye for technique and was very attentive, giving me adjustments (however minor) and tips throughout.
All-in-all a professional class held in the most stunning studio locations to make for an empowering practice.
BEST FOR: Those looking to take their Pilates to the next level with a more dynamic, advanced practice
ON CLASSPASS? No
DROP IN PRICE: £27
AMENITIES: Cold water, tea, showers, towels, hair dryers and straighteners
LOCATIONS: Kensington, Fulham, Chelsea, St John's Wood, Hampstead and Notting Hill
Ten
Recovering from an injury? Ten is the place to take on the Reformer in complete confidence, thanks to its holistic approach to Pilates.
On my first visit I was carrying a particularly complex injury, to which the knowledgeable instructor gave his full attention and feedback around my posture and biomechanics, which have been useful takeaways to this day.
With eight locations in London, Ten is one of the city's most established Reformer Pilates venues. The clean-cut studios are a popular choice with a variety of age ranges, abilities and genders, which makes it considerably less intimidating or elitist than some city venues.
BEST FOR: Injury rehabilitation and postural training
ON CLASSPASS? Yes
DROP IN PRICE: £30
AMENITIES: Towels, showers
LOCATIONS: Liverpool St, Hatton Garden, Fitzrovia, St James Park, Mayfair, Little Venice, Notting Hill, Chiswick