Hot on the heels of Los Angeles and New York, London has been through a veritable revolution in Spin and indoor cycling in the last five years, and now offers some of the best spin classes in the world, and I'm here to tell you all about this fitness-phenomenon described by the New York Times as "part dance party, part therapy, part communal high".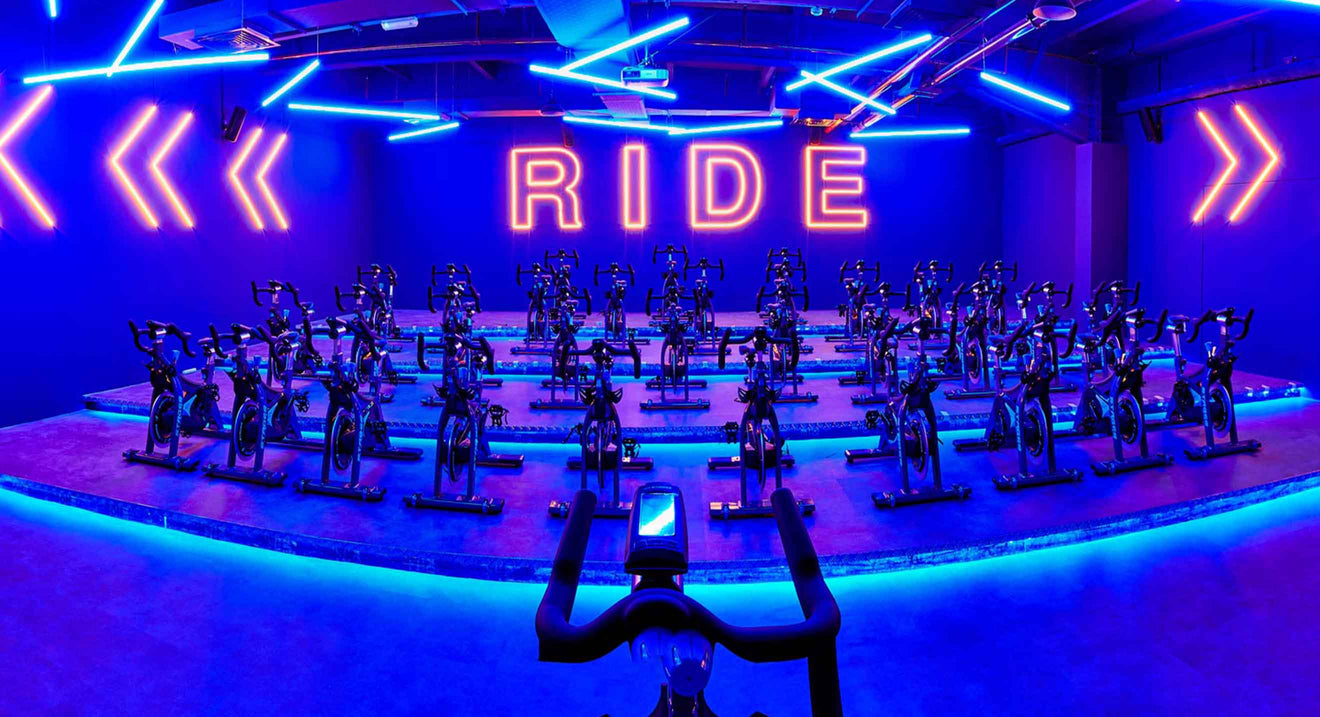 I spent an extremely sweaty few weeks furiously pedalling my way through the best studios London has to offer to try and come up with a top 7.
But before diving into the top classes in London, it is worth setting the scene on 'Spin' and 'Indoor Cycling', as they mean very different things to different people.
Get your kit ready for your next spin > Women's Spinning Clothes
Spin vs. Indoor Cycling
'Spin' or 'Spinning' is actually a trademarked activity registered to Mad Dogg Athletics in the US, which was founded in 1991 by two endurance road cyclists.
This is focused on workouts that replicate what you might do on a road bike, with an emphasis on heart rate zones and different training types, with variety being key.
'Indoor cycling' is where you pedal to the beat in a dark, steamy studio, dancing around on your bike with music blaring and doing push ups on the handle bars.
It is a more recent phenomenon, inspired mainly by Soul Cycle, which launched in 2006 and saw significant growth in 2010.
London has studios that sit firmly in one camp or the other, and some that lie in between. The biggest, most popular group is the Soul Cycle inspired classes, at studios like Psycle, Boom Cycle, 1Rebel & KXU.
Studios like Digme are focused more on the cycling element, whilst Ride Republic sits somewhere in between.
From Boutique Rides to Cycle Focused Sessions
So which studio ranks best? It is not an easy call, especially as the quality of studios has risen exponentially over the last 5 years and there are several outstanding classes on offer.
A race amongst boutique gym chains to be the best has set the bar competitively high, with consumers expecting nothing less than stunning studios, showers filled with Cowshed products, and details such as eucalyptus-infused refreshment towels.
Any of the studios listed in our top 10 are likely to give you a rewarding, worthwhile class experience. But for me, Psycle ranks as the best overall studio, with a truly immersive exercise experience, in beautiful studios with really attentive staff.
Ride Republic also deserves a special mention. Nothing gets near it for sheer intensity. If you're a competitive soul, want results fast and you like a serious challenge, I would strongly recommend it, the class leaderboard really made me go for it.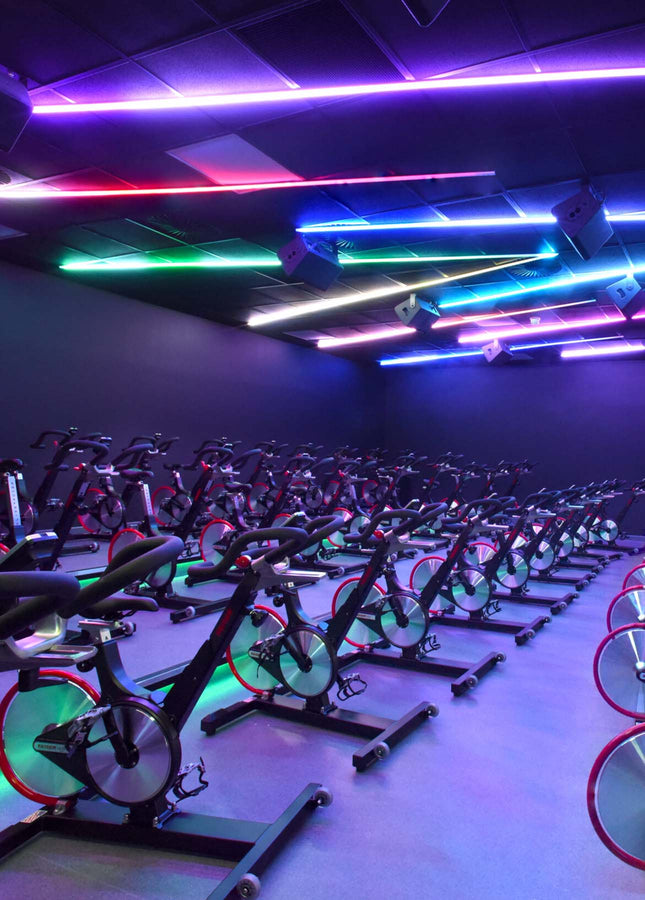 Against a backdrop of many outstanding studios, Psycle still stands out as London's best. It boasts slick, modern studios and is in no way intimidating to new riders, as the staff are highly attentive and make sure first timers are well looked after and get their bikes properly set up.
My instructor was almost supernaturally energetic, focussed on rider form, and the class was well orchestrated to stop you depleting at any point. Psycle really is an "experience".
You are completely immersed in a challenging class with cracking music (they take playlists very seriously), and with a pretty tribal bunch of riders who give a lot of energy back to the instructor and each other (the closest I've had to Soul Cycle in that respect).
I left the room completely invigorated, surrounded by exhausted yet ecstatic looking faces dripping in sweat. Classes are normally 45 minutes, with the occasional 60 minute class normally scheduled at weekend.
There are no gears or means of measurement, but the bikes are easy to calibrate with each turn to increase resistance. The only downer is that it's so popular the changing rooms get pretty busy post class, especially if you're having to rush to work
Locations: Oxford Circus, Shoreditch, Clapham, Notting Hill
Cost: £25/class, with a sliding scale for bundles. Intro off available
On Classpass: Yes!
Ride Republic embraces the power of a bit of healthy competition, through its infamous BURN Board. Riders 'BURN' is measured and your position in the ranking, whether your real name, or your moniker, is there on the board for all to see.
If you take a 'go hard or go home' approach to exercise, then this is your studio. That element of healthy competition makes you work harder than you ever have before on a bike.
It is the only studio I've been to where I physically cannot maintain the levels the instructor is asking for. And just when you think you might pass out from exhaustion, they bring an ice-cold, eucalyptus oil infused refreshment towel.
This class isn't for the faint-hearted, and there may be moments when you ask yourself what the hell you're doing here as the instructor asks you to maintain 150 RPM
But this is an outstanding studio that will leave you feeling challenged, with a real sense of accomplishment, and get you fitter than anywhere else.
Locations: Fulham
Cost
: £22/class, with a sliding scale for bundles. Intro offer available
On Classpass: Yes!
Talk about luxe. KXU is situated just off Sloane Square, and is the pay-as-you-go version of the exclusive KX Life club (where membership starts from £615/month), meaning you can access a slice of heaven for a slice of the price.
I attended their signature indoor spin class, U-Cycle which they describe as a combination of indoor cycling and serious raving. I really liked the bikes at this studio, and how connected you can be to the data and insights of your ride. They use the Keiser M3i bikes where you download the Keiser M-Series App which keeps a record of the stats from all of your rides.
KXU has some really good instructors, but you need to find the right one for you. I find some of the classes a bit easy going, whereas I like that body trembling, post class exhaustion when I ride.
Locations: Chelsea
Cost: £21/class, with a sliding scale for bundles. Intro offer available
On Classpass: Yes!
The self-styled 'King of Gyms' has London's hippest studios, with a strong industrial luxe aesthetic and arguably the city's finest changing rooms, with abundant toiletries, space, copper lockers and an all round hip hotel feel. With 11 studios across London and counting, there is sure to be a convenient one for you to try nearby.
Its 'Ride' classes come in 45 or 60 minute sessions, with music very much front and centre to proceedings. All the instructors take their tunes seriously, but there are also themed "live rides" to mix things up with special guest DJs.
1Rebel has some very good instructors, (shout-out to Jono in Victoria) and Ride is an excellent all round class in a stunning studio. My one criticism of 1Rebel (and I've heard this from others) is that the 'too cool for school' attitude can rub off on the front desk staff, and they are often aloof and inattentive.
If you're paying £25 a class, and doing an activity that needs bikes to be properly set up to avoid discomfort or injury, then staff attitude and service is important.
On that metric 1Rebel falls short of the very best specialist studios. Nevertheless, 1Rebel is a pretty unique place, with its stylish aesthetics, Prosecco Fridays and all round irreverent attitude, and many people absolutely swear by it.
Locations: High Street Kensington, St. John's Wood, Hammersmith, Oxford Circus, Holborn, Angel, Victoria, Southbank, Broadgate, St Mary Axe, Bayswater
Cost: £25/class, with a sliding scale for bundles
On Classpass: Yes!
Smash your PBs in our performance-ready spin collection: Women's Spinning Clothes
With SoulCycle finally opening in London in 2019, and now with 2 studios in Soho and Notting Hill, I had to check out what all the hype was about for myself and why it was Beyonce & Jay-Z's favourite.
With class lengths of 45, 60 or 90 minutes (for the insane!) SoulCycle promises to challenge your body and recharge your soul. I opted for the 45 minute class, which was definitely more on the 'American-side' with high-fiving your neighbour encouraged and lots of words of affirmation, whilst this doesn't come naturally to me, the instructors energy was infectious, and it did make the place friendly and less intimidating that you might think it would be!
The class itself was a sweaty one, and I did really feel pushed to my limit. You could tell the instructor had taken the time to match the playlist to the sessions, which created a high-energy, fun-vibe atmosphere in the class.
Locations: Notting Hill, Soho
Cost: £26/class, with a sliding scale for bundles. Intro offer available
On Classpass: Yes!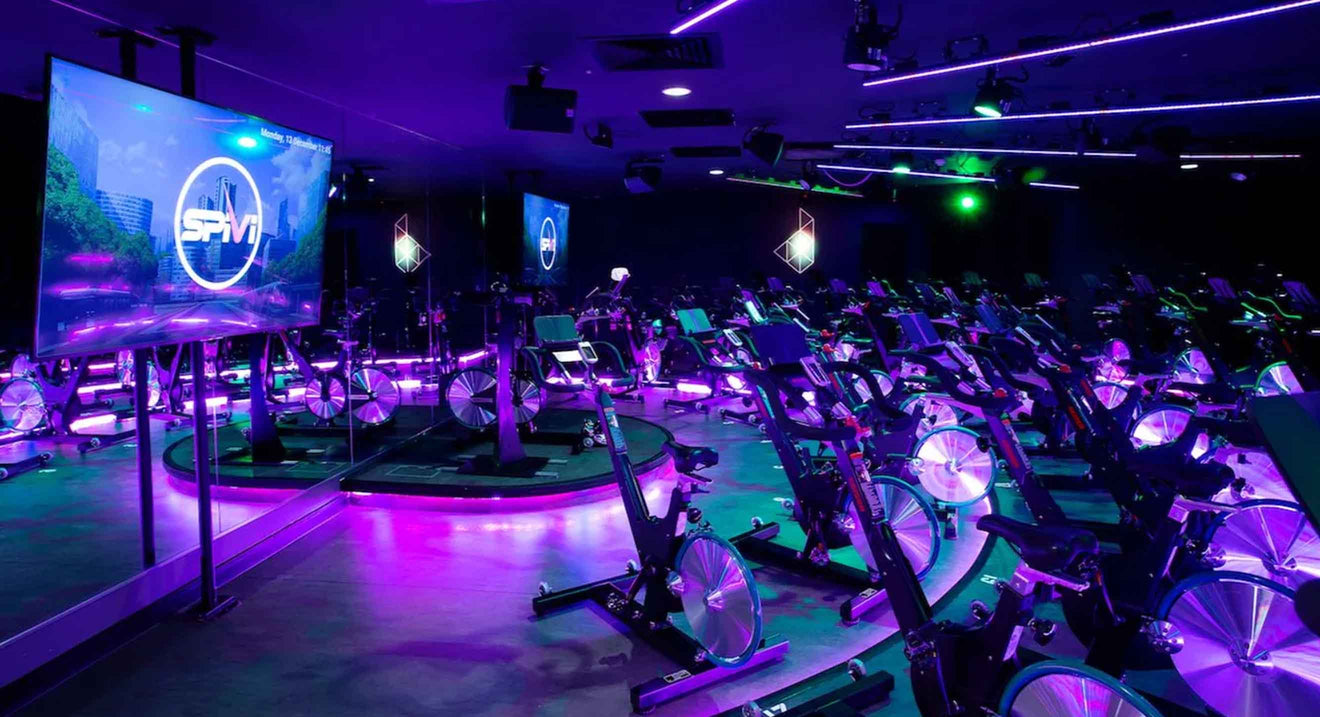 Digme is skewed towards the serious cycling end of things; no surprise when it's name is taken from the beach in Hawaii where the Ironman World Championships start.
The format is different to other studios, with an auditorium like semi-circle around the instructor and a large virtual display board featuring data and taking you on a ride through various landscapes.
Like Ride Republic, you can compete with other riders and Digme uses the sophisticated Spivi data system to track you performance and send you a summary of your performance after the class.
There are no weights in the class, and it was popular with road cyclists – I went to the Richmond Studio on a wet morning and a lot of people had diverted from their normal Richmond Park bike rides to avoid the bad weather.
I did the core 'Ride' class, but they also have a more music (no data) focussed 'Beats' class, and a hardcore 75 minute 'Performance' class.
Digme is competitive but friendly, and good if you are training for a cycling event but want a more immersive environment with an instructor at the front and some motivational tunes.
My only critique would be I found the audience a bit less engaged than elsewhere, and there aren't enough showers (at least in the Richmond studio), meaning queues, especially as the changing rooms are unisex so people take longer fully changing in the showers.
So skip the warm down at the end of class and leg it to the showers.
Locations: Bank, Covent Garden, Moorgate, Richmond
Cost: £23/class, with a sliding scale for bundles
On Classpass: Yes!
Boom Cycle was the first mover with the Soul Cycle inspired model in London, opening in Shoreditch in 2011, a second in Holborn in 2013, then Hammersmith and Battersea. So it is definitely doing something right.
Studios tend to be smaller and more intimate than the other venues, with dark rooms and use of candles rather than strobe lighting. These are high tempo classes, and a cross between HIIT and cycling, up there with Another Space for the most upper body centric workouts.
Expect lots of up/down, weights, endless arm presses and tap-backs etc. They play up the music obsession, but playlists are very instructor dependent.
More generally I'd say that as it has expanded you have to be more careful about instructors, and know which ones to choose. I did a recent class in Hammersmith and found the instructor a bit shouty, lacking that genuine audience engagement that the best instructors manage.
The bikes don't have gears or levels, and I find it tricky to get the intensity right. But overall Boom Cycle is a good option for high energy, full-body classes with plenty of convenient locations across London
Locations: Battersea, Hammersmith, Monument
Cost: £20/class, with a sliding scale for bundles
On Classpass: Yes!
Studio Updates:
Hot off the press (Jul 2023) - Another Space have joined the Digme family and will reopen their Bank and Covent Garden as Digme studios in Autumn 2023.
As of July 2022, the Core Collective brand, clubs and members merged under the 1Rebel brand.