Over the last few years, we've seen a huge rise in the popularity of CrossFit, cross training and functional fitness more broadly, with specialist gyms opening up all over the world. In this type of high intensity training, a good pair of cross training shoes is incredibly important as they offer the support needed for the variety of movements and exercises involved.
But the world of cross training shoes is now huge, which makes selecting the right one for you tricky. Cross training workouts often include sprints, whether that's running, on the bike or a ski erg, as well as lateral movements like side lunges, and weightlifting. The perfect cross training shoe is one that is capable of handling all these movements and still giving the comfort and support required.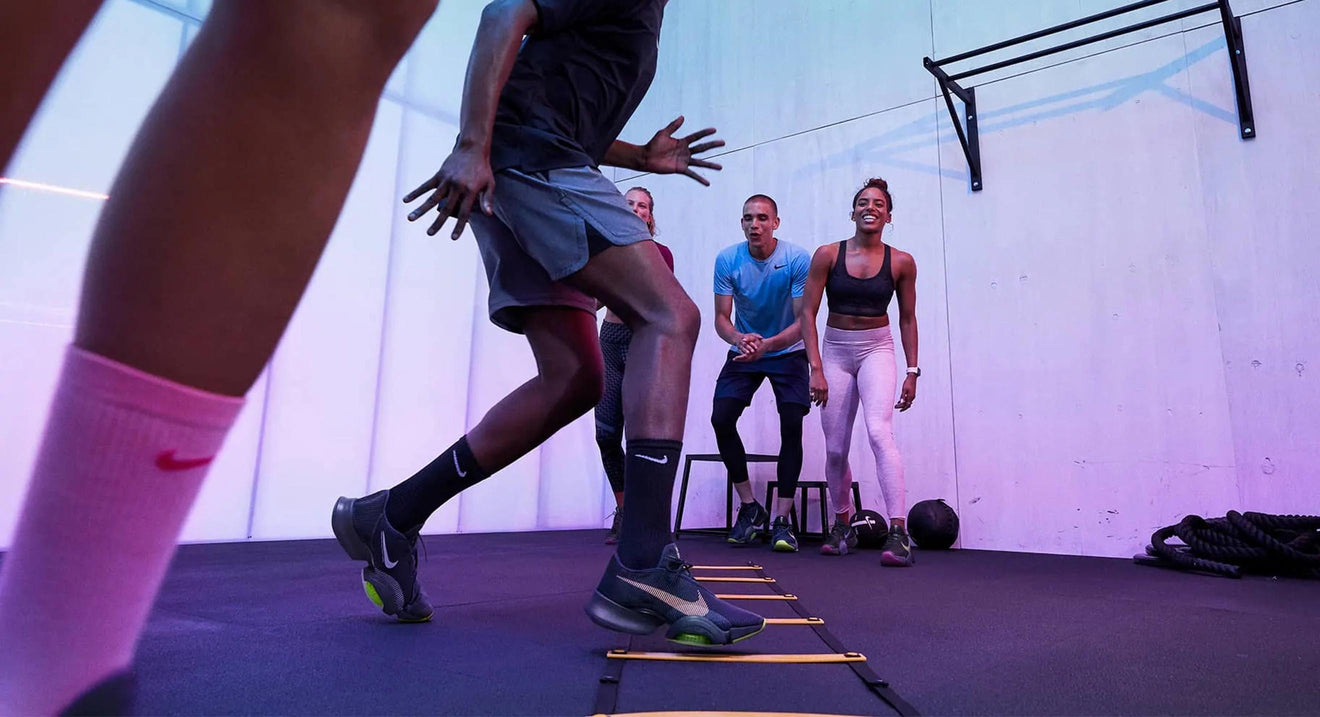 Exploring the World of Cross Training Shoes
The key features to look for in a good cross training shoe are flexibility in the midsole, to allow for easy and quick movements in different directions, good grip, durable as they receive heavy wear and tear, breathable upper, lightweight, and even cushioning throughout. It's best to choose a shoe that has a slightly wider base, as this will offer more stability. You will often see weightlifters in flat-soled shoes or some even barefoot as it allows them to spread out their feet and feel more connected to the ground. This helps them to maintain better body alignment during lifts and squats. However, if your cross training has a lot of cardio involved, these shoes will be too stiff, so we recommend ones with a little more cushioning.
To make finding the right cross training shoe for you a little easier, we've narrowed it down to four top brands, including Nike, Nobull, Reebok and On.
Find the Best Cross Training Shoe for You
Nike Metcon Free cross training shoes are brilliant for mixed training workouts, and are a favourite among CrossFit enthusiasts. They have a large flat sole, which offers great stability and balance during squats and lunges, but also a very flexible midsole with back-end stability, making you feel agile and free when it comes to cardio exercises. The tongue and heel are both a little higher on the shoe, to help your foot feel locked in and they're also very lightweight, too. Go to and from your classes in style, the Nike Metcon Free shoes come in a variety of colours, from subtle black and white to electric blue and orange.
Read our full review of the Nike Metcon Free 5 here
Alongside the Reebok Nano, the Nike Metcons are the OGs of cross training shoes. Nike is now on its 8th iteration of the shoe, predominantly used for strength and lifting, due to a solid, well supported heel and flat midfoot. The latest version of the shoe also has a more durable toe box, as the upper has been reworked with a stronger mesh. While these shoes aren't quite as good for cardio mixed training, as the heel is very blocky, the grip on the bottom of the shoe is great for stability and exercises like rope climbing. You can get away with sprints and short burst cardio exercises, but there isn't a whole lot of stretch. Finally, if you have wide feet, these may come up a little bit narrow, as while the tox box is more durable, it isn't too wide. Ultimately, we'd put these more at the weightlifting end of cross training shoes, so if that's you, these are the shoes for you.
Read our review comparing the Nike Metcon vs. Reebok Nano here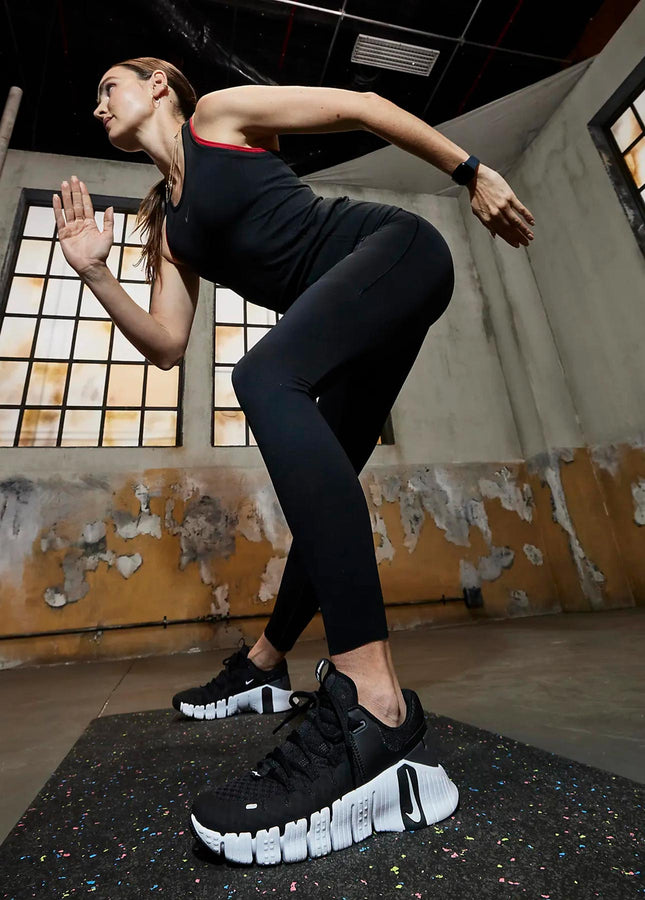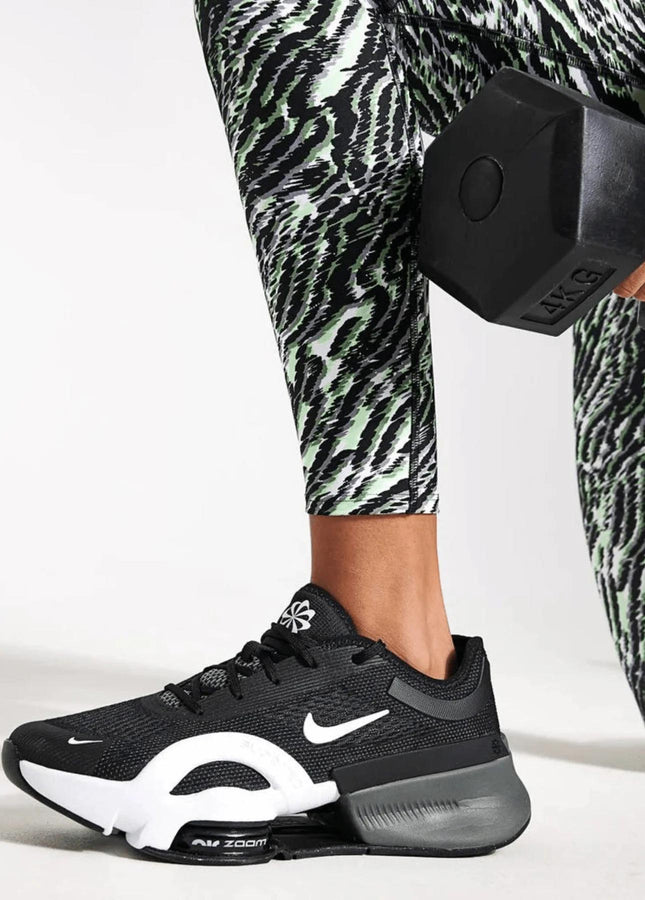 Nike Superrep Go
As cross training shoes come, the Nike Superrep Go is relatively light, weighing just 12 ounces. The latest model (3), is a class-focused training shoe, with sustainability at the forefront of its creation. Featuring at least 20% recycled materials, from post-consumer and post-manufactured waste, it's a great shoe if sustainability in fitness gear is a priority for you.
For high-intensity interval training (HIIT) training classes, the Nike Superrep Go delivers on many levels, it's stable enough for weightlifting, hugs the foot providing a nice layer of security, and the lightweight foam midsole will put a spring in your step, for any running and jumping exercises. Available in a variety of colours, it also looks great for daily all-round wear.
Nike Superrep 4
The Nike Zoom Superrep 4 Next Nature Shoes are a game-changer for fitness enthusiasts seeking to elevate their performance during intense, HIIT workouts. Tailor-made for a wide range of activities that demand explosive power and agility, they're great for everything from dynamic HIIT routines to intense circuit training. The innovative Zoom Air cushioning technology provides enhanced energy return with each stride and the redesigned outsole features multidirectional traction patterns that offer improved grip and stability on various surfaces. With a slight rocker too, the Nike Superrep 4 will help propel you on the Curve and allow fast transitions between exercises.
Read our full review of the Nike Zoom Superrep 4 Next Nature here
Nike Bella 6
The Nike Bella 6 features many similarities to the Nike Superrep 4. It has Zoom Air cushioning for explosive power and multi-directional movements, but also great heel support, due to a rubber coating on the heel. The upper of this edition has been upgraded with more breathable mesh and the lacing system keeps the shoe locked to your foot. Nike makes this shoe in a variety of colours and the price point is quite a bit lower than that of the Nike Superrep 4, making this a great introduction shoe, if you're just beginning your cross-training journey.
Reebok Nano 3
Another great, all-around training shoe, the Reebok Nano 3 offers seamless transition from lifting to cardiovascular exercises. It's also incredibly stylish and will take you effortlessly from the gym to coffee with friends. The cushioning is soft and responsive for explosive running, jumping and transition between movements, it has good stability for moderate lifting and great grip for rope climbing. They are a little heavier than the Nike Superrep Go but the versatility of the shoe and fit makes it a firm favourite among gym-goers.
Read our review comparing the Reebok Nano with the Nike Metcon here
On Cloud X 3
If you're a fan of On Running shoes, which have come on greatly over the last couple of years, then you'll love the Cloud X. Unlike other cross training shoes, with the On Cloud X you can actually run further than just short, sharp sprints - we recommend between 5 and 10km. It is also very light, only 8.8 ounces. The heel to toe drop is a little higher, at 8mm, however, it still has very good stability and flexibility. If your workout consists of a lot of HIIT, jumping, running, and fast-paced movements, you can't go wrong with the Cloud X, but if 80% is weightlifting, we'd go for something with a flatter midsole and lower drop.
Read our review of the On Cloud X 3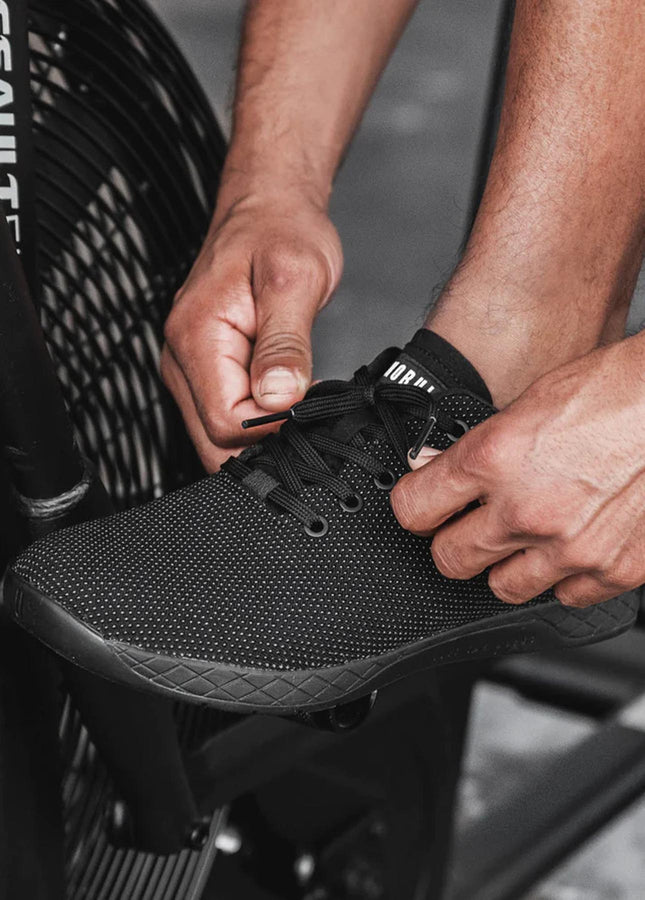 Nobull's Training shoe is designed for tough and high intensity workouts. The upper is made with practically indestructible and protective SuperFabric®, which is also water repellent - great if you're training outside, on wet grass or in the rain. The microsuede tongue also sits flush and offers increased breathability while keeping the foot stable and supported. The sidewalls also provide high carbon protection, allowing you to move freely.
The Nobull Training shoes have a low stack, with a 4mm heel to toe drop for increased stability, keeping your foot in closer contact with the ground. Nobull also considers style when designing their trainers, with a variety of colours both in the midsole and upper. The Trainer comes in three heights: high-top, mid and low-top. The low-top has more of a cushioned sole, which is great if your workout has more cardio based training.

Choosing the Right Fit: Tips for Finding Your Perfect Cross Training Shoe
Look at the type of training you do. Are you more cardio, weightlifting or a mix of both?

Do you require a lot of ankle support and stability?

Do you need more cushioning? If you're more cardio based, this will be a priority.

Do you need a lot of grip? If rope climbing and lifting is a big part of your workout, this is something to look out for.

Do you need a shoe that you can also wear outside of the gym, too? Go for something with a bit of style and soft cushioning if so.

If you have a wide foot, look for something with a wider toe box.

As with buying any new shoes, it's key to try it on first. We recommend going to a store to try it before purchasing online.