Words by Matt Low of @swimbikenike
As with all my reviews, let's take it from the top! Let's be honest, there are very few shoe brands out there that have reached star status in such a short amount of time as On Running has.
The Zürich-based shoe brand was founded in 2010 to create a shoe that would deliver the perfect "Goldilocks" running sensation with every step: a soft landing, followed by a firm toe-off.
The secret to On Running's success lies in their unique structure, attention-to-detail, and luxury materials used. The most iconic part of any On Running shoe is CloudTec, which is the company's patented cushioning construction.
Essentially, CloudTec consists of hollow tubes of rubber or foam making up the entire outsole of the shoe, which are designed to absorb any vertical and/or horizontal forces experienced during each stride, as well as provide a sturdy platform for the toe-off.
Another unique and patented aspect of On shoes is the use of "speedboards", which consist of specialised layers of strong material beneath the CloudTec structures to support and channel the motion of the foot for the most efficient technique — similar to the carbon plate in the Nike Vaporfly 4%.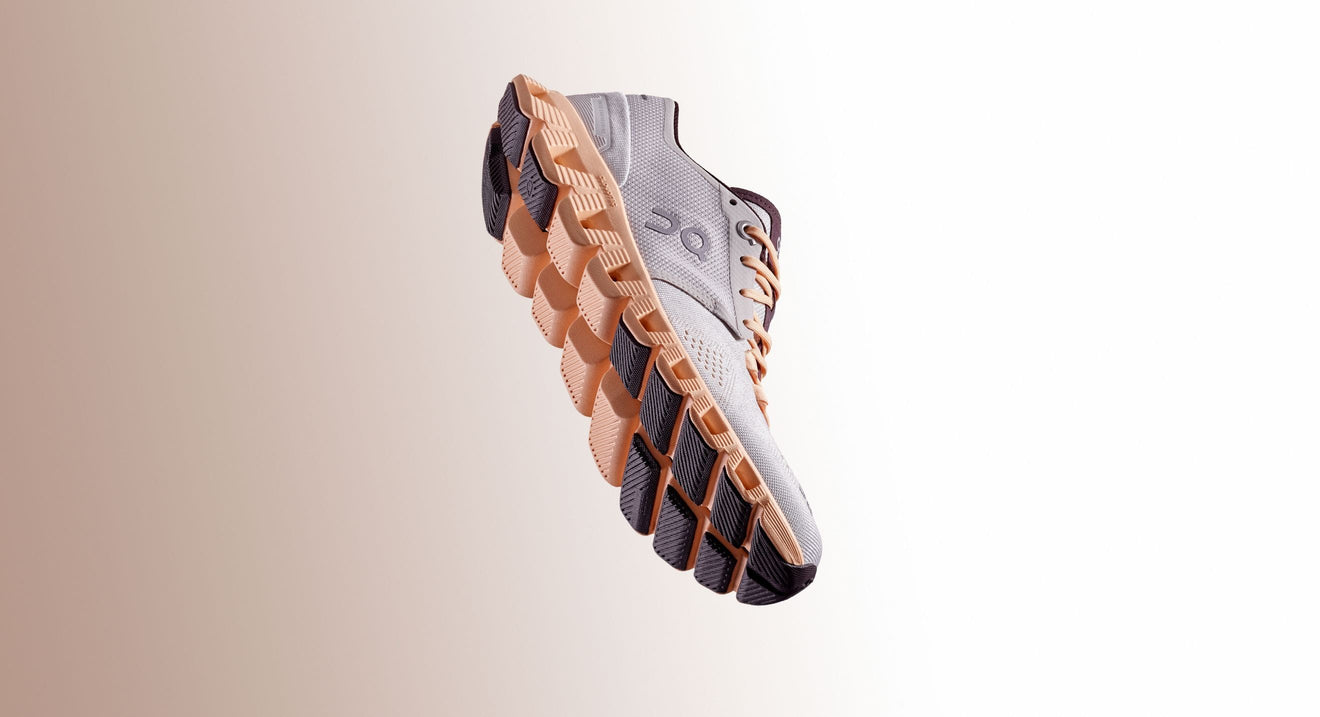 ON CLOUD X - RUNNING REMIXED
The On Cloud X is marketed as the world's lightest fully-cushioned shoe for "running remixed". As a competitive runner, I am not interested nor know what "running remixed" means.
But for the uber-curious out there, apparently, On Running considers "running remixed" to define 1 pair of training shoes for those that wish to mix up their training with activities (HIIT, mixed-sports training, gym sessions, and workout classes) other than running.
Quite a tall order for a shoe, but let's give On the benefit of the doubt.
All the Cloud X Stats You Need!
Weight: Very Light | 230 grams in a mens size UK9
Heel-To-Toe-Drop: High | 10.7 mm
Heel Height: High | 28.7 mm
Heel Cushioning: Pleasantly firm
Forefoot Height: Very high | 18.0 mm
Forefoot Cushioning: Very firm touching on rigid
Flexibility: Flexible but not floppy
Stability Features: Some
Energy Return: Not great
Price: £130 (available here)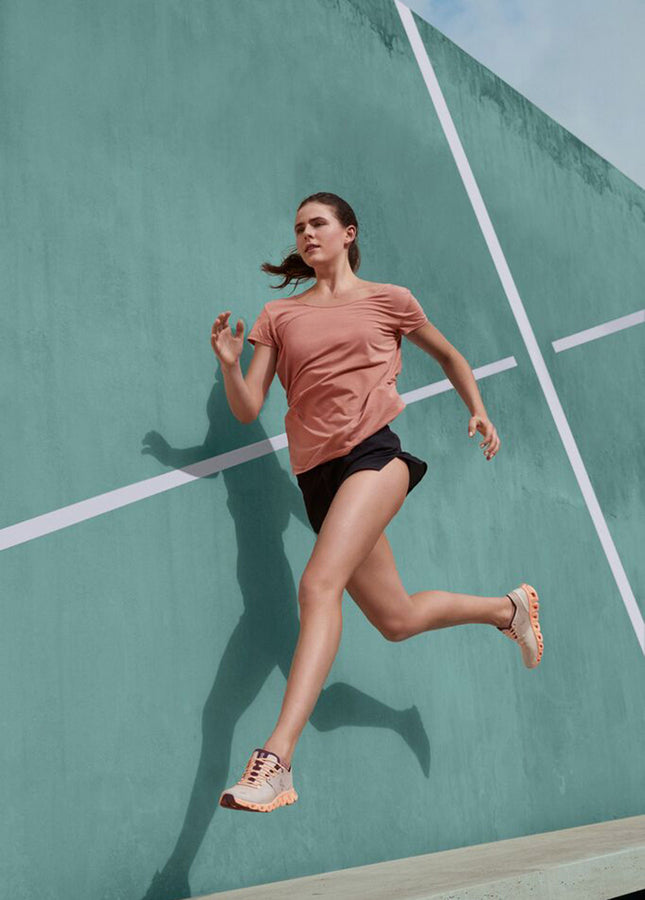 On Cloud X First Impressions
If you are new to the On Running world, then be prepared. Unboxing a pair of On Running shoes can be likened to witnessing a golfer hit a hole-in-one – it is quite exhilarating, yet so rapid that you want to watch it over and over again.
Open the box and you are greeted with an inner graphic of a monotone cloudscape, providing the perfect silhouette for your new shoes.
I chose the "Storm | Tide" colourway – a navy blue and seafoam green combo – to spice things up a bit, and I must say they are not nearly as garish in-person as on the website.
The first thing you will notice is the weight. It's hardly noticeable that you have something in your hand (or on your feet). The CloudX's are Incredibly lightweight shoes, but super cushioned at the same time (even if it doesn't look like it).
As with most On Running shoes, the branding is bold, clean, and emphasises the shoes rather than detract from them. They are incredibly well constructed with laser-cut and glued seams.
On have replaced their plastic shoe stays for recycled versions to keep them from losing their shape before reaching their new owner.
Don't be surprised to find an "owners card" with an ID-number specific to the shoes, so they can be registered online – if that's your thing.
There's also a mysterious card with the words "Scan the QP code to level up your run", which takes you to a running podcast series – again, if that's your thing.
On Running Cloud X Upper: knitted, breathable, and built like a space shuttle
This is something very special, especially when compared to other On Running models I have owned. The new sock liner and outer knitted mesh materials that On are using for the Cloud X are a huge step in shoe innovation.
Whilst they both stretch, the sock liner is much softer than the outer, which essentially negates the need for socks, should you prefer running in that style.
The stretchy knitted mesh upper is breathable and allows your feet to expand comfortably as they warm up during exercise.
The sleek vamp (front and sides) and streamlined quarter (heel cup area) feel more like a velvety, reinforced canvas with a function-focused pattern which accommodates movement in some areas whilst restricting it in others.
There is also ample reflective material used, making them ideal to be used in low visibility environments or at night.
Lastly, the tongue is thin, wide, and has just the right amount of padding making it lightyears ahead of Nike's best equivalents.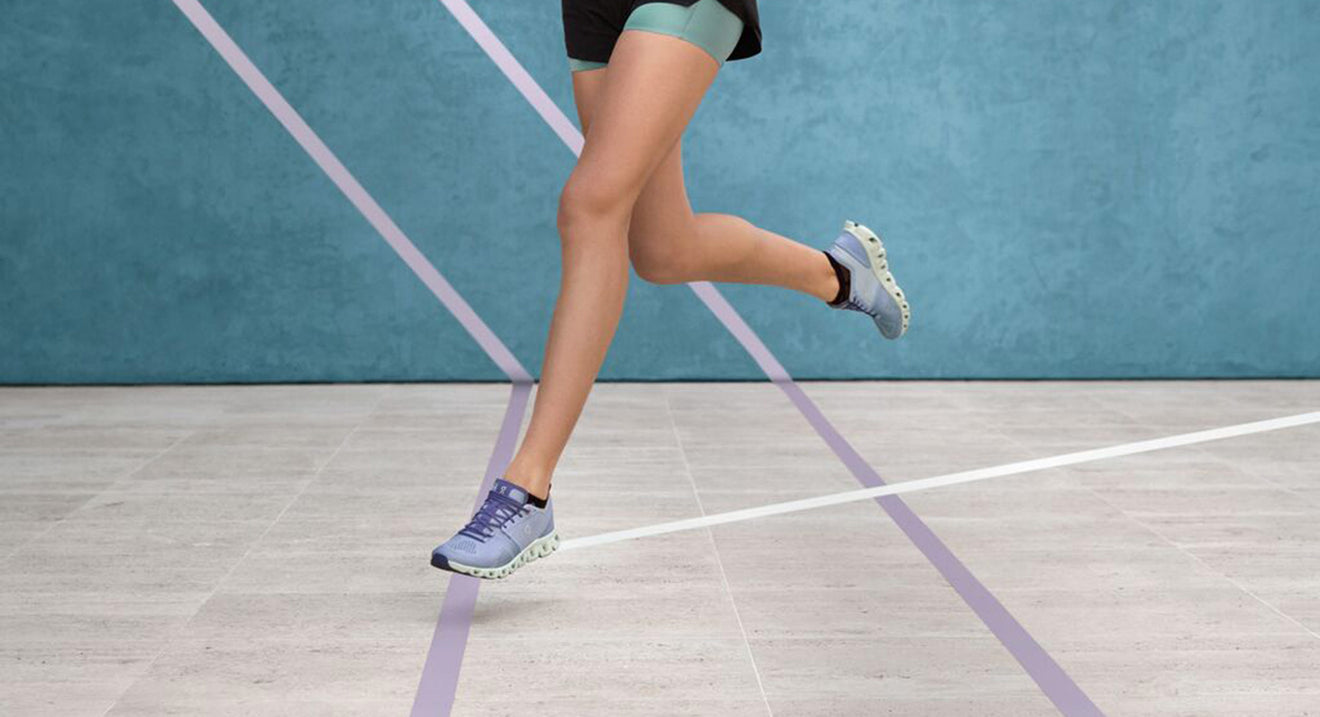 On Running Cloud X Inner Sock Liner: your foot's happy place
Apart from what is noted above. The Cloud X's include an internal "sock" which attaches the tongue to the forefoot area, similar to the On Cloudflow running shoes.
This helps keep the forefoot snug within the shoe and stops the tongue from slipping out of place – a personal pet peeve of mine. All seams inside the shoe appear to be really well hidden, contributing to the fact that these were made to accommodate bare feet.
On Running Cloud X Midsole: is it responsive? How is the energy return?
There are two crucial features to understand before talking about the CloudX's midsole is
On's proprietary Speedboard™ (see image below) – a rigid plate (non-carbon) that promotes lateral stability and reduces stride momentum loss -- essentially reducing the strain and fatigue felt by the muscles of the underfoot, and...

On's Helion™ superfoam – formed of a special structure fusing stable, hard elements and softer, elastic segments. This enables greater durability without adding weight and more rebound without sacrificing cushioning. I

It's also temperature resistant, making it more durable than other foams such as Adidas's Ultra Boost.
The two of these features work in concert to create the Cloud X's innovative Cloud Element midsole. I say innovative because the Cloud X uses a stronger speed board in its sole (compared to other models)
This peps up its responsiveness enough to noticeably reduce the sink on ground strike and adds a little more return at toe-off.
This excellent give and return tops the baseline Cloud model whose Cloud Element midsole also delivered a decent response, but didn't quite have the same stiffness to charge as hard as the Cloud X.
Many liken the feel of the Cloud X to a racing flat (light, agile, and responsive) and I agree, however, what you put in is what you get out, no more, no less.
The energy return of the shoe is average. Whilst the Cloud X's superfoam is incredibly lightweight, it doesn't give you that kick that you get from Nike's ZoomX.
On Running Cloud X Outsole: a stability shoe dream
This is the secret sauce, or "where the magic happens". The outsole of the On Cloud X features the company's typical 16 semi-circular EVA pods called 'Cloud Elements' which complete the remainder of the cushioning system.
I must admit that I have never been a fan of On Running's signature "love it or hate it" outsole but the Cloud X has seemed to change that.
And this is why: taking a closer look at the outsole reveals that the 'cloud elements' have had their inside edges sliced off, and then they've been angled outward.
This subtle design tweak not only stops any small stones or debris from getting caught in the pods but, more importantly, it provides incredible amounts of stability and comfort especially when enduring a high intensity interval training session.
Additionally, the outsole features smartly placed sections of an adhesive rubber compound under the heel and forefoot that provide surprisingly reliable grip on wet and dry pavement, slippery gym floors, and tricky terrain.
However, the durability of this material leaves more to be desired.
Is the On Cloud X True to Size?
Given the incredible sock-like upper and generous toe box area, I would say the Cloud X's are true to size, and are more forgiving if you have made a miscalculation of up or down 0.5 your actual shoe size.
How Are the Laces on the On Cloud X?
Home run on this one. FINALLY!!! Of all their models, On Running has massively improved their laces for this shoe. In some of my other On running shoe reviews, you will learn that I'm not a fan of their slim, non-stretchy or overly stretchy, and most of the time overly long laces.
The Cloud X's laces are the perfect length and only require 1 tie for a secure knot. This is thanks to the stretchy fabric they are built with which is another design feature to allow your feet to expand and shrink comfortably over the course of a run/workout.
This whole experience makes for a much smoother ride that your feet will thank you for.
Is the On Cloud X Any Good?
I really put this shoe through its paces, racking up around 200kms of running (road and trail), walking, multiple gym workouts, and even a cycle or two.
One thing that is for sure, the Cloud X's are incredibly versatile shoes you can not only run in but also use for exercises – thanks to the reformatted cloud elements that provide steadfast stability allowing you to rapidly move in all directions without the risk of twisting an ankle.
Without overstating the fact, the Cloud X is truly a masterpiece of balance. It offers the right mix of cushioning, breathability, style, weight, stability, and speedy-feel to keep you in them regardless of what you are doing.
On the run, the ride feels lively, low-to-the-ground and especially nimble, offering great proprioceptive feel for the road — especially at faster paces. Notably, they don't give off a bouncy or marshmallowy (a technical term of course) sensation as likened with Nike's ZoomX foam, but instead a feeling of consistent smoothness.
This is great for short runs under 15kms, anything more and your legs will start to take the strain of the lacking energy return.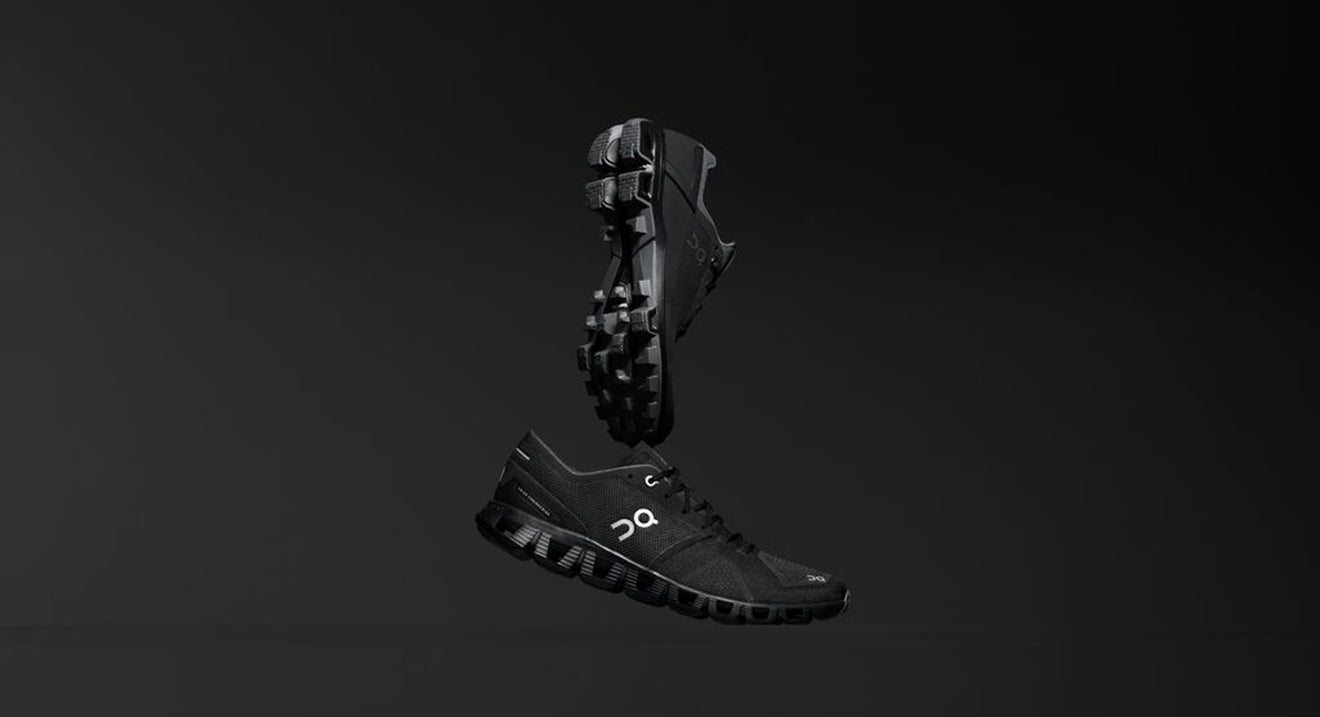 Is the On Cloud X Good for Flat Feet?
Definitely, the soft and seamless upper coupled with the stretchy laces and firm midsole provide a support that those with flat feet will rejoice over.
Is the On Cloud X Good for Plantar Fasciitis?
I would tentatively say "yes" the Cloud X is a good shoe for plantar fasciitis. The On Cloud X shoes have a neutral fit, similar to the On Clouds. Adeptly, they feel moderately soft, very light and extremely dexterous once you lace them up.
The heel counter is slim in its construction yet sturdy enough to minimise the abnormal stretching of the plantar fascia which diminishes pain and inflammation in the heel and arch of the foot
Is the On Cloud X Underproof?
Unfortunately the Cloud X is not waterproof. In rainy conditions or for those that sweat profusely, the inner sock liner and upper tend to hold a bit more moisture than is ideal.
However, the wide-gauged upper knitted mesh does help resist or wick away some smaller drops that it may encounter in a light drizzle. And On Running does offer waterproof versions of many of their shoe models.
Final Verdict
Overall, I am blown away by On's pursuit to constantly innovate and better themselves. The Cloud X's are a testament to this. Whilst they aren't the best distance running shoes due to their lack of sufficient energy return, they are the best "everything" shoe due to their superior comfort, light weight, and stability.
So, whether you are a tempo runner, gym-bunny, city-commuter, athleisure-aficionado, or all four, then these are the shoes for you.