Words by Talia Hopkinson.
Whether you're looking for fitness swimwear to head to your local gym or soaking up the sun at the beach, finding the perfect swimsuit is imperative for looking and feeling your best.
From racerback styles, covered one-pieces, and reversible swimsuits, these hyped swimsuits are sure to spice up your activewear wardrobe.
This list details high-quality swimwear for athletes, swimwear for open water swimmers, and swimwear for laps in the pool, all of which boast both performance and style.
Let's get into it.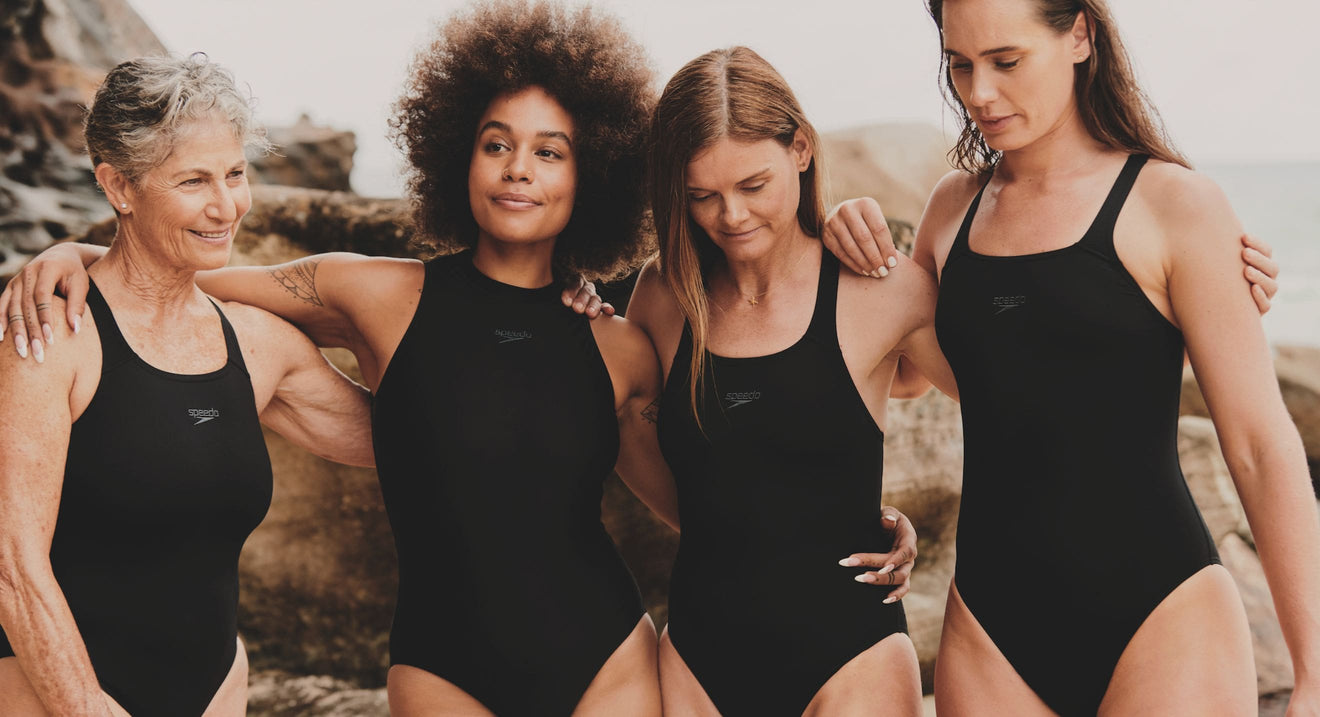 What to Look for in Sports Swimsuits
Knowing exactly what you require from your training swimwear is paramount before purchasing a new piece. Everybody has different needs, body shapes, and preferences when it comes to style.
Just like other sportswear, there are a few qualifying factors that determine if the clothing is a good fit for you. Here is what to look for in sports swimsuits.
Support: Arguably the most important, the amount of support required will need to be considered. Whilst smaller-breasted people usually need less support around the bust, feeling comfortable in the pool is still vital. For more support, opt for swimsuits that are tight-fitting and have padding or cups.
Fully lined: Having a fully lined swimsuit means that there are two layers of fabric. This prevents any poolside mishaps with see-through material and provides an extra layer of comfort.
Chlorine-resistant: Investing in a chlorine-resistant swimsuit will change the game for you. The chlorine in pools is damaging to the spandex found in most swimsuits. Which can result in the swimsuits losing their colour and becoming ill-fitting. A chlorine-resistant swimsuit actively works to prevent damage from chlorine and will need replacing less often.
Style preference: From racerback bikinis to zipped one-pieces, there is a list of styles to choose from and each has its own unique benefits.
How to Take Care of Sports Swimsuits
Just like most sports materials, swimsuits do require a little more care than regular clothes to maintain their high quality.
A good rule of thumb is to rinse the swimsuit with cold water immediately after leaving the pool. - This removes any surface level chemicals. Then, follow the washing instructions stated on the tag as soon as possible to remove the remaining chlorine.
Swimsuits shouldn't be exposed to levels of high heat, so avoid using the tumble dryer and air dry instead.
Best Sports Swimsuits of 2023
Hand-picked and with quality in mind, we have curated this list of the best sports swimsuits of 2023. Keep scrolling to find your perfect match.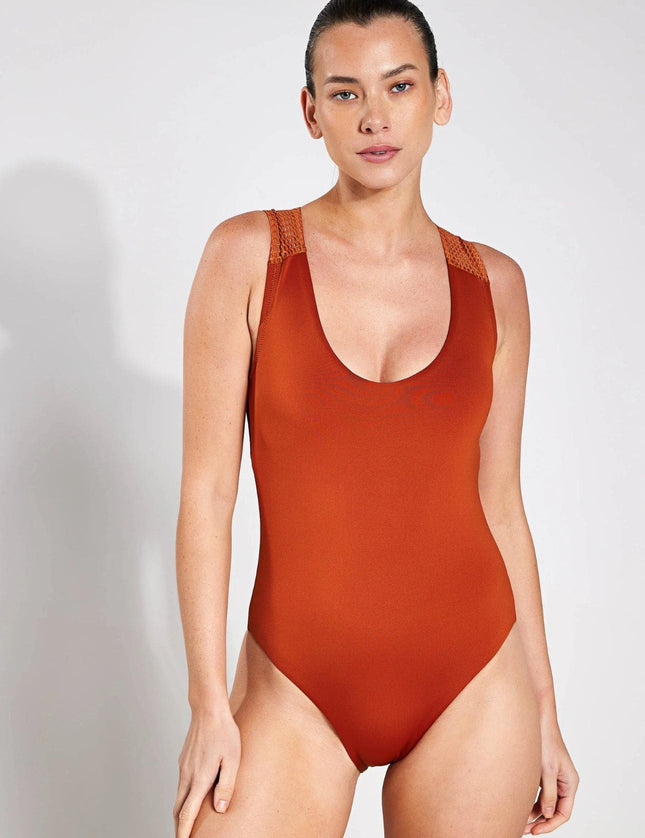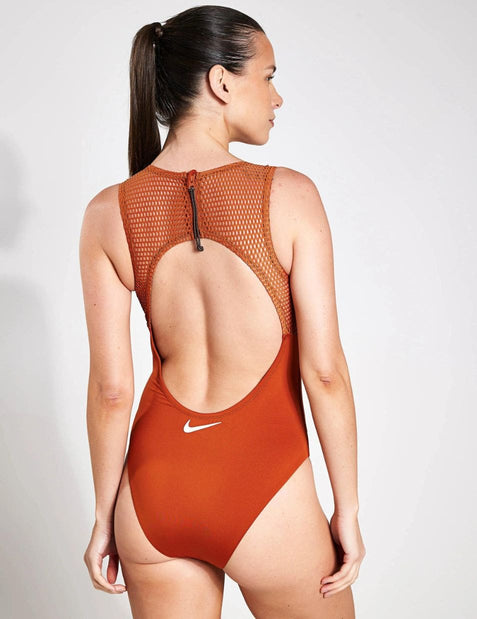 Nike Keyhole Back One Piece: Nike, Keyhole Back One Piece - Dark Russet
Nike: Keyhole Back One Piece
Fashion meets function with the Nike Keyhole Back One Piece.
The muted yet pleasing to the eye, dark russet colour deters from the classic black for a contemporary look.
Despite the keyhole back design, this swimsuit doesn't cut corners when it comes to enhancing your athletic potential. The light bust support and mesh inserts for drainage create the perfect balance of comfort and confidence whilst in the pool. Then, after an impactful training session use the pull zip to remove the swimsuit completely hassle free.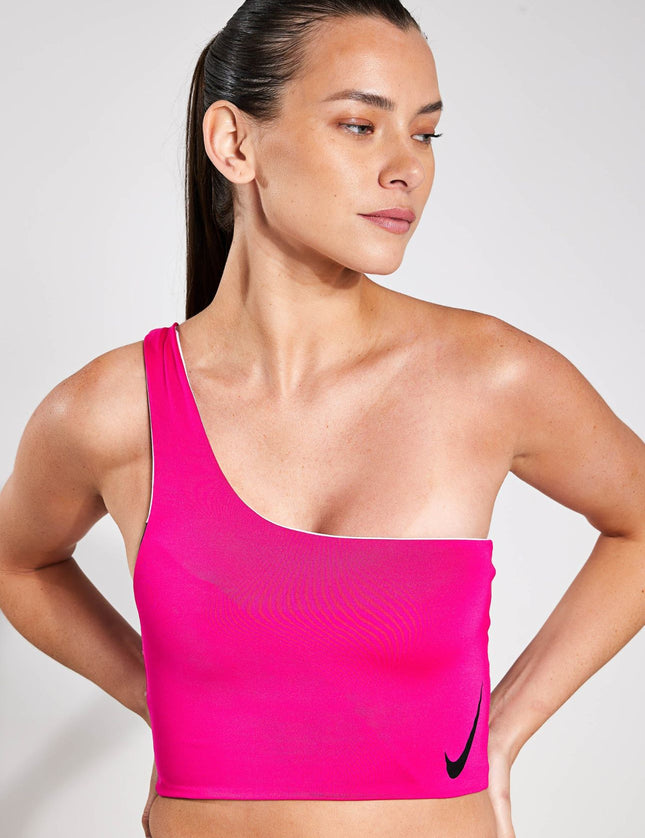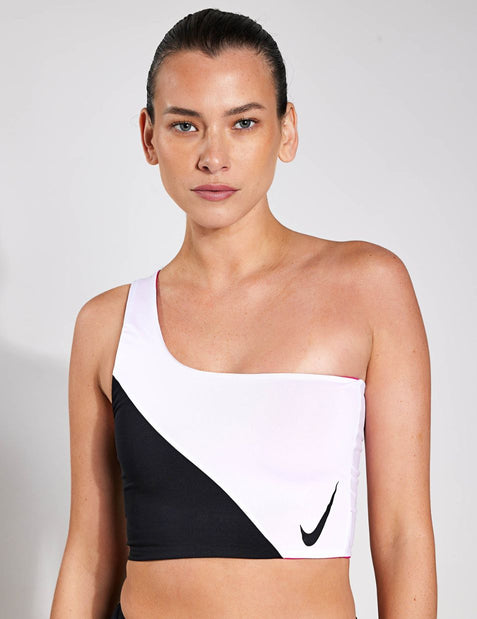 Nike Colourblock 3 in 1 Bikini Top: Nike, Colourblock 3 in 1 Bikini Top - Black
Nike: Colourblock 3 in 1 Bikini Top
Triple the style, triple the fun.
Nike does it again with a colour block bikini top that transforms into 3 different styles and in three different colours. Feeling vibrant? Choose the hot pink look. Or, if you're looking for a classy effect, opt for the monochrome instead.
This reversible bikini top has light bust support and is lined for an effortlessly, comfortable effect.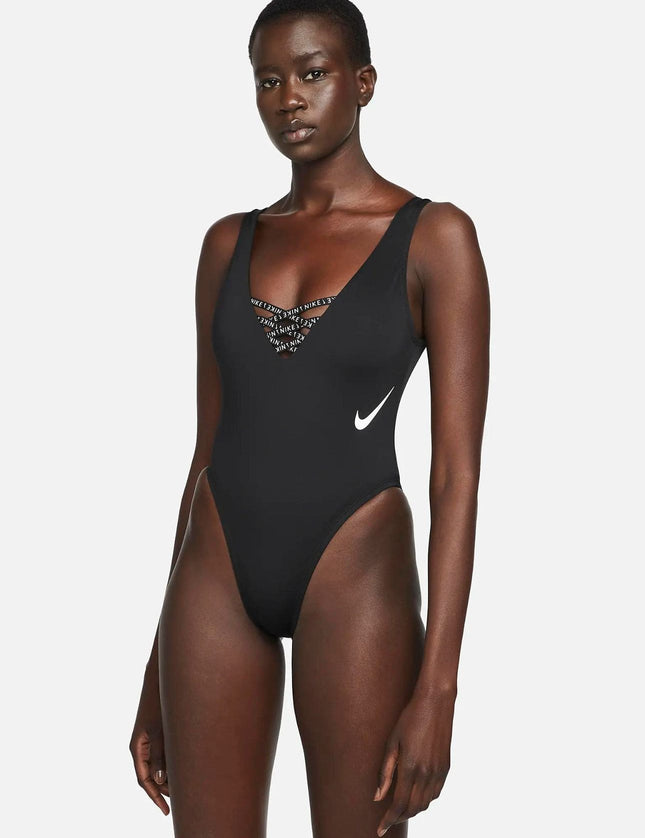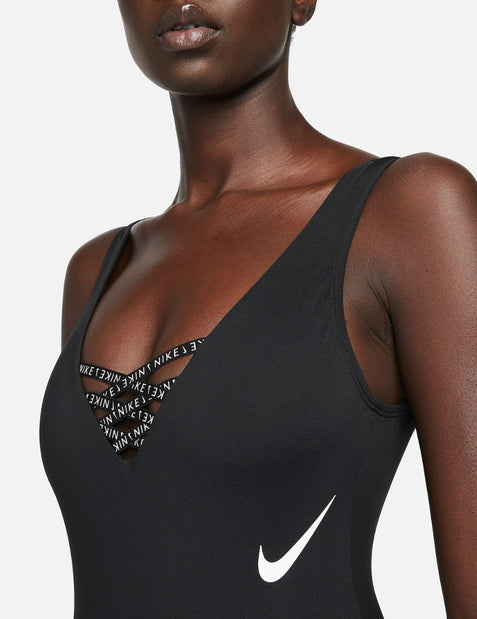 Nike Sneakerkini U-Back One Piece: Nike, Sneakerkini U-Back One Piece - Black
Nike: Sneakerkini U-Back One Piece
Make a splash with this sustainable Nike Sneakerkini U-back one piece which is designed with advanced swimming in mind.
The technical swimwear piece is specifically made to optimise your performance and dominate the competition.
The sculpted swimsuit has removable cups and supportive straps so you feel secure all day long.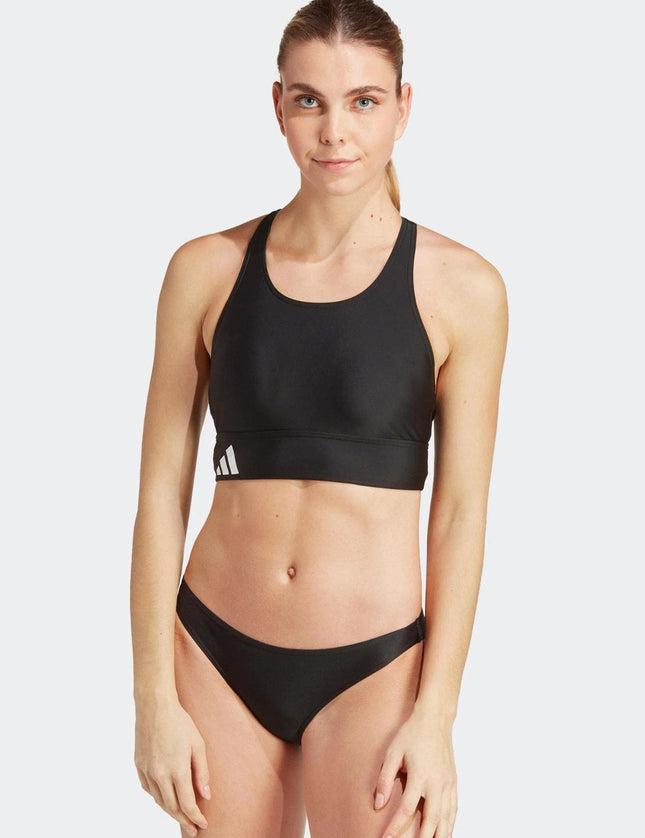 Adidas Branded Beach Bikini: Adidas, Branded Beach Bikini - Black/White
Adidas: Branded Beach Bikini
Adidas has produced this sustainable beach bikini and as always, they never fail to deliver in quality.
The swimsuit is cut from chlorine-resistant fabric and contains regenerated yarn, resulting in a soft, comfortable texture.
This versatile bikini has both the pool and the beach in mind. With a stylish Y-Back, you can top up your tan on the beach whilst also feeling unrestricted when training in the pool.
Adidas Blue Bars Graphic Swimsuit: Adidas, Big Bars Graphic Swimsuit - Blue Fusion/Victory Blue/White
Adidas: Blue Bars Graphic Swimsuit
More of a colour fan? This predominantly baby blue swimsuit is as much flattering as it is practical.
This swimsuit has built-in jersey lining which works to keep you fully covered and secure.
The chlorine-resistant fabric adds a sense of softness against your skin and the open-back cut outs keep your poolside style on point.
Speedo Hyperboom Medalist Swimsuit: SPEEDO, Hyperboom Medalist Swimsuit - Black/Grey
Speedo: Hyberboom Medalist Swimsuit
Movement and flexibility are the two words that spring to mind when discussing the oh, so hyped, Speedo fitness swimwear.
This swimsuit supports you every single move no matter what setting you are in.
The chlorine-resistant and quick dry material produces a sense of security. Plus, the dark geometric design and cut out back is exceedingly complimentary. What more could you want?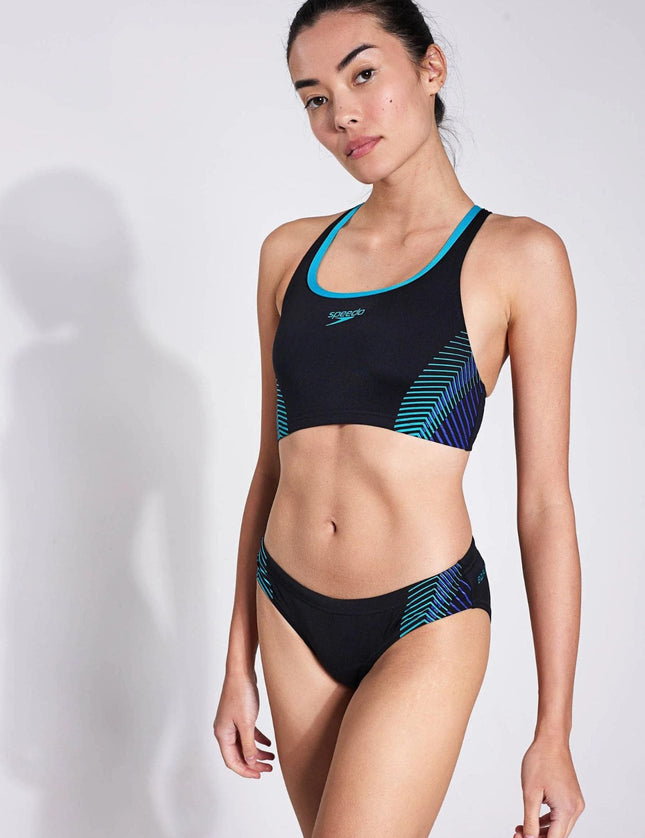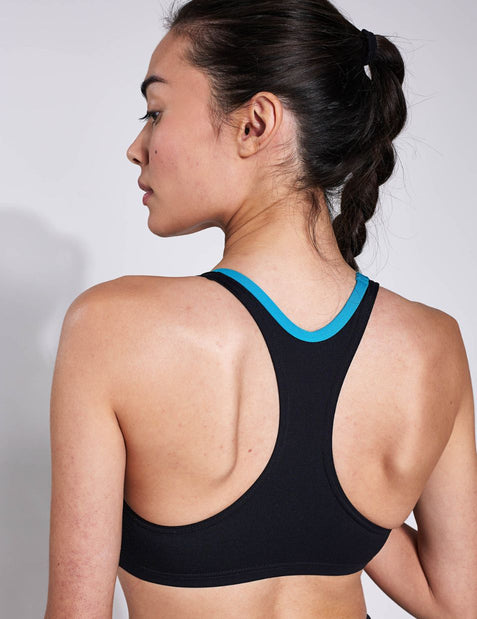 Speedo Placement Racerback Swimsuit: SPEEDO, Placement Racerback Bikini - Black/Chroma Blue/Aquarium
Speedo: Placement Racerback Bikini
Make a statement with this black and chromo blue two-piece.
This two piece is gaining in popularity for its design that flatters every curve on your body and we are obsessed with it too.
The racerback design provides an easy to put on and take-off approach with secure, 100% chlorine resistant material that fits to your body like a glove.
Key Takeaways
Finding the right swimsuit comes down to 3 key components, support, material, and style preference.
Sports swimwear should provide a level of security whilst also being fully lined and chlorine-resistant. Not only that but style matters. Feeling good in what you are wearing at the beach or in the pool is just as important as what you wear on a day to day basis.
Experiment with the types of swimsuits that are the best fit for you and your body. Once you do find that perfect piece, remember to take care of it properly by following the washing instructions, so that you can feel your best time and time again.