Shopping for the right sportswear can be heaven or hell. When you know exactly what you're looking for, it's nothing short of a pleasure. However, if you're feeling a tad muddled or confused, finding the ideal gear for your workout can feel entirely daunting.
When it comes to leggings, there's one major conundrum. Do you need yoga leggings or running leggings? And, crucially, what on earth is the difference? That's a good question.
Worry not, as we have all the answers you've been craving. In this short and snappy guide, we will reveal all you need to know and even give you our best product picks too.
YOGA LEGGINGS
Before you hit your next yoga class, getting the right yoga pants for the job is essential. This type of sports gear has a specific style that supports your body and offers comfort while you're doing your asanas.
Finding the best yoga leggings for your needs doesn't have to be difficult. You should simply ensure you know what you're looking for first.
What to look for in yoga leggings
Don't be baffled by the array of choices. From hot yoga leggings to yoga leggings with pockets, there's a wide selection of options. Ahead of diving in and buying a pair, you need to understand what to look for.
Regardless of the style you buy, the best yoga leggings all have a handful of core features in common. Here's a breakdown of must-have styles.
High Waist
"How do I keep my leggings from falling down?" It's a question that we've all asked ourselves at times. Moving from pose-to-pose takes flexibility and practice. However, if your yoga leggings are constantly sliding down, it's a sure-fire way to ruin your flow.
For that reason, high waisted yoga leggings tend to be a vastly popular choice. The beauty of these leggings is that they cover your lower abdomen and don't slip down when you move.
What's more, this type of sportswear can work for any occasion too. If you're looking for some yoga leggings for work, you may find that these fit the bill. Perfect.
Breathable fabric

Let's not beat around the bush, yoga can be hot work. Ensuring that your yoga leggings feature breathable fabric is an absolute must. When you're in the midst of a session, the last thing you want is to feel uncomfortable or sweaty.
Choosing a light and perhaps even moisture-wicking style of material will mean that this is never a problem.
Soft, comfortable fabric
Comfort is king! When you're practicing yoga, you need to feel comfortable and supported at all times. Investing in the best yoga leggings with high-quality fabric is the way to go.
Often enough that means choosing a blend of materials. Of course, some brands have their own style of ultra-cosy material. For instance, Alo Yoga boasts Alosoft fabric and Beyond Yoga has their famous Spacedye fabric.
Squat proof fabric
Flexibility is a big part of practicing yoga. That means that your yoga leggings need to be entirely squat proof. You're going to need to bend, flex and move around freely.
Before you buy a pair of leggings, make sure that you read the description. Some of the best yoga leggings have unique four-way stretch material which is a huge bonus.
Can you run in yoga leggings?
If you've already got a trusty pair of yoga leggings, you may be wondering if they can do double-duty. The age-old question comes up time and time again: Can you run in yoga leggings? The answer is that it depends on the fabric and design.
If your yoga leggings are compressive and has moisture-wicking properties, such as Alo Yoga Airlift Legging or the Girlfriend Collective Compressive High Rise Leggings, you can run in them comfortably.
Please note that the leggings need to be tight enough to stay up when you're running.
WHAT ARE THE BEST YOGA LEGGINGS?
Now that you understand what you should be looking for in the best yoga leggings, let's take a look at some options. If you're hunting for some divine inspiration, you've got it. Here are three of the snazziest and most durable yoga leggings you can get right now.
If you're looking for comfort and style in one neat package, you can't go wrong with the Alo Yoga High Waisted Lounge Leggings. Featuring a flexible ribbed waistband, moisture wicking technology, and four-way stretch, there's oh-so-much to love about these.
Aside from offering comfort and support when you're in class, the Alo Yoga line of leggings are ideal for everyday wear. The velvety, signature performance Alosoft fabric means that you will always be comfortable, no matter what you're doing.
You can grab these in five eye-catching colours to suit your personal sense of style.
With a fantastic fitted design, high rise and 7/8 length, the Beyond Yoga Spacedye Caught in the Midi Leggings could be the ideal addition to your wardrobe.
The black yoga leggings are made of comfortable Spacedye Performance fabric, which is super soft. Add that to the fact that these are fast-drying and wick away moisture and you've got a recipe for success.
Leggings: YMO, SoftLuxe Legging - Dark Charcoal
The softest legging of them all? These high waisted leggings from YMO are perfect for yoga, Pilates and barre. In fact they're so comfortable that you'll want to wear them day in, day out.
The subtle compression fit means these leggings will stay put as your flow, without being restrictive. So you can simply focus on your practice.
This bestselling style is currently available in charcoal and navy. Look out for the matching SoftLuxe bra too.
RUNNING LEGGINGS
Whether you're sprinting 10K or simply out for a morning jog, getting the right running leggings is essential. This high-endurance activity demands the right gear.
When you're mid-run, you need to know that your leggings will stay up, keep you cool and feel comfortable. It's a tall order. However, investing in quality running leggings will help.
What to look for in running leggings
Before you rush to buy some running leggings, you need to know what you're looking for. While there are many great options out there, ensuring that yours have some key features is a smart move.
With that in mind, here are the important traits every pair should have.
High Waist
From the moment you start running in high waisted leggings, you will never wear anything else. These are real game-changers. One of the major complaints, when people are jogging, is that their leggings start to slide down and, ultimately, slow them down.
Avoid this issue by choosing a pair of quality leggings that are either high rise or high waisted.
Seamless construction
Looking for the epitome of comfort? You might want to opt for a seamless construction design. Doing so means that you will be less aware of your leggings when you're running, i.e. they won't cause any discomfort or unnecessary irritation.
Look for a seamless legging that offers both compression and breathability in one little package. Simple.
Compression
Here's the golden rule: Running leggings should be tight. You need a compressive pair of leggings when you're out for a sprint. The main reason that this style works so well is that it stops the leggings from moving too much when you're running.
What's more, you will find that the compressive design also supports the muscles, which are working hard.
Breathable fabric
Whether you're running al-fresco or on a machine, your heart-rate is set to rise and so is your temperature. To keep you going, you need to choose a breathable legging fabric.
This style of gear will help you stay cool and comfortable. You might even choose a pair of running leggings that have a chic mesh design, which also offers breathability.
Moisture-wicking fabric
The final thing you should look for when choosing the best running leggings is moisture-wicking fabric. Needless to say, when you're running, you may sweat.
The last thing you need is to feel uncomfortable because the fabric of your leggings is damp. Opting for a pair that offers supreme wicking means that you never have to face that issue.
How tight should running leggings be?
The issue of how tight running leggings should be is always a hot topic. The ideal pair of leggings need to be quite tight. Since you will be moving fast when you run, there's the danger of your leggings slipping down, if they are slightly lax.
Instead, when you're choosing your sportswear, ensure that they have a high level of compression and tight fit.
The compressive feature in running leggings offers warmth, but that's by no means its only benefit. The compression offers pressure on the legs, which positively affects your blood-flow.
Rather than all of the blood rushing to your legs as you move, the tightness causes it to flow back to the heart and increases your capacity to keep running fast.
WHAT ARE THE BEST RUNNING LEGGINGS
Looking to buy the perfect running leggings for your next session? Fortunately, we've got some inspiration that will help you along the way. While there are many fantastic options out there, let's take a look at three of the best running leggings you may consider.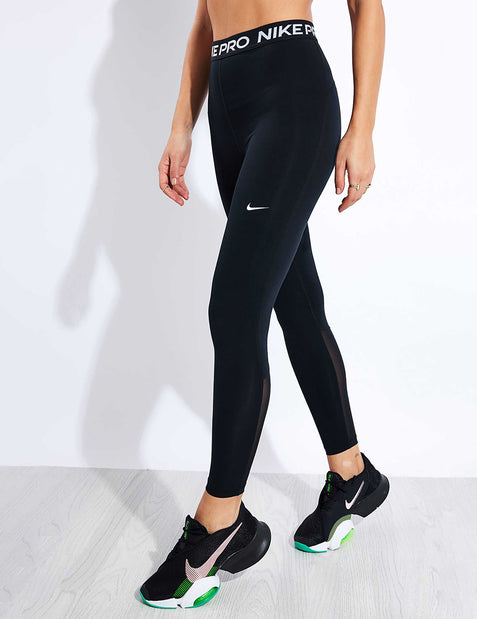 Leggings: Nike, Pro 365 7/8 Leggings - Black/White
If you're looking for support in all the right places, Nike has you covered. The Pro Dri-FIT Leggings are designed specifically for high-paced workouts and running.
The tight-fitting leggings offer a hug-like fit which means that you have ultimate freedom when it comes to moving around. Bonus: The full-length, high-rise leggings give you the most coverage too.
With a chic print, secure fit, and reflective details, the Varley Night Running Leggings are your year-round staple. The versatile leggings have moisture-wicking technology which means that they are ideal for all workouts and distances.
Whether you're out for an urban run, heading to a HIIT class, or even taking part in bootcamp, you should find that these sporty yet stylish leggings fit the bill.
Going on your morning run? Lilybod's Leggings have everything you need. With a high-rise waist, compressive fit, four-way stretch and quick drying technology, there's a reason this brand is a favourite amongst our team.
Simply pop your favourite Spotify playlist on and get out there. As if that weren't enough, the sculpting, stay-put fabric fabric does wonders for your silhouette to boot. Nice.
YOGA LEGGINGS VS. RUNNING LEGGINGS: THE KEY DIFFERENCES
While we've looked at the best yoga leggings and running leggings, it's also important to understand what the key differences are. You may be forgiven for thinking that they are one and the same.
However, while you can wear some yoga leggings for running, the two styles of sportswear are different. Here's what you need to know.
Compression
One of the major differences between yoga leggings and running leggings is in compression. Typically, the latter tend to be tighter than the former.
As we have already mentioned, the two major reasons for this is that they stay up and support the natural form of your body. When choosing running leggings, you should always go for a slightly tight fit.
Nature of fabric
Of course, the nature of the fabric differs here too. Yoga leggings tend to be ultra-soft, breathable and stretchable. On the other hand, running leggings are soft, breathable, and stretchable but also have moisture-wicking features and extras such as mesh panelling. Much of the time, they will be seamless or have seams that are understated for comfort.
When you're running, it's crucial that your muscles are supported and can move freely. For that reason, the fabric that you choose for your leggings is vital. Selecting running leggings with a seamless design, high level of breathability and elasticity is the right way to go.
THE BEST YOGA AND RUNNING CROSSOVER LEGGINGS
While the two styles of leggings are often different, there is some crossover here. If you're hunting for a two-in-one style of leggings, there are plenty of options out there.
Here are three examples of leggings, suitable for any yoga flow that you can also wear when you're out running.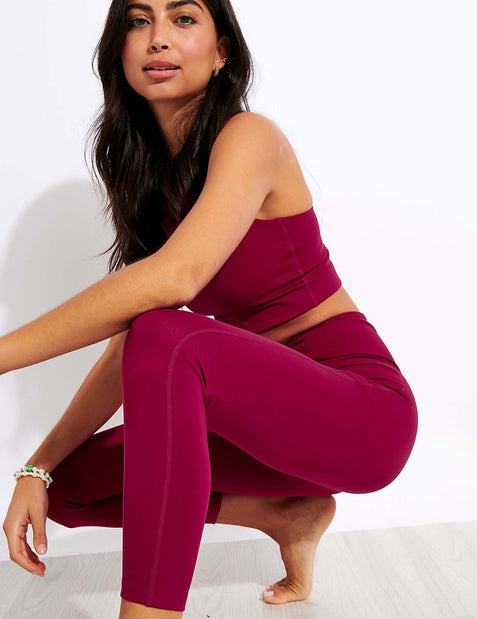 Leggings: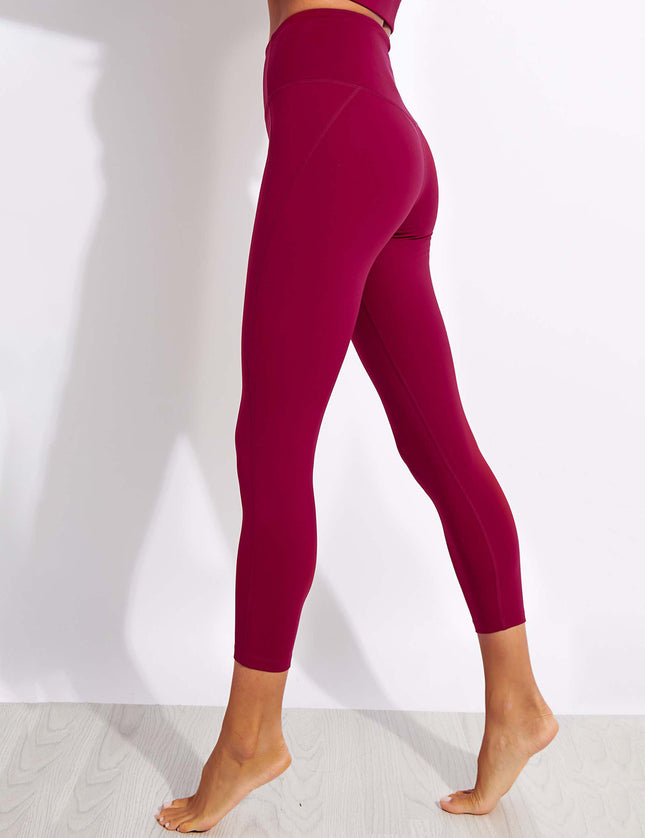 The Girlfriend Collective High Waisted Compressive Leggings have it all. These are some of the best workout leggings that serve two purposes. Showcasing a compressive fit that's perfect for either running or yoga sessions, these leggings will suit most occasions.
The high waisted design also means that the leggings stay in place whatever you're doing. When it comes to the fabric, there's a lot to shout about. The material is sweat-wicking, offering a four-way stretch system and is also breathable.
Of course, we all have a duty to become more sustainable. Believe it or not, the ultra-soft fabric utilises recycled water bottles, which means that they are eco-friendly! Good for your workouts and the planet.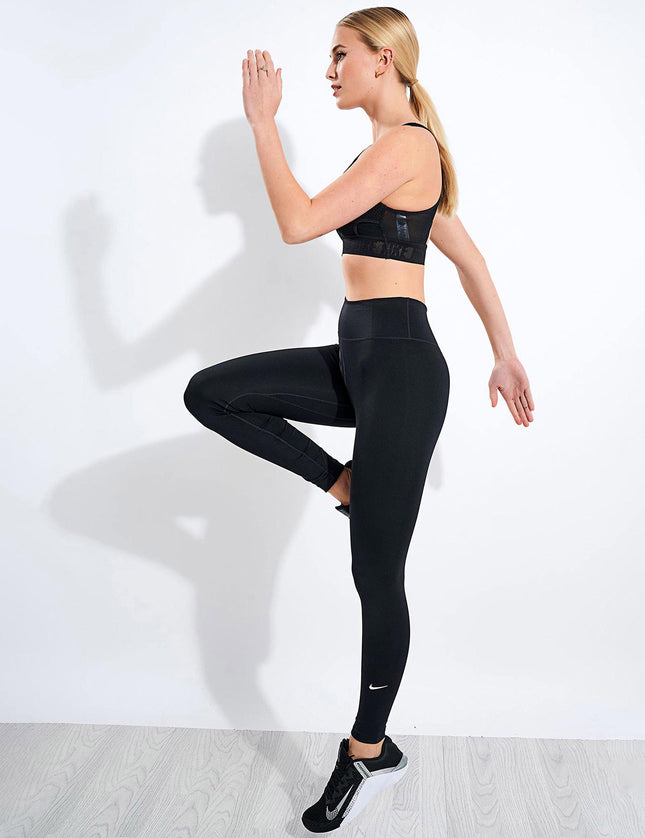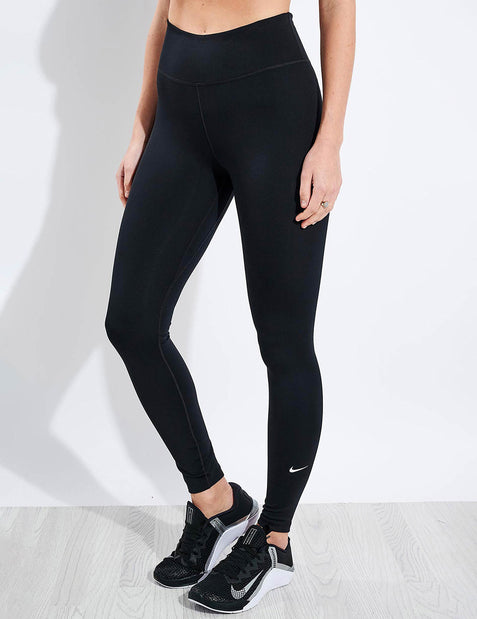 Leggings: Nike, One Leggings - Black/White
If you're looking for yoga leggings with pockets, look no further. Complete with handy side pockets, the Varley Figueroa Leggings are made from the revolutionary Letelux fabric.
These leggings have moisture-wicking and a four-way stretch, which means that you can always perform at your best. Plus, with a high level of flexibility, these leggings can also be worn for running or any other type of workout.
Searching for that 'second skin' feel? The Alo Yoga High Waisted Airlift Leggings have you covered. Designed to lift and contour your curves, these leggings are ideal for pretty much any type of workout.
Whether you're an avid runner or love a quick Pilates session, they will have you feeling supported and ready to move. You've got four-way stretch and moisture-wicking technology here too, which is a real winner whatever you're doing.
THE TAKEAWAY!
Ready to find your perfect pair of leggings? Now that we're well in the midst of 2022, it could be the ideal time to revamp your sportswear. Within this guide, we've given you the low-down on how to find the best leggings for your active lifestyle.
Now that you've got the inside scoop, why not take the time to find the right pair for you and your workouts?