Looking for the perfect running companion that seamlessly merges style, performance, and comfort? Look no further than the Saucony Kinvara Pro. In this comprehensive review, we'll delve into the intricate details that set this shoe apart, explore the types of running it excels in, and shed light on its advanced carbon plate technology.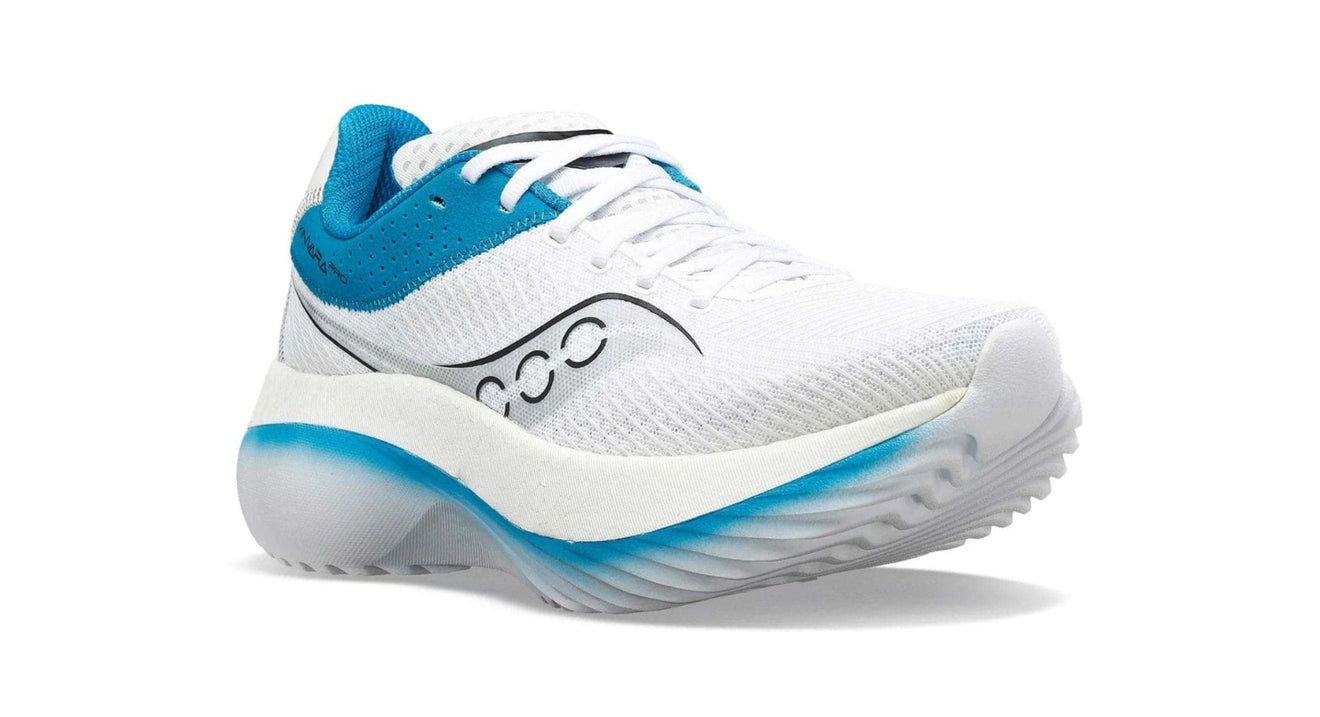 About the Saucony Kinvara Pro
Before we dive into the specifics, let's get to know the Saucony Kinvara Pro a bit better. As an integral part of Saucony's esteemed Kinvara series, this shoe is engineered to strike the perfect balance between comfort, responsiveness, and support.
Saucony's Kinvara series has long been a runner's favourite, and the Kinvara Pro takes it to the next level. Building upon the heritage and popularity of its predecessors, it offers more innovation and performance, making it a beacon of excellence among running shoes.
Whether you're a seasoned runner or a novice taking your first steps, the Kinvara Pro promises an extraordinary running experience.
Key Specifications:
Weight: Approximately 241 grams
Stack Height: Offering a 8mm drop, it provides a minimalist feel for those seeking a more natural running experience.
Best For: The Saucony Kinvara Pro Women's is tailored for runners who demand a lightweight and responsive shoe, adaptable to various running styles, from short sprints to long-distance adventures.
Price: £200
Design and Style
First impressions count, and the Saucony Kinvara Pro delivers in this department. Featuring a sleek and modern design, it seamlessly merges fashion with functionality. With a spectrum of vibrant colour options, these shoes ensure that you not only perform at your best but also look your best.
Performance Meets Style
Beyond aesthetics, the Kinvara Pro's design is meticulously crafted to amplify your performance. Its lightweight structure minimises unnecessary bulk, rendering it ideal for both speed workouts and extended runs. The shoe's upper is built with breathable and lightweight mesh material, ensuring that your feet stay cool and dry while providing a secure and conforming fit.
Comfort and Fit
One of the standout features of the Saucony Kinvara Pro is its unrivalled comfort. As you slip your feet into these shoes, you'll immediately sense the plush cushioning and snug fit that cocoon your feet. Supportive but never cramped. The Kinvara Pros typically run true to size, so reach for your usual.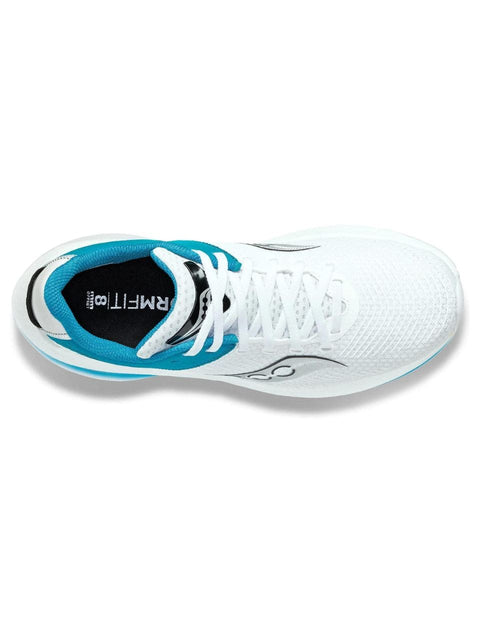 Saucony Kinvara Pro: Saucony, Kinvara Pro - White/Ink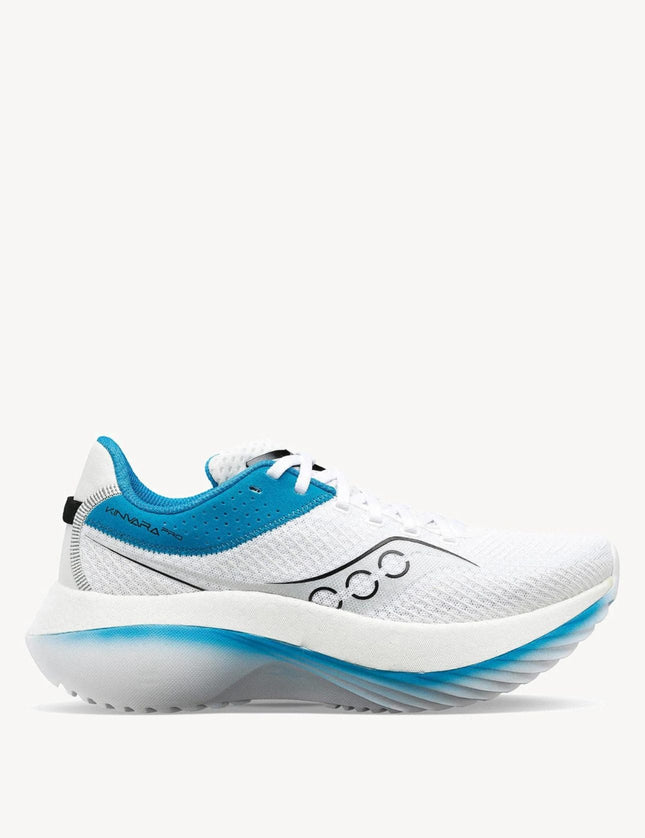 A Closer Look at the Saucony Kinvara Pro
Form-Fitting Upper
Engineered with lightweight and breathable mesh material, the shoe's upper not only keeps your feet cool and dry but also moulds to your foot's contours, ensuring a secure and comfortable fit. The engineered mesh design minimises irritation, making long runs more enjoyable.
Responsive Cushioning in the Midsole
The Kinvara Pro incorporates Saucony's pioneering PWRRUN PB foam, offering exceptional energy return with each stride. Whether you're conquering the roads or navigating rugged trails, this cushioning technology delivers a smooth and responsive ride, mitigating impact on your joints.
Durability and Traction on the Outsole
A good running shoe needs to be able to handle pounding the pavement mile after mile, and the Kinvara Pro is up to the challenge. Its outsole is fortified with robust rubber, providing exceptional traction on diverse surfaces, ranging from pavement to gravel paths. This guarantees that you can confidently tackle any terrain without worrying about premature wear and tear.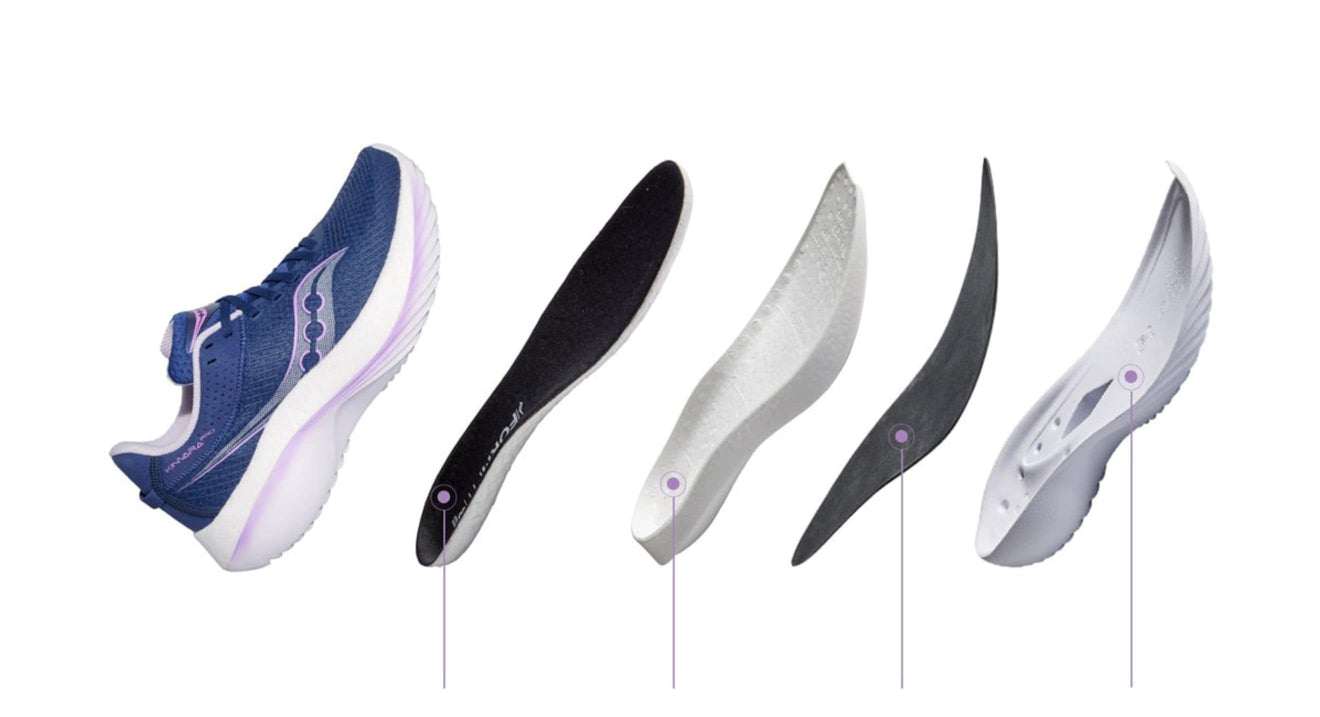 Carbon Plate Technology
The Saucony Kinvara Pro is more than just a stylish pair of running shoes. It boasts a cutting-edge carbon plate within its midsole. This technology, often found in elite racing shoes, is a game-changer.
The carbon plate provides a springy and propulsive sensation, optimising your stride efficiency. It ensures that every ounce of your energy is translated into forward momentum, potentially helping you achieve personal bests. While this technology contributes to the shoe's premium price point, it's an investment in your running performance that serious athletes will appreciate.
Learn more about carbon-plated running shoes in our guide here.
Conclusion: Elevate Your Running Game with Saucony Kinvara Pro
To sum it up, the Saucony Kinvara Pro is a superior running shoe that excels in style, comfort, performance, and durability. Whether you're a seasoned athlete or just embarking on your running journey, these shoes are tailor-made to help you reach your running goals.
With its sleek design and responsive cushioning, the Kinvara Pro elevates every run into an enjoyable experience. Its comfortable fit and form-fitting upper ensure your feet stay content even during prolonged outings. And, thanks to its durability, you can trust these shoes to be your faithful running companion for many miles to come.
So, if you're ready to unleash your stride and elevate your running to new heights, consider the Saucony Kinvara Pro. Your feet will thank you, and your running aspirations will be closer than ever. Invest in a pair today and hit the road with the confidence that comes from exceptional footwear.
Remember, top-tier running shoes are only one part of the equation. Combine them with the right activewear, and you'll be unstoppable on your fitness journey. Explore our activewear collection to complete your running ensemble and embark on a running adventure like never before.