If you're searching for a trail running shoe that combines style, comfort, and peak performance, you've landed on the right track. In this comprehensive Saucony Aura TR review, we're delving deep into these trail-running shoes designed to elevate your off-road experiences.
Whether you're a seasoned trail runner or just starting your journey, selecting the right trail shoe is paramount. Read our full guide to trail running shoes here. So, gear up, as we explore why finding the perfect trail shoe is so essential and how the Saucony Aura TR measures up.
4 Reasons to Find the Right Trail Shoe:
Before we get into the nitty-gritty details of the Saucony Aura TR, let's take a moment to emphasise why finding the right trail running shoe is crucial. Your choice of footwear can make or break your trail running experience, impacting everything from comfort to performance and even injury prevention. Here's why investing time in selecting the perfect pair is worth every step:
Injury Prevention:

Trail running often involves uneven terrain, rocks, roots, and varying slopes. The right shoe provides adequate support and protection for your feet, reducing the risk of sprained ankles, blisters, and other common trail-running injuries.

Enhanced Performance:

A shoe designed specifically for trail running offers the necessary traction and stability, allowing you to navigate challenging terrains confidently. This boost in performance can mean the difference between an enjoyable trail run and a struggle.

Comfort and Endurance:

Long trail runs require comfort and durability. A well-fitted trail shoe can make your journey more comfortable by reducing fatigue and providing the cushioning needed for extended hours on the trail.

Adaptation to Terrain:

Trail shoes are crafted with specific terrains in mind, ensuring they perform optimally on trails, whether they're rocky, muddy, or sandy. This adaptability ensures you're ready for whatever Mother Nature throws at you.
Overview of the Saucony Aura TR:
Now that we understand the importance of selecting the right trail running shoe let's dive deeper into what sets the Saucony Aura TR apart:
Saucony Aura TR Specs:
Best for: Trail running
Weight: 249g
Heel-to-toe-drop: 8mm
Ride: Neutral
Cushioning: Balanced
Traction That Inspires Confidence:
When it comes to trail running, reliable traction is paramount. The Aura TR Women's boasts multidirectional lugs on the outsole, offering exceptional grip on both wet and dry surfaces.
Say goodbye to slipping and sliding and hello to newfound confidence on the trails. The outsole design exemplifies Saucony's commitment to enhancing your running experience.
Lightweight, Responsive, Durable Design:
No one wants to feel weighed down during their run, and these shoes excel in this department. The responsive cushioning ensures you stay agile, making steep inclines and descents a breeze. Your feet will thank you for the comfort and support these shoes provide.
Trail running can be harsh on your gear, but the Aura TR is built to withstand the test of time. The reinforced toe cap and rugged construction ensure your shoes won't give out before you do. Investing in a durable shoe is a long-term investment in your running journey.
We also love the look of the Saucony Aura TR. Why should functionality come at the cost of style? The Saucony Aura TR strikes a perfect balance, making them suitable for both your off-road adventures and casual outings. Whether you're hitting the trails or running errands around town, these shoes have you covered.
Saucony Aura TR FAQs:
Do Saucony Aura TR shoes run true to size?
Yes, the Saucony Aura TR generally run true to size. However, it's always a good idea to check the brand's sizing chart for precise measurements. Proper fit is the foundation of comfort and performance.
Can I use the Saucony Aura TR shoes for road running too?
While these shoes are specifically designed for trail running, their versatility means they can handle occasional road runs without issues. Just be mindful that their aggressive grip may feel a bit excessive on smooth pavement.
How do I clean and maintain trail shoes?
To keep your Aura TR looking and performing their best, clean them gently with a damp cloth and allow them to air dry. Avoid machine washing or using harsh chemicals, as this can compromise the shoe's integrity.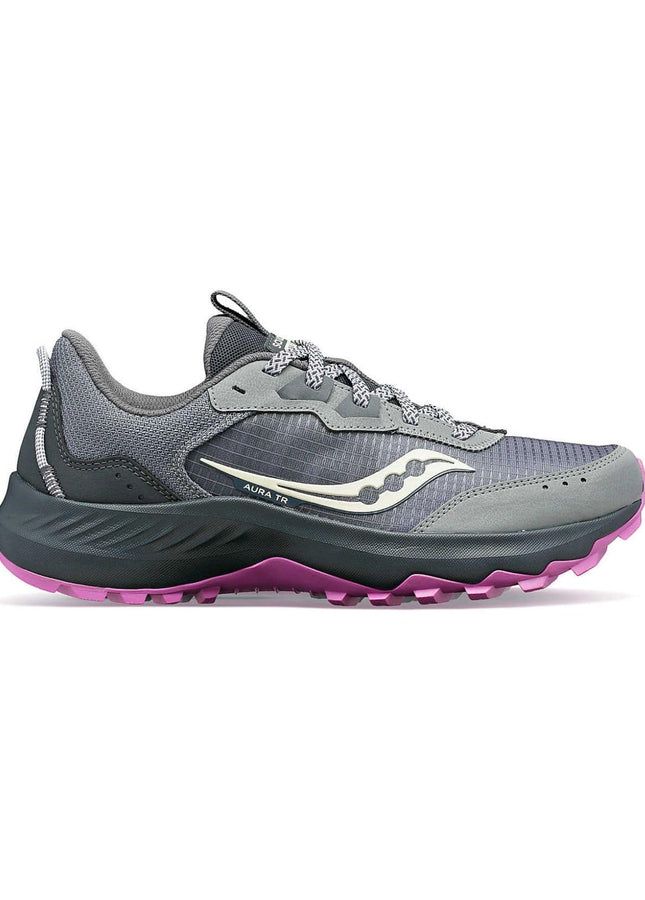 The Takeaway!
The Saucony Aura TR Women's is a great choice for runners seeking to conquer the trails in style, comfort, and confidence. Choosing the right trail running shoe for your adventures is key, and these shoes deliver on all fronts.
With exceptional traction, durability, and a sleek design, they're a top contender in the world of trail running footwear. So, if you're ready to elevate your off-road exploring, give these shoes a try and experience the difference for yourself. Happy trails and happy running!