Words by Ben Woodcock.
HOKA was born out of a desire to create running shoes that are both kind to the human body but also 'world class fast'. Unlike some supersized brands, HOKA hasn't flooded the market with an infinite number of indecipherable collections, it's a lean collection of footwear designed for performance in specific contexts.
Whether you're seeking a shoe for casual running, cross training, speedwork, or a bit of everything, HOKA has a trainer for you. While this is great for active lifestyles of today, it can be difficult to find the trainer which fits your needs best.
We've taken a closer look at some of the most popular models of HOKA running shoes to help you find the right shoe for you.
Let's take a look at HOKA running shoes
Clifton 9
The Clifton 9 is HOKA's workhorse. It weighs in at a cruisy 205g and has a 5.00mm heel to toe drop. It has an ultralight midsole and an extended heel crash pad to discourage heel-striking and offer a softer, more responsive ride than some other shoes in the range. Ideal for training runs, and building up the distance, the Clifton goes the extra mile.
The breathable upper, sewn with mesh, makes it the ultimate shoe for pretty much any run you'd lace up for. Runners of all ranges – training a few miles a week to marathon distance – will benefit from the extra bounce in the ultra-soft memory foam.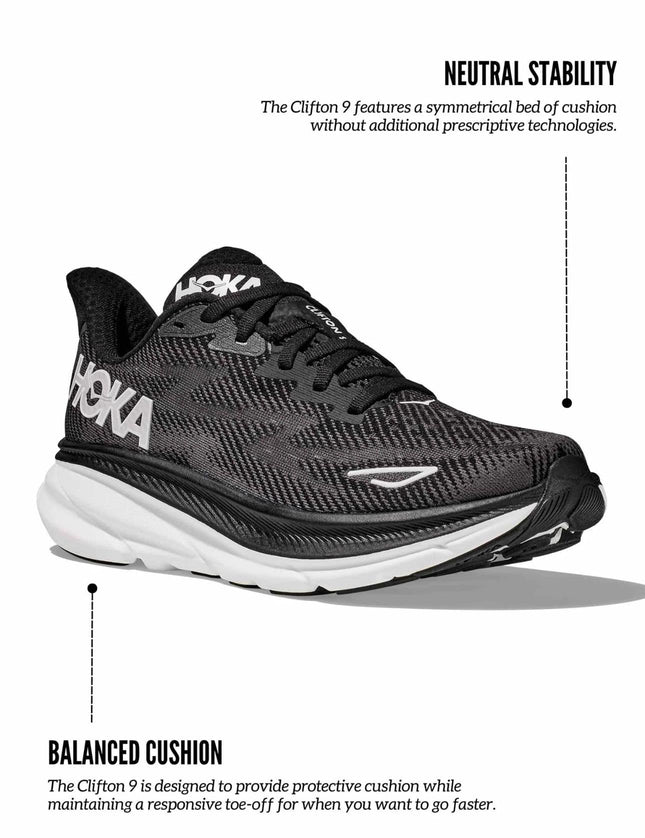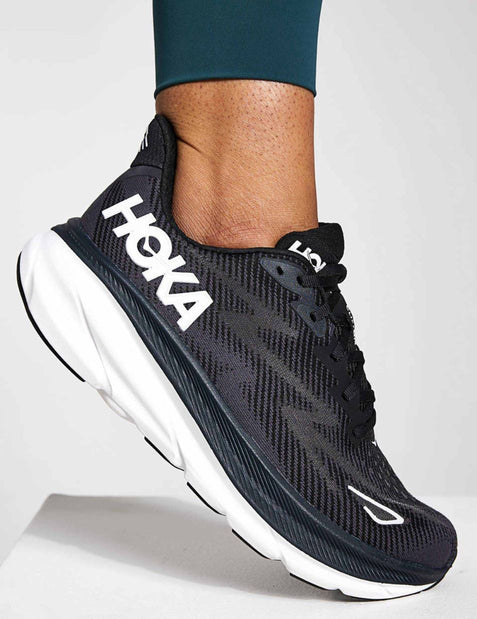 Clifton 9: HOKA, Clifton 9 - Black/White
Arahi 6
Where the Clifton 9 is a neutral shoe, the Arahi 6 is a stability running shoe which contains a J-Frame midsole support, unique to HOKA. The J-Frame helps prevent overpronation, where the feet roll inward when contact is made with the ground.
The cushioning within the Arahi 6 is low-profile which keeps your foot in closer contact with the ground and is extremely responsive as a result. The Arahi 6 strikes a perfect balance between cushion and solid support.
Arahi 6: HOKA, Arahi 6 - Black/White
Bondi 8
If comfort is what you are in search of in your running shoe, look no further than the Bondi 8 that features a forgiving, high bed of soft cushion to absorb impact. Think of this shoe as more of a marshmallow than a trampoline. When it's said that HOKA is about maximum cushion, the Bondi is the epitome of that idea. It's a truly plush ride, that is comfortable, unbelievably soft, and balanced.
Because the midsole stack is so thick, any distance covered with the Bondi 8, is a smooth and stable experience – even if the shoe isn't strictly categorised as a stability shoe. The Bondi has an emphasis on the plush collar that supports the ankle and Achilles alike.
All this cushion makes it one of HOKA's heavier shoes, at 252g. But for all this, the shoe doesn't feel bulky. That said, wearers may find it difficult to achieve much speed in this shoe, as it's simply so soft. The Bondi is a great option for easy runs, recovery runs, and to-from wear.
Mach 5
As the name suggests, this is HOKA's speedster. A stripped back, creel mesh upper, bonded with a lay-flat tongue gives this HOKA trainer a unique spark which sets it apart in terms of performance and experience.
No matter the tempo, the Mach 5 will keep your feet feeling fresh, making it equally perfect for race situations and standard road running. It is incredibly lightweight at just 192g, largely due to its symmetrical bed of cushion, which comes without any added technologies. Other features include Profly construction, an articulated heel collar construction and rubberised EVA outsole to add spring to your step.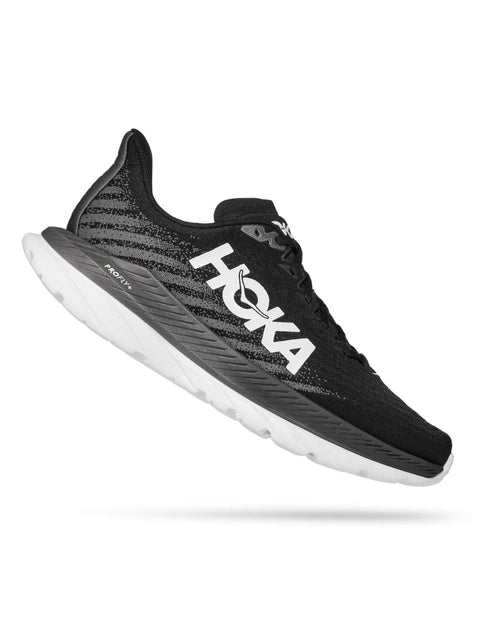 Mach 5: HOKA, Mach 5 - Black/Castlerock
Kawana
HOKA's hybrid shoe, the Kawana earns its name from the Sunshine Coast's famous beach break and is ideal for those with a neutral gait given its wide base and active foot frame. HOKA has incorporated a lively new foam in this running trainer to deliver solid rebound off the ground, plus a refined Swallowtail design that makes landing and transition a smooth process.
The Kawana has a heel-to-toe drop consistent to the Clifton 8 and Arahi 6, at 5.00mm and has an engineered Jacquard mesh for optimal temperature regulation. Similarly, to the Clifton 8, its early-stage meta-rocker provides a very responsive toe-off for a quick change of pace.
The Kawana was developed to deliver on runs and in the gym. So if you're looking for a do-it-all shoe, look no further.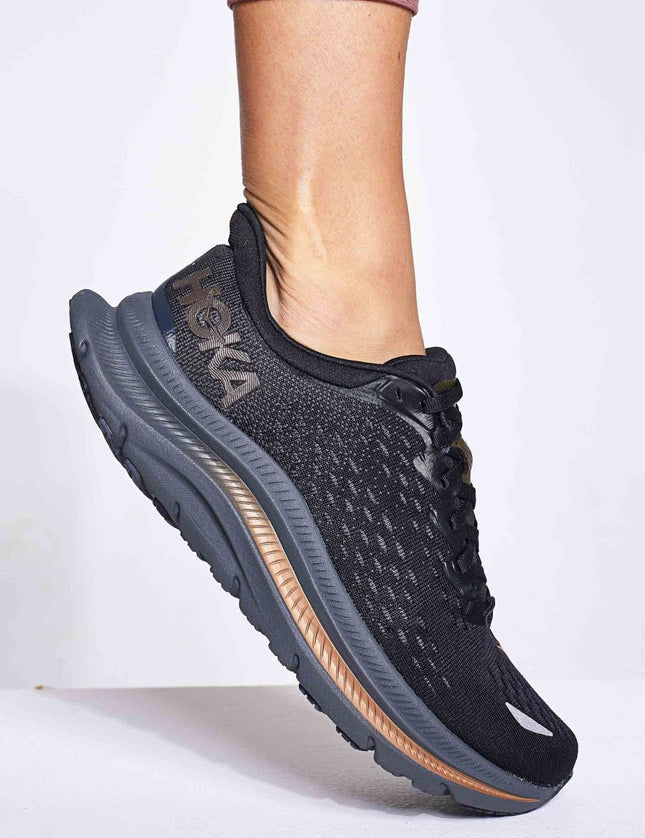 HOKA Kawana: HOKA, Kawana - Black/Copper
Anacapa 2 Low GORE-TEX
Introducing the HOKA Anacapa 2 Low GORE-TEX, a hiking shoe designed to leave a lighter footprint on the planet. Ideal for the avid hiker, this eco-conscious footwear combines sustainable materials with high-performance features. Crafted with recycled yarn meshes and a 30% sugarcane EVA midsole, the Anacapa prioritises both comfort and environmental responsibility.
The Vibram Megagrip outsole ensures traction on diverse terrains, while the waterproof leather and GORE-TEX Invisible Fit technology keep you dry during unpredictable weather conditions. Metal eyelets, an abrasion-resistant toe cap, and a versatile, neutral ride make the Anacapa a durable and Earth-friendly companion for your hiking adventures.
Weighing 352g with a 10mm heel-to-toe drop, this hiking shoe strikes the perfect balance between support and agility, making it a must-have for those who appreciate sustainable performance in every step.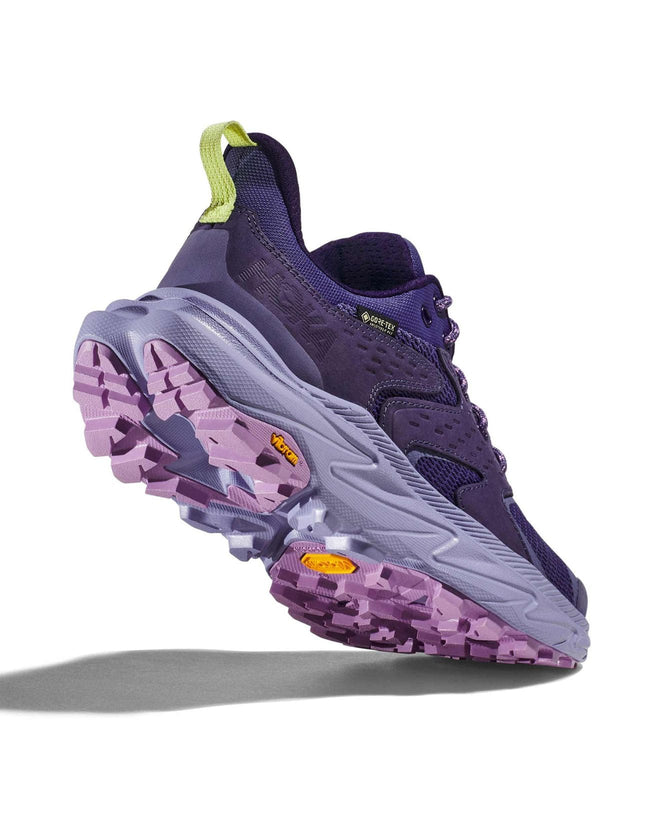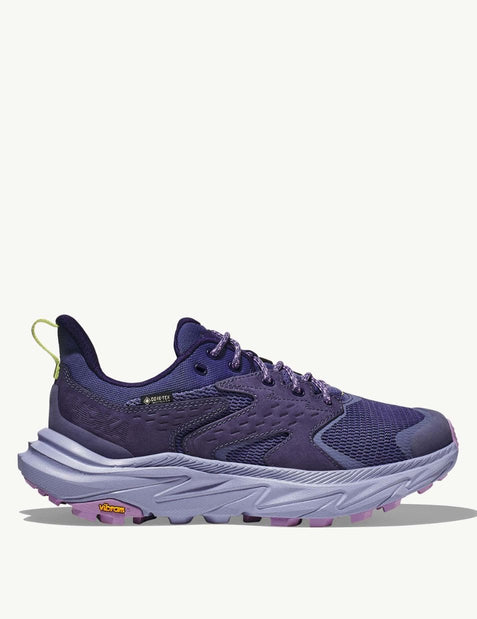 HOKA Kawana: HOKA, Anacapa 2 Low Gore-Tex - Meteor/Cosmic Sky
Anacapa 2 Mid GORE-TEX
Sometimes more is more. The HOKA Anacapa 2 Mid GORE-TEX is a hiking boot with a sustainable soul designed for Earth-conscious adventurers. Engineered with recycled yarn meshes and a sugarcane EVA midsole, this hiking companion prioritizes both performance and environmental responsibility. The Vibram Megagrip outsole ensures a reliable grip on various terrains, while the Leather Working Group Gold-Rated waterproof leather and GORE-TEX construction keep your feet dry in any weather condition.
The Anacapa 2 Mid boasts features like metal speed hooks, a rubber toe cap, and eco-friendly materials, making it well-equipped for any trail adventure. Weighing 416g with a 10mm heel-to-toe drop, this hiking boot offers a balanced and neutral ride, providing the perfect combination of support and agility for those who seek sustainability and comfort in every outdoor pursuit.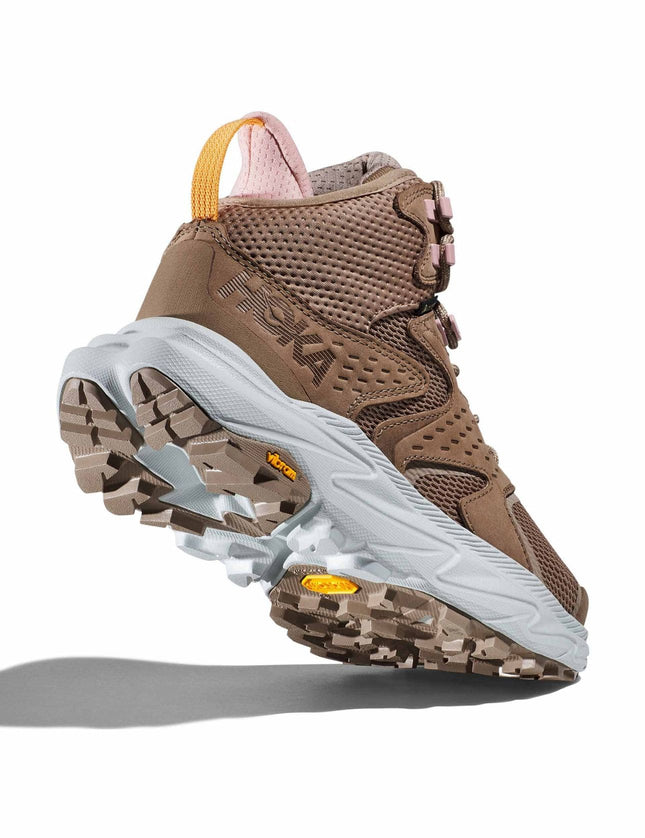 HOKA Kawana: HOKA, Anacapa 2 Mid Gore-Tex - Dune/Ice Flow
Which HOKA shoe is right for you?
Generally speaking, HOKA's trainers are pretty adaptable, and no matter how or where you choose to wear them, you can bet you'll feel more cushion than other brands. But these trainers do come into their own when performing in their lane.
So here's where each HOKA running shoe shines:
Distance and training runs:

Clifton 8

Stability shoe:

Arahi 6

Hybrid training:

Kawana

Tempo runs and speedwork:

Mach 5

Casual runs and recovery:

Bondi 8

Hiking: Anacapa 2 Mid and Low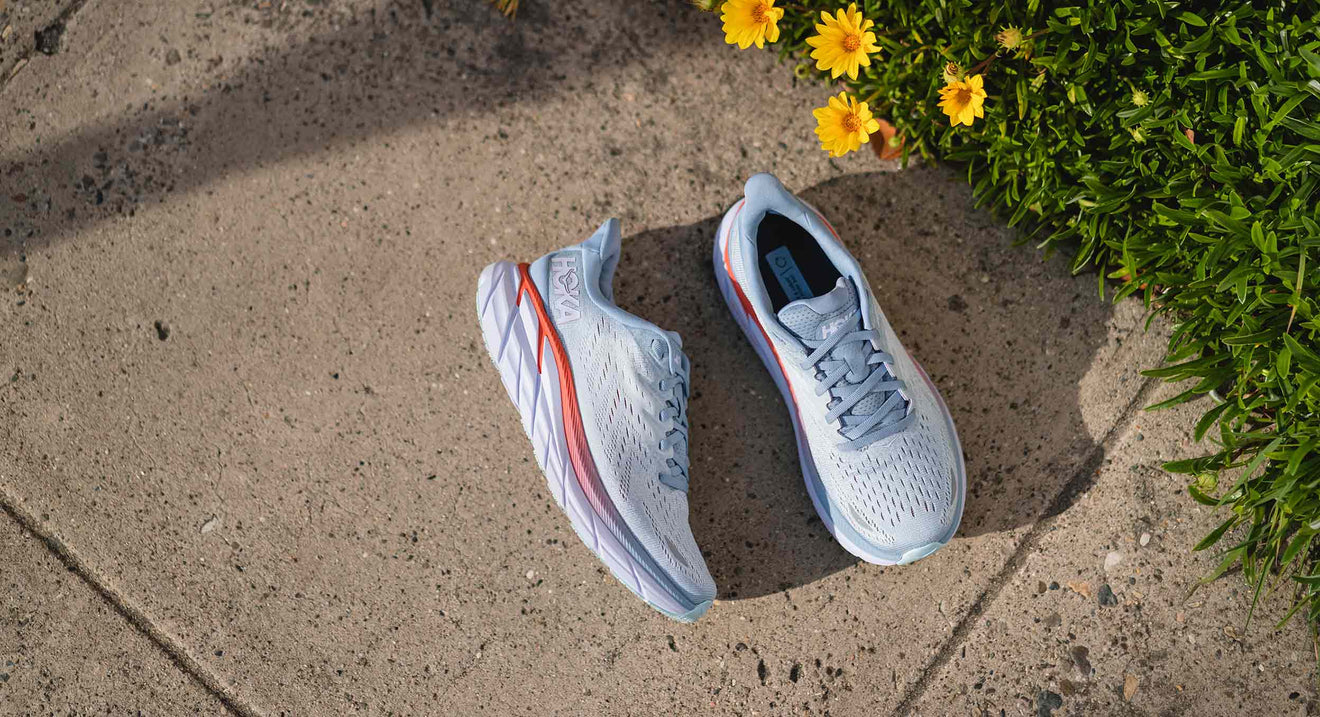 Are HOKA trainers true to size?
Before you take the plunge and buy yourself some HOKA running trainers, you want to know whether you need to get a size up, down or your usual size. Here's all you need to know when it comes to sizing details.
Generally, Hoka trainers do run true to size. Given Hoka's relentless drive to develop cutting edge running shoes, they have ample sizing choices.
The Clifton 8 runs true to size, particularly for those looking for width in their running trainers.
The Bondi 7 generally runs true to size and is also available in wide and extra wide models.
The Arahi 6 runs true to size, with good space in the 'toe-box' at the front of the shoe.
The Kawana runs true to size.
The Mach 5 runs true to size.
The Anacapa 2 Low and Mid run true to size.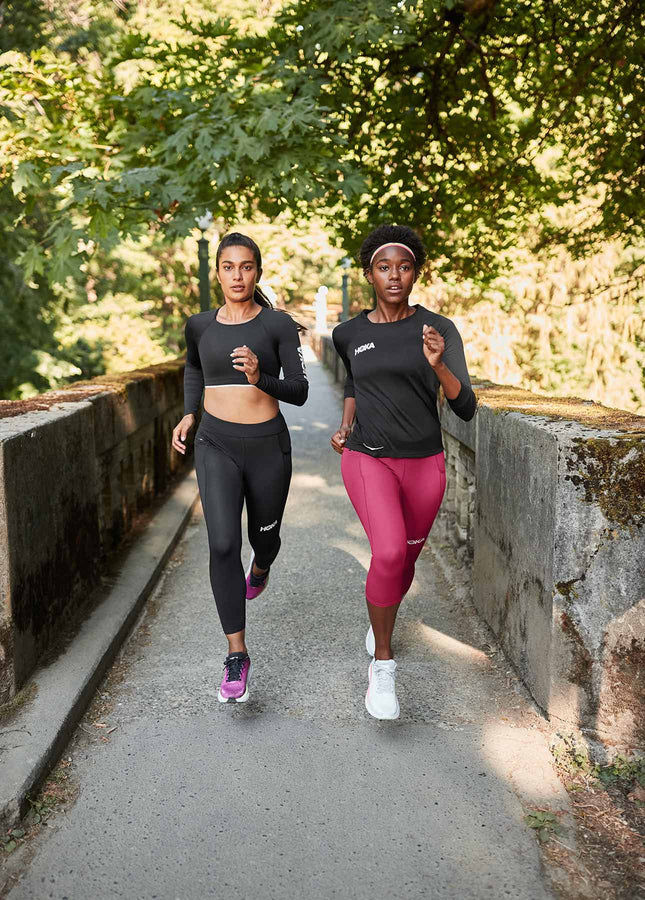 How to break in HOKA running shoes
No need to over complicate matters. HOKA generally don't need breaking in. But if you'd like to 'warm up' your new kicks before putting them to the test, wearing your new trainers around the house, or going out for a short walk is a suitable way of breaking them in for when you decide to go out for your next five mile run or longer. Providing you drop on the right size, breaking them in should be easy.
Are HOKA running trainers sustainable?
HOKA is serious about their impact on the environment and have devoted time and effort to have a healthy impact on the planet. Over 96% of HOKA's packaging is FSC certified, I.E. considered 'gold standard', from recycled and responsibly managed forests.
Up to now, HOKA has saved over 2.76 million lbs of packaging, they are also keen to reduce their Carbon Footprint and their impact on waterways.
Are HOKA running trainers ethically made?
Along with their commitment to the planet, HOKA is committed to safety, well-being and standard of life "From farmers growing the cotton, to employees stitching shoes, to the teammates in our offices."
Strict guidelines are followed from the International Labour Organisation and third-party audits to ensure all products are manufactured ethically.
Conclusion
Options, quality, technology, sustainability and ethics, HOKA seems to have it all. It's a brand which has established themselves as one of the front runners when it comes to developing the best for runners, whatever running means for you. Why not shop the collection now and find your newest cushioned ride?