40 Years of Pegasus
If you were born in the 80s, you may remember the very first Nike Pegasus, launched back in 1983. It was a grey running shoe, with the staple Nike swoosh on the side, in that typical American-high-school-track style. Over the years, as technology and science has advanced, Nike has tweaked and adapted the design of the Pegasus, and its popularity has only grown with it - in fact, it's arguably one of the best value Nike shoes you can get at £114.95, and remains Nike's best selling running shoe.
Since day one, the Pegasus has been the shoe for everyone, offering runners of all kinds a snug fit and a versatile, springy ride. And now, in 2023, we're on Nike's 40th edition. But just how different is the Pegasus 40 from the Pegasus 39?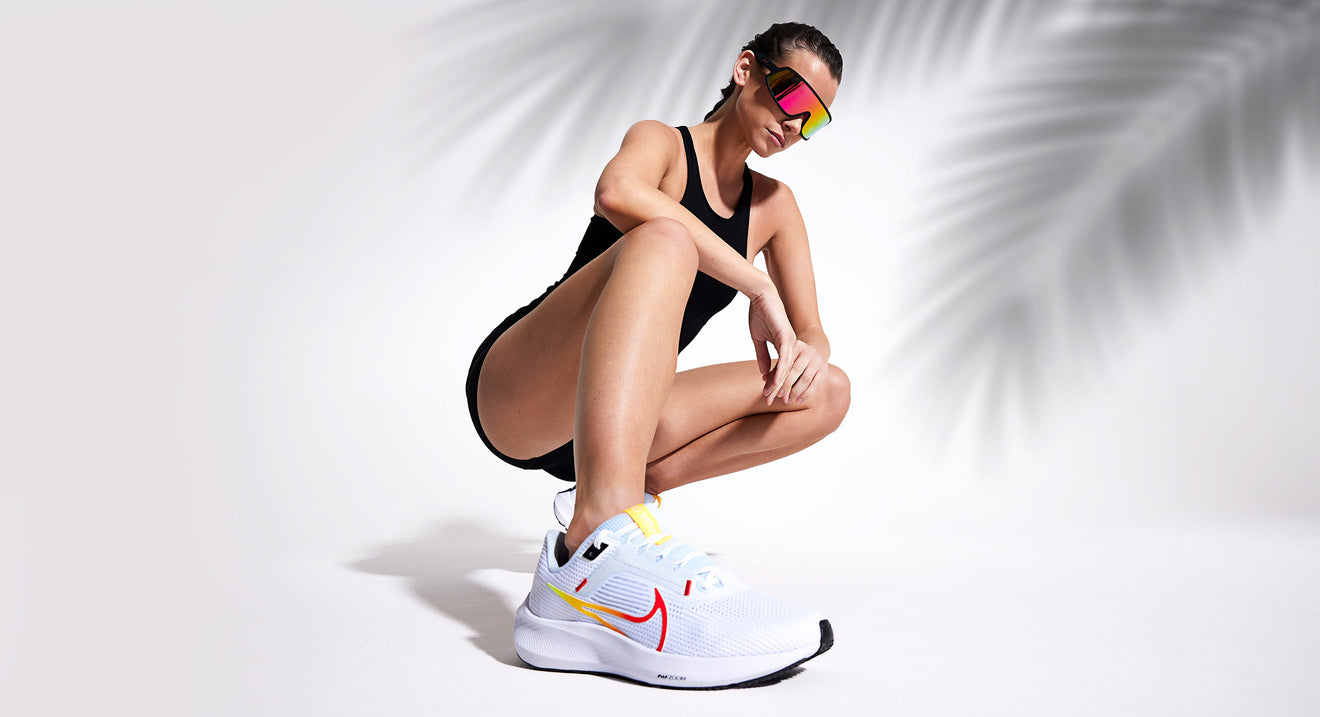 What is the Pegasus good for?
The Nike Pegasus 40 is a great all-rounder trainer, which can be used for everything from Park Run to speed sessions to marathons. It's a neutral shoe; firm yet responsive, with soft cushioning and breathable mesh. It isn't an incredibly cushioned shoe - when we compare it to something like a Hoka or On Monster - so it would suit a runner who prefers a firmer ride. However, the two Zoom Air units (one in the forefoot and one in the heel), do help to create a springy sensation, and after a few runs, the sole does soften up a bit. It's a good looking shoe too, and doesn't have a huge rocker, which makes it great for those looking for a cross-training shoe to use in the gym as well… or as a lifestyle shoe.
"The Pegasus is just such a versatile shoe"

Athing Mu, 800m World Champion, Olympic Gold Medalist
What's changed in the Pegasus 40?
The main difference in the Pegasus 40 compared to the 39, is in the way it supports your foot, with improved features in the sensitive areas - like your toes and arch - with a re-designed mid-foot band; you can definitely feel the slight raise in the sole, which hugs your arch, offering more support. In addition to this, Nike has also redesigned the upper with a single-layer of mesh, to improve breathability and airflow. According to Nike, the shoe still offers neutral support and is just as responsive, with the same air units, but it's all around a more comfortable, improved shoe.
Key Pegasus 40 Updates
Increased foam around the collar for a better fit and comfortable ride
Re-designed mid-foot band for better arch support
A new, single-layer mesh to increase breathability and air flow in hot conditions
There's a small, thin reflective stripe on the back of the heel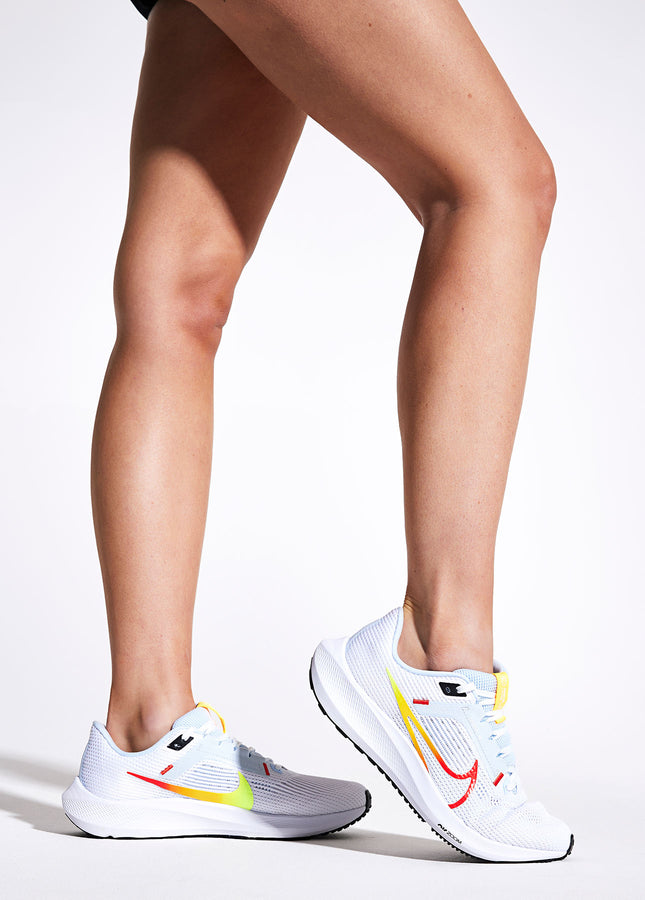 Is it better than the previous version?
With every Pegasus shoe Nike has produced, there's no doubt the shoe has got better. In this case, it's more supportive and breathable, which when it comes to a running shoe, are pretty important factors. If you're someone who struggles with a collapsing arch or plantar fasciitis, the addition of the new mid-foot band may provide a more comfortable ride for you.
Overall, there isn't an awful lot that is new in the Pegasus 40 vs. Pegasus 39, but after 40 years of gradual improvements, that isn't a bad thing. The tweaked fit makes it my favourite version of the Pegasus yet, and it remains an extremely versatile, comfortable, everyday running shoe.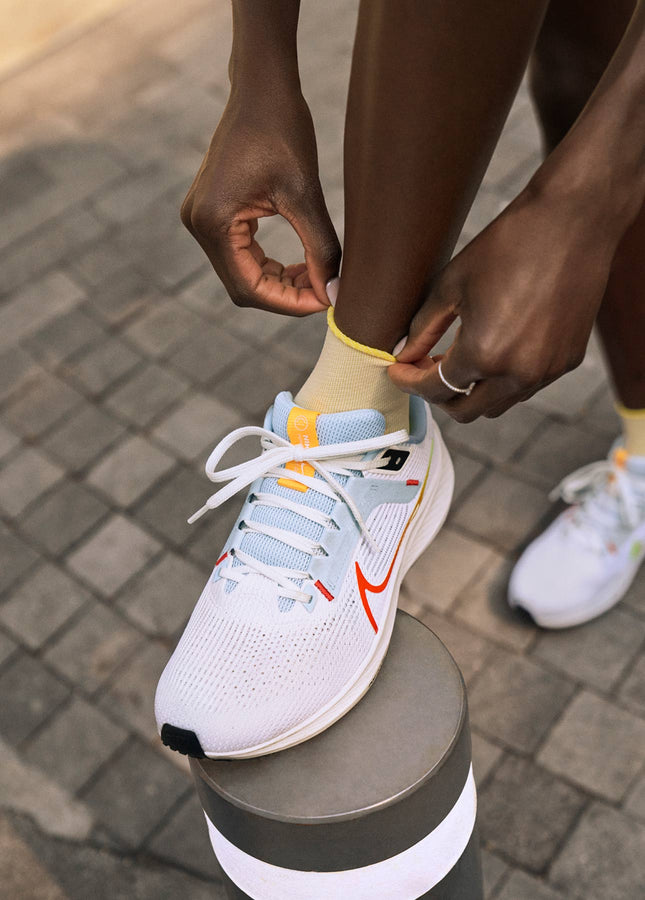 Does the Pegasus need a ZoomX Foam upgrade?
ZoomX foam is what Nike uses in its performance race shoes, such as the Nike Zoom Vaporfly Elite and Nike Zoom Vaporfly 4% shoes. It's super lightweight, softer, bouncier and more responsive than any other foam used in Nike shoes.
While the Pegasus 40 has soft cushioning and Zoom Air pockets, it isn't a maximalist cushioned shoe nor is it as light as say a shoe with ZoomX.
While ZoomX would make this shoe lighter and spongier, it could change the whole reason people love the Pegasus so much, taking it from an everyday, all-rounder shoe to a more premium race shoe - not to mention it will cost a lot more.
How does the Pegasus fit?
The Pegasus feels like it's hugging your foot - in a good way. It's soft and seems to mold to the shape of your foot, which is one of the reasons it feels so supportive. The shoe fits true to size - so no need to size up or down.
What is the Trail version of the Pegasus?
The Nike Pegasus Trail shoe is everything you know and love in a Pegasus but with a more aggressive sole and slightly more durable upper. The new Nike Pegasus Trail 4 holds a similar look to the road version of the shoe, but the main difference is in the underfoot traction, which offers stability and comfort on rocky terrain - perfect for compact, rocky trails but less effective on muddy ones. There's also an extra skin overlay across the toes, for durability and protection.
The Trail version also has Nike's React technology, a lightweight durable foam, which makes for a more comfortable and responsive ride when you're pounding the trails.
If you're someone who has to run on a fair bit of road to get to your trails, this is the ideal shoe for you.