Whether you're a full-blown yogi or new to the art form, one thing is for sure: You need a long-lasting yoga mat. Picking the right one may feel like a trial but it needn't be. We've got you covered. Here's everything you need to know about Manduka yoga mats.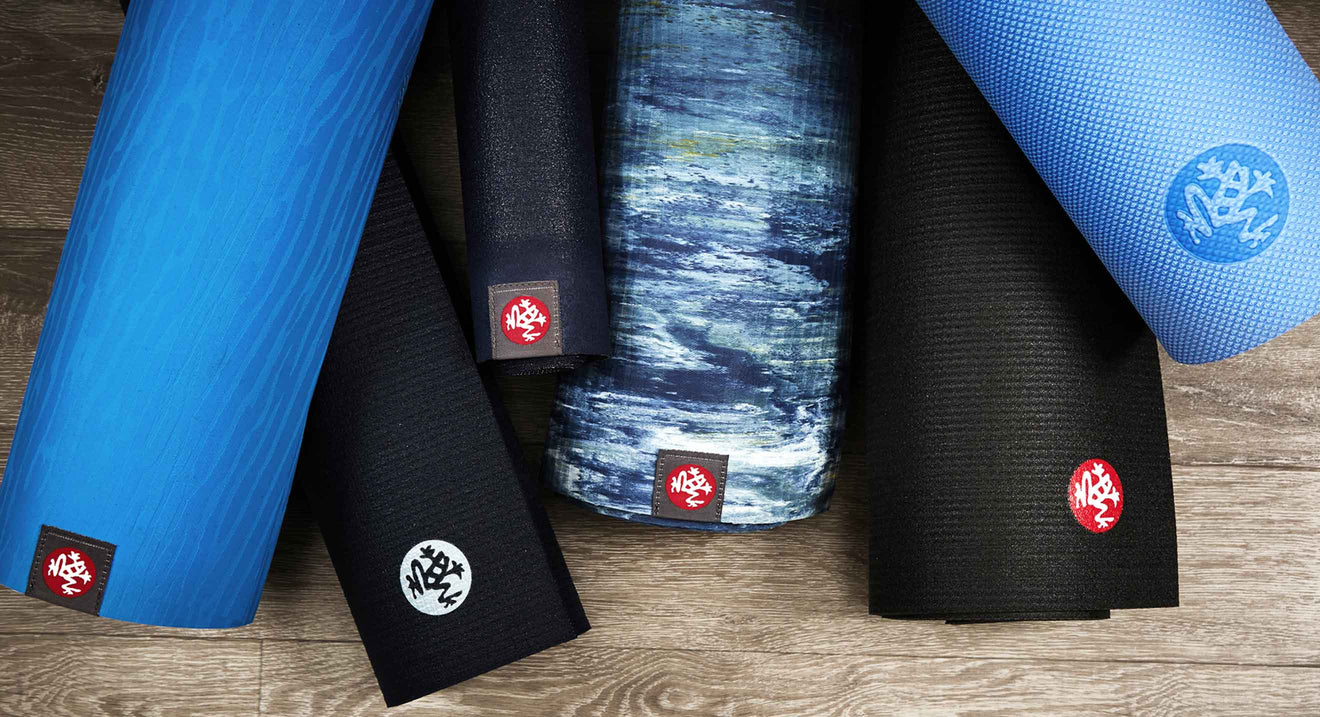 What are Manduka mats made of?
Before you choose the right Manduka yoga mat for you, you need to know a little more about them. Thankfully, each has been specifically designed by yoga teachers to seamlessly provide function, comfort and longevity.
The material depends entirely on which Manduka mat you choose. The standard PRO® line mats are made from eco-certified safe PVC. However, the eKO® Series mats are made from all-natural non-Amazon harvested tree rubber. That also means that they don't contain any toxic glues or foaming agents.
What are Yogitoes yoga mat towels made of?
What about your Yogitoes yoga mat towels? As the no.1 hot yoga towel, they are a must-have for every yogi out there, with their stunning prints and patented technology preventing you from slipping no matter how much you move or sweat in those Bikram classes.
Each towel is made from at least eight discarded plastic bottles, preventing them from entering landfills or polluting the ocean. All the dyes are also certified as eco-friendly.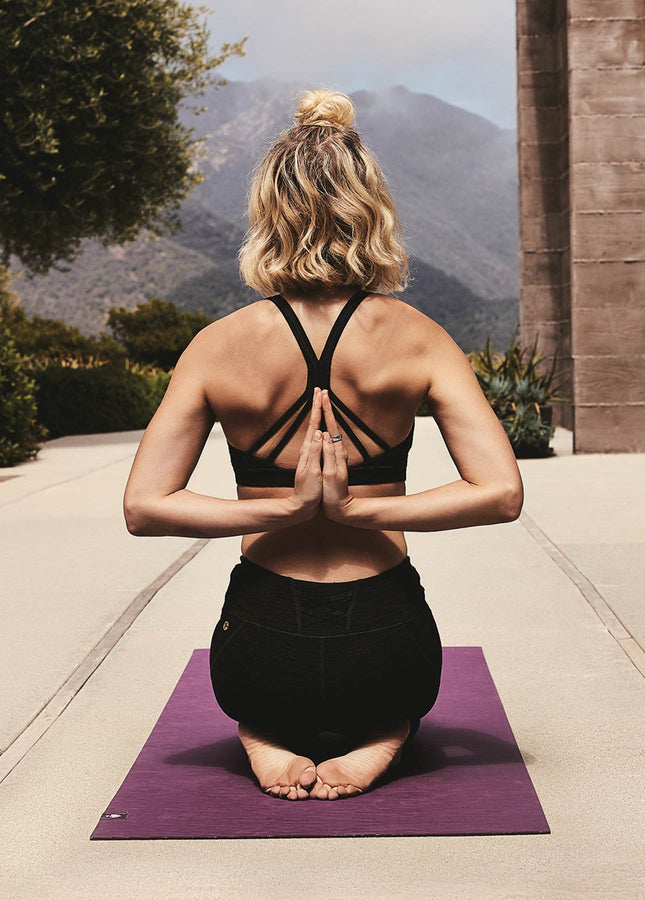 Which Manduka mat should I buy?
PRO mat vs. PROlite
If you're looking for a top-quality, reliable product, you can't go far wrong with a Manduka PRO series mat. The PRO mat and the PROlite are the brand's best-selling items. Both mats offer dense support, performance surface and a lifetime guarantee.
There's just one minor difference between these two Manduka PRO mat products. The PROlite – as the name suggests – is a little lighter than the standard PRO mat coming in at 1.8kg vs. 3.4kg.
So, the choice really comes down to what weight you prefer. We love the PROlite for an all round mat for home and taking to the studio, whilst the PRO is a great option if you just want to practise at home.
PRO mat vs. eKO
Of course, the Manduka PRO mat has remained the best-selling brand product for the last ten years. It offers that dense support, performance surface and a lifetime guarantee. The product is designed to last and last, which means that it should never end up in a landfill.
On the other hand, the eKO series of Manduka mats are the next generation of yoga products. Made from entirely natural materials, these mats are friendly to the environment and contain no nasty chemicals, such as toxic glues or foaming agents.
The mat also boasts a remarkable sealed-cell surface which allows for a stable practice with wet-grip.
eKO mat vs. eKO Lite
Should you decide to go the eco-friendly route and choose one of the Manduka mats from the eKO series, you have another decision to make.
Do you choose the eKO mat or the eKO Lite product? The truth of the matter is that there is very little between these two mats.
Both of the products are made from completely natural materials and offer that incredible level of wet-grip. The only minor difference is that the Lite version is lighter.
Manduka yoga mat vs. Lululemon
Another of the leading yoga mat brands out there is Lululemon. In truth, hobbyist yogis should find that the Lululemon offers all they need. It is light-wearing, good-quality and comes with an affordable price tag.
However, if you're serious about the practice of yoga, you should get one of the Manduka mats instead. As durable as they are attractive, these renowned mats will stay in mint condition, regardless of how often you use them.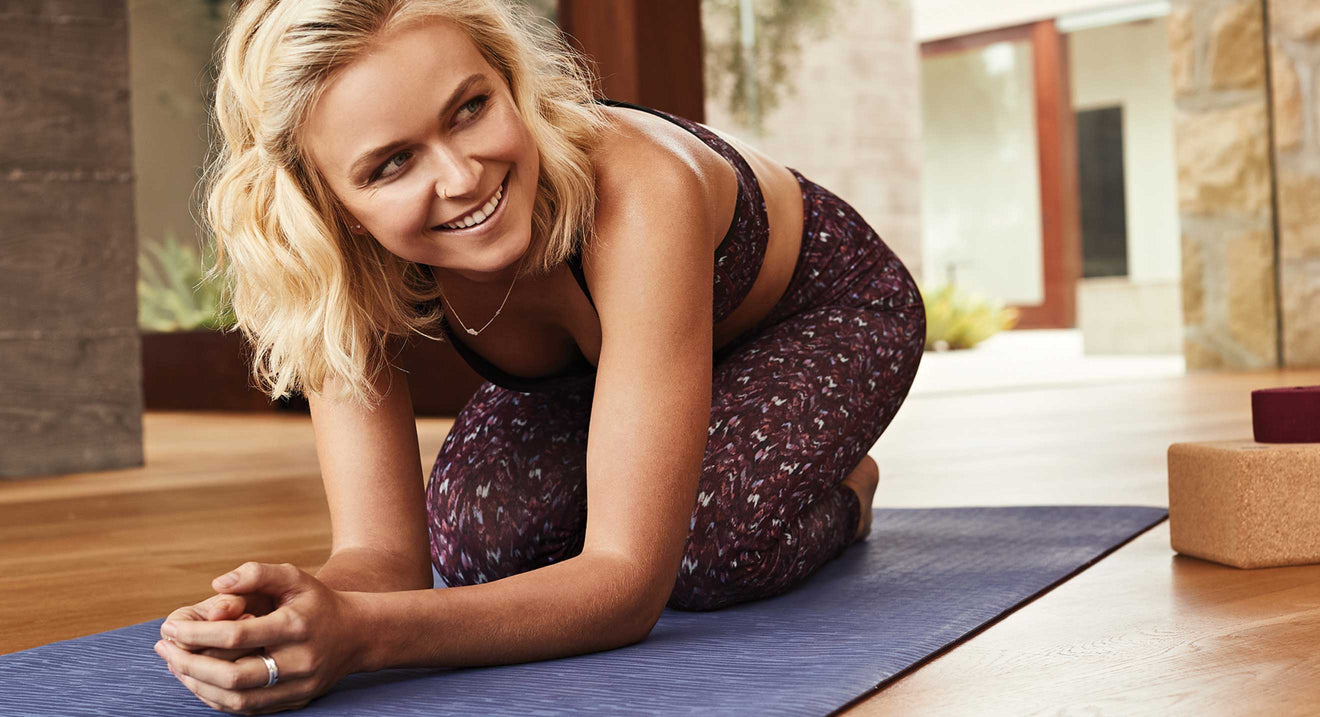 Why is my mat slightly slippery when I first use it?
When you first invest in a PRO series Manduka yoga mat, you may find something quite strange. Yes, it's a little slippery, to begin with. This is because during the manufacturing process of Manduka PRO mats, a thin, protective layer of film is formed on the top surface.
As these mats are textile products, there may be variations in each 'batch' produced. Simply put, that means that the thickness of this film may vary for each individual mat.
The more you use these mats, the stronger grip they will have. You simply need to get past that initial 'break-in period' and the mat will be strong with a sturdy grip.
The break-in period varies from mat to mat since it is a textile product, and also because each yogi's practice varies quite a bit, but it can be up to around three months. Don't worry, we will show you a short cut below if you're worried this is too long! Get working out!
How do I "break in" my new PRO series mat?
Breaking in your mat is simple. You have to start practicing on it. Going through the standard yoga moves, while twisting and turning, is a quick way to toughen up the surface.
The more time you spend using your PRO series Manduka mat, the more you can create a non-slip product that is uniquely yours. You don't have to worry about wearing it out. The mats are built specifically to last. Plus, there's that handy lifetime guarantee too.
How to salt a Manduka mat
If you're a busy person and don't have time to break in your mat the organic way, there is another option. You can use the salt method to supercharge this period and create a surface area with a whole load of grip in no time at all.
Start by pouring sea salt on the surface of your mat. Next, scrub it with a damp cloth, sponge, or brush. Use only a sprinkle of water – no more! As you scrub, the sea salt and water work together to exfoliate your mat.
This process will help you get more grip from the surface of the mat, making it easier to use.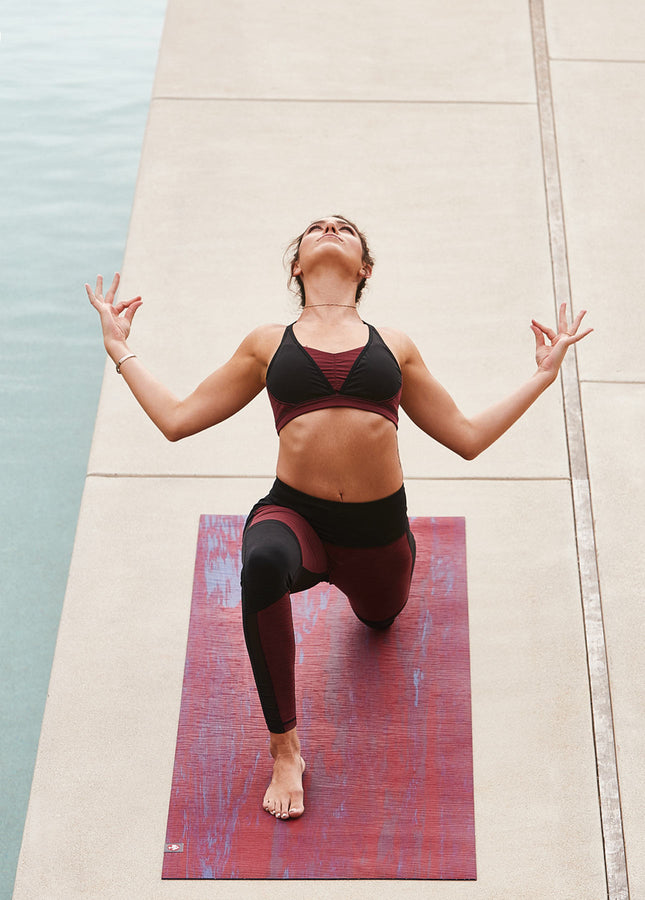 How thick are Manduka yoga mats?
If you're struggling to figure out which Manduka yoga mat is right for you, here's a little more information. Each of these high-end mats is a different thickness. Let's take a look at a quick and easy breakdown of how thick each product is:
Manduka PRO: 6 mm
Manduka PRO Lite: 4.7 mm
Manduka PRO Travel: 2.5 mm
Manduka eKO Lite: 4.0 mm
Manduka eKO SuperLite Travel: 1.5 mm
Manduka PRO Opalescent Yoga: 6 mm
How heavy are Manduka mats?
Whether you're heading to a class or practicing in the gym, you need to carry your Manduka mat with you. With that in mind, you're going to want to know how thick each of the mats are. Here's a rundown for you:
Manduka PRO: 3.4kg
Manduka PRO Lite: 1.8kg
Manduka PRO Travel: 1.1kg
Manduka eKO Lite: 2.1kg
Manduka eKO SuperLite Travel: 1kg
Manduka PRO Opalescent Yoga: 3.4kg
How to make a Manduka mat less slippery
Is your eKO series Manduka mat still slippery? Luckily, there's an easy to solve this problem. Ensure that you wash the mat regularly using the Natural Rubber Mat Wash.
These mats are made of natural materials, which means that they can get 'thirsty'. Sticking to a regular washing routine should mean that they maintain their grip. Neat.
How to clean a Manduka yoga mat?
Of course, you will need to clean your Manduka yoga mat regularly. To do so, use the Manduka's All Purpose Mat Wash and lightly scrub it with a soft brush or sponge.
As a word of warning, avoid any vinegar-based cleaning products as they may dull your mat. When you've wiped it clean, hang it up outside to dry in the sun!
How Sustainable is Manduka?
Manduka does use a variety of eco-friendly and recycled materials. It uses some eco-friendly materials in its main line of products. For example, the brand's eKo mats consist of biodegradable natural tree rubber.
These are manufactured with zero waste and with no harmful plasticisers. Similarly, Manduka Yogitoes towels are made from eight or more discarded plastic bottles and 50% recycled poly yarn. Other products include recycled plastic and recycled polyester.
Manduka Men's Yoga Clothes
Manduka also does a range of men's yoga shorts and t-shirts designed for the minimalist guy who wants stylish, comfortable and sweat wicking pieces. Shop our range of Manduka men's yoga clothes here.
Do you also feel like you cannot live without a Manduka yoga mat now? Check out our wide selection of Manduka mats and Yogitoes Towels.
Also, don't forget to check out our guide to London's best Hot Yoga Studios!