Words by Isobel Coughlan
Whether you're prepping for your first 10k, running marathons, or want some ultra-comfortable leggings to chillax in, seamless leggings are the pick that ticks all boxes. That's right - these versatile bottoms are ready to tackle any situation, minus an awkward, bulky fit.
I'm a firm believer in seamless gym leggings. As a hobby runner, I aim to feel confident and supported while working out, and I have tried endless options for a perfect fit. Just call me the Cinderella of sportswear.
If you've been looking for the best seamless leggings, you can finally stop Google searching. Uh-huh, we've collected the best options on the market to help you find your perfect fit. Scroll down for our expert opinion and recommendations.
What Are Seamless Leggings?
New to the seamless leggings trend? We've got you covered.
These gym leggings are designed without any visible seams, resulting in a more comfortable fit and streamlined silhouette. They're especially helpful if you need to wear leggings for an extended period of time. No pesky side seam marks here.
The Best Seamless Leggings
When it comes to women's gym leggings, owning a pair of each design is always the way to go. You can never have too many options! Top up your sportswear collection with one of our favourite picks below.
Free People
First on our list is Free People and their popular FP Movement sports range. Within this exciting sports collection, you can find the Good Karma High Waisted ⅞ Leggings in Onyx.
If you're looking for comfortable black gym leggings, this pair is for you. Thanks to their ribbed waistband, breathable fabrics, and soft construction, these leggings are created for a pleasant fit. They also feature an "ideal stretch," which we always welcome.
BORN Living Yoga
Next up on our seamless legging tour is BORN Living Yoga, another in-demand workout brand. This team offers a vast range of workout pants, but we're focusing on their stellar seamless option — the Nilay Seamless Legging.
This modern legging is ideal for anyone who wants a supportive workout garment. With four-way stretch, anti-static materials, seamless construction, and a high-rise waist, these leggings are ready to help you get active without extra bulk.
Alongside classic black, these leggings are also available in sage and vintage blue.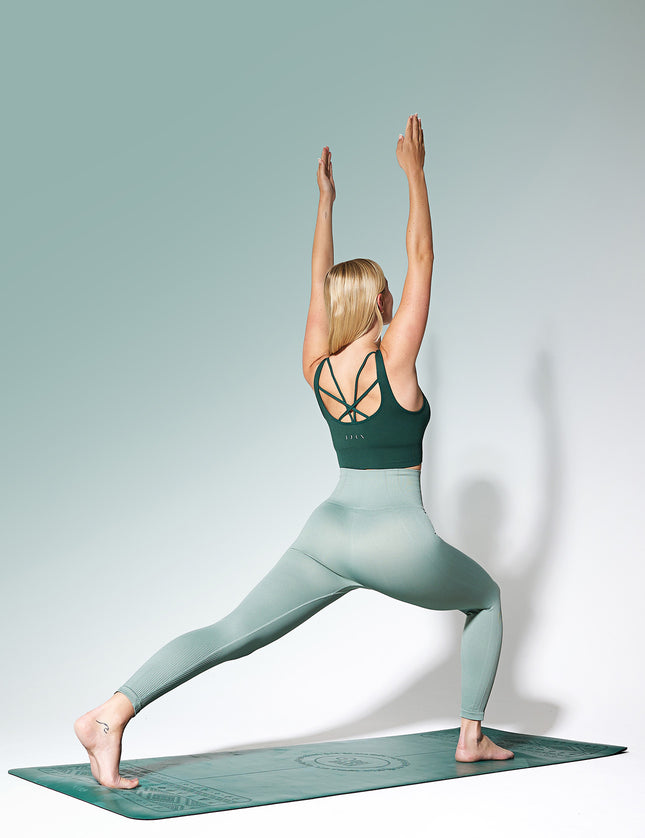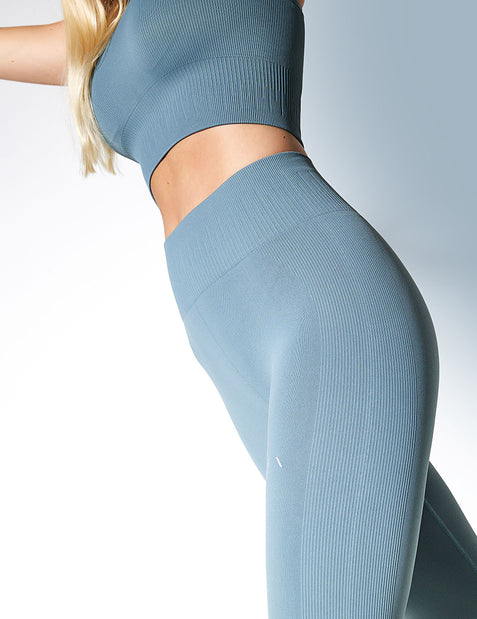 Leggings: BORN, Nilay Seamless Legging - Sage
YMO
Leggings don't have to be devoid of any design. Not at all, and YMO is here to prove it.
Meet the Full Circle Seamless Legging, a design that combines sports functionality and modern fabric manipulations for a fashion-forward finish. This legging has cut-out circle details to add an extra layer of style to an already attractive piece.
Alongside funky patterns, this legging offers a ribbed waistband, seamless construction, and a compressive fit. These are designed for low-impact sports, like hiking, pilates or yoga. You'll definitely be the most stylish on the mountain with this YMO pick.
You can find the leggings in Fig, Navy, and Mazarine. Perfect for pairing with bright gym clothes or laidback streetwear.
Goodmove
High-waisted leggings are always applicable, but even more so when they have a seamless construction.
Goodmove's Go Seamless Legging in Carbon ensures you have a pair of leggings for all occasions. This pair features a high-rise design, calf designs, and seamless hems to ensure you're supported and cosy in yoga sessions and beyond.
Also, Goodmove's leggings use sweat-wicking fabric to keep you cool and dry during high-intensity workouts. Great for summer and those intense sessions.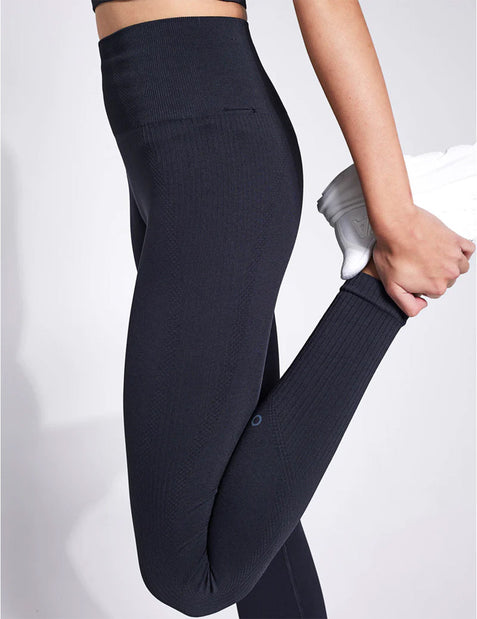 Leggings: Goodmove, Go Seamless Legging - Carbon
What Are The Benefits? Why Should You Try Seamless Leggings?
Black seamless leggings are necessary for all gym lovers, and once you try them, you'll never look back. Still on the fence? Here are the top benefits you need to know.
A snug fit and extra comfort. Seamless leggings don't have bulky seams or scratchy stitching, allowing a chafe-free experience.
A streamlined silhouette. These gym leggings look more flattering, thanks to an uninterrupted shape. They're also great for enhancing your curves. Confidence with every wear — yes, please!
More flexibility and movement. As there aren't restrictive seams, you can easily move your body. Ideal for pilates, yoga, weight training, and running.
Versatile for different occasions. Though these leggings are perfect for the gym, they're also great for street style, running errands, and chilling in.
Available in unique colours and patterns. From bright hues with striking patterns to plain black gym leggings, you can find seamless options in all styles.
High-quality seamless leggings last the test of time. Due to their expert construction, these leggings can withstand years of wear.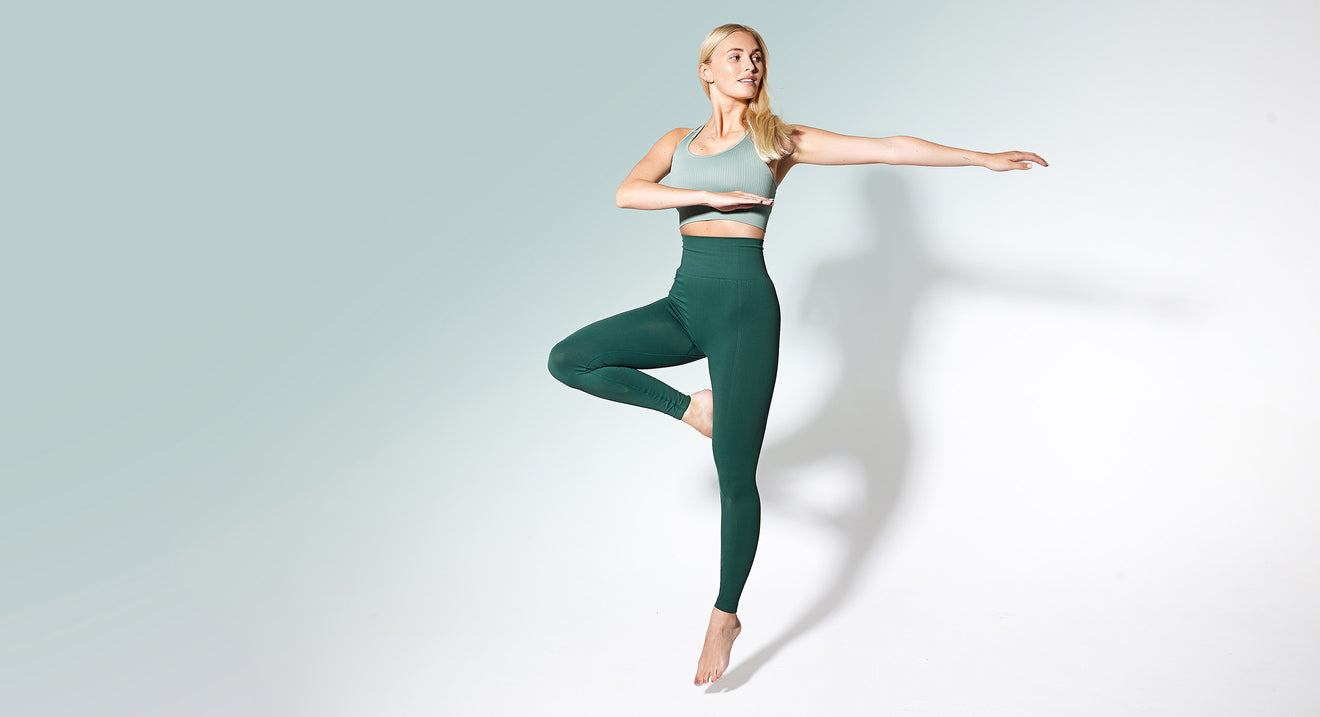 The Takeaway!
Seamless leggings are here to upgrade your activewear experience and add an extra layer of style to your collection. Will you be embracing this trend? Start searching The Sports Edit today to find the pair for you. There's a perfect match out there, we promise!
Or jump to more expert advice on our blog. No matter your query, we've got advice for the situation.