With an astounding 1.9 million followers on Instagram and a growing army of loyal fans, Alo Yoga is set to take the world by storm. The company actually launched back in 2007 and–since then–has surged in popularity.
These days, some of the most well-known names in the world of yoga swear by the brand's leggings. So, is it worth the hype?
If you're in the market for a new pair of leggings, you're going to want to know what Alo Yoga has to offer. With that in mind, let's take a quick look at the brand, some FAQs, and some key reviews too.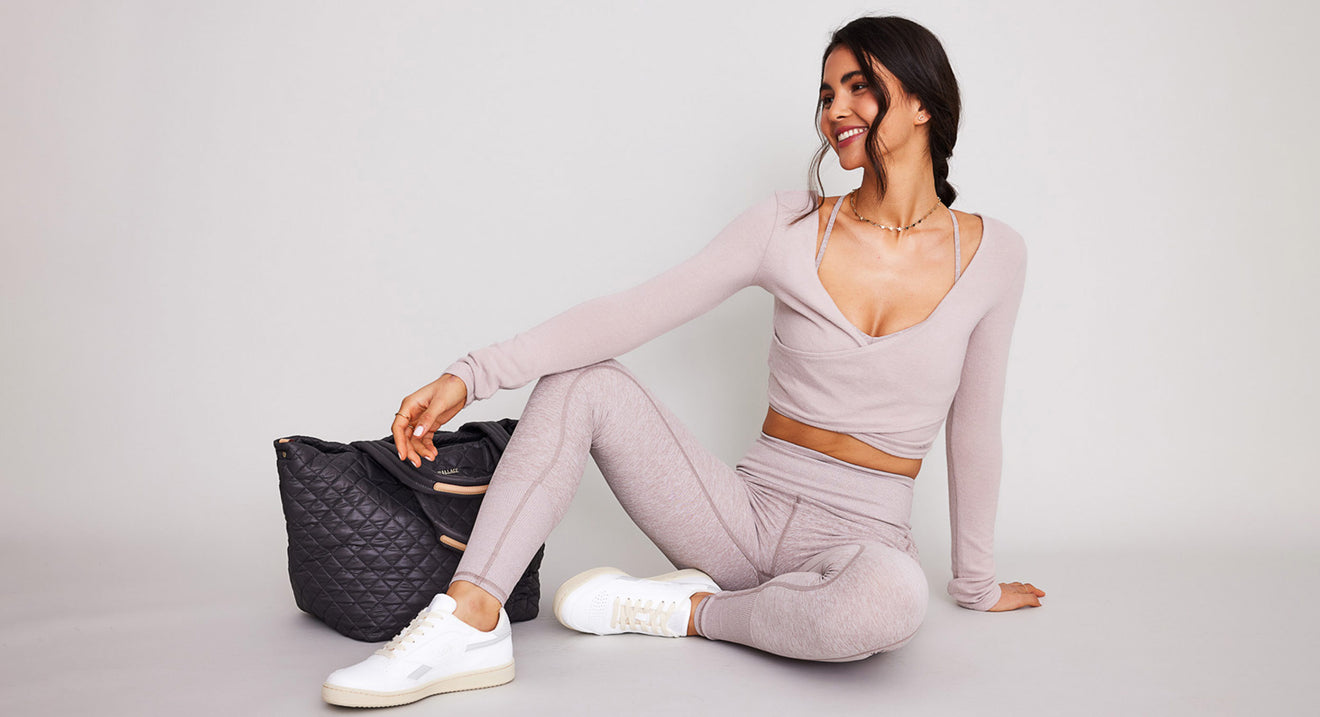 How do Alo Yoga leggings fit?
First things first. Before you choose the right Alo Yoga leggings for you, you need to be sure that they will fit. There's no point investing in some brand new yoga leggings if they won't do the job, right?
While most Alo clothing fits the size on the label, there are a couple of things to consider here:
Alo Yoga leggings may be long - If anything, some of the Alo Yoga leggings will run a little long. That's not a major issue. However, if you happen to be quite petite, it may be wise to choose a 7/8 or cropped leg style piece. Your comfort is the number one priority!
Get a tighter fit - Prefer a slightly tighter fit? While most of the Alo Yoga leggings are true to size, some women find that going down one size gives them the tight, perfect fit. It could be worth trying out a couple of pairs before finding out what works for you.
How to wash Alo Yoga leggings
Worried about washing your leggings? You needn't be. You can wash Alo Yoga leggings in the washing machine as you would most clothes. Needless to say, as usual, you need to be sure to separate your laundry by colour. Here are a few tips:
1. Protect your leggings:
Before washing them, you should do all you can to protect your Alo leggings. First of all, you can turn your leggings inside out. If they have detailing or rips in them, you should also use a small laundry bag. Doing so will prevent them from snagging in the wash.
2. Choose a gentle cycle:
Next, you should pour some active detergent into the washing machine and choose a gentle, cool water cycle. Don't use any fabric conditioner if the leggings are made of synthetic materials. Conditioner could prevent the material from being sweat proof.
3. Leave to air dry:
Finally, when the cycle is complete, you should take the Alo Yoga leggings out of the wash. Hang them up and leave them to dry naturally. They should not take too long to become completely dry. Warning: Do not put these leggings in a dryer!
Is Alo Yoga worth it?
When you're starting your yoga journey, getting the right gear for the job is a must. It's important to invest in a quality product. Alo Yoga leggings cost in the range of £75 to £115, similar pricing to that of Lululemon, but it may still seem a little steep to the average buyer.
However, it's worth understanding that these are a high-end, long-lasting product. They are comfortable, flattering and will stand the test of time.
As though that weren't enough, Alo Yoga leggings are highly versatile. Sure, you may wear them to the gym or a yoga session. On the other hand, you could wear these leggings on your commute or to brunch.
It's also worth bearing in mind that you can dress the leggings up–as you might jeans–for almost any occasion.
If you're hoping to save some money along the way, it's worth checking out our Alo Yoga sale products. That way, you may be able to get a quality pair of leggings for less.
Alo Yoga vs. Lululemon Leggings
Before you decide to invest in a pair of Alo Yoga leggings, you may be wondering how they compare to other brands. Another of the leading sportswear companies is Lululemon. If you're trying to figure out which brand to go with, there's a couple of things to consider.
First of all, Alo Yoga is a specialist brand – it's entirely focussed on the practice of yoga. As such, each and every pair of leggings have been specifically designed for this type of activity.
What's more, Alo Yoga has a huge L.A. following right now, which is thanks to their chic and fashion-forward design.Since they are relatively new to the European market, choosing Alo Yoga leggings means that you won't match with everyone in the gym.
Is Alo Yoga ethical & sustainable?
Choosing which yoga leggings to buy isn't just a case of fashion – it's an ethical decision too. After all, you don't want to fund a company that is exploiting people around the world. Luckily, you can feel good about investing in Alo Yoga leggings.
The company is entirely sweatshop-free. It boasts the globally-accredited platinum certification from WRAP, the largest independent watchdog organisation. That means that all the Alo factories and offices operate in the most ethical and humane way.
The best-selling Alo Yoga legging styles
Now that you've got an overview of Alo Yoga, let's take a quick moment to consider some of the brand's best-sellers. If you're struggling to decide which leggings to choose, you may need a little help.
Without further ado, let's take a look at some reviews and more information on each of the legging styles.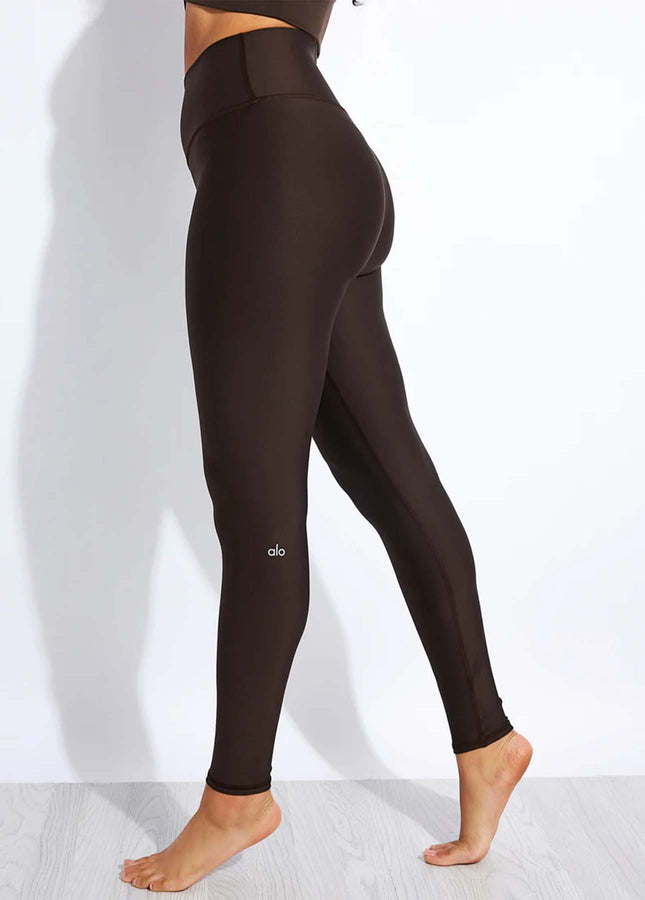 Alo Yoga AIRLIFT legging review
If you're looking for an ultra lightweight yet still compressive pair of leggings, look no further. The Alo Yoga Airlift collection is simply what it says on the tin. The micro-performance double-knit fabric of these Alo Yoga leggings means that they feel like a second skin. You have the freedom to move and stretch without any restriction.
"Picking my favourite Alo legging style is pretty tough, as I love them all for different reasons!" says Cat Meffan. "My go-to pair at the moment are probably the high-waist Airlift leggings, as they are so light, soft to touch, hug me in all the right places and are perfect for yoga, a workout or just to go out for brunch."
Of course, like the other fantastic Alo Yoga leggings we've covered here, these ones also have the signature four-way stretch and moisture-wicking technology. You can get them in a wide array of styles – from capris to 7/8 length leggings.
Alo Yoga AIRBRUSH legging review
All the leggings in the Alo Yoga Airbrush collection feature the outstanding Airbrush fabric. It is slightly thicker than the Airlift fabric, so you feel slightly more compressed.
The fabric is known to be sculpting and lifting, so they are very flattering, But the fabric is also four-way stretch, so it moves with you. Moreover, as an added bonus, there are no side seams at all here.
Airbrush leggings are ideal for your general yoga practise and make a great all rounder, available in a range of colours and lengths.
Alo Yoga Airbrush vs Airlift
Wondering what the difference is between Airbrush and Airlift? While the Airbrush were the original Alo leggings, the Airlift was launched in 2018. The original Airbrush style is thick, high compression, and more durable.
It has a cotton-esque fabric feel. Should you choose the Airlift, you get an altogether lighter material. It's a smooth fabric with a slight sheen, which carries colour beautifully.
Which you happen to choose depends on whether you prefer a sheen or matt finish and the activity you plan to do. For hot yoga and the sweatiest of workouts, you should opt for the lighter Airlift, rather than the Airbrush.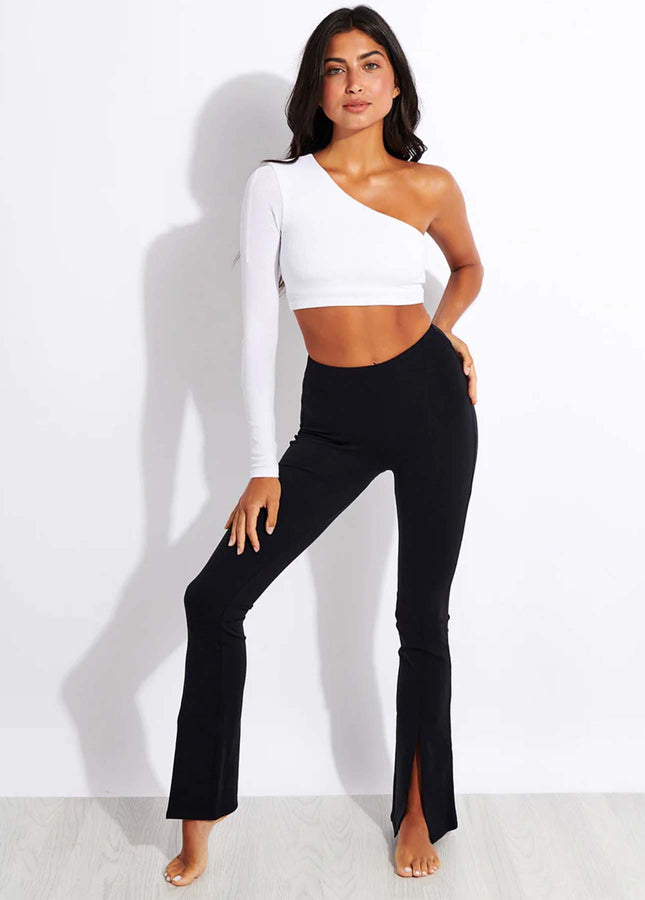 Alo Yoga FLUTTER legging review
The globally-recognised symbol of the 1970s is back, and we couldn't be more excited. Yes, it's the return of flares. If you're looking to hop aboard this trend, you can't go wrong with the High Waisted Flutter Leggings (which are also available in 7/8 length).
Complete with a skinny waistband and a front-smoothing panel, the leggings are form-fitting and give you a stunning silhouette. Made from Alo Yoga's Airbrush fabric, the leggings sculpt to you in all the right places.
The flares at the bottom are ideal for showcasing your favourite sneakers. Whether you're hitting the yoga studio or simply heading out to run some errands, these leggings are sure to be the perfect fit.
Alo Yoga MOTO legging review
As versatile as they are flattering, you can't go wrong with the Alo Yoga Moto leggings, being one of Alo's most recognisable and iconic styles.
With its signature breathable mesh and contour panelling on the bottom of the leggings. It's the long-time best-seller, and comes in an array of colours.
What's more, it suits pretty much all body shapes, and is the most transitional and versatile of Alo's leggings. Thanks to the signature Airbrush fabric and Glossy Performance fabric combo, these leggings also have the power to lift and sculpt your lower body.
That means they are highly flattering. Whilst the Moto line comes complete with the moisture-wicking technology and four-way stretch, the fabric is quite thick so we don't recommend them for your sweatiest workouts.
MOTO high rise VS. MOTO mid rise leggings
Of course, when it comes to choosing your Alo Yoga leggings, you need to be clear on what waist type is best for you.
As well as the standard Moto leggings with a mid rise, there's also an on-trend high rise option here. The latter boasts a five-inch high detail on the waist, giving a stylish twist on the classic design.
The high waisted Moto leggings are also available with a 7/8 length. A perfect option if you're on the shorter side or simply prefer your leggings to be at ankle length.
Alo Yoga GODDESS Legging Review
The patent-pending Alo Yoga Goddess leggings are the brand's next most recognisable style and an enduring best-seller, and it's plain to see why.
They are a cleverly beautiful play on the leggings and leg-warmer combo; featuring a longer inseam with ribbed contrast scrunches like legwarmers.
There are two versions of the Goddess Ribbed leggings, the original version, which still has the widest range of colours, and the newer version made out of the signature Alosoft performance fabric.
The fabric is even softer and more comfortable and remarkably flexible thanks to its four-way stretch and boasts cool moisture-wicking technology.
Moreover, you can get the Goddess collection in a wide range of styles. Whether you want a more supportive, flattering high-waist version or prefer a standard mid rise, there's certain to be something for you.
You can also browse the collection to find a wealth of different colours and colour blocking.
Alo Yoga LOUNGE legging review
Next up, let's take a moment to review the Lounge leggings. These are all about offering a premium level of comfort. The Alo Yoga Lounge leggings benefit from chafe-free flatlock seams, a four-way stretch, and a lined gusset panel. But it doesn't end there!
These leggings also come in the new Alosoft material which is Alo's softest performance fabric, launched in 2018. The Alosoft fabric has quickly become a favourite with The Sports Edit customers for its ridiculously comfy, super-soft feel.
"The Alosoft leggings are my absolute favourite when I am teaching Pilates!," says Grace Hurry. "They are so comfy and exceptionally soft, but are still smart and professional looking, which is the perfect combo for me."
"The Alosoft fabric stays so soft and keeps its shape through multiple washes which is fab – especially as I wash all my all kit A LOT," says Tara Margulies.
How to style your Alo Yoga leggings
Now that you're in the loop about Alo Yoga leggings, let's talk about how to style them. There are plenty of ways that you can complete the look when you've treated yourself to a pair of these leggings.
If you're struggling for inspiration, we've got you covered. Here are some pairing options that bring the entire yogi outfit together effortlessly.
Alo Yoga Tops and Tanks
Alo Yoga isn't simply known for leggings. The brand also boasts a wide variety of tops and tanks. You might want to keep things simple with a cute Cover Tank. The cropped top includes an adorable front wrap, making for a cool and casual look.
If you fancy something a tad more loose-fitting, it's worth checking out the Ribbed Peak Tank. The ultra-lightweight top will take you from class to brunch-spot, as it's comfortable, relaxed, and easy to wear with anything at all. It's always a real winner.
Of course, for a slick and slim design, you can't go wrong with the Elevate Tank top. With a simple v-neckline and ripped performance fabric, it works for any occasion. Gorgeous.
Left Image: Alo Yoga, Ribbed Peak Tank - BlackRight Image: Alo Yoga, Elevate Tank - White
Alo Yoga Sports Bras
Once you've got your top sorted, the next step is to grab an Alo Yoga sports bra. The Airbrush Real Bra Tank could be the best solution. The built-in shelf bra lifts and supports, giving you everything you need as you work out.
There's also the Wellness Bra, which offers that classic ribbed look that you love along with heaps of support too. Perfect for a coffee run or a yoga session.
Looking for something with a little more pizazz? The Peak Bra has a keyhole detail that will blow your socks off. Add that to the flattering scoop neckline and it's a beaut. Finally, there's the Wild Thing Bra with eye-catching ruched detail at the front and a racerback.
Left Image: Alo Yoga, Wellness Bra - WhiteRight Image: Alo Yoga, Wild Thing Bra - Black
Start browsing the Alo Yoga Collection now:
Deciding which leggings to choose is no small feat. Luckily, Alo Yoga leggings have it all – style, comfort and practicality. It's no wonder the brand is soaring in popularity.
These are the go-to leggings for yoga gurus such as Cat Meffan and Nicole Woyak and even celebs Hailey Baldwin and Gigi Hadid. Why not start browsing the collection today and see what you can find? You deserve nothing less than the best.
Check out our complete Alo Yoga collection here
Also check out our leggings guide: Top 10 things to look for in the best workout leggings