Sure, the gym is no catwalk… but that doesn't mean that you can't look good while you sweat. Finding durable leggings that are at once practical and stylish is a top priority.
But with so many styles and brands out there, where should you start? We have the answer. If you've not heard of 7/8 workout leggings yet, you're in for a treat. Here's what you need to know.
What are 7/8 leggings?
Before we go any further, let's deal with the elephant in the room: What are 7/8 leggings anyway? The clue here in the name, and it's all about the length - they're 7/8 length leggings.
7/8 leggings or 7/8 tights have an inseam which is 1/8th shorter than a full-length style. While they are not as short as cropped or capri leggings, they typically rest higher on the leg, above the ankle, than an average pair of sports leggings.
Most leading sports companies, from mainstream brands like Nike to luxury brands such as Alo Yoga, offer 7/8 gym leggings. It is worth noting that some brands, such as Beyond Yoga, call their version 'Midi Leggings', but the same principle applies.
The fashion-forward style of these leggings offer a sleek silhouette to those who choose to wear them. They neither cut your legs at a random point nor drown you in fabric, which is why, for many, they are the perfect, flattering, leg lengthening fit.
Discover our range of 7/8 leggings >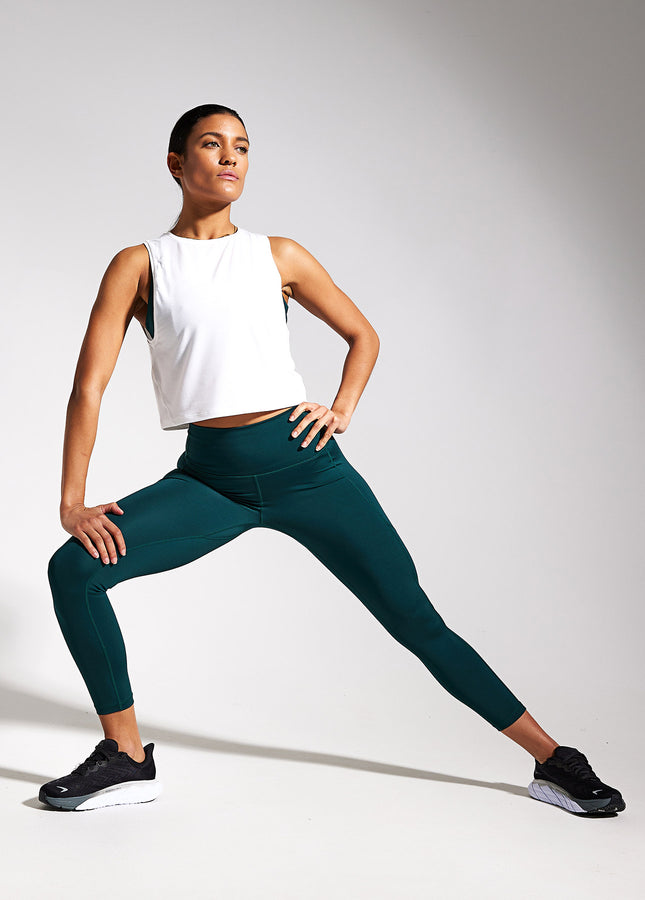 7/8 leggings vs. Capri leggings
If you're still not sure about the meaning of 7/8 leggings, let's take a deep dive. For starters, what's the difference between 7/8 leggings and capri leggings? Let's start with the basics. You may already be familiar with capri sports leggings.
These are sometimes referred to as 'cropped leggings', 'long shorts' or, among pro gym-goers, as simply 'capris'. Regardless of their name, these are leggings that stop just below your knees, on your shins.
There are many advantages to capri leggings; they allow you to move freely, look attractive, and are ideal during the warmer summer months. When it comes to comfort, freedom and flexibility, you honestly can't go wrong with 7 8 leggings.
On the other hand, 7/8 gym leggings are longer than capris, and cut your leg just above your ankles. Combining both fashion and functionality, these leggings are a breath of fresh air.
Think of them as the ideal happy-medium for people who don't want a full-length style but find capri leggings too short for them.
3/4 leggings vs. 7/8 leggings
So what's the deal with 3/4 leggings you may ask? Well, it's actually referring to capri or cropped leggings. The fraction 3/4 is the same as 6/8, which is the standard measurement for capri leggings.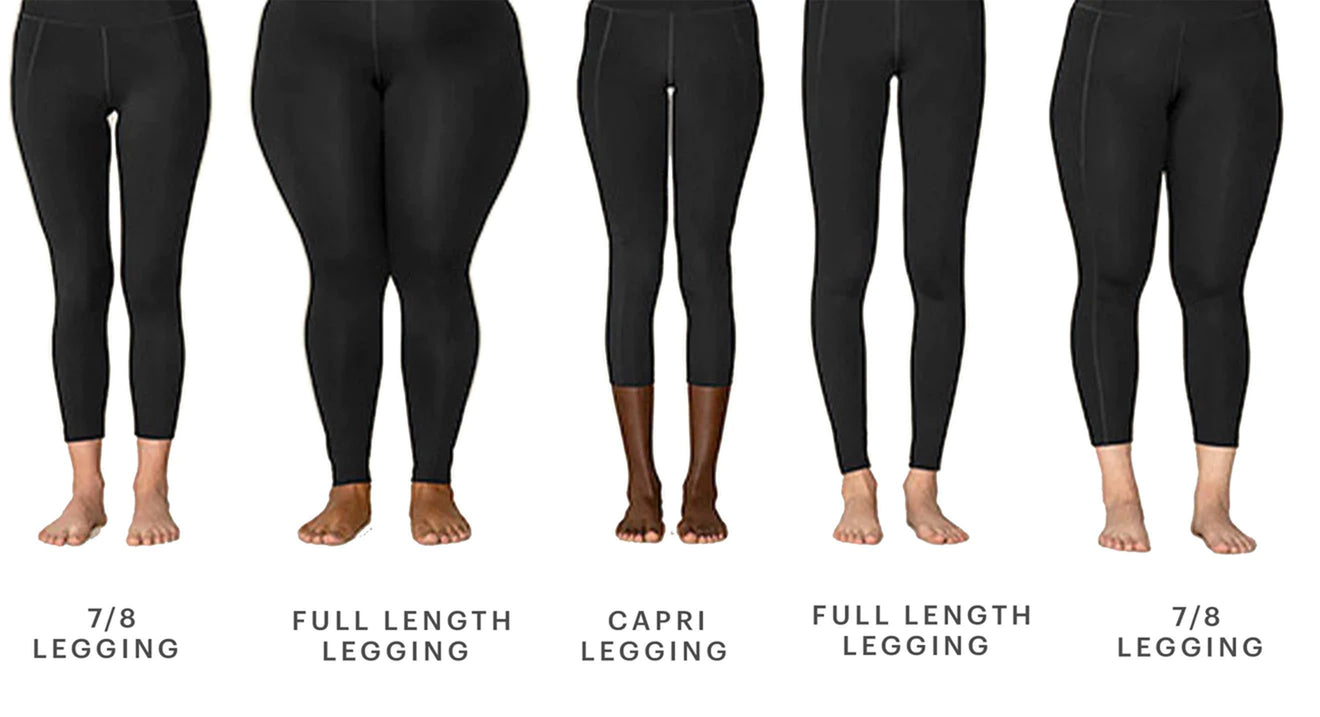 How long are 7/8 leggings?
As we have already covered, 7/8 leggings are 1/8th shorter than the standard full-length style. However, since style lengths vary from brand-to-brand, that means not all 7 8 length leggings are created equal. The length of the leggings will depend on each company.
Research is key here! Before you choose the ideal pair of leggings for your workout, you should read the full product description online. You're looking for the leg length. That way, you can determine how the fit will suit your individual body and height.
Whether you should opt for 7/8 or full length leggings depends on your height, activity and ultimately, personal preference. For example, you may opt for a pair of 7/8 length leggings during a gym workout but prefer full length leggings during yoga.
Shorter people may want to opt for a brand that typically has a short full-length style. For instance, Alo Yoga's 7/8 leggings have a 24" inseam, Girlfriend Collective 7/8 leggings have a 23 3/4" inseam, while the inseam on Varley's 7/8 leggings is 25".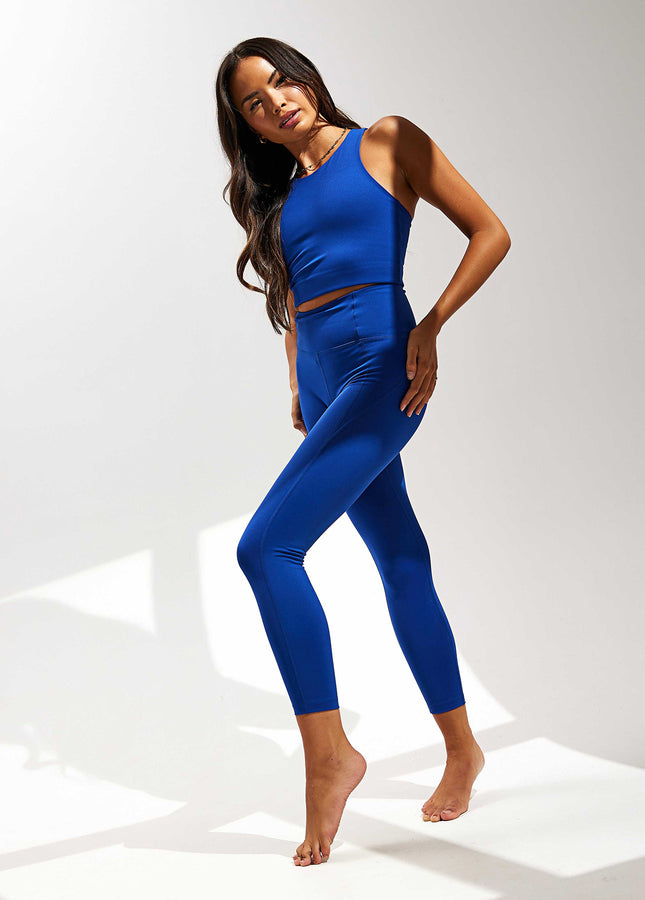 Why should you try 7/8 leggings?
One question we see a lot is 'Are 7/8 Leggings More Flattering,' and while all leggings are flattering, 7/8 leggings do offer a unique, confidence-boosting look.
The 7/8 leggings UK style is not merely a fashion statement—it's an optical illusion. If you're looking for a way to elongate your stature and give the illusion of more height, these beauties are your secret weapon.
By exposing each ankle and a little of the lower leg, the leggings make your legs appear both longer and leaner than they would otherwise look.
However, it's important to remember that 7/8 leggings are not simply for shorter individuals. Everyone out there can benefit from their unique design style. It doesn't matter what height you happen to be, the leggings will flatter you while accentuating your legs.
On a functional level, the 7/8 leggings style is a real winner too. While longer styles can hinder workouts for some people, these allow fitness lovers total freedom.
For shorter people, that means no more tripping over your leggings or having to roll them up. Simple.
How to wear 7/8 leggings like a pro
Next, let's delve into how you can style these leggings. Since the 7/8 leggings will highlight your leg length, you may want to take things a step further. Opting for a high rise style will further extend the appearance of your figure and lower body. Give it a go.
Completing your gym outfit could not be easier. These leggings work well when paired with a matching crop top to create an effortlessly stylish aesthetic. It doesn't end there.
Get creative with your look. You can equally wear the leggings alongside a sports tee or tank top, depending on your taste. When you have invested in a stunning pair of 7 8 leggings, you should take a little time to experiment.
Try out a few different looks and outfits until you find the one that suits you. As the leggings are so versatile, you should have no problem.
Our Top Four 7/8 Yoga Leggings
Looking for leggings to complement your yoga routine? Women's 7/8 leggings are an excellent choice. See our top four picks for yoga 7/8 length leggings below.
First on our list are the Girlfriend Collective FLOAT 7/8 Leggings, a style that's designed to tone and sculpt your figure simultaneously. These 7/8 black leggings are the perfect addition to any sports wardrobe, thanks to their sleek look and comfortable feel. Let's face it — black leggings are a staple for any yoga class.
In addition to a classic look, these leggings are ultra-lightweight, sweat-wicking, squat-proof, and even come with a small back pocket. What more could you ask for?

> AVAILABLE HERE
Alo Yoga's 7/8 Airlift Leggings are here to make you feel confident. With a comfortable yet tight fit, these leggings are designed to feel like a second skin. Plus, they have a high contouring waistband and an overall sculpting effect, which is ideal if you want to wear them out and about and at the yoga studio. Comfort and confidence everywhere.

Alongside a flattering fit, these Alo Yoga leggings provide a 4-way stretch to ensure you're comfortable throughout an intense yoga session. They're also moisture-wicking, antimicrobial, and super lightweight.

> AVAILABLE HERE
When it comes to activewear, Nike's a name you can't ignore — especially if the garment uses its iconic Dri-FIT fabric.
You're in luck if you're looking for some Dri-FIT technology in a 7/8 design. Meet the Nike Yoga Dri-FIT 7/8 Leggings. This yoga-ready pick offers a high-waisted look minus the extra ankle fabric. Ideal if you want to be comfortable and cool whenever in all yoga sessions.

> AVAILABLE HERE
A soft feel is crucial for all leggings, so ensure you're attending yoga sessions with an ultra-soft pair — like the popular Beyond Yoga Spacedye Caught In The Midi High Waisted Leggings!
Though not mentioned in the name, this is a 7 8 length legging with a high waist and UV protection. You can also grab these leggings in a wide range of colours. From essential black to bright pink and peacock blue, Beyond Yoga isn't about muted tones.

> AVAILABLE HERE
Our Top Four 7/8 Gym Leggings
Prefer intense workouts and getting a sweat-on? These are the four 7/8 gym leggings to need to know. Perfect for getting active and smashing your goals — with a side of style.

YMO's Kickstart 7/8 Leggings are here to accompany your workouts. Created from high-performance fabrics, these leggings offer sweat-wicking, a compressive fit, and a comfortable stretch. Everything you need for a serious gym session.
But the YMO leggings don't stop there. They also offer a sculpting look and have a pocket for your phone. Oh, and they're made from 70% recycled materials. Sustainable goodness meets sports functionality in a sleek 7 8 legging.

> AVAILABLE HERE
If sustainable sportswear is a must for you, take a moment to check out Girlfriend Collective's 7/8 Pocket Leggings. Each pair of these modern gym leggings is made from 25 plastic bottles, ensuring yesterday's materials receive a second (and more active) life.
These leggings also feature two side pockets, an ultra-high rise silhouette, a compressive feel, and double side seams. Ideal if you want to feel secure and confident while running, hitting the gym, hiking, or getting active.
> AVAILABLE HERE
Keeping cool while working out is vital, and you can become extra sweaty and uncomfortable with the wrong fabric. But Nike's here to change how you exercise with their Nike Pro High Waisted 7/8 Leggings. Complete with Dri-FIT technology, you'll never overheat while running again.
The Nike Pro 7/8 Legging are a high-waisted pair perfect for working out and street style. Leggings for leg day, chilling and meeting friends.
> AVAILABLE HERE
Fitness leggings need to provide a comfortable and tight fit for optimal performance. If you're looking for 7 8 leggings that fit like a glove throughout workouts and beyond, explore the Vuori Daily 7/8 Leggings.
The Vuori Daily 7/8 Leggings feature a functional drawstring waist to ensure your leggings always fit well and look good. They also offer ankle cuffs, a high-rise waist, and a flattering 7/8 cropped length. Looking good isn't their only focus, though. Vuori uses BreathInterlock fabric to ensure you're cool and sweat-free while at the gym.
> AVAILABLE HERE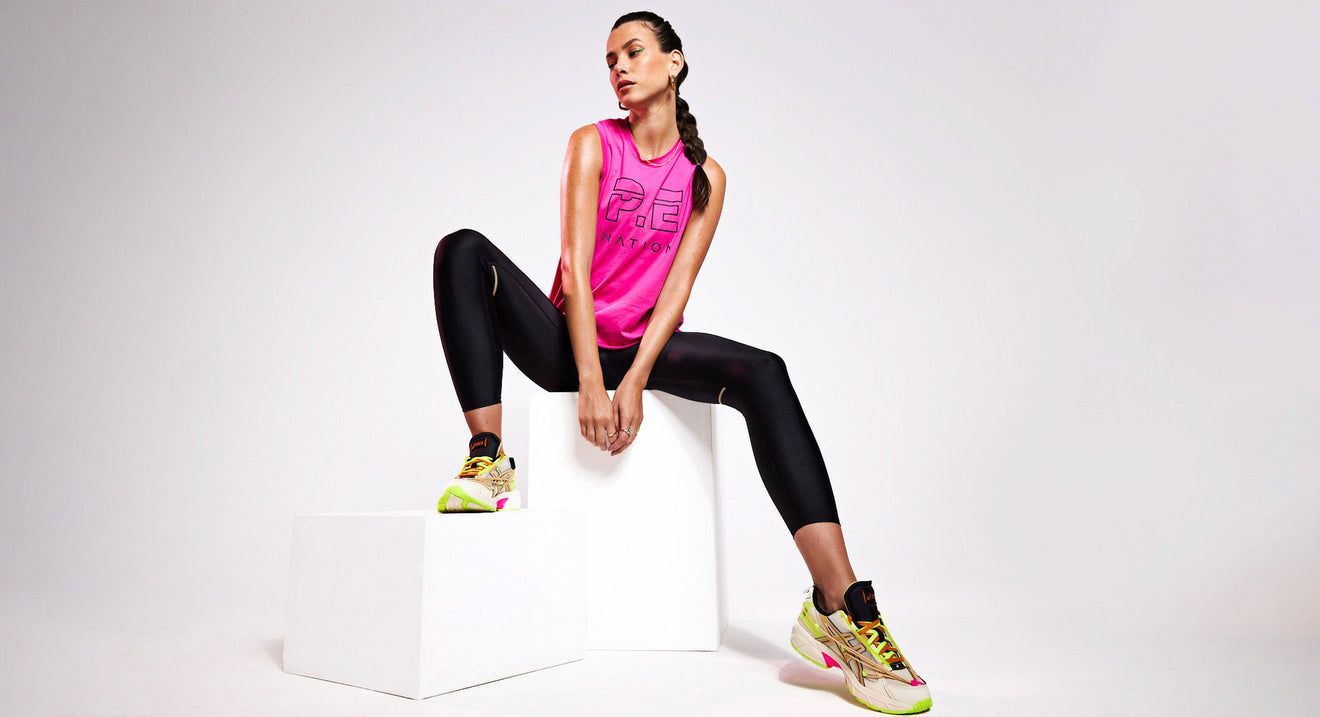 Conclusion
Finding the right sports gear for your workout needn't be a chore. Now that you've got the inside scoop on what 7/8 leggings are and why you should try them, why not start searching for your perfect pair?
Browse online today and see what you can find. Since there's a broad variety of options out there, you might find yourself spoilt for choice.