What is your summer workout wardrobe go-to? Are you a fan of activewear sets, or are you partial to cute sports dresses?
Workouts always feel better when you like your outfit. It's true, and I've experienced the cute-outfit-boost myself. When I'm wearing a matching set that's designed to keep me cool, I always want to push myself a little bit further. And nothing beats hitting your fitness goals while the sun's out — it makes that after-workout Aperol taste even better!
Whether you know your summer workout style or not, keep reading. We're counting down the best summer activewear picks to help you get sweaty in style. Keep scrolling for all of the deets.
9 Summer Activewear Trends
Need some guidance? We've got your back. Here are the top summer activewear trends to embrace this season.
1. Matching Activewear Sets
Calling anyone who spends a little too long putting outfits together! Matching activewear sets are here to make your life easier and save you time. These workout sets are designed to match, allowing you to throw them on without spending hours meticulously planning.
We're loving the Vuori Daily Bra and Studio Pocket Shorts for a cohesive and comfortable summer look. This set has breathable fabrics, a stylish print, and a phone pocket, ideal for those summer sessions.
Prefer brighter colours? Don't settle for pastels and neutrals. Varley's Vibrant Fuschia Irena Bra and Let's Move Short are best for dopamine dressing.
2. Flattering Bike Shorts
Bike shorts are a favourite for street style and working out, and we can 100% see why. With a comfortable fit and ease of movement, you'll want to keep these on forever.
If you're ready to jump on the trend, consider Girlfriend Collective's High Waisted Bike Short. This pick comes complete with a 4-way stretch, sweat wicking, and a flattering high-waisted silhouette. You can even purchase these in six different colours, so don't worry if you have a bright aesthetic!
Alternatively, anyone eco-minded should check out the High Noon Bike Short. These sustainable workout shorts are crafted from recycled polyester to ensure you can protect the Earth while hitting the gym.
3. Cute Sports Skorts
Workout shorts are essential for all gym wardrobes, but they're not the only option available!
Pause your shorts shopping and take a moment to admire sports skorts — a swanky mix of shorts and gym skirts. The hidden shorts design gives you full coverage and lots of movement, perfect for anyone who wants to look cute without feeling self-conscious.
Try this trend with Alo Yoga's Match Point Tennis Skirt for a classic look. With an a-line shape and an elastic waist, you'll want to show this piece off more than ever.
Goodmove's Layered High Waisted Skort is another popular option for the summer. This skort has a hidden pocket, Cool Comfort Technology, and is available in a classic white colourway.
4. Tennis Dresses For On & Off The Court
Tennis courts are the runway of the sporting world. Make a splash at your next match (or workout) with an all-in-one sports dress that keeps you cool, calm, and collected on the court.
The Girlfriend Collective Tipped Paloma Dress in Nautical Blue is a must for anyone who wants to add a pop of colour to their wardrobe. This dress also features a built-in sports bra, unitard, and pockets for extra support. You'll wanna wear this to brush, too!
Prefer the classic look? Don't scroll any further. Varley's Downing Court Dress 31.5 in White is essential for that elegant tennis aesthetic. This dress has a timeless pleated skirt, a zip front, and a sleeveless design to show your opponents you mean business.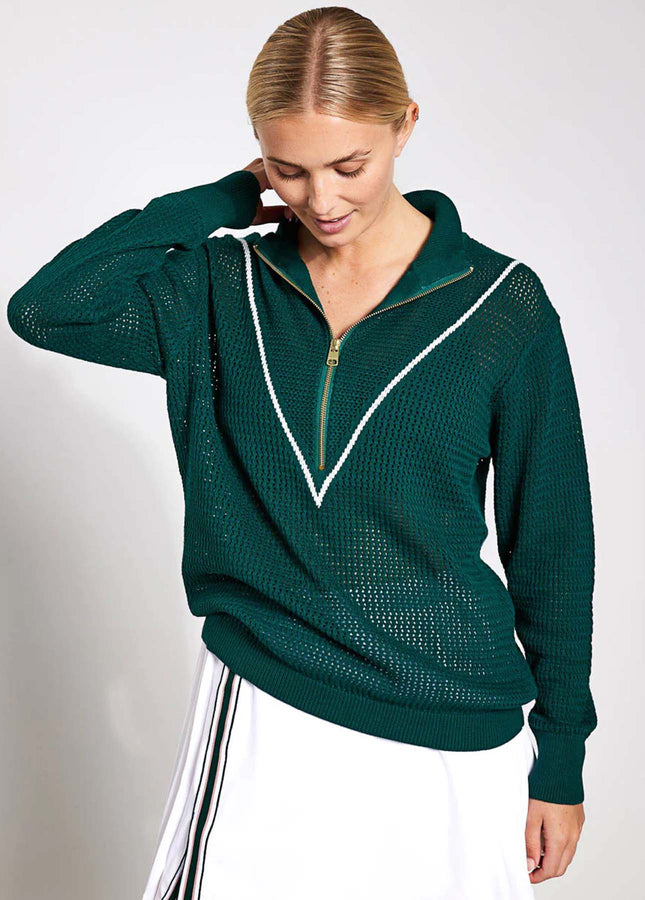 5. Activewear Layers For Cooler Days
As much as we want the sun to shine every day, it's just not realistic. So, make sure your workout wardrobe is equipped for the cooler moments!
Varley is our go-to for active wear layers, and we're particularly fond of their Teagan Boxy Knit Polo in Snow White. Whether you pop it over your loungewear or wear it on your run, this open-weave design keeps you cool while working out and warm while relaxing.
The Calva Knit in Forest is another popular option for an open-weave design. This sleek layer is ideal for keeping warm while warming up.
Varley's Half Zip Sweat is another essential if you want something slightly warmer. This sweatshirt has super-soft marl fabrication and dropped shoulders for a cosy feel with every wear.
6. All-In-One Workout Playsuits
If you like to zip from one activity to the next without wasting a second, a workout unitard could be the next addition to your collection. These all-in-one solutions allow you to look put together without pairing pieces together. Amazing.
Explore Free People Movement's Every Single Time Runsie in black for a chic all-black option, or check out Girlfriend Collective's Bike Unitard. However, you can also lighten things up with Varley's Sea Spray All In One for a light pop of green.
Make a note: playsuits and workout unitards are here to stay.
7. Bright White Trainers
A workout look isn't complete without trainers, and if you're ready to try new styles this summer, bright white trainers should be on your list! These timeless kicks pair well with everything.
HOKA is an unmissable brand at the moment, especially for middle to long-distance running. If your mission is to rack up some miles, their Bondi 8 shoes are a must-try for road running, thanks to the shoe's plush cushioning and rear crash pad.
Nike's Pegasus Turbo Shoes are another favourite pick for runners, as this pair provides a breathable experience with light and responsive foam soles. Fun fact – these are also made with 50% recycled materials. Good for you and the Earth!
8. No-Slip Workout Sunglasses
Don't let the sunlight distract you from your goals. Ensure each stride is calculated when getting active outdoors with Goodr.
Goodr's I Do My Own Stunts glasses are designed to protect your eyes while biking, running, and working outdoors. With a no-bounce, no-slip, polarised design, your focus won't be broken for a second. Plus, they're great for adding a pop of colour to your style.
If you want to keep things neutral, Goodr's A Ginger's Soul glasses are perfect for you. This pair sports an all-black style with the brand's signature no-slip, no-bounce, polarised formula.
Read the a full Goodr review here
9. Stylish Swimwear Suitable For Public Pools
You can't discuss summer activewear without noting the top swimwear picks!
Swimming is one of the best full-body workouts, but breaking records in a fashion bikini isn't easy or comfortable. When it's time to swim lengths, a stylish sports swimsuit is in order.
Speedo's Colourblock High Neck Crossback Swimsuit provides equal parts style and sport for your next swimming session. This design features light support, a comfortable underband, and it's quick drying.
Nike's Lace-Up Tie-Back 1-Pie Swimsuit is another hot contender, thanks to its cute backless design, fully lined interior, and medium support. It's available in blue and black.
What is Sweat Wicking Fabric? And Why It Is Good For Warmer Weather
When delving into summer activewear, "sweat wicking" is a phrase that turns up repeatedly. This means that the fabrics in the garment can transport your sweat away from your body and onto the garment's surface. The sweat then evaporates in the air.
But why's this so important? It keeps you cool! As the fabric removes sweat from your body, you're left drier and more comfortable. These fabrics are a must for steamy summer workouts.
The Takeaway!
From bike shorts to activewear sets, there's an endless number of combinations to ensure you're looking great and feeling better this summer. Always be on the lookout for sweat wicking fabrics and stretchy fibres, as these will take your sessions to the next level.
Want to know more? Head over to The Editorial to see the latest articles from our experts.