Words by Isobel Coughlan
Without a doubt, tennis is one of the most chic sports around. A white tennis skirt instantly elevates your confidence, and you can even wear it as a street-style piece — what's better than that?
Though tennis whites are all the same hue, creating a cohesive outfit is often more challenging than you might expect. Should you opt for a white tennis skort? Or is a dress the best option for you? These were the questions on my mind when I first embraced the trend. But after a bit of trial and error (and many fitting room hours), I found the winning formula for the summer tennis style.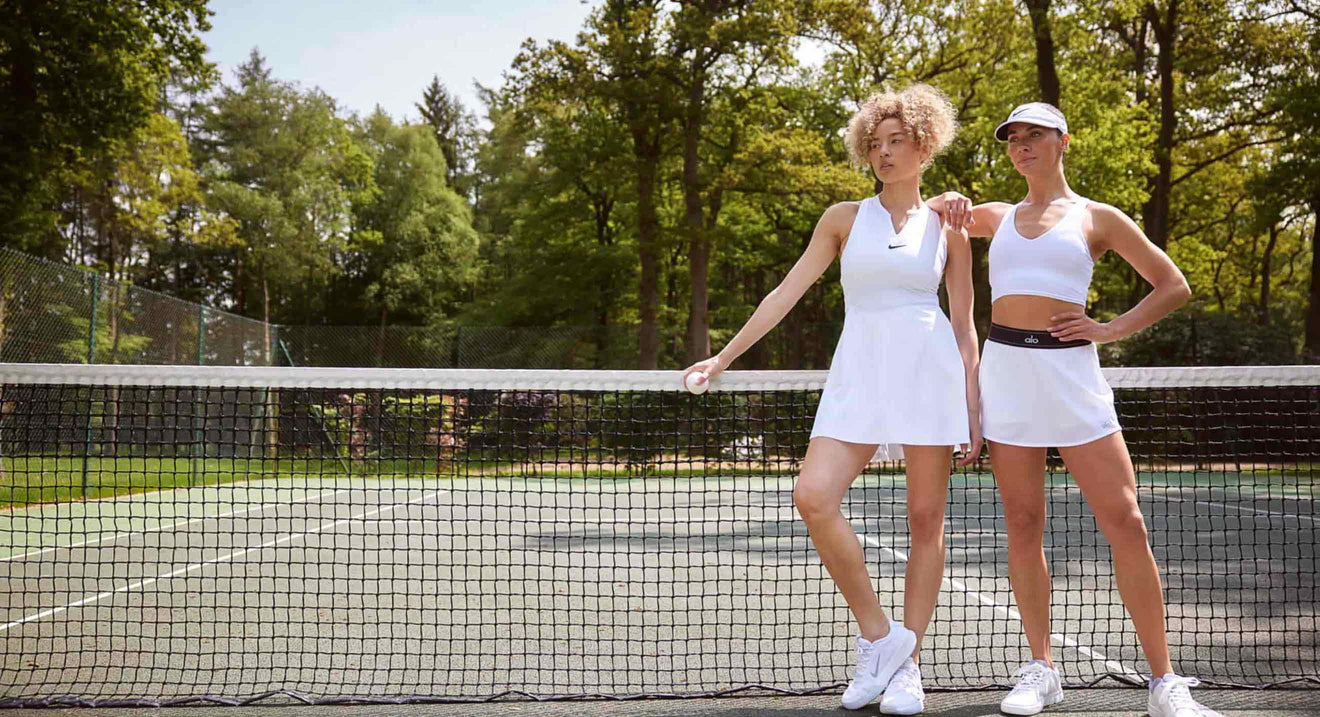 In this blog, we're looking at the classic white tennis outfit and how you can make it your own this summer. From court-ready looks to on-trend outfits, you'll be an expert in no time. Scroll down to get inspired now.
The Complete Outfit Guide to Styling Tennis Whites
Get your notebook ready. Here are the ultimate tennis outfit combinations that need to be on your radar.
White Tennis Skirt, Skort & Top
We're kicking off the list with tennis skirts, skorts, and tops. Mixing and matching styles is at the core of this style, and it's ideal for anyone who doesn't want an all-in-one look. Skirts and skorts add an extra layer of feminine flair without compromising your movement. (Pssst… if you're looking for shorts, scroll down.)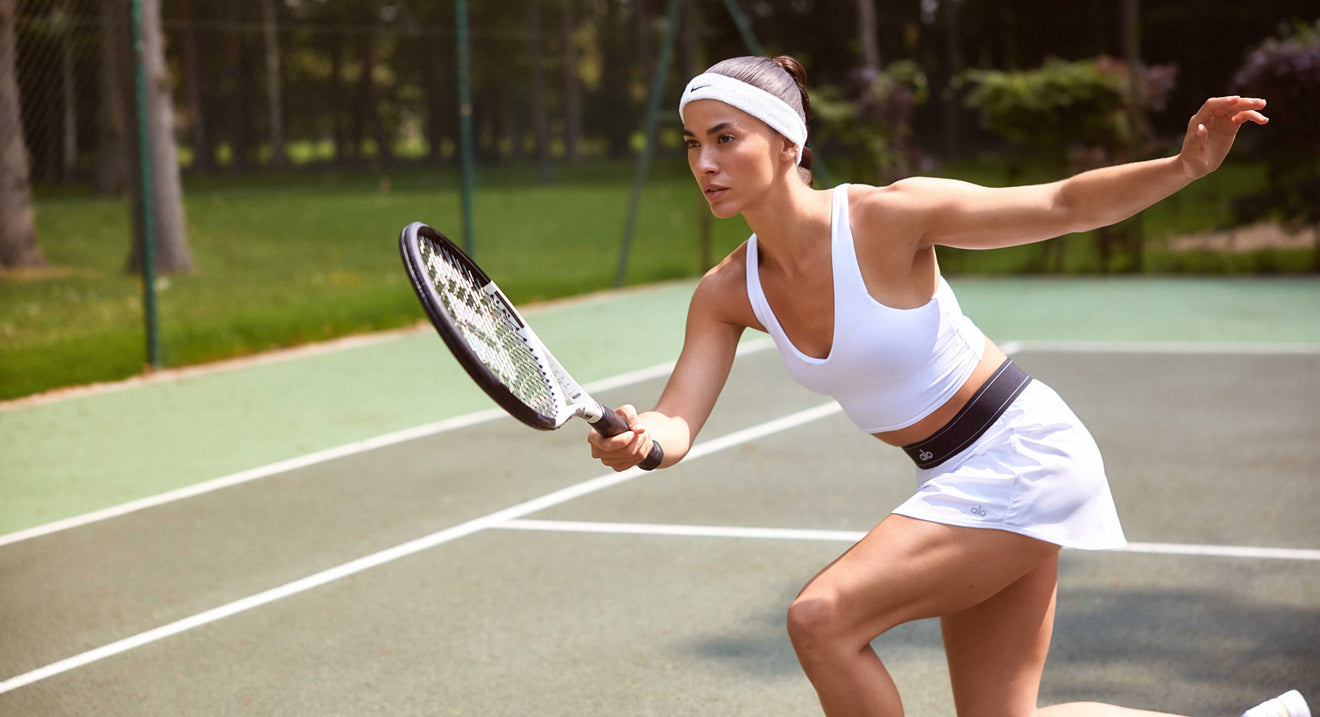 A white pleated tennis skirt is a must if you're after the classic look. We love Alo Yoga's Varsity Tennis Skirt, as this piece comes with a fitted inner short and hidden pockets for extra functionality. Pair this with the Nike Swoosh Bra Tank for a sleek finish with sewn-in padding and medium support.
Alternatively, opt for the Varley Neyland High Rise Skort for a high-waisted finish. This a-line piece also features a pull-on design for easy changing. Next, add the Girlfriend Collective Dylan Bra and get ready to play. The Dylan Bra provides built-in support and full coverage. It also comes in seven unique shades, enabling you to break away from the classic white palette. Express yourself!
Prefer non-pleated tennis skirts? We've got you covered. The Alo Yoga Match Point Tennis Skirt has a flowy a-line design, an elastic logo waistband, and hidden shorts. Cute and structured. Alternatively, the Girlfriend Collective Skort also offers a streamlined silhouette for a chic look.
White Tennis Dress
Introducing the tennis dress. This is arguably the easiest way to achieve the all-white tennis outfit.
Rather than spending time pairing different pieces, the humble tennis dress allows you to impress your opponents with one chic garment. Plus, you can wear it to brunch, too. Just add boots or laidback trainers for a day-ready style.
For a contemporary look, consider the Goodmove Half Zip Sports Dress. This sophisticated sports dress mixes a polo design with an a-line silhouette, leaving you looking preppy and ready to play.
Want to make a style statement? The Varley Downing Court Dress 31.5 should be on your shopping list. With a traditional pleated skirt, zip front, and panelled design, this look works for both Wimbledon and a day with the girls.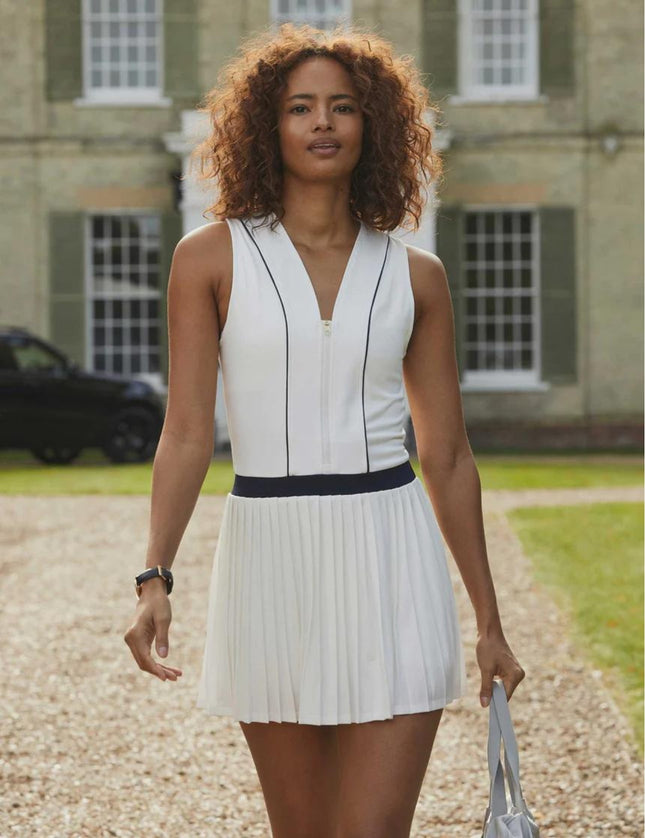 Nike also has an excellent option for any budding tennis stars. The Dri-FIT Advantage Tennis Dress uses the brand's sought-after fabric technology and a cutout design to ensure you're cool as a cucumber while serving up style.
White Tennis Shoes
No tennis whites outfit is complete without some matching tennis kicks.
Solidify your courtside fit with some white Nike tennis shoes. The NikeCourt Vapor Lite 2 Shoes provide a clean silhouette and a full-length foot frame for playing with stability. These shoes even include plush 2-level foam cushioning and extra-durable mesh uppers to protect your feet in every game.
We're also digging On Running's The Roger Advantage tennis shoes. Designed with Swiss engineering and named after Swiss tennis legend Roger Federer, this pair will feel right at home in your gym kit. Wearers can take advantage of the brand's trademark CloudTec outsold and responsive cushioning. Plus, they're ideal for any eco-conscious player, thanks to the shoe's vegan leather upper.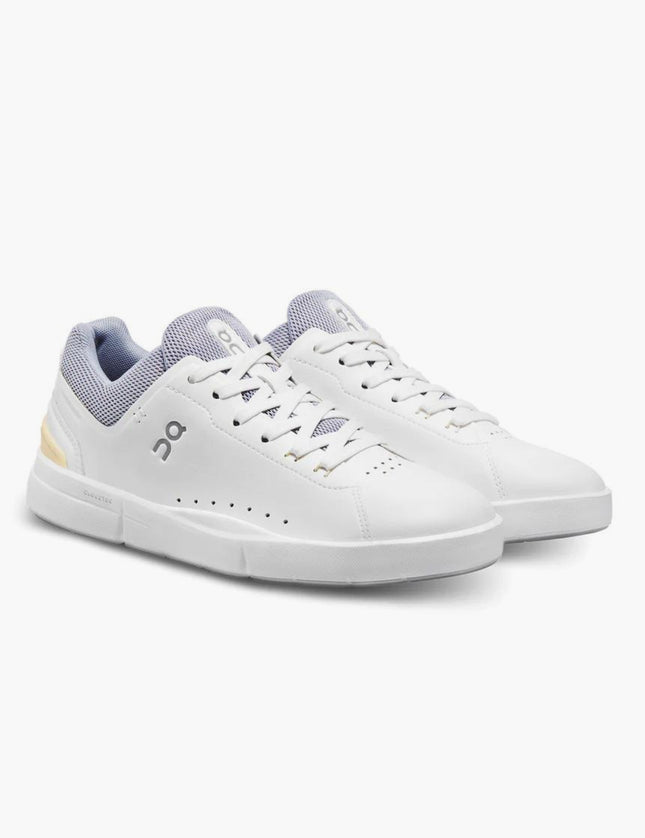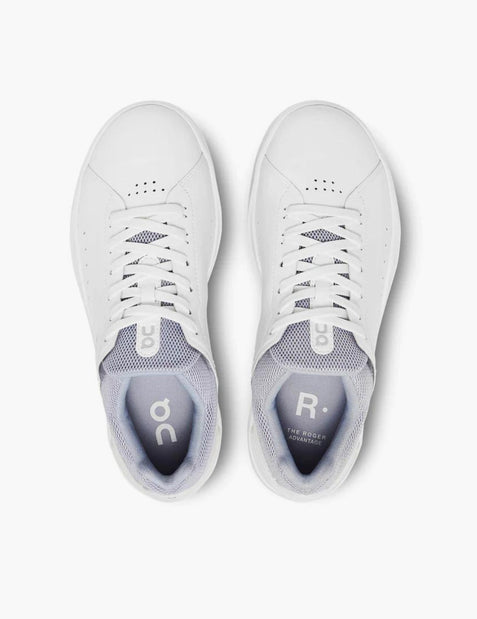 Shoes:
White Tennis Shorts & Tops
Finally, the last (and not least) tennis whites combination to explore is shorts and tops. Shorts and tees allow lots of movement and are super versatile. You can also wear these outfits for running, gyming, and any other active pastimes — ideal if you're on a fitness journey this summer.
When it comes to tops, tanks are a great option for tennis. The Varley Maddie Tank is a cute pick for anyone who wants a fitted silhouette. This tank also features a high neckline and a comfortable four-way stretch.
Loose options are on hand, too. Nike's One Breathe Tank is a sleeveless mesh tank with Dri-FIT Technology, designed to layer over a sports bra or crop top to keep you cool and covered. If you want lightweight layers, this is the pick for you.
Complete the look with some supportive tennis shorts. Varley's Let's Go Short provides compressive support with a deep waistband and a 4" leg length. Similarly, Nike's Dri-FIT Advantage 4" Tennis Shorts keep wearers protected and include an angled pocket for keys and phones.
There's always an occasion for a white tennis top and shorts.
The Takeaway!
So, which outfit combination has taken your fancy?
From a white pleated tennis skort to an iconic white Nike tennis skirt, the options are endless for on (and off) court style. Whatever you pick, rock it with confidence. Start shopping the ranges today to get ahead of the trends.
Find the latest tennis clothes here.