In the super-saturated space of running shoes, Hoka One One has risen as a brand that not only stands out but also redefines the entire running experience with their maximalist approach. With a commitment to innovative designs and cutting-edge technology, Hoka has become a favourite among runners seeking the perfect blend of cushioning, support, and performance.
Among their impressive lineup, the Hoka Mach 5 and Clifton 9 shine as two of the most beloved and sought-after styles. While both shoes share the iconic Hoka DNA of plush cushioning and superior support, they cater to different types of runners and training preferences.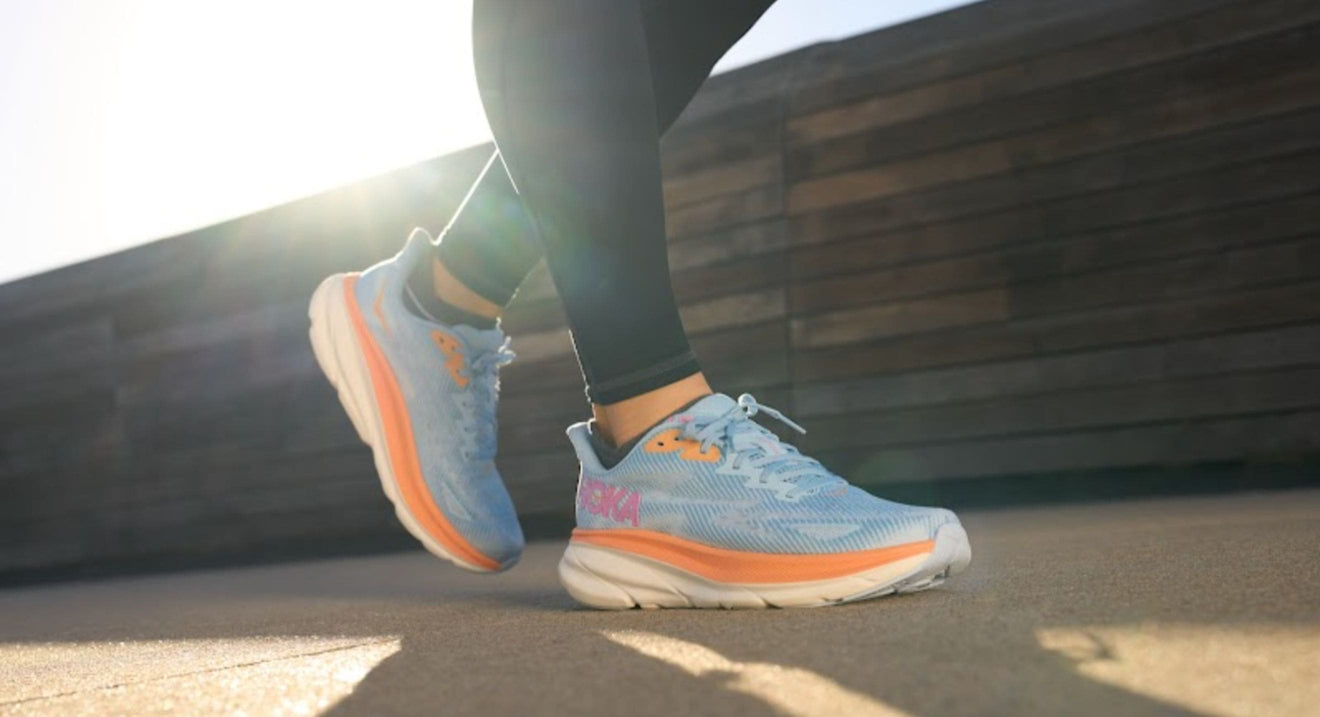 So if you've been wondering which of these shoes is right for your training needs, then look no further. In this guide, we set out to answer that question by comparing the strengths and weaknesses of both trainers. Let's delve into the intricacies of the Hoka Mach 5 and Clifton 9 to help you find the perfect fit for your running journey.
Differences between the Hoka Mach 5 and Clifton 9
Before we dive into the specifics of each shoe, it's essential to highlight the key differences that set the Hoka Mach 5 and Clifton 9 apart. These differences play a significant role in determining which shoe aligns best with your running goals and preferences.
Heel-to-Toe Drop: The heel-to-toe drop is a crucial factor in how a shoe affects your running biomechanics. The Mach 5 features a lower heel-to-toe drop compared to the Clifton 9, making it ideal for runners who prefer a more natural and responsive stride. This design encourages a midfoot strike and a quicker turnover, perfect for those aiming to boost their speed.
Best Use: While both the Mach 5 and Clifton 9 offer exceptional performance, they are tailored for different types of runs. The Mach 5 is designed for speedier sessions, making it an excellent choice for tempo runs, intervals, and even race days. Its lightweight and responsive construction make it an optimal companion for those seeking to push their limits and set new personal records. On the other hand, the Clifton 9 shines as an everyday training shoe. Its emphasis on cushioning and comfort makes it perfect for long runs and high mileage endeavours, ensuring that each step feels like you're running on clouds.
About the Hoka Mach 5
The Hoka Mach 5 is a testament to Hoka's commitment to speed and agility. With its sleek design and advanced technology, this shoe is engineered to propel runners forward and unlock their full potential. Designed for those who thrive on pushing their limits, the Mach 5 is an embodiment of performance and innovation.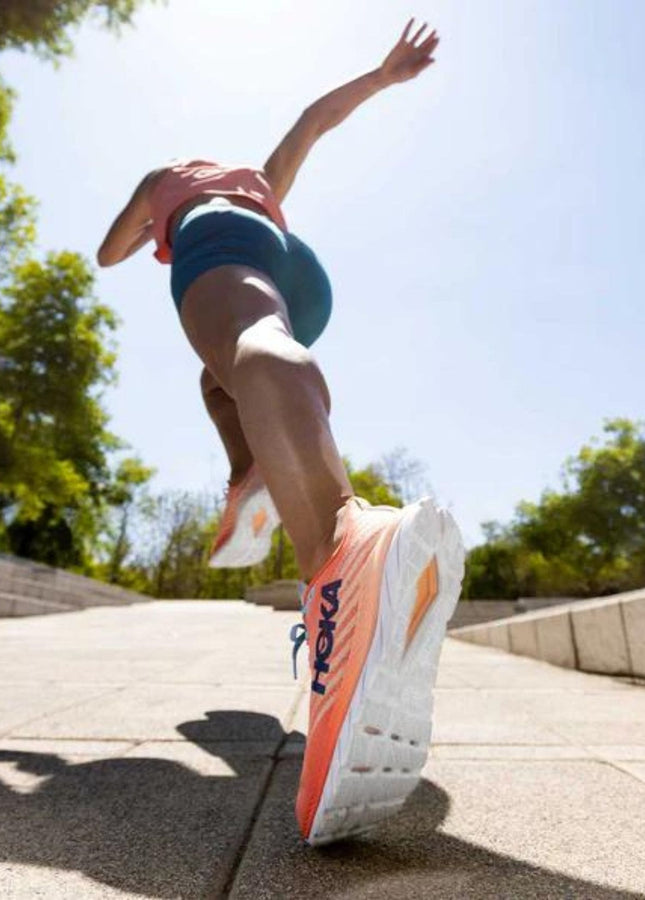 Details
Weight: Approximately 230 grams
Unique Selling Points (USPs):
PROFLY™ Midsole: At the heart of the Mach 5's performance is the PROFLY™ midsole, which strikes the perfect balance between cushioning and propulsion. This technology offers a responsive ride, ensuring that every stride feels energetic and dynamic.
Zonal Mesh Upper: The Mach 5 features a zonal mesh upper that enhances breathability and provides a secure fit. The strategic placement of the mesh ensures proper ventilation, preventing discomfort during intense runs.
Lightweight Construction: One of the standout features of the Mach 5 is its lightweight construction. This enables runners to move with agility, facilitating quick accelerations and rapid changes in pace.
What is the Hoka Mach 5 Best for?
The Hoka Mach 5 is the ultimate choice for runners who crave speed and want to excel in their tempo runs, intervals, and race days. The 5mm heel-to-toe drop encourages a swift turnover, while the responsive midsole technology gives you the extra push you need to thrive in short-distance races or high-intensity training sessions.
Does the Mach 5 fit true to size?
Yes, in general, the Hoka Mach 5 fits true to size. However, as shoe fit can be subjective and vary from person to person, it's always advisable to try them on or refer to Hoka's sizing guide to ensure you're getting the perfect fit for your feet.
About the Hoka Clifton 9
The Hoka Clifton 9 embodies the essence of comfort and versatility. Built to provide a cushioned and smooth ride, it's a shoe that's made for those who value enduring support over long distances. Whether you're training for a marathon or looking for an everyday companion, the Clifton 9 delivers in both performance and comfort.
Details
Weight: Approximately 210 grams
Unique Selling Points (USPs):

Early Stage Meta-Rocker: A hallmark feature of the Clifton series, the Early Stage Meta-Rocker technology ensures a smooth transition from heel to toe. This promotes a more natural gait cycle and reduces the strain on your joints.
Gusseted Tongue: The Clifton 9 features a gusseted tongue that not only ensures a secure fit but also prevents discomfort or irritation caused by traditional tongues. This small yet significant detail adds to the overall comfort of the shoe.
Lightweight Cushioning: Hoka's commitment to providing plush cushioning without compromising responsiveness is evident in the Clifton 9. The shoe's lightweight cushioning offers exceptional comfort during extended runs, allowing you to focus on the road ahead.
What is the Clifton 9 Best for?
The Hoka Clifton 9 is a versatile powerhouse that excels in all sorts of run plans. It's the perfect companion for runners who prioritise comfort and cushioning during their everyday training runs, long weekend jaunts, and high-mileage endeavours. If you're logging miles regularly or aiming to conquer your next marathon, the Clifton 9 is the shoe you can rely on as the workhorse that will help you get there.
Does the Clifton 9 Run True to Size?
The Clifton 9 benefits from a comfortably spacious toebox, although not to the extent that runners with narrower feet would be excluded. These shoes maintain accurate sizing, so sticking with your usual size is recommended.
Even though they're officially categorised as neutral shoes, several attributes of the Clifton 9, such as the expansive midsole platform, a 5mm heel drop, substantial arch support, and a secure heel cup, make them an option for those seeking more stability in their running shoes without being restricted.
Takeaway
In the world of running, having the right shoe tailored to your specific training goals can be a game-changer. The Hoka Mach 5 and Clifton 9 embody Hoka's dedication to catering to the diverse needs of runners.
Whether you're aiming for speed, endurance, or the perfect balance between the two, these shoes stand as shining examples of the brand's commitment to crafting footwear that elevates your running experience. So, as you lace up your shoes, remember that whether you're chasing personal bests with the Mach or conquering longer distances with the Clifton, you're equipped with the right gear to chase down your goals.