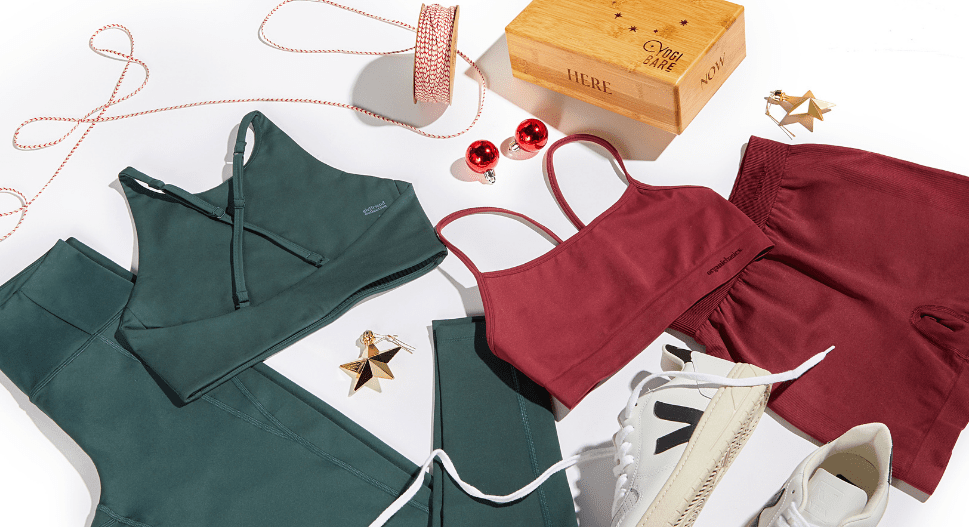 Christmas 2021 is looming. That means that it's time to start shopping for the perfect gifts. Finding something special for the fitness lover in your life doesn't have to be a challenge. We've gathered a selection of sustainable options that are sure to delight them. From yoga mats and sports bras to trainers, there's something for everyone out there.
Sustainability is more than just a buzzword. Here at the Sports Edit, we're dedicated to protecting the planet every step of the way. Aside from stocking sustainable activewear and accessories, we also offset 100% of the climate impact of our shipping and use 100% renewable energy to run our office, data storage, and ecommerce platform. All of our packaging is also sustainable. You might say it ticks every box.
If you're scratching your head and not sure where to start, we've got you covered. Check out our sustainable and gasp-worthy gift ideas that are sure to do the job.
1. VEJA
Veja is a fair trade, small cooperative trainer company. Not only are Veja's cult sneakers a chic and on-trend choice to wear to and from the gym; they're also environmentally friendly, with each of its styles made from at least 53% recycled materials. These trainers will certainly keep your style-conscious man or woman happy as they spring through winter into the warmer seasons!
2. LARQ
With Larq, you have access to pure water with under a minute, wherever you are. The unparalleled technology in each bottle eliminates up to 99.9% of bio-contaminants from your water. As if that wasn't great enough, the bottles feature an innovative purification system with superior temperature control so your water stays at the right temperature, wherever you take it.
3. GIRLFRIEND COLLECTIVE SPORTS BRA
Girlfriend Collective is a brand to snatch. Not only will its colourful sports bras brighten up the winter months, it will also look and feel amazing on, thanks to its soft, sweat-wicking, breathable and compressive fabric. Oh, and did we forget to mention that these crop tops are made from recycled water bottles - 79% RPET and 21% spandex to be precise? So the only question left is.. what colour?!
4. GIRLFRIEND COLLECTIVE LEGGINGS
Why not treat that special fitness lover in your life to a pair of matching Girlfriend Collective 4-way stretch, high-waisted and pocketed leggings? When it comes to fit, feel and aesthetics, you can't go wrong with these sustainable leggings. Each pair of leggings is made using 25 recycled plastic bottles, making it the perfect choice for ethical advocates who like breaking a sweat.
5. ADIDAS by STELLA MCCARTNEY
Adidas x Stella brings an abundance of sustainable gym staples to the fitness lovers wish list. Our favourites include a 88% recycled polyester tank top and the 58% recycled Seamless Yoga Tights, with its matching Seamless Yoga Light Support Bra.
These designer styles are the perfect motivation for those early morning winter jogs or late evening sweat sessions. Not only will they keep you snug, but their sweat wicking features will also keep you feeling fresh and noticeable, thanks to their reflective details.
6. VEGAN PROTEIN
When you're following a vegan diet, ensuring that you get the protein you need is a must. Luckily, there are plenty of options you can grab for your fitness-loving buddy. For example, the Bodyism Protein Excellence is GMO soy free, dairy free, gluten free, and entirely vegan. Aside from that, it tastes delicious with a sweet vanilla flavour. There's also the Indi Tone powder that helps you repair muscles while boosting the metabolism. What's more, the Supernova Protein powder is a super popular choice as it's organic and vegan.
7. NIKE WOMENSWEAR
Looking for a present that combines fashion and performance? It pays to take a peek at the Nike range of women's clothing. A number of the brand's most popular products are made from recycled materials, and so finding a sustainable option isn't hard. For example, the best selling One Leggings are made from partially recycled materials. They also sport DRI-FIT technology and sweat wicking. It's worth taking a look at the whole womenswear range to see which sustainable pieces will suit your friend or loved one.
8. ORGANIC BASICS
Organic Basics is a true pioneer when it comes to sustainable textiles, and inclusivity, and the ultimate basic pieces that are perfect for any yoga practice. We especially love the The Silvertech Active range. Made with mechanically recycled nylon, the material kills 99% of bacteria, which means that these activewear pieces can be used for weeks without needing to be washed... easier on you, and uses less water! If you're looking to add to your eco-friendly wardrobe, you can't go far wrong with a piece from this brand. Win, win, win, win....
9. YOGA BLOCKS
Yoga blocks are the perfect accessory to aid you in stretching, strengthening and shaping your body, helping you through those yoga classes that may seem a struggle after the Christmas feasting is over! Two of our favourite yoga blocks are the B Yoga B Block, made from 100% fine grain cork, and the Yogi Bare Bamboo Block, made entirely of bamboo, a sustainable material that is easy on our planet. With such great options to choose from, it's time to get moving!
10. YOGI BARE MAT
With new year's resolutions fast approaching, why not gift your loved one a Yogi Bare Paws Natural Rubber Extreme Grip Yoga Mat? This mat can help keep your yoga buddy steady with its no-slip technology, plus put on smile on their face thanks to its ecofriendly, natural rubber composition… sustainable and stabilising, do gifts get better this? For taller yogis try the Paws X, to take your practice to the next level.
11. WOLVEN ACTIVEWEAR
Rooted in sustainability, Wolven Threads' activewear combines powerful performance with an eco-conscience. The beautiful and bold leggings from Wolven are made from recycled plastic bottles and never compromise on style. The collection also includes sustainable and fashion-forward yoga tops that look as good as they are for the planet. Why not check out the range and see which eye-catching pieces grab your attention?
Like what you see? Check out our complete Sustainable Activewear Edit >