On Running's
Cloudflyer has been on the market for quite a few years but in 2020 they updated the shoe to add bigger clouds, more stability, and of course their new
speedboard
, which features in many of the Swiss brands latest models.
Having run in both the old and new versions, I can really tell the difference. The energy return is greatly improved and I'm no longer sliding around the pavement thanks to the better grip on the bottom of the shoe.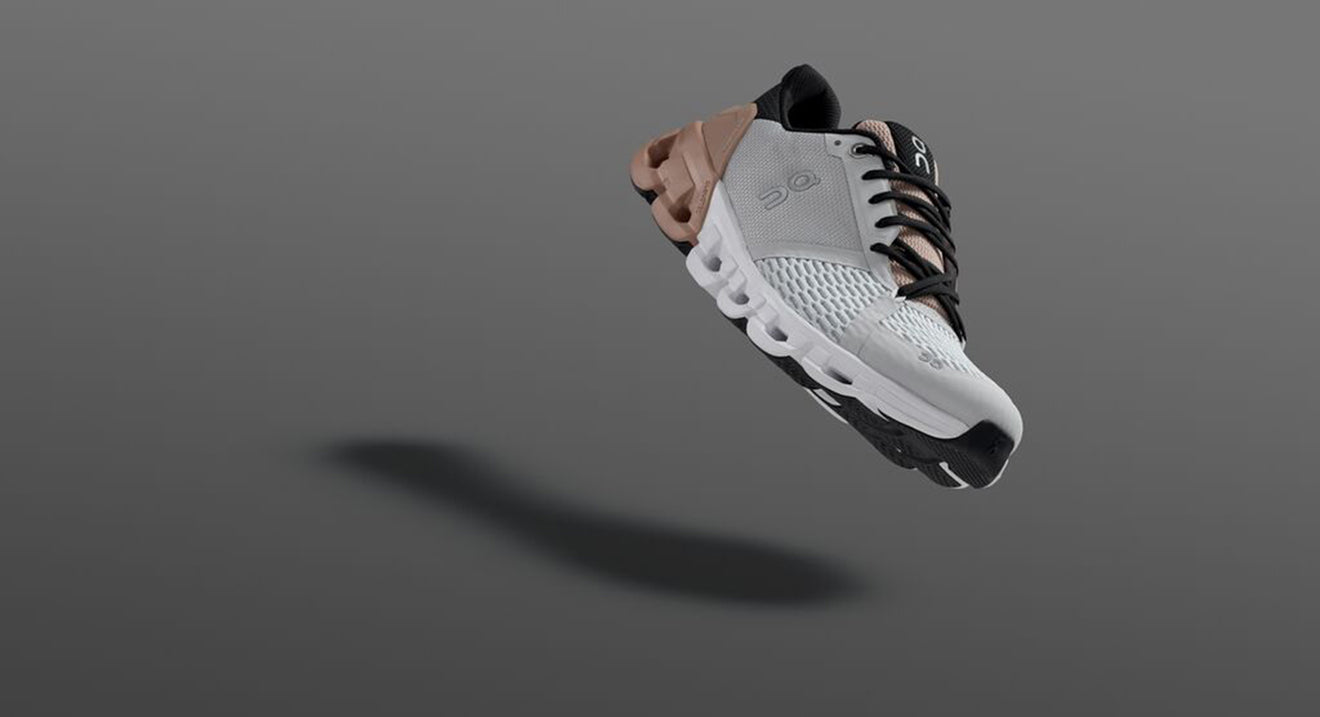 ON CLOUDFLYER: The Details
The strapline for the Cloudflyer is 'any runner, any goal', and I'd have to agree. Whether you're taking up running for the first time, are a weekend park runner or want something with good cushioning for your long runs, this shoe will support you.
It's a great all-round trainer, which is due to a lot of features: the speedboard, the max cushioning from the wide clouds on the soles, the super padded tongue, and star lacing system being just a few.
| | |
| --- | --- |
| WEIGHT | Medium | 280 grams |
| HEEL-TO-TOE DROP | Medium | 7 mm |
| HEEL CUSHIONING | Springy |
| FOREFOOT CUSHIONING | Springy |
| FLEXIBILITY | Flexible But Not Floppy |
| STABILITY | Good |
| ENERGY RETURN | High |
| PRICE | £139 |
THE UNBOXING
I love unboxing a pair of On Cloud shoes, it's a feeling that never gets old… and I've unboxed a lot of On trainers in my time. My Cloudflyer - Black / White pair looked so crisp and pristine as I untucked them from the tissue paper.
They have some great colours: Glacier / Rosebrown, Midnight / Rust, All Black… take your pick! They also come with an 'owner's card', so you can register them online if you want to.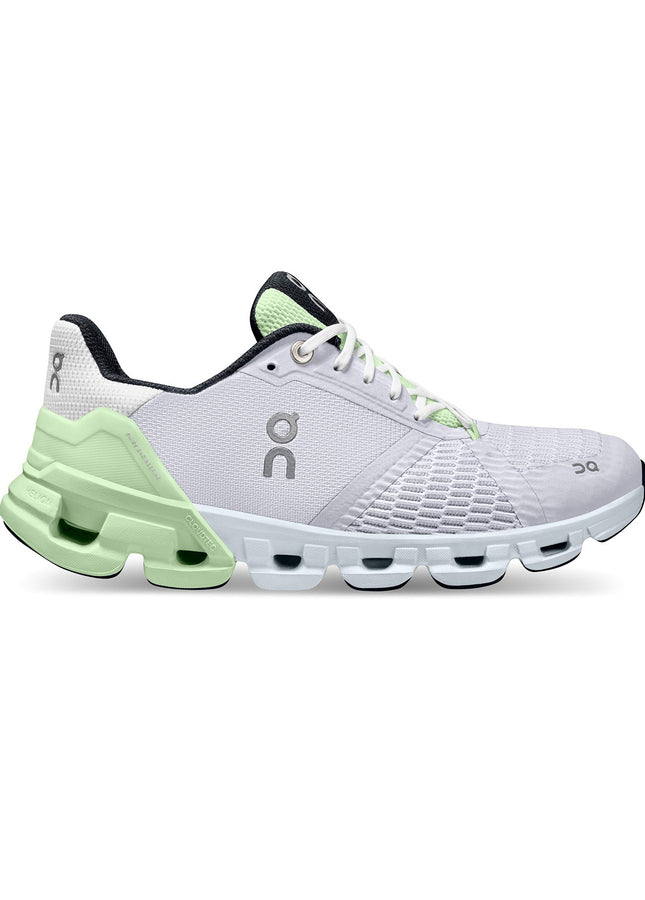 THE MATERIALS
The top of the shoe is made of mesh, which provides good breathability. The materials get thicker towards the rear for more cushioning and support in the tongue, heel and ankle areas.
The tongue especially, is very thick on this shoe (probably the thickest of all On's shoes), which means no digging in from the laces, and no blisters on those long runs.
On the back of the shoe there's a plastic cage, designed to lock your heel in place and reduce the chance of your foot rolling. This is great support to have on longer runs, especially as we start to tire, when our form is most likely to go.
As I mentioned above, the bottom of the shoe also has more grip, so no more sliding around on wet pavements!
The lacing system is also a little different from other models, as the Cloudflyer has a star lacing system. You'll either love or hate this. I don't mind it, my foot feels snug but not restricted.
FIRST IMPRESSIONS: Looks good, feels good
On Running has a variety of shoes, all made for different types of training: short runs, long runs, HIIT, racing… The next-gen Cloudflyer is one of their most cushioned trainer, which is thanks to the larger, wider clouds, which give much more energy return and really feel like you are springing off the pavement but truly supported at the same time.
On has made a few adjustments so that stones don't get stuck in the clouds but I still get a few in these if I go off road, so they are best kept for the tarmac.
The brand has recently updated many of its shoes to contain a Speedboard™ and Helion™ superfoam, both of which have changed the game massively.
The proprietary Speedboard™ is a rigid plate (non-carbon), which promotes lateral stability and reduces stride momentum loss. Essentially, it reduces the strain and fatigue felt by the muscles of the underfoot.
The Helion™ superfoam is formed of a special structure fusing stable, hard elements and softer, elastic segments. This enables greater durability without adding weight and more rebound without sacrificing cushioning. It's also temperature resistant, making it more durable than other foams.
These two combined are what makes On shoes so special. Responsiveness and return goes up a level, add in the specially placed 'clouds' and you've got a super technical shoe that gives in a big way.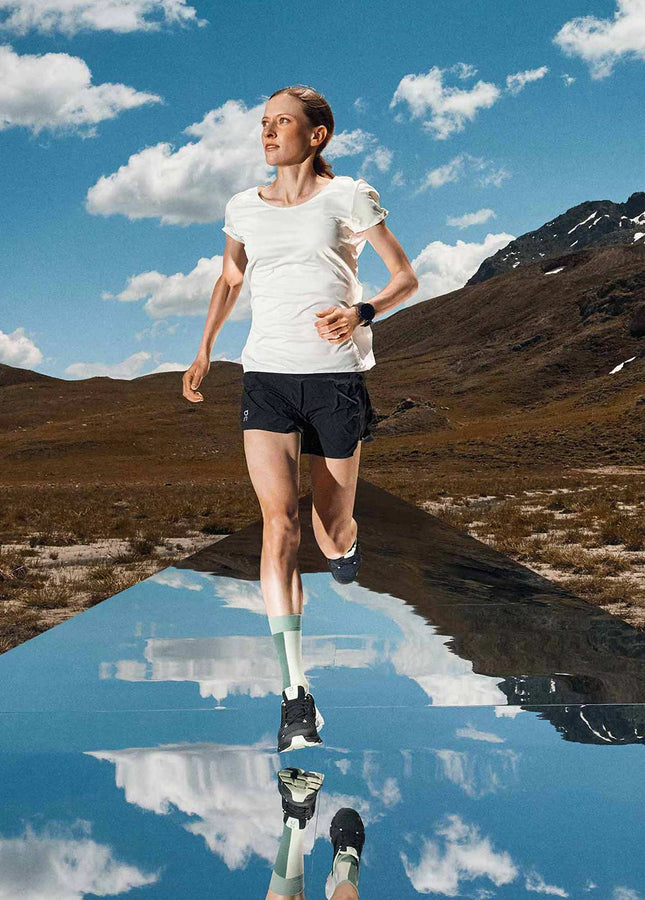 BEST FOR: Running
Classing a shoe as an 'all-rounder' sounds like a bit of a cop-out. But these shoes really are great for newbies and regular runners… but not racing - they're a little too heavy. Try something like the Cloudflow or Cloudecho instead.
What's special about this shoe is that they offer support and spring. Going too minimalist on your first run will give you DOMS (delayed onset muscle soreness) for days.
If you're a runner who needs stability and cushioning, these are the shoes for you. They aren't quite as bouncy as the new Cloudstratus but they aren't far behind. I really enjoyed running in these shoes, making light of my regular 20/30k road runs.
ON RUNNING STYLE GUIDE
Not sure which On Running shoe is right for you? Check out this On Running Shoes Review blog, where we compare the different styles.