Picture this: you're out on the open road, the sun is shining, and the wind is at your back. You're in the zone, running, enjoying every stride, discomfort and injuries are mere memories. Sounds too good to be true? Well, that's not for us to say. But having the right running shoes goes a long way toward making this dreamy image a reality.
This is the promise of stability running shoes – a key ally for runners seeking not only to crush miles but also to overcome injury-prone tendencies. In this comprehensive guide, we're taking you on a deep dive into the world of stability running shoes. From understanding their purpose to determining if they're a match for your running style, and ultimately, uncovering a lineup of our top contenders, consider this your roadmap to running with confidence.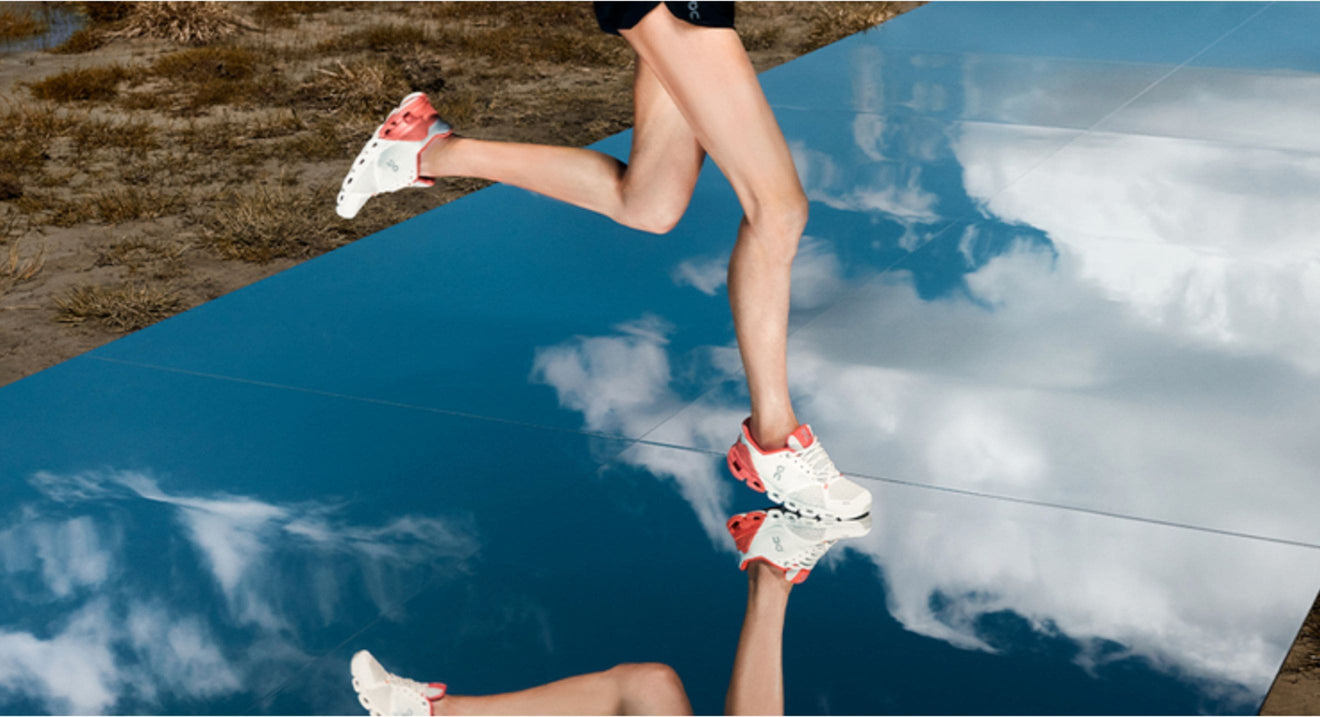 What Are Stability Running Shoes?
Stability running shoes aren't just footwear; they're meticulously engineered tools that can transform your running experience. Crafted with precision, these shoes cater to runners who grapple with overpronation – a common issue where the feet roll excessively inward during each stride.
But what's the magic behind them? It's a symphony of supportive materials, innovative midsole technologies, and careful design that work in harmony to deliver a stable and comfortable run.
Do I Need Stability Running Shoes?
The million-dollar question: are stability running shoes a must for you? The answer hinges on your running gait. If you're prone to overpronation – where your feet roll excessively inward with each step – then stability shoes could be a game-changer. Overpronation can lead to a host of discomforts and injuries.
On the other hand, if you boast a neutral running gait, characterised by an even distribution of weight on your feet, stability shoes might not be as crucial. However, don't dismiss this without a professional gait analysis, often available at specialised running stores, that can provide invaluable insights into your unique running style.
What to Look for in Stability Running Shoes
Embarking on the journey to find your perfect pair of stability running shoes? Here's a comprehensive checklist to ensure you're making an informed choice:
1. Supportive Midsole: Seek out shoes that sport a midsole boasting ample cushioning and targeted support. Look for advanced technologies such as dual-density foam or innovative medial posting for enhanced stability.
2. Arch Support: If you're dealing with flat feet or fallen arches, prioritize shoes designed with built-in arch support. This feature can provide tailored comfort and support for your feet.
3. Pronation Control: Opt for shoes that highlight moderate to high pronation control. This crucial feature aids in realigning your gait and thwarting overpronation-related issues.
4. Heel Counter: While seemingly unassuming, a sturdy heel counter plays a significant role in enhancing stability. It maintains proper foot alignment throughout your runs.
5. Breathability: Running often means sweating, so prioritize shoes crafted from breathable materials that keep your feet cool and dry, mile after mile.
Best Stability Running Shoes
Now, let's dive into the world of stability running shoes. Here are some top contenders that deserve a spot in your closet: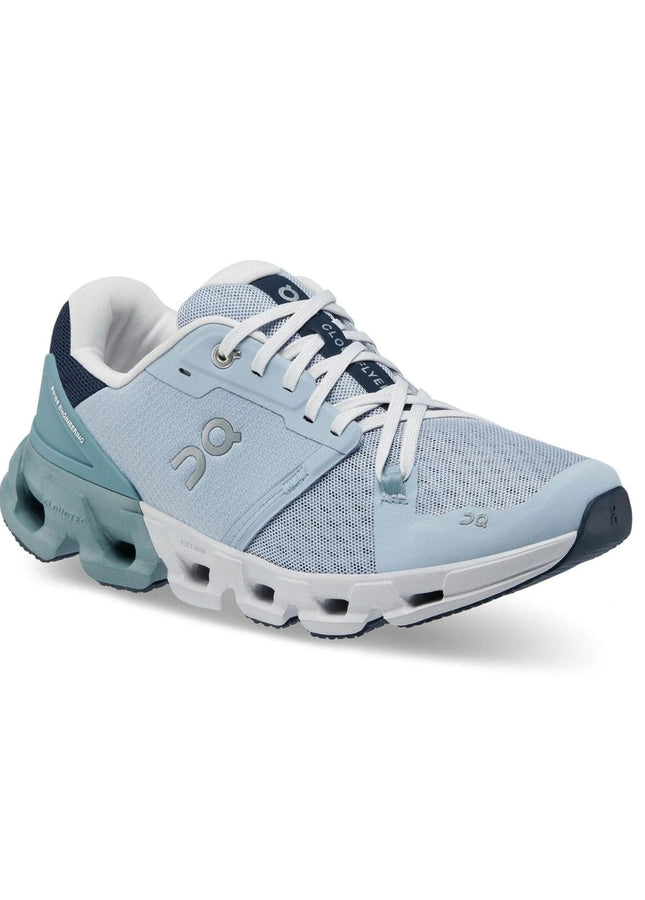 On Running Cloudflyer 4
Elevate your runs to new heights with the On Running Cloudflyer 4. Engineered to provide the perfect blend of support and cushioning, these shoes are a true game-changer for over-pronators. The Cloudflyer 4 features a sleek design and boasts CloudTec cushioning, which is strategically placed to offer targeted support where you need it most.
The star lacing system ensures a secure fit, allowing you to focus on your run without any distractions. Reflective details enhance visibility during low-light conditions, making these shoes an ideal choice for early morning or evening runs. With a 7mm heel-to-toe drop and a weight of 255 grams, the Cloudflyer 4 strikes the perfect balance between stability and agility. Step into these shoes and experience the unmatched comfort and confidence they provide with every stride.
Details:
Heel-to-Toe Drop: 7 mm
Weight: 255 grams (Women's)
Unique Selling Points (USP's): CloudTec cushioning, star lacing system for a secure fit, reflective details for visibility.
Hoka One One Arahi 6
Discover the epitome of innovation and stability with the Hoka One One Arahi 6. Designed to address the needs of overpronators, these shoes feature Hoka's J-Frame technology, which guides your foot's natural motion and provides exceptional stability throughout your run.
The Arahi 6 boasts a 5mm heel-to-toe drop and weighs 247 grams, ensuring a lightweight and comfortable experience. The Meta-Rocker geometry encourages smooth transitions, while the cushioning offers plush comfort that doesn't compromise on support. With a sleek and modern design, the Arahi 6 combines form and function, making it an excellent choice for runners seeking both performance and style.
Details:
Heel-to-Toe Drop: 5 mm
Weight: 247 grams (Women's)
USP's: J-Frame technology for stability, lightweight and cushioned, Meta-Rocker geometry for smooth transitions.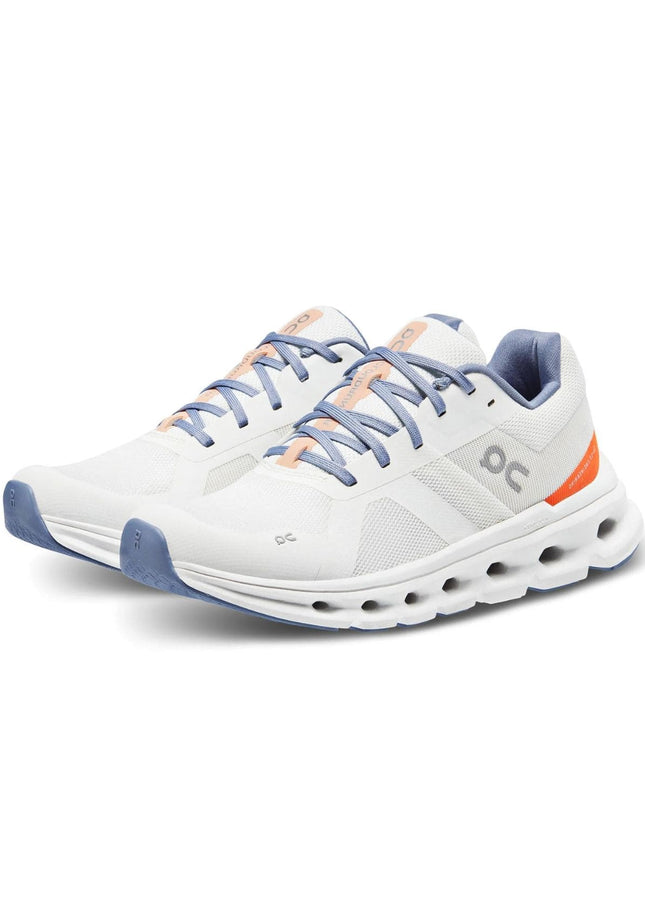 On Running Cloudrunner
Conquer trails and terrains with confidence in the On Running Cloudrunner. These shoes are engineered for off-road enthusiasts who value stability without compromising on performance. The Cloudrunner features the Missiongrip™ outsole, providing superior traction on various surfaces.
The CloudTec cushioning system offers comfort and support, making each stride a breeze. With a 6mm heel-to-toe drop and a weight of 290 grams, these shoes strike the perfect balance between ruggedness and agility. The durable upper ensures your feet remain supported and protected on your outdoor escapades. Whether you're navigating through rocky trails or conquering challenging terrains, the Cloudrunner is your ultimate trail companion.
Details:
Heel-to-Toe Drop: 6 mm
Weight: 290 grams (Women's)
USP's: Missiongrip™ outsole for traction on various terrains, CloudTec cushioning, durable and supportive upper.
ASICS Gel-Kayano 30
Experience the legacy of innovation and performance with the ASICS Gel-Kayano 30. A classic favorite among stability running shoes, the Gel-Kayano 30 combines time-tested technologies with modern design. The Gel cushioning system delivers unmatched shock absorption, ensuring a smooth and comfortable ride.
The Dynamic DuoMax Support System provides enhanced stability for overpronators, making each step confident and controlled. With a 10mm heel-to-toe drop and a weight of 264 grams, these shoes offer a perfect balance of cushioning and support. The FlyteFoam midsole adds a touch of lightweight comfort, while the timeless design makes the Gel-Kayano 30 a versatile choice for both seasoned runners and newcomers to the sport.
Details:
Heel-to-Toe Drop: 10 mm
Weight: 264 grams
USP's: Gel cushioning for shock absorption, Dynamic DuoMax Support System for stability, FlyteFoam midsole for lightweight comfort.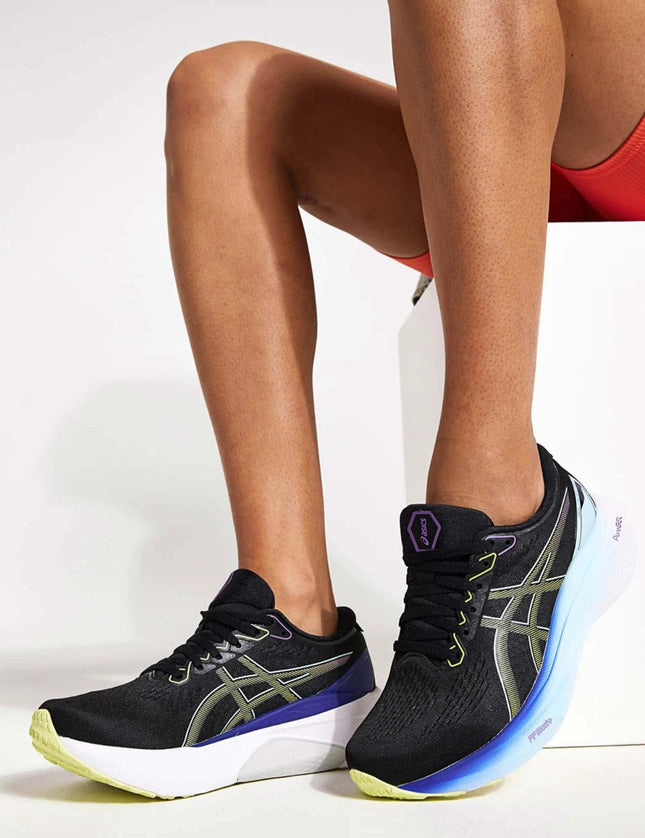 Asics Gel-Kayano 30 - Black/Glow Yellow: Asics, Gel-Kayano 30 - Black/Glow Yellow
Saucony Guide 16
The Saucony Guide 16 is a game-changer in the world of stability running shoes. It excels in delivering exceptional cushioning and support, elevating your running experience to new heights.
One of its standout features is the PWRRUN cushioning technology, which provides a balance of softness and responsiveness. This innovation not only ensures a smoother ride but also minimises the impact on your joints, making it an ideal choice for long-distance runners seeking comfort and stability.
It introduces a TPU guidance frame in the midsole, offering precise support to prevent overpronation. This feature is a game-changer for runners who struggle with excessive inward rolling of the foot, as it promotes a more neutral stride and reduces the risk of discomfort or injury.
Despite its focus on stability, the Guide 16 doesn't compromise on agility. It's slightly lighter than its predecessor, providing a more agile and comfortable running experience.
Details:
Heel-to-Toe Drop: 8 mm
Weight: 221 grams (US Women's 7)
USP's: PWRRUN cushioning technology for softness and TPU guidance frame for stability.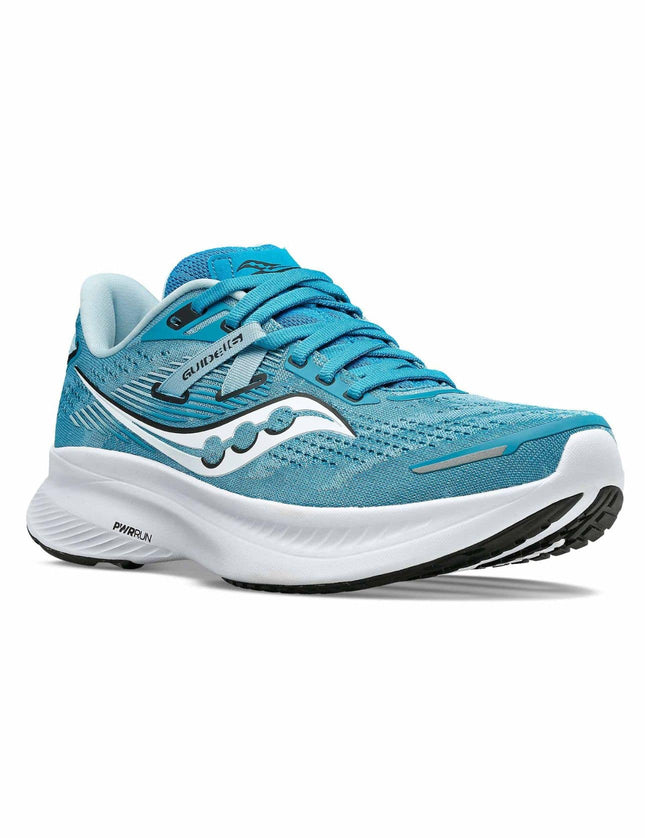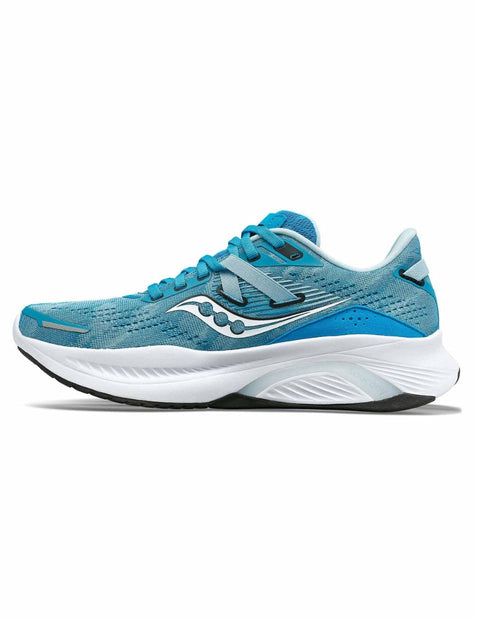 Saucony Guide 16 - Ink White: Saucony, Guide 16 - Ink/White
adidas Supernova 2.0 x Parley Shoes
Make a positive impact on both your runs and the environment with the adidas Supernova 2.0 x Parley Shoes. Crafted with Parley Ocean Plastic, these shoes are not only performance-driven but also environmentally conscious. The Boost cushioning technology offers responsive energy return, propelling you forward with every stride.
With a 10mm heel-to-toe drop and a weight of 285 grams, the Supernova 2.0 x Parley Shoes provide the ideal combination of cushioning and stability. The supportive and breathable design ensures your feet stay comfortable even during longer runs. By choosing these shoes, you're not just enhancing your own running experience; you're contributing to a sustainable future for our planet.
Details:
Heel-to-Toe Drop: 10 mm
Weight: 285 grams (US Women's 7)
USP's: Made with Parley Ocean Plastic for sustainability, Boost cushioning for responsive energy return, supportive and breathable design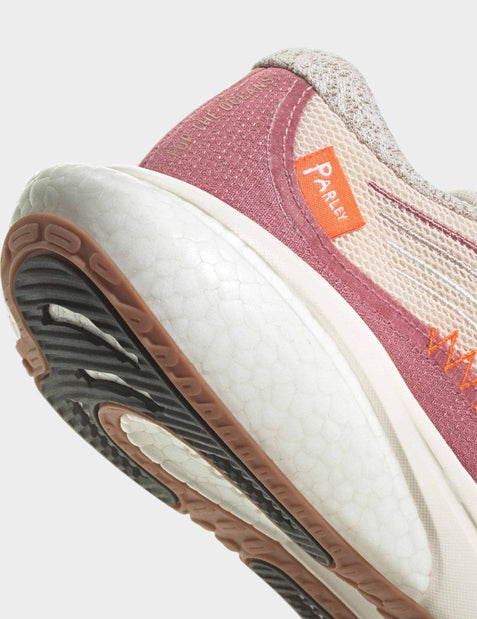 adidas Supernova 2.0 x Parley Shoes: Wonder Quartz/Wonder Taupe/Linen Green: Adidas, Supernova 2.0 x Parley Shoes - Wonder Quartz/Wonder Taupe/Linen Green
The Takeaway
As you lace up your running shoes and prepare for your next adventure, remember that your choice of footwear plays a pivotal role in your running journey. If overpronation is your challenge, stability running shoes could be the key to unlocking your full potential. These shoes are designed to provide the support, cushioning, and alignment your feet need to keep you running strong and injury-free.
Take the time to assess your gait, prioritise the features that resonate with you, and explore the top-notch options we've highlighted. With the right pair of stability running shoes, your runs will be more than just exercise – they'll be a celebration of strength, endurance, and the sheer joy of movement. It's time to step into stability and run confidently towards your goals.