Words by Hannah Abu
Flared leggings have taken both the fashion and fitness worlds by storm, offering a unique blend of style and function. With their flattering silhouette and high-mobility performance, it's no wonder they've become a staple in A-Lister wardrobes, from the likes of Hailey Bieber, Emily Ratajkowski and Rihanna. In this review, we'll explore flared leggings, where and when to wear them, how to style them, and what to look for when choosing your perfect pair.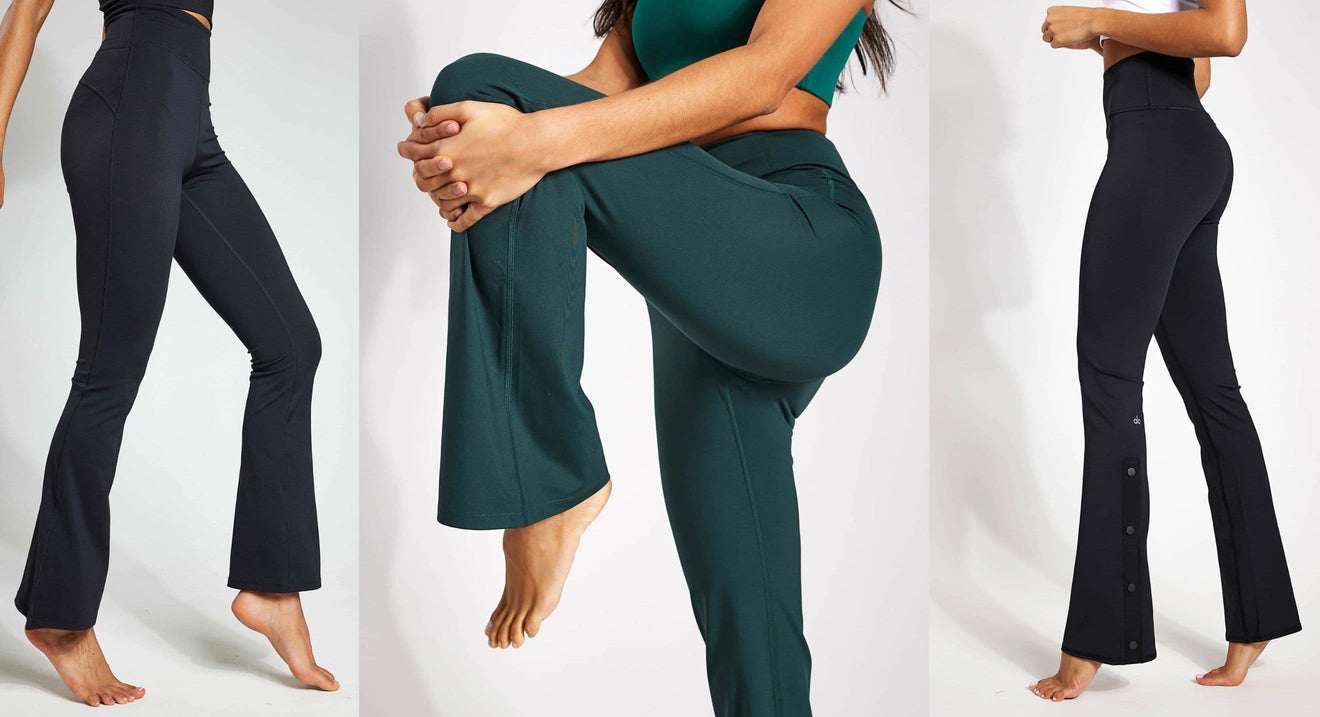 Why do people wear flared leggings?
Flared leggings offer a modern twist on the classic athletic leggings, characterised by a fitted design that gradually flares out from the knees to the ankles. This flared silhouette offers a stylish and elongating effect on the legs. Whether you're hitting the gym or running errands, flared leggings can effortlessly transition from workout wear to everyday fashion.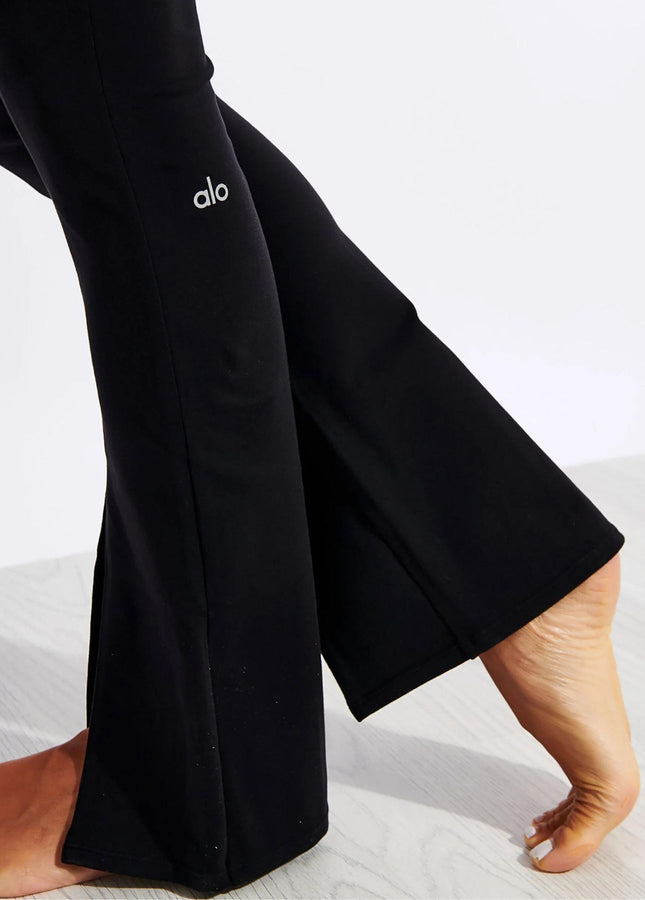 Not sure if you can wear flared leggings to the gym? You absolutely can - but not exclusively! Here are some styling tips to help you rock flared leggings effortlessly in and out of the studio:
Working Out: Pair your flared leggings with a fitted sports bra or a tank top for a chic workout outfit. Layer it with a lightweight jacket or hoodie for added warmth. Complete the look with supportive runners, and you're ready to break a sweat while looking fabulous.
Yoga or Pilates: Opt for a high-waisted flared legging to provide extra support. Pair them with a breathable, stretchy sports bra or fitted tank top. Add a loose-fitting cardigan or a wrap for a cosy, relaxed look during post-session cool-downs.
Casual Outings: Dress up your flared leggings with a stylish blouse or a loose-fitting sweater for a casual-chic look. Layer it with a denim or leather jacket. Complete the outfit with ankle boots or casual flats for an effortlessly stylish ensemble.
What you should look for in the perfect pair
When choosing flared leggings, consider the following features to ensure they're perfect for you:
Moisture-Wicking: Look for leggings made from moisture-wicking fabrics, like nylon or polyester blends. These materials help keep you dry by wicking away sweat from your skin.
Odour Resistant: Leggings with odour-resistant properties, such as antimicrobial finishes, are an excellent choice. These features minimise the growth of bacteria and help keep odours at bay, even during extended wear.
4-Way Stretch: Opt for leggings with 4-way stretch, allowing unrestricted movement. This is crucial for activities requiring a wide range of motion.
Flat-Locked Seams: Look for leggings with flat-locked seams, which lie flat against your skin to minimise chafing and irritation.

Now that we have the basics down, you might wonder which leggings are the best in the business? In truth, the answer is likely to vary wherever you go, but we have opinions. It was hard to pick our favourites, but we've whittled it down to a few:
If you're searching for the perfect all-rounder of flared leggings, look no further than Alo Yoga's Airbrush High-Waist 7/8 Bootcut Leggings. These flared leggings bring back the timeless bootcut design with a contemporary twist.
One of the standout features of these flared leggings is their moisture-wicking capability. Say goodbye to discomfort caused by sweat, as these leggings keep you dry during even the most intense workouts. Additionally, their odour-resistant design ensures you stay fresh throughout your routine.
With 4-way stretch, these leggings provide exceptional flexibility. Whether stretching, running or practising yoga, they move with your body, allowing you to perform at your best. The flat-locked seams add another layer of comfort by minimising fabric rubbing and irritation.
Get ready to experience pant perfection with Girlfriend Collective's Compressive Flare Leggings. These leggings offer a combination of style, comfort, and a flattering silhouette.
One standout feature of these flared leggings is the waistband pocket, allowing you to store essentials like keys. Additionally, they are squat-proof, providing the coverage you need.
One thing to keep in mind is that these leggings have a compressive fit. Your usual size may feel tight initially, but they'll gradually mould to your body over time. If you prefer a less compressive feel, we recommend going up a size.
If you like to move and groove, the Goodmove Dance Pants are the perfect companion. These flared leggings keep you comfortable, flexible, and feeling your best as you gracefully plié or perform energetic rumbas.
They strike the perfect balance between coverage and flexibility.
One of the key features of these leggings is their stretchy fabric. The stretchiness ensures a comfortable and unrestricted fit, allowing you to execute intricate dance steps with precision and fluidity.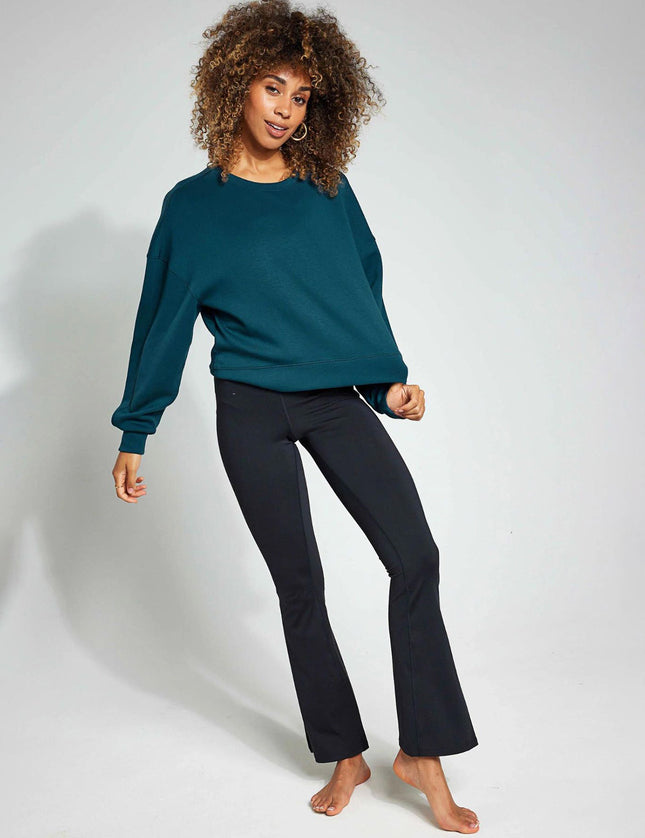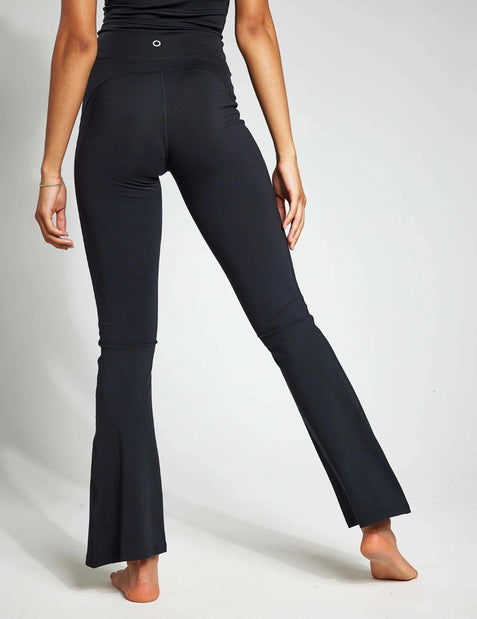 Leggings: Goodmove, Dance Pant - Black
Designed to withstand your most challenging workouts and seamlessly transition into everyday wear, these flared leggings offer a winning combination of style and comfort.
These moisture-wicking flared leggings ensure that you stay dry and comfortable, even during intense workouts. But it doesn't stop there – the ultra-soft fabric of these flared leggings takes comfort to a whole new level.
From the moment you slip them on, you'll feel the luxurious softness against your skin, making them a pleasure to wear throughout the day. Whether you're lounging at home or running errands, you'll never want to take them off.
Alo Yoga's Airlift High Waisted Game Changer leggings are a true game-changer in the world of activewear. Whether hitting the gym or practising yoga, these leggings will be your new go-to.
These flared leggings are a fresh update on the classic body-sculpting form you know and love. With a subtle flared silhouette and ankle poppers, they offer a stylish twist to your workout wardrobe.
Designed with performance in mind, these leggings boast moisture-wicking properties, ensuring you stay cool and dry even during the most intense workouts.
Featuring 4-way stretch, these leggings offer exceptional flexibility, allowing you to move with ease and perform a wide range of exercises. From lunges to yoga poses, these leggings move with your body, providing the freedom and comfort you need during workouts.
Last, but certainly not least, is the Alo Yoga Airbrush 7/8 High Waisted Flutter Leggings, the perfect petite flared leggings. Designed with attention to detail, these leggings come with front splits that add a touch of flair and movement to your outfit. The flared leg and front splits create an eye-catching silhouette, allowing you to make a fashion statement.
The skinny waistband of these leggings adds a sleek and modern touch, providing a secure and comfortable fit around your waist. It offers a flattering, streamlined look, highlighting your outfit and creating a polished appearance.
They also offer odour resistance. This ensures you stay fresh and confident throughout your activities, giving you the freedom to go from the studio to the shop without fear.
Conclusion:
In conclusion, flared sports leggings offer a winning combination of style, comfort, and performance. Brands like Alo Yoga, Goodmove, Beyond Yoga, and Girlfriend Collective have nailed innovative designs with moisture-wicking, odour-resistant, and 4-way stretch capabilities, ensuring you stay cool and comfortable during workouts. At The Sports Edit, you'll be spoilt for choice with more than 6 flared leggings to up your style game! Why not take a look at the full collection.