Words by Talia Hopkinson
Loungewear has taken over the fashion scene however, this isn't the first time we have seen this trend hit our stores.
Once upon a time, velour joggers and tracksuits were popularised by the likes of Paris Hilton and while we thought that they were officially out and traded in for jeans, the athleisure trend has come back around and this time, it's here for good.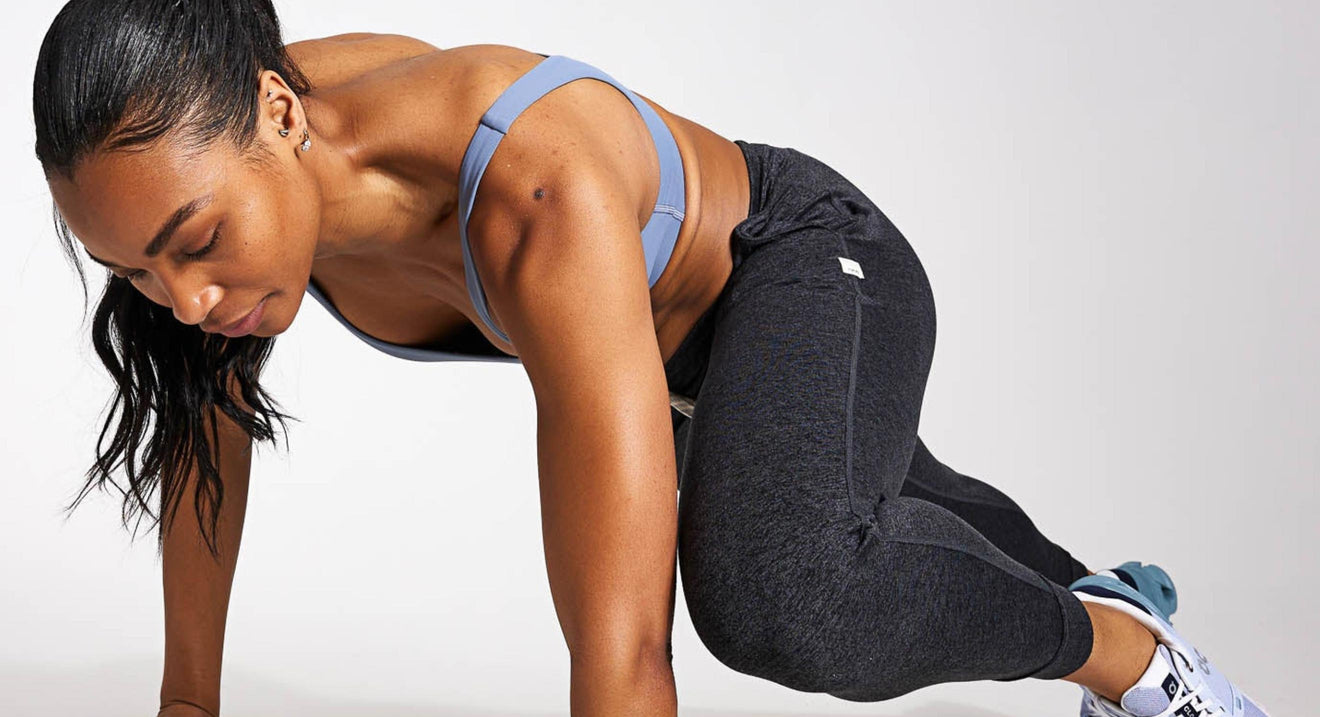 As the fashion industry has seen a huge surge in women's joggers, so has Google. More and more users are searching "women's cuffed joggers," "jogging bottoms women" and even "bootcut joggers," which ultimately begs the question, what are the best women's joggers?
In this list, we have selected only the finest (and comfiest) women's joggers so whether you're hitting your personal best at the gym or bingeing Netflix, you will look as good as you feel.
From straight leg joggers, slim-fit joggers and even the contemporary wide leg, this comprehensive list will match you with your new favourite pair.
Keep scrolling for the best women's joggers.
What To Look For In Women's Joggers
Multiple features make up the perfect pair of joggers including:
Moisture-wicking fabric - This will help you to stay both cool and dry while working out.

Pockets - Having pockets to keep your essentials safe is a handy component when travelling from the gym to your next errand.

The fit - Whilst cuffed is usually the go-to style, bootcut and wide leg can be just as complimentary.

You'll need to decide when you would most like to wear the joggers and the style you like the most. Then, simply select the pair that matches those preferences the most.
How To Style Women's Joggers
The best thing about joggers? They are very versatile and can be styled in a multitude of ways.

Check if there is a matching or similar sports bra or sports top to wear to the gym and add a cute sports cap.
Elevate the outfit with a tucked-in white shirt, blazer, heels and jewellery for a going-out vibe
Go all out cosy with a bodysuit, jumper and your comfiest pair of trainers.
It gets even better…one pair can be dressed up in all three ways!
Okay, so now you're convinced that you need a new pair, here are the best women's joggers.
Vuori
Vuori is known for their DreamKnit fabric and that feature is showcased in these delightful performance joggers. By purchasing a pair of Vuori joggers, you're receiving an ultra-comfy clothing item that never goes out of style.
These black cuffed joggers from Vuori are potentially the comfiest women's joggers you will ever come across.
Cut from the buttery soft DreamKnit fabric, Vuori really have outdone themselves with these performance joggers. Transition seamlessly from a workout to running errands to lounging at home and with the flattering tapered fit, drawcord waistband and above ankle cuff you'll look good whilst doing it.
Not only that but you can totally get your airport outfit ready with arguably one of the top contenders for the best women's joggers for travel. One thing for sure is, you'll feel as stylish as ever stepping off the plane in your new destination.

Beyond Yoga
We all know that Beyond Yoga never drops the ball. They have dominated the yoga leggings scene and now they're coming for the sweatpant industry and they really have set the bar high.
Impress on the mat with these Beyond Yoga Spacedye Midi Joggers.
With subtle side panel pockets, elasticated cuffs and a secure yet effortlessly chic fit, you'll experience all of the feel-good endorphins after this workout. Plus, the moisture-wicking technology and 4-way stretch fabric will leave you feeling at your best time and time again.
But that is not all that Beyond Yoga has to offer when it comes to the perfect pair of joggers. Look, all your Insta-favs are wearing bootcut joggers right now and because of that, we simply can't keep Beyond Yoga's take on the trend from selling out.
The dainty wrap-around waist detail provides a secure and complimentary fit that just oozes class. Additionally, the bootcut style made from moisture-wicking fabric is a simple touch that takes any workout fit to the next level.
Alo Yoga

Alo Yoga joggers are the epitome of loungewear. Seriously, they have upped their game when it comes to style, modern design and having that versatile pair of joggers that you can wear both at the gym and at home.
Coming in hot with these trending Alo Yoga Sweatpants in this gorgeous infinity blue colour or timeless black.
These joggers are the perfect combination of fashion and function. Featuring side and back pockets, a flattering high-rise waist and an adorable drawstring waistband.
You will stand out, in the best way, when wearing these Alo Yoga straight leg sweatpants. Whether you're heading to a yoga class, training in the gym or taking a rest day, you'll feel stylish, productive and ready to embrace the day.
Girlfriend Collective
If you're not familiar with the Girlfriend Collective workout range, you're missing out.

This brand is constantly innovating to bring out the best workout clothes that can be worn comfortably throughout the entire day. After seeing the results, it won't be hard to believe that these girlfriend collective joggers have made this list of the best women's joggers.
If you're the type that loves to stick to basics, we hear you. The Girlfriend Collective Reset Jogger has a heavy high-quality feel and looks great with every outfit.
Moisture-wicking fabric, heavyweight jersey, inside pockets and stretch without sagging? It really doesn't get better than that. These women's straight leg joggers have a sublime soft feel without the sagging, so you can feel confident all day long.
It also goes without saying that the divine moss colour is also just the right amount of subtle class.
GoodMove

Goodmoves's activewear always impresses. Functional pieces with sleek designs are what they do best and their Goodmove joggers are no different.
If you're searching for a quality pair of Goodmove cuffed joggers, you're in luck.
The material of these joggers is incredibly breathable and super-soft. It is of course moisture-wicking and quick-drying which works to regulate your temperature whilst you workout. The handy pockets are an always appreciated addition and as GoodMove is committed to responsible sourcing the cotton they use, you can feel great about making this purchase.
Key Takeaways
Those were the best women's joggers that are trending right now and they really did exceed expectations, right?
If you're undecided, remember to look out for the joggers that fit your needs the best. If you're looking for workout joggers, opt for a pair made from moisture-wicking fabric that features a hidden pocket. If you're just browsing to find a comfy pair to run errands in, then you may prefer to have a more slouchy fit.
Now that you're all set, you just need to pair with a cute sports top and you're ready for the day!