If you want to get outside for an explore, a reliable and stylish waterproof jacket is the unsung hero of any adventure. Whether you're scaling a mountain peak or simply navigating the urban jungle while Mother Nature throws her wildest weather your way, a high-quality waterproof jacket is your trusted companion. We've taken it upon ourselves to scour the market and bring you the 8 best water-resistant and waterproof jackets for women.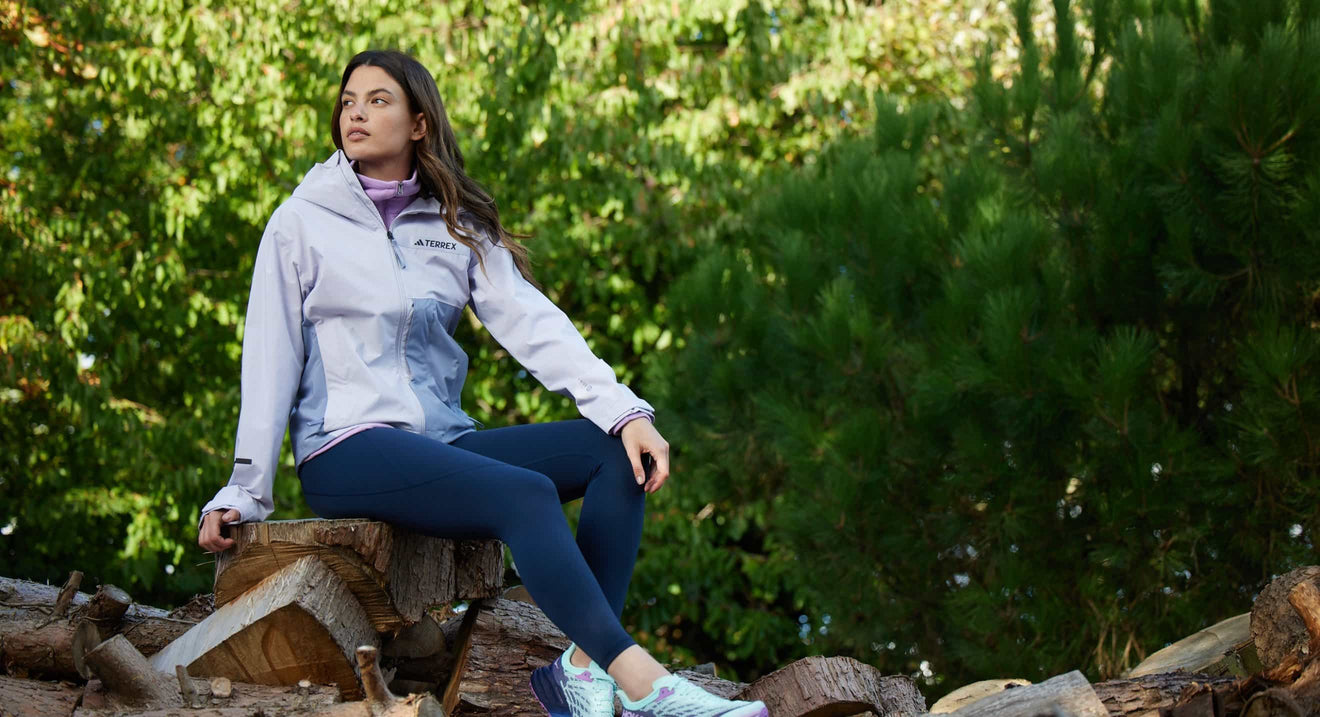 These jackets are not just about keeping you dry; they're a fusion of fashion and function, tailored to suit your everyday and active lifestyles. Our selection encompasses a diverse range of styles and features, ensuring you find the perfect jacket that not only keeps you protected from the elements but also reflects your personal style.
So, whether you're a trailblazing hiker or a fashion-forward urban explorer, let's explore these top-notch waterproof jackets that are poised to become your go-to companions for all of life's adventures.
Everyday Waterproof Jackets
Goodmove Stormwear™ Waterproof Hooded Longline Parka
If you're looking for a waterproof jacket that blends fashion and function seamlessly, the Goodmove Stormwear™ Waterproof Hooded Longline Parka is your ideal choice. Sweaty Betty has created this bestseller with ultimate comfort and protection in mind.
Not only is it fully waterproof, but it's also remarkably breathable, ensuring you stay comfortable during any adventure. The adjustable hood and cuffs add a personalized touch, and the Stormwear Ultra technology takes care of keeping you dry even in heavy rain. This is the perfect companion for braving the elements in serious style.
Goodmove Stormwear™ Fleece Lined Longline Parka
Goodmove's Stormwear™ Fleece Lined Longline Parka combines style and substance. Its quilted design and zip pockets not only add a fashionable edge to your outdoor attire but also provide practical storage for your essentials. Moreover, the water-repellent finish keeps you snug and dry, making it an excellent choice for unpredictable weather days.
Sweaty Betty Stride Waterproof Parka
Sweaty Betty' Stride Waterproof Parka is designed for those who love outdoor exploration. Its longline, breathable fabric with taped seams ensures that you stay comfortable while being protected. The adjustable cuffs and hood allow for customization, while the drawstring waist provides a tailored fit. With its 5k waterproof fabric and critical seams taped, this jacket performs beautifully in the rain.
BORN Waterproof Coat
BORN's chic Waterproof Coat is the epitome of luxury and functionality. This jacket is not just waterproof; it also boasts an extra soft feel and super-warm insulation, providing a touch of sophistication to your outdoor adventures.
Crafted with a waterproof outer layer, it shields you from the elements while keeping you dry. The extra soft feel and super-warm insulation provide a touch of luxury, making it perfect for outdoor adventures. It's not just about staying dry; it's about doing so in style. Plus, it's vegan-friendly, which is a statement in itself.
Columbia Puffect Puffer Jacket
Brave the elements in style with the Columbia Puffect Puffer Jacket. Puffect Puffer combines style with warmth. Equipped with Thermarator Insulation and water-resistant fabric, it keeps you cozy in cold and wet conditions. The chin guard and zippered hand pockets add practicality and a fashionable touch to this jacket, making it a perfect choice for cold-weather adventures.
Our customers have found that Columbia Puffer & Insulated jackets are slightly slim fitting - so if you're going for that cosy layering look, we'd suggest sizing up.
Waterproof Running and Hiking Jackets
Columbia Pouring Adventure II Jacket
Unleash your wild side, rain or shine in the Columbia Pouring Adventure II Jacket, powered by Thermarator Insulation for ultimate warmth without the bulk. The Pouring Adventure II is your trusted companion for hiking and running. It's fully seam-sealed and waterproofed with an attached, adjustable storm hood and drawcord hem to keep you in control.
The zippered chest pocket offers secure storage for your essentials, and the jacket conveniently packs into its own hand pocket for easy transport.
Terrex Multi RAIN.RDY 2-Layer Rain Jacket
With its sleek design and exceptional performance, the Terrex Multi RAIN.RDY 2-Layer Rain Jacket is the perfect ally for those who crave adventure and style.
Equipped with a stowable Terrex hood, this jacket ensures you stay protected from the elements without sacrificing your style. Whether you're hiking through lush forests or running along misty trails, this jacket adapts effortlessly to your needs. The adjustable hem adds a personal touch, allowing you to tailor the fit to your liking.
But that's not all; this jacket offers convenience and security with its zipped pockets, perfect for safeguarding your essentials. And, when the weather takes an unexpected turn, the Velcro cuffs keep you snug and dry. It's not just a rain jacket; it's a statement, a symbol of your readiness to conquer the great outdoors.
Repel Trail Running Jacket - Black/Photon Dust
The Nike Repel Trail Running Jacket isn't just any jacket; it's your trail companion for on-the-go adventures. Lightweight, portable, and water-repellent, it's your reliable companion, offering both fashion and function in one sleek package.
Its elasticated waist and cuffs ensure a secure fit, allowing you to focus on the trail ahead while staying dry and comfortable. But this jacket isn't just about performance; it's about style. As raindrops bead off its surface, you'll appreciate both its water-repellent finish and its ability to keep you looking effortlessly cool.
With side seam pockets for your essentials, this jacket complements your adventurous spirit. Elevate your trail-running experience with the Nike Repel Trail Running Jacket, and let your attire reflect both your love for the outdoors and your sense of style.
The Takeaway!
No matter your outdoor activity, these waterproof jackets have got you covered. From stylish everyday wear to functional running and hiking gear, these jackets offer a range of features to suit your needs. So, gear up and stay dry on your next adventure with one of these fantastic options. Your outdoor experiences just got a lot more fashionable and comfortable.