Leave behind any feelings of self-consciousness or discomfort caused by breast movements and invest in a high-impact sports bra. It will dramatically improve your workout routine.
From adjustable straps, crafted cup sizes and breathable fabric, you'll seriously wonder why you didn't pick one of these bras up earlier. Plus, all your favourite fitness brands have made an appearance with their take on this clothing item. (Yes, they exceed expectations, again.)
Without further ado, here is everything you need to know about purchasing high-impact sports bras and of course, the high-impact sports bras that are actually worth the hype.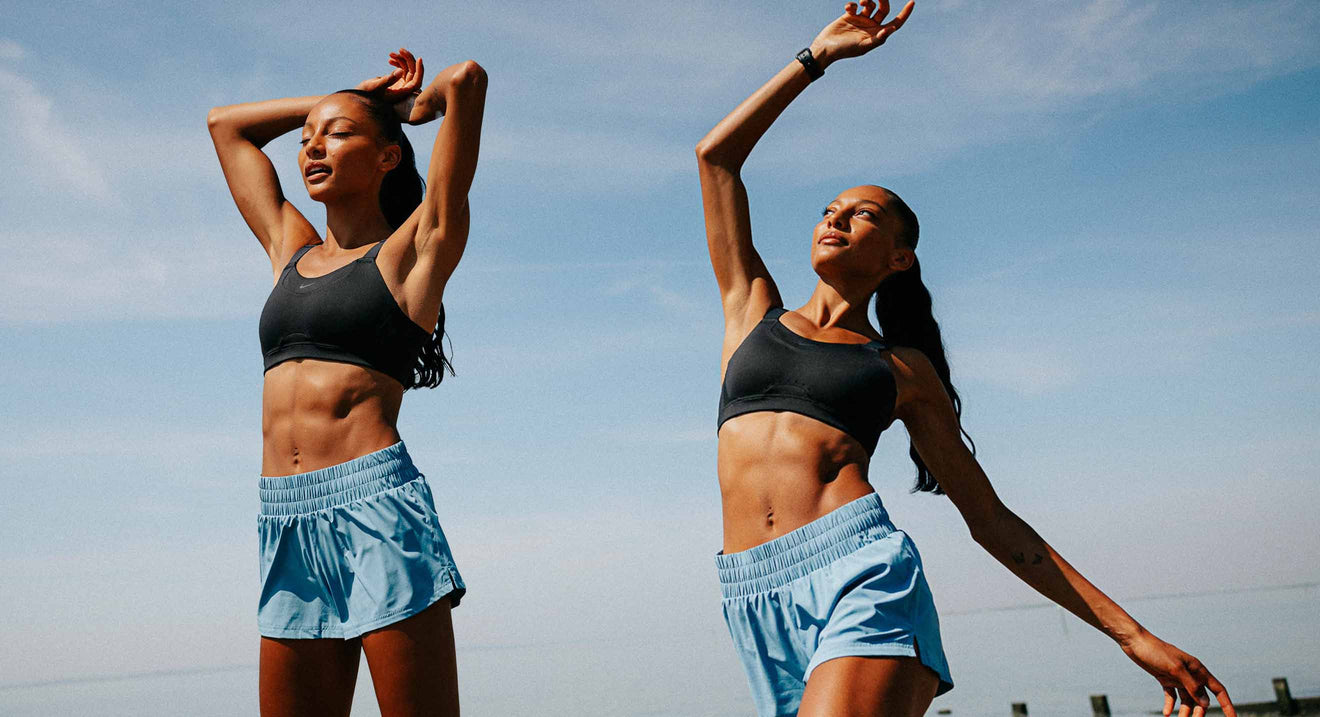 The Basics: What Are High Impact Sports Bras?
"High-impact" is a term regularly used in the fitness industry to describe a particular type of workout.
This is usually where your body bears the impact during the exercise. This is most present in workouts that include excessive running and/or jumping.
With that in mind, high-impact sports bras are designed to offer additional support and minimise bounce. Because of this, this item of clothing is popular amongst women with bigger breasts as they often feel much more comfortable with the additional support.
What Makes A Good High-Impact Sports Bra?
There are certain specifications to look out for when choosing a high-impact sports bra.

Adjustability - Having adjustable straps allows the sports bra to better fit your body.
Sizing - Instead of being labelled S, M, L, or XL, high-impact sports bras often come in cup sizes. This allows the bra to fit your cup size perfectly which significantly increases the support that it can provide.
Moisture Wicking/ Encapsulation - Having a sports bra with moisture-wicking fabric ensures that you can feel cool and remain dry throughout your entire workout.
Comfort - With the amount of support being increased, it is also important to find a sports bra that is comfortable to wear and is made from a soft material.
Remember to keep all of these factors in mind when selecting your sports bra.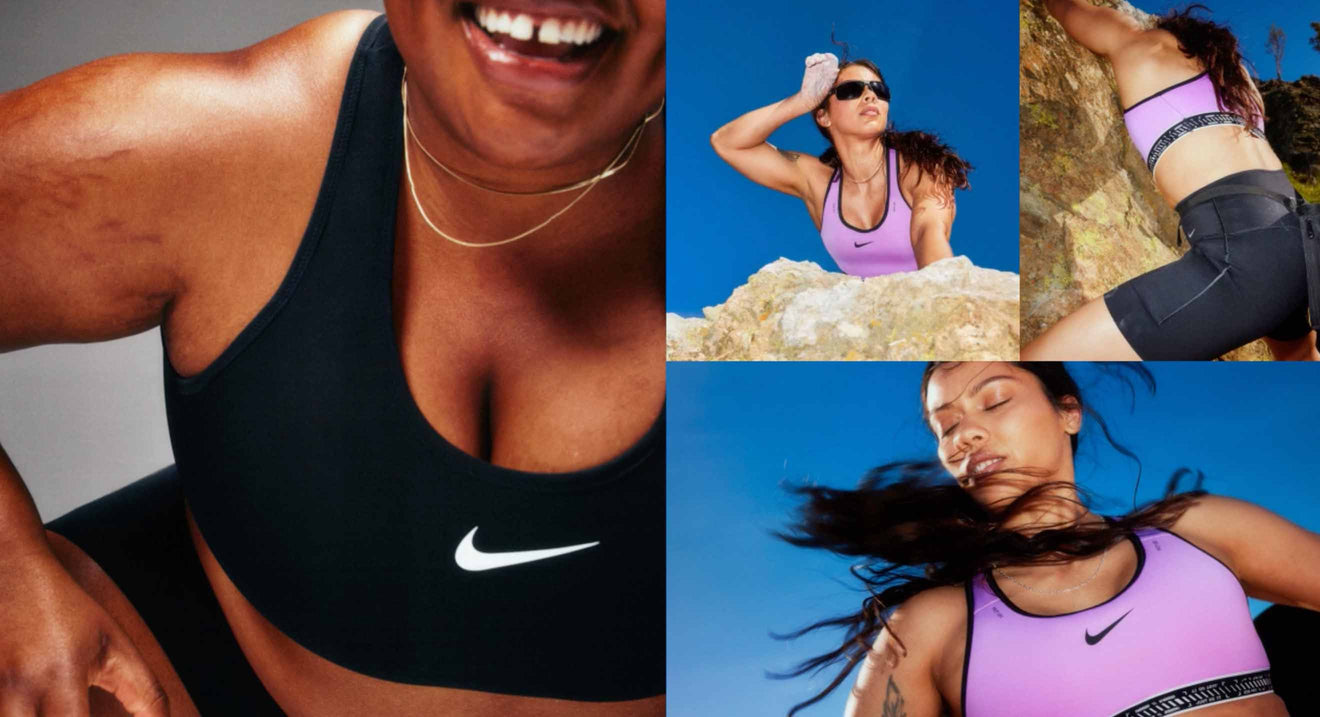 The Best High Impact Sports Bra For Running & Training

Now you know what a high-impact sports bra is and what to look for, here are the best high-impact sports bras for running and training.

Nike
With Nike's popular Dri-Fit material, it's no wonder that Nike's activewear line only grows in popularity and their sports bras are no different. With their timeless designs and simple recognisable logo, it's hard not to fall in love with each one.

Here are the best sports bras for women by Nike.

Simple, neutral and goes with everything, this sports bra is a basic that every woman needs.

The Dri-Fit Swoosh Sports Bra has wide straps and an effortless racerback design that will make you want to wear this item over and over again. The bra itself features an adjustable bottom band for a custom fit and extra support. The Dri-fit technology also works to ensure you feel comfortable all day long.
If you're looking for bigger bust sports bras, you should consider purchasing the Dri-Fit Alpha Bra.

This sports bra has foam moulded cups specifically engineered to minimise bounce. Plus, with the additional sturdy back clasp and adjustable straps, you'll feel secure from the very moment you put this on. Choose from classic black, neutral grey or rock the vibrant fuchsia pink!
This white sports bra (that comes in black too) is a fan favourite in the Nike collection.

This sports bra, of course, features Nikes' signature Dri-Fit material providing expert moisture-wicking abilities. The adjustable bottom band and longer neckline also ensures that you can make intense movements without feelings of self-consciousness. The racerback style and adorable cutout design are set to impress too.
Under Armour
Under Armour is known for its sleek clothing and immaculate attention to detail. Purchase a sports bra from Under Armour and know that you will receive high-quality clothing with an added edge.

Here are the best sports bras for women by Under Armour.
Hit your personal best in this structured high-impact Bra.

Powered by HeatGear Technology and featuring breathable mesh panelling, this material will keep you cool even on your longest and toughest runs. Alongside that, innovative PU moulding adds a level of support that is almost unmatched.
Deter from tradition with the Infinity Sports Bra designed in a gorgeous misty-purple or a deeper purple colour named "Rivalry."

This sports bra is the same cut, design and material as the iconic Infinity High Black Sports Bra but simply offers two unique colours. This is highly regarded as one of the best sports bras for women.
Adidas

Obviously, Adidas had to show up to the competition and they certainly delivered.

Not only do Adidas's sports bras come in a light, breathable material they also have chic designs that match all workout leggings.
Here are the best Adidas sports bras for women.

Unleash your full potential with the TRLD High-Support Bra.

This high-impact sports bra is versatile, breathable and designed with intense activity in mind. Ladies, you'll be glad to know that the padding in this sports bra is completely removable, so you can determine the level of support you require. That combined with the strappy back design, you'll find yourself gravitating towards this sports outfit for every workout.
Looking for a simple design? This TLRD high-support bra may be just what you're searching for.

The high-performance fabric wicks away sweat and the padded straps allow for a comfortable distribution of weight. You also really can't go wrong with this classic style.
Goodmove

Goodmove shouldn't be overlooked when choosing your perfect sports bra. These affordable sports bras are durable, strong and unbelievably supportive.

Check out the best sports bras by Goodmove.
Push for that extra mile with this wired high-impact sports bra.

Designed for intense training sessions, this sports bra was developed by a team of experts to reduce bounce by up to 25%. (Perfect if you're a HIIT workout lover). Then, the thick straps only further commit to making you feel comfortable and supported throughout the entire day. The Cool Comfort technology also keeps you feeling fresh during your most intense workouts.
For unreplicated support without the underwire, you have to try the Freedom to Move High-impact Sports Bra.

The hook eye fastening allows you to cater this sports bra to your body. Plus, the padded cups and racerback style compliments each body shape and size. Don't forget that this sports bra is made with Cool Comfort technology to draw moisture away from your skin, so you can feel fresher for longer.

Takeaway
Don't miss out on reaching your full potential and smashing your workouts, simply invest in a high-impact sports bra and never look back.

When purchasing, keep in mind the adjustability, the material and the size of the sports bra. Whether you're a full support, underwire type of girl or the type to prefer a high neckline racer back design, be sure to spend some time deciding on the right sports bra for you.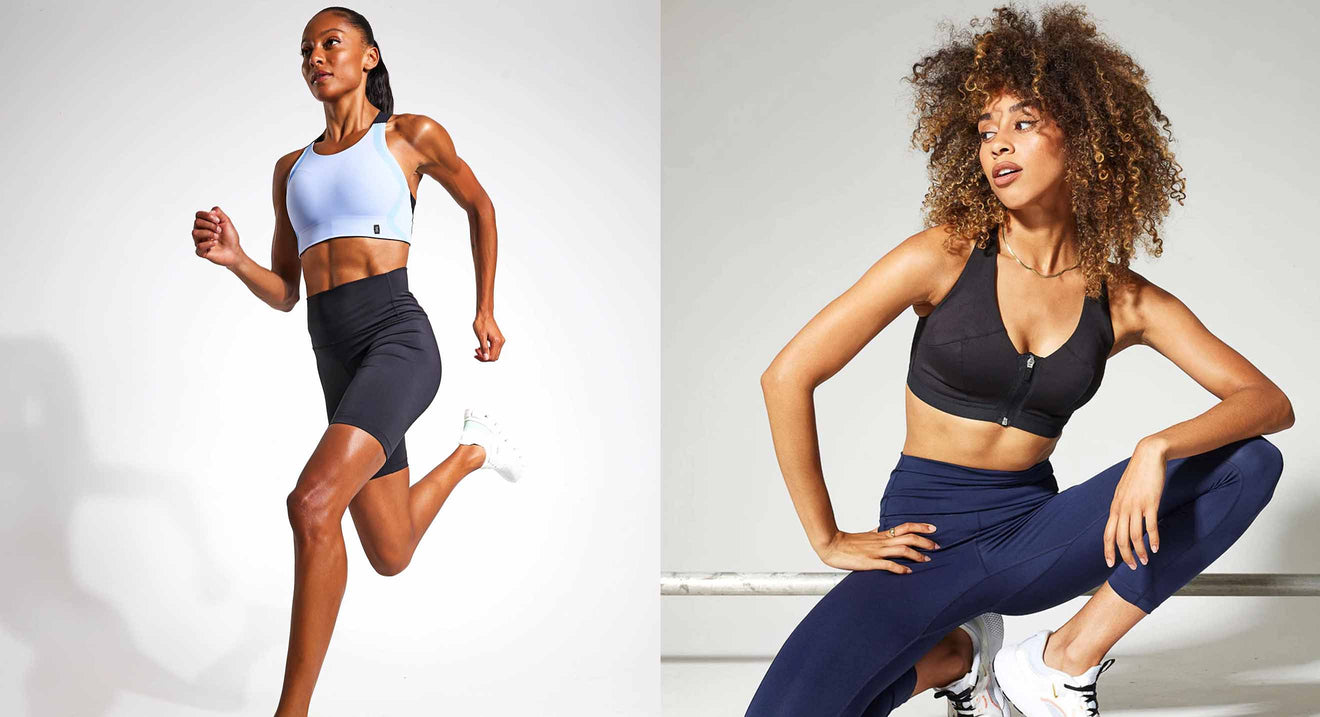 Investing in a sports bra is investing in your health. Which is the perfect excuse to buy more workout clothes, right?