The latest activewear trend that is dominating both sportswear and the everyday fashion industries is women's sports dresses and we simply can't get enough of it.
The correct combination of functionality, versatility and chicness is what these workout dresses embody and honestly, it's no wonder that our Instagram feeds are being filled with these outfits this summer.
From power walking to gym sessions or simple trips to your local coffee shop, sports dresses provide an effortlessly stylish look and we're convinced this trend will be sticking around. Here are our top picks.
What are Sports Dresses and How are They Different From Regular Dresses?
Sports dresses are specifically created to be worn during sporting activities.
Because of this, they differ from regular dresses in many ways. Often fitness dresses will feature built-in support bras, built-in shorts and if you're lucky, pockets too!
The fabric is also different. Instead of regular cotton, you will find that sports dresses are made out of quick-drying or sweat-wicking fabrics which are designed to keep you cool.
Are Sports Dresses Suitable for Different Types of Workouts or Sports Activities?
Sports dresses are designed to be lightweight and breathable and can be worn for a variety of different workouts.
They are created in a way to avoid restriction around the arms and legs. This feature means that you will often see sports dresses being worn in tennis, netball, or volleyball games where mass amounts of movement are needed.
That being said, if you're an avid cyclist, you might want to opt for sports shorts instead, as tight-fitting clothing is considered optimal in this activity.
Are There Sports Dresses Specifically Designed for Certain Sports or Activities?
Sports brands cater to as many sports as possible with their activewear.
Most gym dresses are not designed specifically for one sport however you may find that tennis dresses have larger pockets to fit tennis balls. There are also running dresses that are usually made from a much lighter weight material.
Can Sports Dresses be Worn as Casual Wear or Only for Exercising?
It's no secret that activewear wear is currently the go-to style and whilst these sports dresses were first made popular in games such as tennis, women now wear sports dresses just to run errands - and look great doing it.
With built-in shorts, these dresses are much more comfortable to wear whilst going about your day and you're ready to hop over the gym at the drop of a hat.
The convenience of these dresses is running havoc in the fashion scene and more and more brands are conforming by designing their sportswear in simple designs to be worn at any time of the day.
What Features Should I Look for in a Sports Dress for Maximum Comfort and Performance?
Like most sports clothing, there are certain features you should look for to ensure high quality and maximum wearability.
Here are the key features:
Built-in shorts
Built-in support
Sweat-wicking fabric
Pockets
You should also consider the design and colour of the dress. The more simplistic design, the more likely you will be to wear the dress.
Best Women's Sports Dresses:
With the above features in mind, here are the 10 best women's sports dresses.
Girlfriend Collective Bianca One Shoulder Dress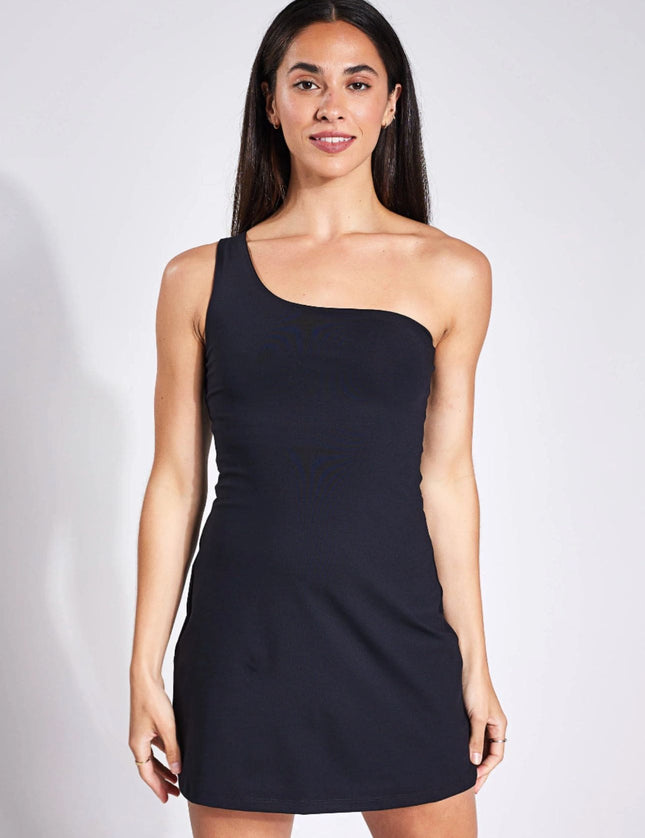 Girlfriend Collective Bianca One Shoulder Dress: Girlfriend Collective, Bianca One Shoulder Dress - Black
Style and support are the words that come to mind with this Girlfriend Collective Bianca dress.
This compressive dress has a built-in unitard liner with an additional under-bust support band for optimal comfort and security. Plus, the hidden pockets and sweat-wicking fabric make it easy to perform at your best.
Choose the timeless black for a versatile look or the cerulean for a bold summer statement.
Nike Dri-FIT Advantage Tennis Dress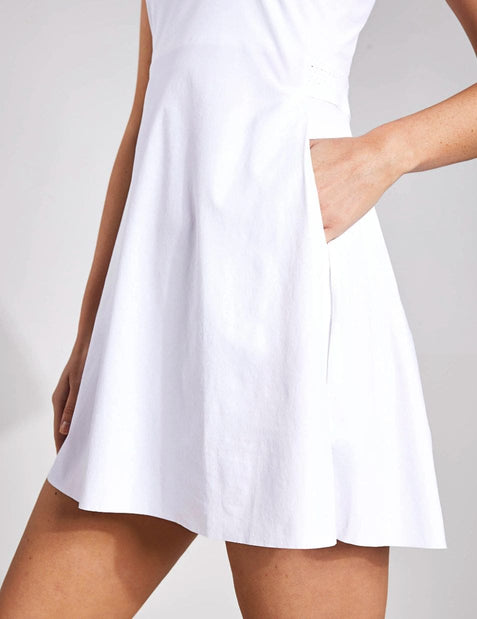 Nike Dri-FIT Advantage Tennis Dress: Nike, Dri-FIT Advantage Tennis Dress - White/Black
Nike has used their Dri-Fit technology once again to create this high-performance sports dress that is effortless in both practicality and style. The Nike Dri-FIT Advantage Tennis Dress is serving.
The dress has a cute cut-out design, a pleated skirt and hidden pockets which will become an essential in your summer wardrobe.
Additionally, the dress comes in both black and white and by bagging both, you'll never be stuck for something to wear.
Varley Downing Court Dress 31.5
Varley Downing Court Dress 31.5: Varley, Downing Court Dress 31.5 - White
Think French fashion meets sport and you will get this effortlessly chic Varley Downing Court dress.
Dominate in the most intense moments with a zip front and sleeveless design that is created to keep you cool and mobile. The pleated skirt and black waistband are added classy details that make this dress sell out time and time again.
Vuori Volley Dress
Varley Kallin Running Short: Vuori, Volley Dress - Azure
Searching for a preppy look that aids in your sports ability? The Vuori Volley Dress is the dress you have been longing for.
Designed with tennis in mind, you will ace your next game with a built-in bra with removable cups, so you can decide on the level of support you require.
Not forgetting, the large pockets for tennis balls, phones or car keys will make your transition from the court to your next errand seamless.
Girlfriend Collective Tipped Paloma Dress
Girlfriend Collective Tipped Paloma Dress: Girlfriend Collective, Tipped Paloma Dress - Nautical Blue
Look cute whilst crushing the competition in an exclusive colour sports dress? Yes, please. The Tipped Paloma Dress is the look that ticks all our boxes.
Girlfriend Collective outperforms themselves once again with this gorgeous nautical blue sports dress.
Feel supported all day long with a built-in unitard, bra and inner pockets. Plus, the contouring panels and sustainable fabric are simple additions that elevate this dress to a new level.
Beyond Yoga Spacedye Essentials Dress
Beyond Yoga Spacedye Essentials Dress: Beyond Yoga, Spacedye Essentials Dress - Darkest Night
The hype about this Beyond Yoga dress doesn't go unwarranted. The simplicity of design makes the Spacedye Essentials Dress seamless in both style and versatility.
From pilates to yoga to power walks, this dress has a shelf bar, moisture-wicking fabric and a soft feel for a true luxe experience.
This dress will quickly become a staple piece in your summer wardrobe - just be sure to grab it quickly before they all sell out again.
Goodmove Half Zip Sports Dress
Goodmove Half Zip Sports Dress: Goodmove, Half Zip Sports Dress - White
This functional dress provides a chic look whilst simultaneously keeping you cool. - What more could you want? The Goodmove Half Zip Sports Dress does it all.
The functional aspect of this dress is the sleeveless design and the half zip which makes this dress easy to put on and take off. Combined with the A-line silhouette you will have a flattering look with minimal effort.
NikeCourt Dri-FIT Slam Dress
NikeCourt Dri-FIT Slam Dress: Nike, NikeCourt Dri-FIT Slam Dress - Barley Green/Stadium Green/Black
Stand out on the court with one of Nike's popular athletic dresses, the Slam Dress.
Nike uses its Dri-FIT technology to create a dress that keeps you cool from the moment you wake up until the evening.
The high neckline offers cover and support during moments of heavy movement and the racerback design will keep you feeling secure. Plus, the white dress with a green geometric design is a bold yet stylish look for those that want to stand out from the crowd.
Key Takeaways
Sports dresses are a trend that will be sticking around, so finding your go-to look will be essential this summer whether you're on or off the court.
When looking for your ideal sports dress, you want to ensure that the dress is supportive, flattering and will keep you cool. Remember to also take advantage of the built-in sports bra and shorts so you can go about your day knowing you are both covered and supported.
From timeless black designs to vibrant colours, the versatility in this athleisure wear is well worth the investment.