Born, designed and made in LA, Onzie brings playfulness and self-expression to activewear, with its bold prints and creative cuts. We caught up with the driving creative force, founder and CEO Kimberly Swarth…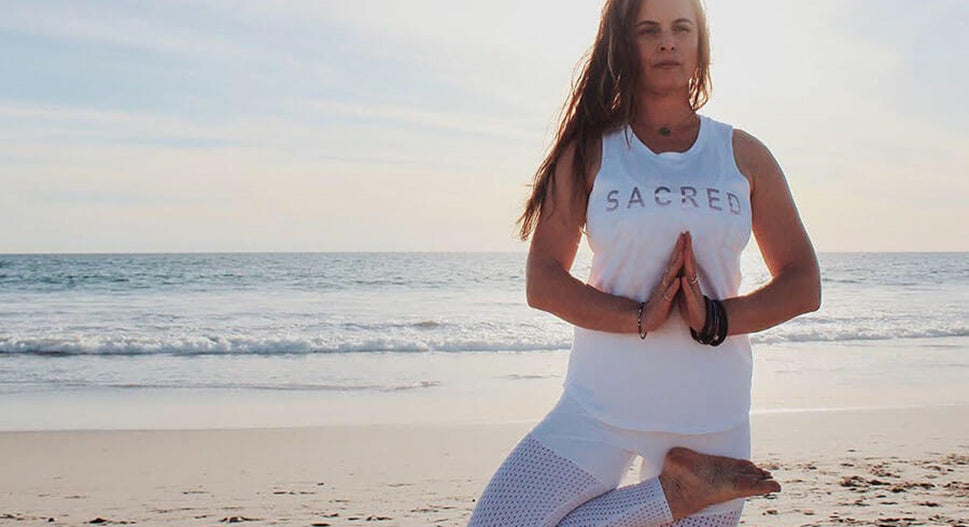 First up, us Brits are confused on how we should actually say 'Onzie', so please help settle this once and for all! How is it pronounced?
Onzie – is a fun word play. It is pronounced "Own" zie. The tone of the word "own" is to own yourself inside and out, own your practice, own your choices, own your life, and ….just own it! Originally the brand name was a tribute to our first silhouette - a one piece leotard.
Tell us about Onzie's launch back in 2010 and how you've grown it so rapidly since?
We launched the brand in April 2010 and it has been an incredible journey! I was raised as a yogi, and having a "body experience" was always a part of me, specifically a hot yoga practice. Here, you face a mirror for 90 minutes and as you work on yourself, something magical happens. I channeled my love for this practice and the magic that occurs in the room and started Onzie. I was focused on creating a product that enhanced this body experience.
In Onzie's early days, social media did not exist as it does today. But we had these wild experiences getting our product into the hands of yogis around the world. It was grass roots influencer marketing, even though we didn't have a fancy name for it at the time. It was so authentic.
I sold booty shorts and leotards out of bathrooms at studios. I rode my bike down Venice beach boardwalk with handwritten signs, shouting "Yoga Clothing for Sale." We hosted teacher trainings and sold stuff out of a hotel room.
Soon there was a line out of the door for people who wanted to come in contact with this amazing spandex. We were in awe – meeting these incredible yogis from all over the world. Connecting with these powerful women through the clothing was truly dynamic.
Also in 2009/2010 there was a powerful movement starting to happen within the love for body movement. Small studios, with creative workouts started popping up all around us. I was obsessed with the "studio workout" that was emerging around us.
I was particularly inspired by the other small business owners like myself, other women with creative modalities and workouts. I set up a phone and started calling yoga studios across the US and slowly Onzie became the go to brand for studios across the globe. Apparel was not really a focus of workout studios, and so we educated them on how to carry retail, clothing and introduce this magical product into to their community.
At the core of our line, there was a true obsession and dedication to the yoga practice, and specifically the creative somatic experiences people were beginning to have in these rooms "working out". We wanted to bring our amazing spandex and storytelling prints into those rooms – and we did.
Onzie has always been playful in its designs, with lots of fun prints and bold use of colour. What's the inspiration behind these designs?
Our fabric and material (free flow fabric technology) is very intentional. It was built to stand up to the hottest, sweatiest environments. Our prints became a means of "storytelling" and self-expression for the female as she focused on herself in the mirror. Over time our prints have become like an "alter ego" for her, and we continue to ride that journey alongside her, in all of her glory.
We also incorporate healing components into our designs. For example, a floral print that feels feminine and beautiful, an animal print that evokes primal power, a black with mesh silhouette that helps her feel sexy and strong, or a celestial print that reconnects her to the earth and beyond. They truly feel spiritual when put on the body and can pull out something so powerful in each of us.
Is all your production still based in LA?
Yes! Being based in Los Angeles is so awesome for a variety of reasons.
#1 – We have this incredible hand craftsmanship that is fizzling out in the states and we are committed to keeping it alive.
#2 - We are creating jobs locally and have such talented people surrounding us and supporting us.
#3 – Keeping all of our cutting, sewing, dying, printing, packaging and fulfillment right here allows us to produce a really rad product of the highest quality.
#4 – We have a smaller Carbon footprint as a result
#5 – We would have it no other way – we absolutely love having a direct line to our creations from ideation to actualisation. It's so powerful.
Onzie has certainly addressed a gap in the activewear market, but so many new brands have launched since you started. How do you stay ahead?
I think what is missing from the industry is this powerful word called Authenticity. We live and breathe that mantra daily. We put SOUL into every product we make. Every person at our company has a deep, meaningful connection to the product and feels tremendous respect for the human body.
A lot of other brands see the active space as a "growth vehicle," and while they might make wonderful products, Onzie lives and operates with a true passion for the body and somatic experience 24/7. It's in our DNA. That's what sets us apart today and will continue to set us apart tomorrow and the years ahead. We stay ahead in the market by staying connected to our female and her passion of the workout and work in.
Who is the 'Onzie girl'?
She is an expressive, fierce women who can take it all "on" in life. She prioritises her workout as a means of maintaining wellness and strength in both mind and in body. She is unapologetically bold in her choices.
Tell us a bit about yourself:
YOUR HOMETOWN? Born and raised in Los Angeles, California
DREAM DESTINATION? A steam room
FAVOURITE WAY TO SWEAT? Hot yoga
FAVOURITE WAY TO CHILL OUT? Dancing and letting my body flow to my favourite artist Ayla Nero
FAVOURITE ONZIE DESIGN OF ALL TIME? Style #101 – Our Shortie Leotard in GALAXY